russian mom, propagandist wife, and co-operation with Trump: why foreigners don't leave the biggest russian companies
Investigation by Mind
In the course of the rf's invasion in our country, the Ukrainian Corporate Governance Academy (UCGA) watched international directors and managers who were working in russian companies when hundreds of others had been leaving russian market since the very first day of war – at their own desire or due to sanctions. We consider inertia in leaving russian companies as a diplomatic failure at political level and the violation of ESG principles.
UCGA is an association founded to promote the most up-to-date international standards, implement global requirements and best corporate governance practices in Ukraine.
As the russo-Ukrainian began, the UCGA started to compile a "Shame List". russia's top 100 companies (in market capitalization as of the 2021 financial year, source: Thomson Reuters) and Forbes' best 100 companies (as of the 2021 financial year) were scrutinized for further presence of international members in their ranks and their connections with other global companies and associations.
The full list of foreign top managers in the largest russian companies may be seen in the special section.
Based on this, Mind conducted a further profound analysis of persons from the "dishonor list" and attempted to outline the reasons for their unwillingness to resign from russian companies.
On 7 March 2022, newsfeeds literally flashed with messages that "one more russian oligarch condemned russia's war against Ukraine." But there was disillusionment behind the clickbait heading (like here, here, and here): Oleg Deripaska didn't condemn the war, he just addressed someone and called for… peace negotiations. The literal quotation: "Peace is very important! Negotiations need to be started as soon as possible!"
Who did Deripaska address? The president of russia vladimir putin? Deripaska has known putin for a long time. And he must have hardly believed that the latter would like to talk about withdrawing his forces from Kyiv suburbs on unfavourable conditions in the second week of the war. Those talks could have been possible under one condition – full capitulation of Ukraine.

But on the very first day of war President Zelensky gave his clearest indication: Ukraine will fight until its victory and is not going to bargain for its land under no circumstances.

Deripaska's next expressions on his Telegram channel give a more clear picture of his attitude to the war and everything associated with it. For instance, on 16 July he quoted a thesis of the kremlin propaganda that sanctions against russia will come back to haunt Europe itself. He said, the rf would find other trade areas and Europe would lose a large market and energy carriers.

And when commenting on the UK Prime Minister Boris Johnson's resignation, the oligarch all the more words it strongly: "The inglorious final of 'the inglorious dull clown' on whose consciousness lie tens of thousands of lives in this pointless conflict in Ukraine."

Let us put it more clearly: Oleg Deripaska directly blames the Great Britain Prime Minister Boris Johnson for being the one to be the cause of tens of thousands people deaths in the russo-Ukrainian war. Where could such a foolish conclusion come from?
Oleg Deripaska on anti-russian sanctions, quotes from his personal Telegram channel:

4 April 2022: "Buttheads suffer again from that fact that they have to fake facts for covering lies in their source documents in Washington when advocating sanctions against me and companies founded by me. In doing this, they try to imitate any fig leaf for their fig justice. They even involved judges appointed deliberately by the Democratic Party in DC."
7 April 2022: "russia supervisors in the U.S. State Department repeatedly arrange various incursions against me and my companies founded together with my colleagues, securing against having competitors for parasitic crackpot revolutionaries who take care of them on the side of successful business people in russia when the long-expected change of regime in russia comes."
On 28 March Deripaska recommends his readers to watch a video about putin's invasion of Ukraine. And gives a link to the conversation between two famous Americans: political activist Ray McGovern and political scientist John J. Mearsheimer. These two speakers have at least two things in common: 1) they are very popular in the media 2) their thoughts tally with kremlin's vision on how Ukraine should behave in its relationship with russia (the long story short – to surrender and follow russia's wishes).

Deripaska quoted John Mearsheimer almost literally on who bears responsibility for the russian invasion of Ukraine: "the West, especially the United States, is principally responsible for this disaster."
Mearsheimer's position is that "the strategically wise strategy for Ukraine is to break off its close relations with the West, especially with the United States, and try to accommodate the russians." And the USA in its turn, "should be working overtime to create friendly relations with the russians" and "pivoting out of Europe."

russian Oligarch Oleg Deripaska recommends his followers to listen to a discussion between two pro-russian oriented American activists.
When it comes to military assistance to Ukraine in its war with the russian federation, Ray McGovern identifies Ukrainians with "the ideological heirs of German Nazis" armed by the NATO. He justifies russia's offensive on Ukraine on the grounds that it had a great fear of the NATO invasion. And then he tries to challenge the NATO countries' fears against further expansion of russia to the Baltics and Poland in case Ukraine is defeated in the war: "many theories, no evidence."

Numerous expressions by Deripaska on the russian intervention and anti-russian sanctions perfectly fit the russia's vector of the information warfare that it wages simultaneously with armed confrontation on the battlefield.
Deripaska "does not separate himself from the russian state. He has also acknowledged possessing a russian diplomatic passport, and claims to have represented the russian government in other countries," according to the U. S. Department of the Treasury's Office of Foreign Assets Control.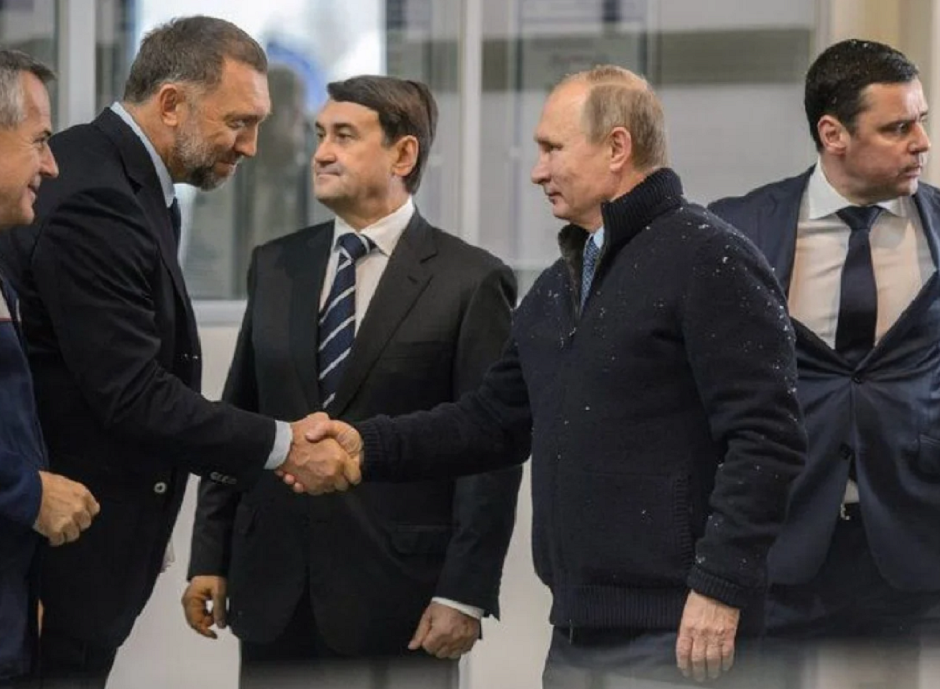 Image: UNIAN
russian oligarch Oleg Deripaska and the President of the russian federation vladimir putin.
Deripaska, besides, had tight connections to the former manager of Donald Trump's campaign – the American lobbyist Paul Manafort (who is now a convicted criminal). Deripaska was Manafort's client.
Donald Trump speaks of his sympathy to vladimir putin with no shame. To Trump's mind, Ukraine should have made a deal with putin in order to prevent the invasion by russia. Speaking on The Clay Travis& Buck Sexton Show, the ex-president assumed that Ukraine could have either "given up" Crimea annexed by russia in 2014, or agreed not to join NATO.
The Crimean peninsula has, by the way, the same area as Israel. And currently occupied East and South of Ukraine is the terrain as big as half of Great Britain.
Oleg Deripaska, Donald Trump, Ray McGovern, and John Mearsheimer ideologically support the russian federation's behaviour. And they do not welcome the anti-russian sanction policy, to say the least.
In 2019, when Donald Trump was in office, the U. S. Department of Finance imposed sanctions on three companies owned by Oleg Deripaska (Rusal, EN+ Group, EuroSibEnergo) due to "malicious activities of russia all over the world". Personal sanctions were also applied to Deripaska, since the USA has charged him with threatening the lives of his competitors, bribing public officials, and connections to organised crime – all this was denied by Deripaska.
Reference: En+ Group is a group of companies that controls assets of a well-known russian oligarch Oleg Deripaska in the power energy, nonferrous metallurgy, and ore mining sectors, as well as in logistics and strategically related to them sectors.

Its main headquarters is located in Moscow, the company itself is registered on Jersey island (the United Kingdom). The group manages large industrial facilities, including those in Jamaica, Ireland, and Guinea. Today the company has around 90,000 employees in 12 countries. Its 2021 revenues were over $14 billion. About 36% of the company's income fell in Europe and over 32% in the countries of the Commonwealth of Independent States (CIS).
In spite of the notorious public scandal and harsh bipartisan objections in the Congress, sanctions against Deripaska's companies were cancelled in 10 month. Reducing the businessman's share in En+ Group to less than 50% was the condition for this.
Back then, a U. S. representative Lloyd Doggett, an old critic of sanctions cancelling, called it a "bad agreement", adding that "Trump Administration works seven days a week with favouritism for russia."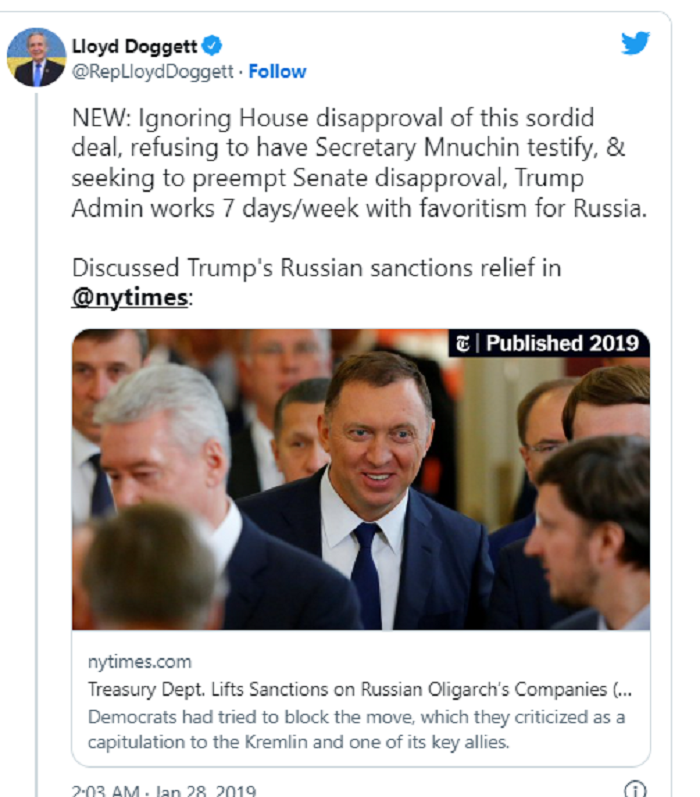 A screenshot from Twitter
By contrast to his own companies, Oleg Deripaska personally has been left under the American sanctions. Although, the part of the agreement with the U. S. DOF on the release from sanctions that is out of the public mentions that after restructuring, Oleg Deripaska owns 44.95% of the company, but 11.76% more of the En+ Group is the property of his ex-wife, ex-father-in-law, and the foundation that is managed by Deripaska in person. So it appears that 56.67% of the company is de facto under control of the russian oligarch.

This fact became public long before the beginning of the full-scale invasion of the rf into the territory of Ukraine. But the USA and its European allies haven't imposed sanctions on En+ Group neither then, nor now.
On 3 July 2022, the En+ Group company released a statement: "En+ Group remains free of sanctions and is not subject to sanctions in any jurisdiction…. Eight of the twelve EN+ Board directors are independent and the former majority shareholder (Oleg Deripaska – Mind) has had his total stake reduced to 44.9% and his voting rights are down to 35%.".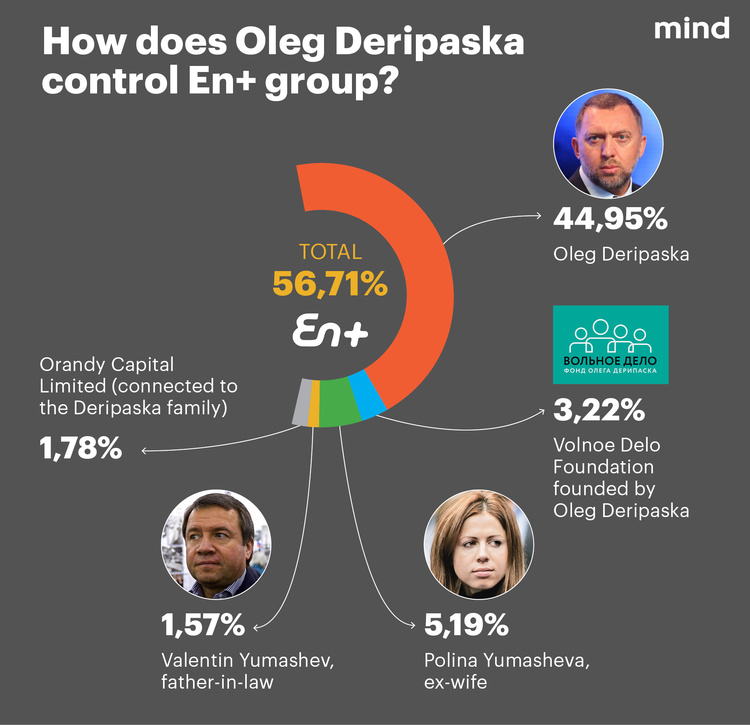 "Independent directors'" response
The decision to step down from the En+ Group board of directors doesn't come easy to foreigners. British Greg Barker left the executive chairman position only after constant pressure exerted by the Conservative party.
And his fellow countryman Carl Hughes resigned from the En+ board weeks after his statement on the beginning of the war in Ukraine, in which he said that remaining on that position is his "fiducial duty". British industrial agencies, including the Institute of Directors, didn't like such position, stating that it is "untenable" for british directors to remain on the boards of russian companies.
Barker's position was replaced by American Christopher Burnham, an experienced statesman who, like Deripaska, co-operated with Donald Trump and his team. At least two facts confirm this: 1. Burnham used to serve as Under Secretary General for Management of the United Nations where he worked together with John Bolton, who later became a national security advisor to Donald Trump. 2. In 2016, Burnham joined President Donald Trump's transition team at the U.S. State Department in 2016.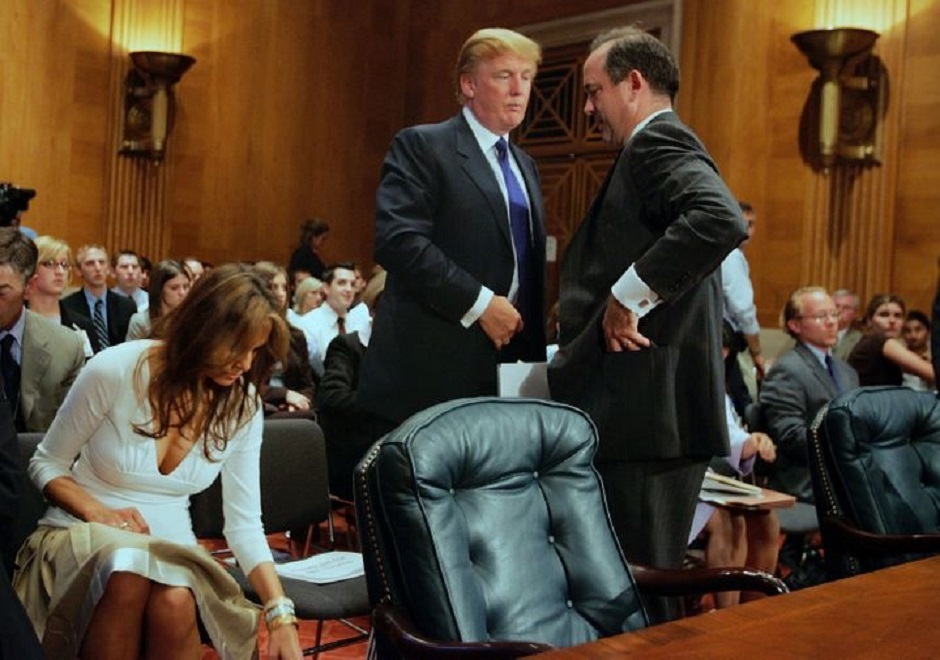 Image: Joe Redl
The year 2005, Donal Trump talks to Christopher Burnham, Under Secretary General for Management of the United Nations, after Trump has testified before the U. S. Senate Committee on Homeland Security & Governmental Affairs.
One cannot see a shadow of vindicating himself for his moral choice in Burnham's statement. He compares the Ukraine war to the coronavirus pandemic that only needs to be somehow outlived: "During the COVID-19 pandemic we supported our consumers, employees, and local communities and will continue this work in unprecedented times that have come. New challenges obviously await us, but we look into the future with confidence based on the durability of our business and the reliability of our co-workers."

Other American members of the russian company's board also keep silent.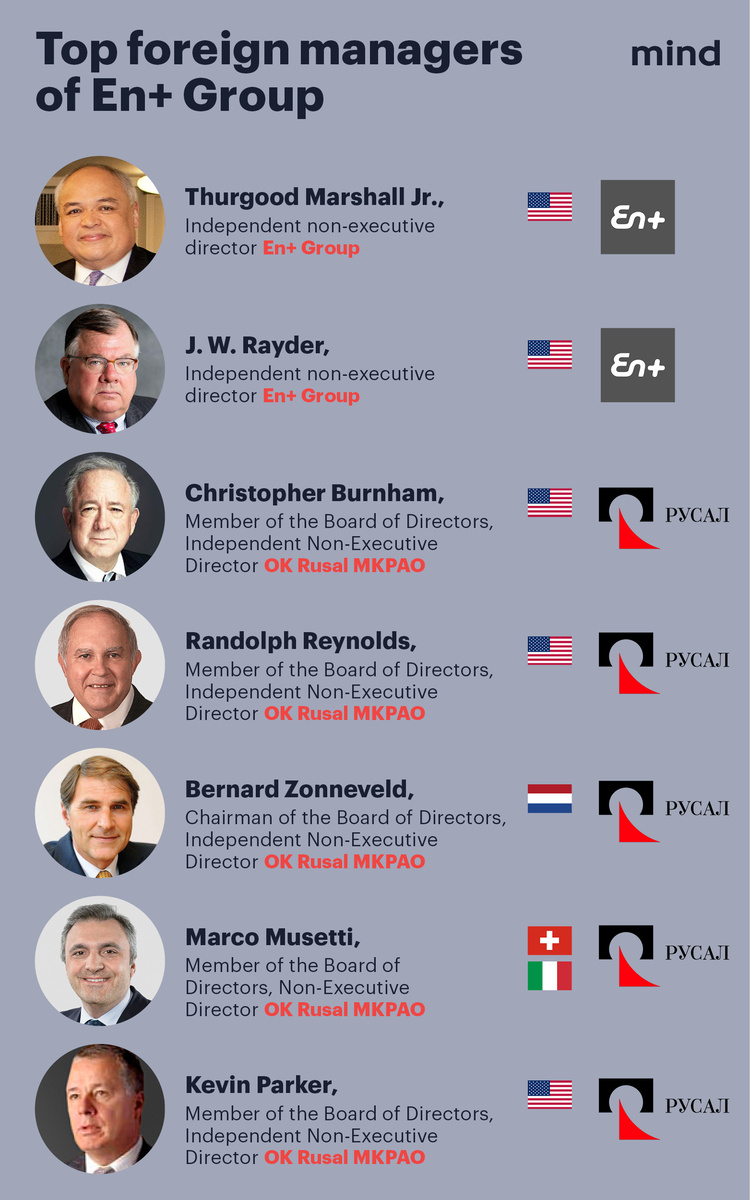 Thurgood Marshall Jr., a member of the En+ Group board of directors, a U. S. citizen, has worked in each branch of government in the U. S. throughout his career. Namely, in different years he was a member of the White House high-ranking positions: the White House Cabinet Secretary, member of the President Management and Continuity Council, Director of Legislative Affairs, and Deputy Counsel to the Vice President.

The American is still a Board of Trustees member at the Ford Foundation, one of the largest charity organisations in the world which funds programmes for supporting democracy among others.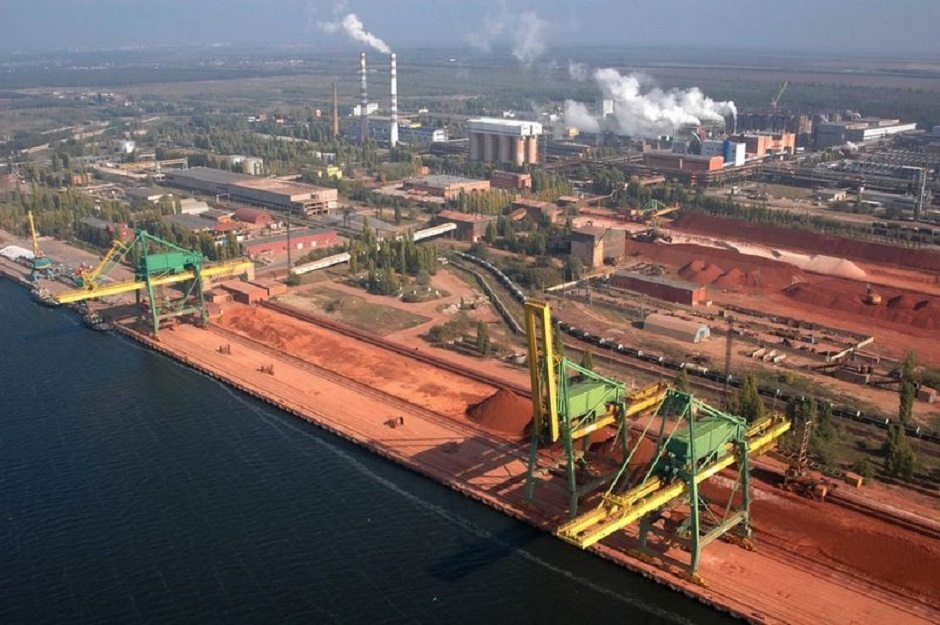 Image: uprom.info
On 1 March 2022, EN+ Group announced that due to imminent logistics and shipment issues on the Black Sea and adjacent territory the company was forced to temporarily stop production at the Mykolaiv Alumina Plant located in Mykolaiv Oblast, Ukraine.
In the first days of the war, Ford Foundation President Durren Walker reminded: "In 2008, we closed our Moscow office, in part due to government interference and corruption. Like others, we saw then what the world sees now: Putin did not, and does not, share the west's – and the russian people's – ambitions for a new russia following the dissolution of the Soviet Union." And he also called for donations on behalf of Ukrainians in need.

Thurgood Marshall personally hasn't said anything concerning the war.
Another board member in En+ Group, J. W. Rayder, one more U.S. high government office veteran, also abstained from commenting on the kremlin's actions.

When analysing lists of foreigners employed by the rf companies, we noticed that after the beginning of the russo-Ukrainian war, many russian businesses try to literally hide faces of their foreign top managers. Information about board composition is just being erased from official web sites. For example, it is possible to see the names of foreigners in the NLMK company only in the cache version of the site.

Maybe, it's because a part of russian assets is located in the USA, and a draft bill that allows the confiscation of the rf assets and their use for offsetting costs of assistance to Ukraine was registered in the Congress.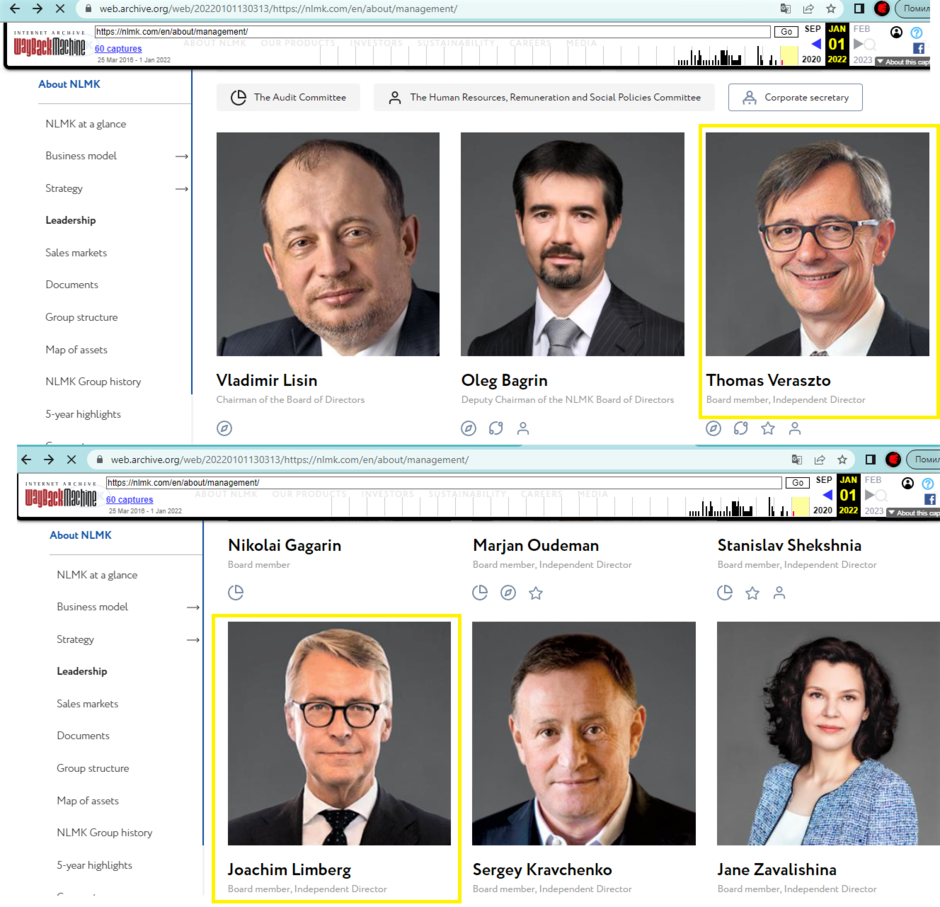 On the official web site of russian NLMK company the composition of its board can be seen only in the cache version.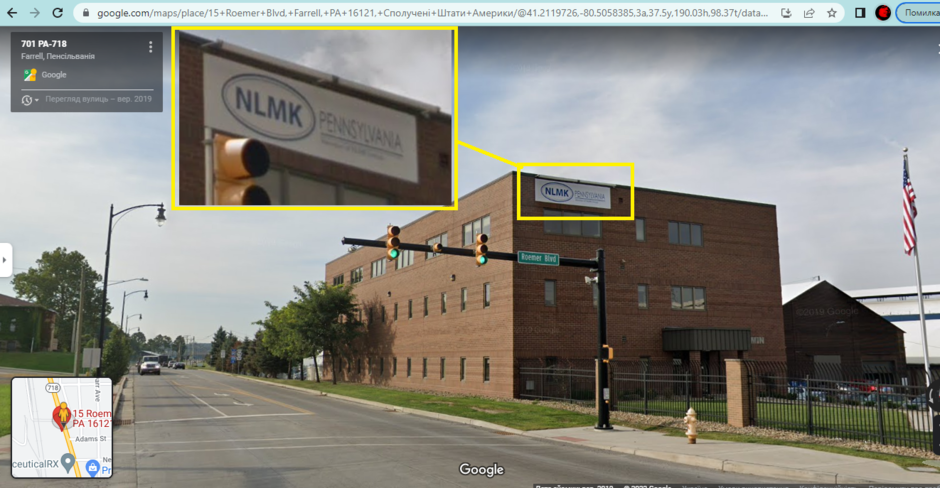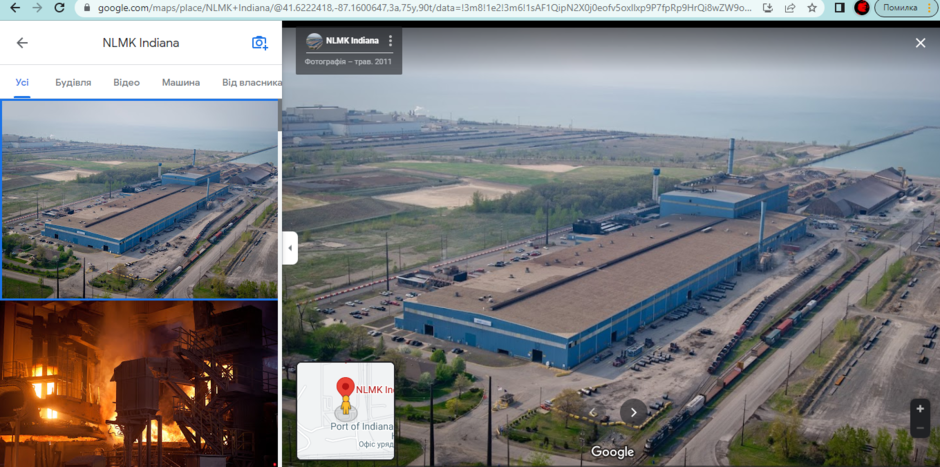 NLMK enterprises are located all over the world, including the United States of America.
For more than two month Mind waited for responses to questions to every person involved in this investigation on whether they support russian invasion in Ukraine and why they don't leave russian companies. Still, no one has answered yet.

But we can shape our idea about their motivation to stay on the side of russia, gathering all information possible about such foreigners.
41-year-old Florian Jansen has been successfully developing his business projects in his native Germany, as well as in the USA and United Arabian Emirates. Before 24 February 2022 he was a successful top manager in russia.

Educated brilliantly in a number of prestigious universities, including the American Columbia University and the Oxford (the United Kingdom), in 2011, Jansen together with three other Germans created an online dress store Lamoda in the rf.

"9 years ago I met 3 extraordinary individuals. We were thinking alike. We had a dream. We worked very hard every single day until our dream became reality. We created Lamoda. An accomplishment that makes me feel incredibly proud," wrote with nostalgia in his Facebook account Burkhard Binder, another German co-founder of the company. Having turned a tiny business into a successful fashion corporation, the co-founders left it one by one, but continued to work on the russian business.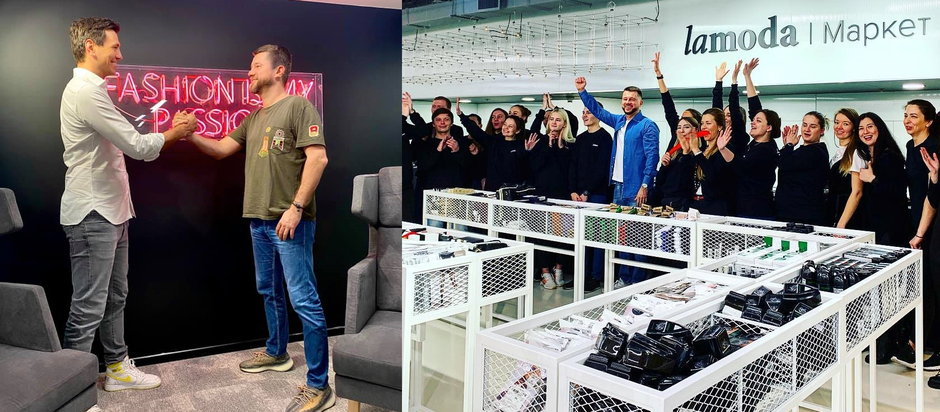 Florian Jansen (left in the photo) and Burkhard Binder – co-founders of the russian company Lamoda. From 2013 on, the company also operated successfully in Ukraine, but after the war started, it suspended its operations: "All employees of Lamoda Ukraine stay home or where they feel safe. The company does not accept orders from clients now."
Simultaneously with Lamoda, Jansen worked in other big russian companies where he was responsible for innovation and digitalization fields, including investment in start-ups. With the reputation of one of the leaders of e-commerce in the rf, Jansen was a welcome guest at local business forums and regularly spoke before audiences of many thousands. Here, in Moscow, he married a russian woman who bore him two children.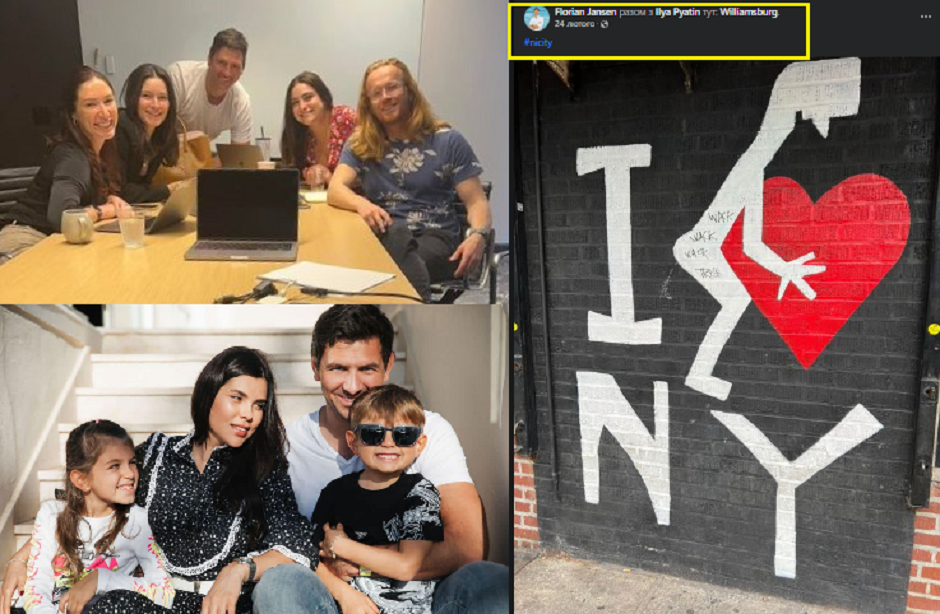 A photo from Florian Jansen's Facebook page
Florian Jansen left russian business and started a new venture in the USA. In the photo to the left downwards is Florian Jansen, his russian wife, and their children.
However, after the russian invasion in Ukraine in February 2022, Jansen left the supervisory board of russian developer GloraX and cancelled his membership in the russian branch of the YPO global leadership community of extraordinary chief executives. He, instead, has focused on developing his new project in the USA.
By contrast to Jansen, his old Lamoda business partners were so accommodated to the russian reality that they did not with a single word or action demonstrate their indigration with the occupying behaviour of the russian authorities on the sovereign territory of Ukraine. And they don't break their ties with russian business.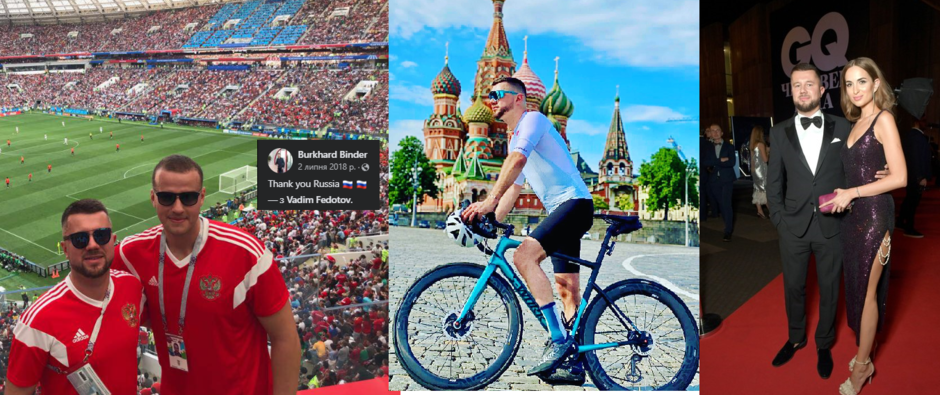 A photo from Burkhard Binder Facebook page
Burkhard Binder lives in Moscow with his russian wife – a journalist in the russian government-controlled federal TV channel Pervy Kanal ("First Channel"). He is not going to move from russia and leave the russian business.
After stepping down from Lamoda, Burkhard Binder became the fashion development vice president at AliExpress russia (Alibaba.com (ru). There he has been working by now.

A photo from Burkhard Binder Facebook page
Burkhard Binder with the AliExpress russia team. AliExpress.com is an online retailer for small businesses in China that offers goods to international buyers on the internet. It belongs to the Alibaba Group.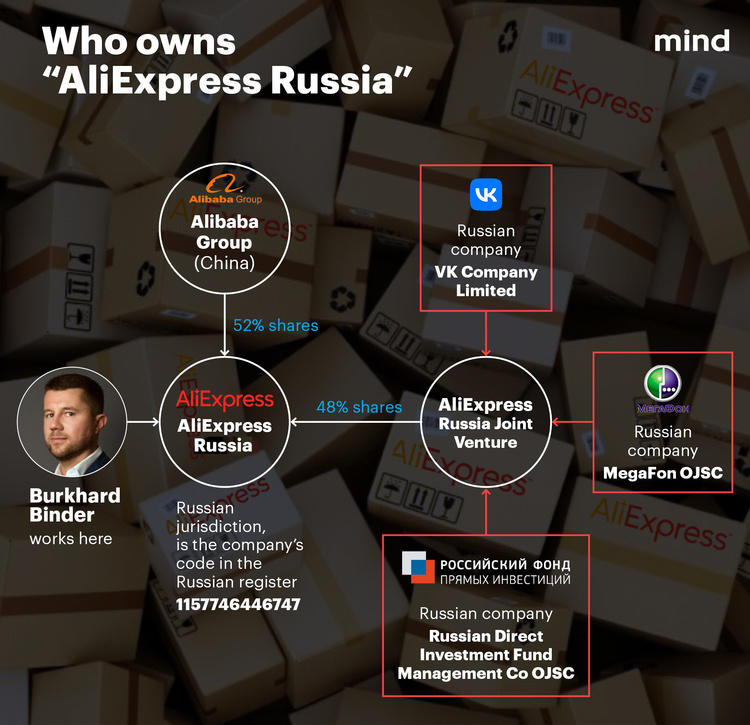 In 2019, in an interview to the russian fashion magazine GQ Burkhard Binder confessed that he sees himself in the rf fashion industry even in 20 years. According to the businessman, he cannot imagine any other place to live than Moscow. There he received the Moscow State Institute of International Relations' diploma, met many friends, developed his business image and had a successful career for many years.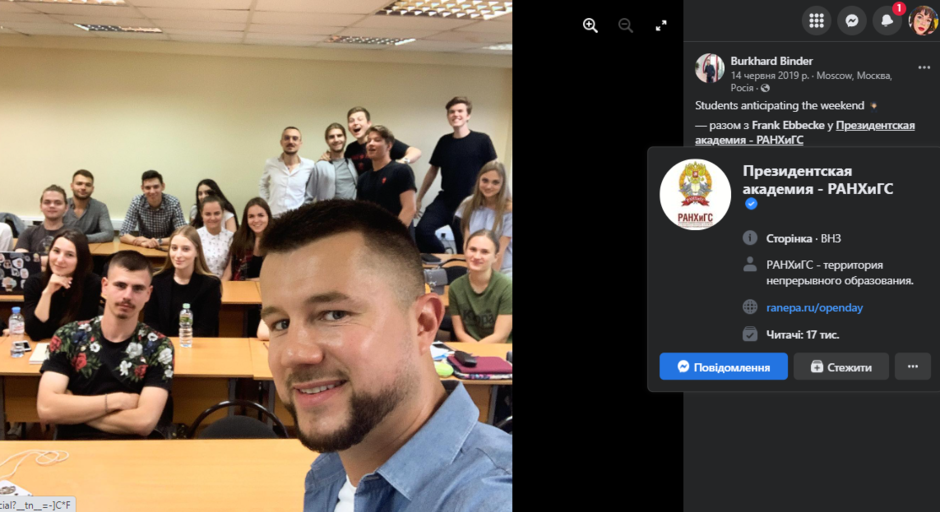 A screenshot from Burkhard Binder's Facebook page
Burkhard Binder and the students of the russian Presidential Academy of National Economy and Public Administration, one of the biggest and most prestigious higher educational institutions of the russian federation. There he delivered a lecture on how to build a business in russian.
Besides, his wife, Kristina Levieva, is a journalist at the First Channel – the all-russian state-run propaganda channel with the widest audience coverage in the rf. Binder's mother-in-law, Eteri Levieva, is a russian TV host, producer, and member of the State Duma's Informational Policy Expert Council. She is also an Honoured Culture Worker of the russian federation.
As employees of russian government agencies, Kristina and Eteri Leviev say either good, or nothing about the activities of the russian government. We haven't found any reproach against russian president vladimir putin or the russian military on their war intervention in Ukraine in the open sources.

So is Binder silent about the war.
A citizen of Germany, Oskar Hartmann repeatedly speaks to the biggest business conferences in russia. To the audience he is introduced as an entrepreneur and investor who founded over 20 businesses in various countries of the world (in the US, Germany, India, in the Middle East) with a $5 billion total capitalization.

The photo collage by the author
Oskar Hartmann, a business community celebrity, often speaks to the big audience and shares secrets of happiness and the "key to success". His most famous companies are: AUTO1, Flaschenpost, June Homes, Flink, Slice, Spinny, Carprice, Aktivo, Sellanycar.com, Sapato, ShoppingLive, KUPIVIP.
Having German nationality and an international economist diploma Hartmann has lived the last 14 years in russia. Nowadays he is a member of the boards of a number of russian companies: Alpha bank, Moscow Stock Exchange, MOEKH, and GK Samoliot. In addition to russian assets, the entrepreneur is connected to russia by family ties. Oskar met his future wife Tatyana when he came to Moscow as an exchange student. Today the couple raises three children.
Hartmann presents himself as life coach, moralist, and business coach, he persistently speaks on how to properly develop business and become successful: "Oskar Hartmann is first and foremost the philosophy, motivation and self-development, not money and finance. " These messages the businessman posts on his YouTube channel – the videos got 25 million views in total during the 5 years of its existence.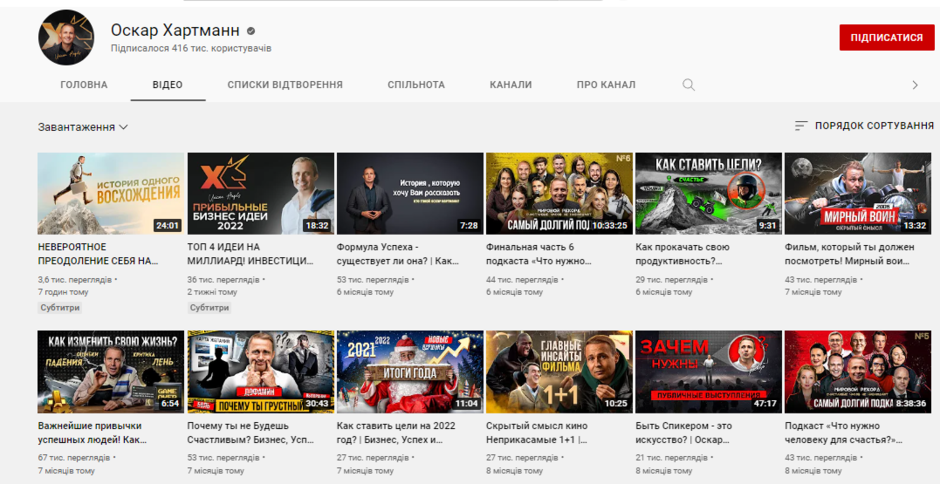 A screenshot from Oskar Hartmann's personal YouTube channel
Hartmann tells his success secret in one of his latest videos: "At the age of 18 an immigrant from Kazakhstan founded a company. It rapidly starts to grow. 1000 workers, 2000 workers. And suddenly this fellow starts to be invited to the presidential house for banquets on important events… The company grows very fast, and he is aware of responsibility for these people. 'I understood I would not only be a man of action, but the one who unites people'".
But of the russian aggression, contrary to such a background, Hartmann expressed very reservedly and covertly. It's not clear from his 24 February 2022 Instagram post whose fault is the war: "Shock. I was in the mountains with no communication. We came back, and I have thousands of scary messages. I was definitely one of those who thought it was just impossible. We took the earliest flight back. The war blocks all development programmes altogether. I'm sitting with tears in my eyes. At night, I watched the starry sky of Kamchatka and prayed. I will continue to work in my fields of philanthropy."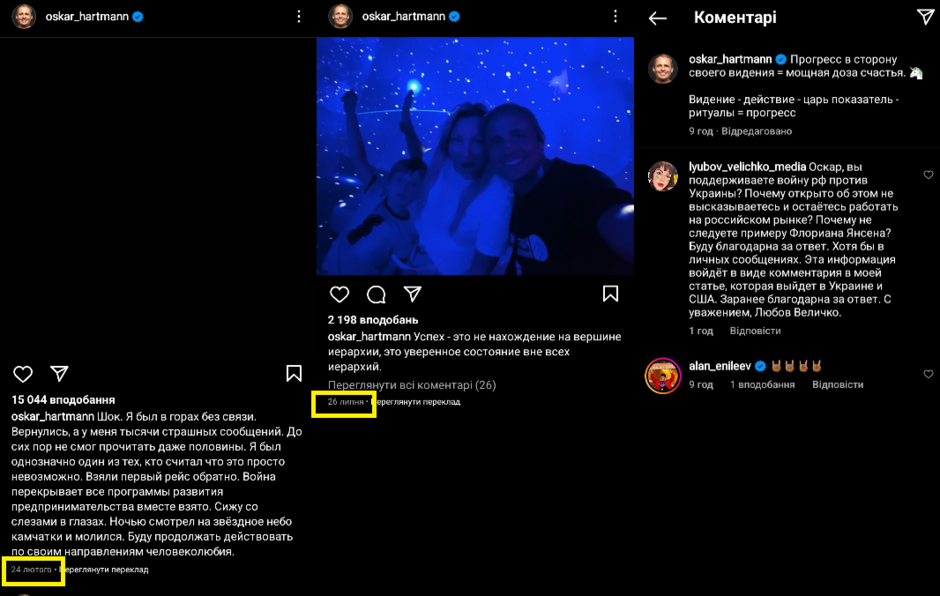 After the full-scale russian invasion began, Oskar Hartmann has not disputed the public actions of the russian federation, and after months of silence he started again to write unconcerned posts about vacations and secrets of success. The businessman doesn't react to the public questions on his attitude to the war.
Having a four month break, the next time the life coach posted publicly was as late as 7 July. But this time it was not about war. In the picture, he holds his wife in his hands against the sea waves and makes a declaration of life in the caption.
Since then there are the same untroubled posts about sports and travelling in Hartmann's Instagram. His followers' questions on what the philosopher thinks about russian armed aggression are left without response.
We also asked Okcar in a letter in his business mail and on Instagram whether or not he supports the rf's war against Ukraine and why he has not left leading positions in russian companies yet (namely, GloraX company, from which his partner Florian Jansen resigned). But Hartmann never answered.
Realising the consequences of international sanctions, some foreigners try to save their reputation at any cost. And if there is no will to go out of russian business, a simple move – distraction of attention – is set in train.

Britisher Sergei Nossoff very actively promotes his innovative product – the "smart clothing" for diving into virtual and augmented reality under his own international brand Teslasuit. When travelling around the globe, he visits offices of top companies hoping to make them interested in his invention. And he is quite successful – in 2019 Nossoff was granted a prestigious Future Unicorn Award for Virtual and Augmented Reality.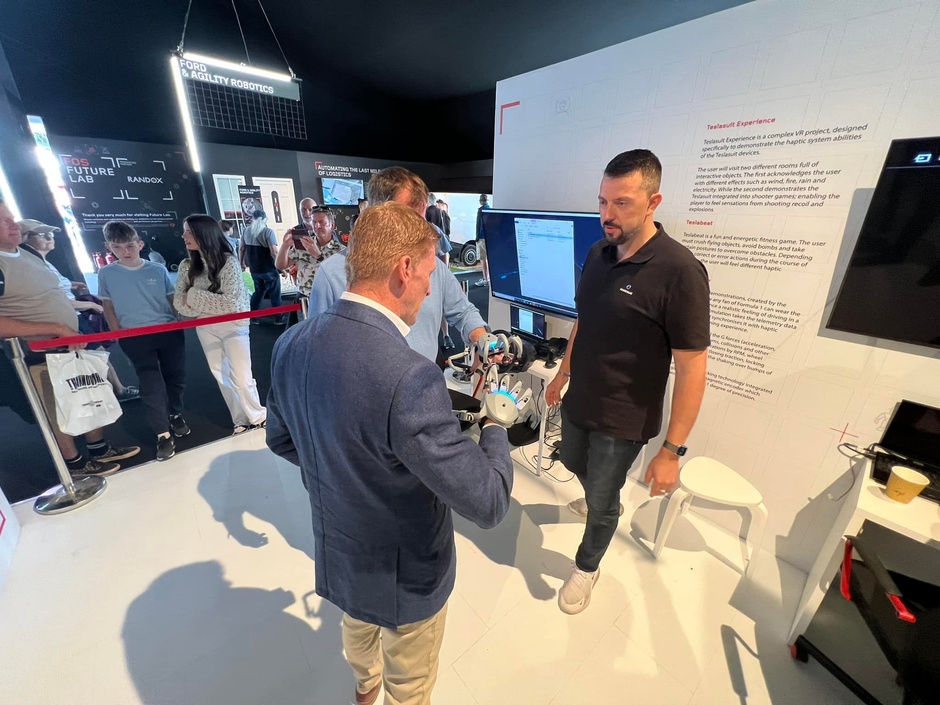 Image: Personal Facebook page of Sergei Nossoff
15 June 2022 Sergei Nossoff presented the Teslasuit brand at the Viva Technology exhibition in Paris, France.
Last summer Ukrainian power engineers tested this technology: tests were conducted in Kurakhove and Lugansk TPPs. Today both thermal power plants are under russian occupation.
June 2021. Ukrainian electricians fit the innovative product Teslasuit in the town of Shchastia, Lugansk Oblast. Today this settlement is occupied by the russian federation.
Nossoff says fairly less of his job in the russian public company Polyus that is on the first place in the world among gold prospectors in gold deposits and on the fourth one – as for the output.

Sergei Nossoff has occupied the board position in the public company Polyus since March 2016. And after the russian offensive he not only didn't leave the company, but also became the chairman of the board.
A photo from Sergei Nossoff's Instagram page
Four years ago Sergei Nossoff visited gold-mining sites in Irkutsk Oblast that are owned by the Polyus company.
Why is it so? After 24 February 2022 as many as four foreigners left Polyus's board of directors. All this happened "in the face of unfavourable market conditions", the company said. As a result, there is not any independent director left in the company. The main Polyus shareholder, Suleiman Kerimov's son Said in his turn, has been still a member of the board, as is his representative Sergei Nossov.

Once he mentioned speaking to russian media, that "technology cannot be divided according to geographical belonging, this is world history. There are many talented guys in the world: in russia, in the CIS, in Europe, in America. Nowadays this geographical identity of "where you come from" doesn't matter so much, we live in the global world."

Nevertheless, we cannot ignore that significant fact from Nossoff's biography: his mother Natalya Moroz is russian from moscow. She mentions in the social media that she graduated from the Lomonosov University, but married a Britisher Bill more than 20 years ago. And since then she has lived in London and taught in the London School of russian Language and Literature.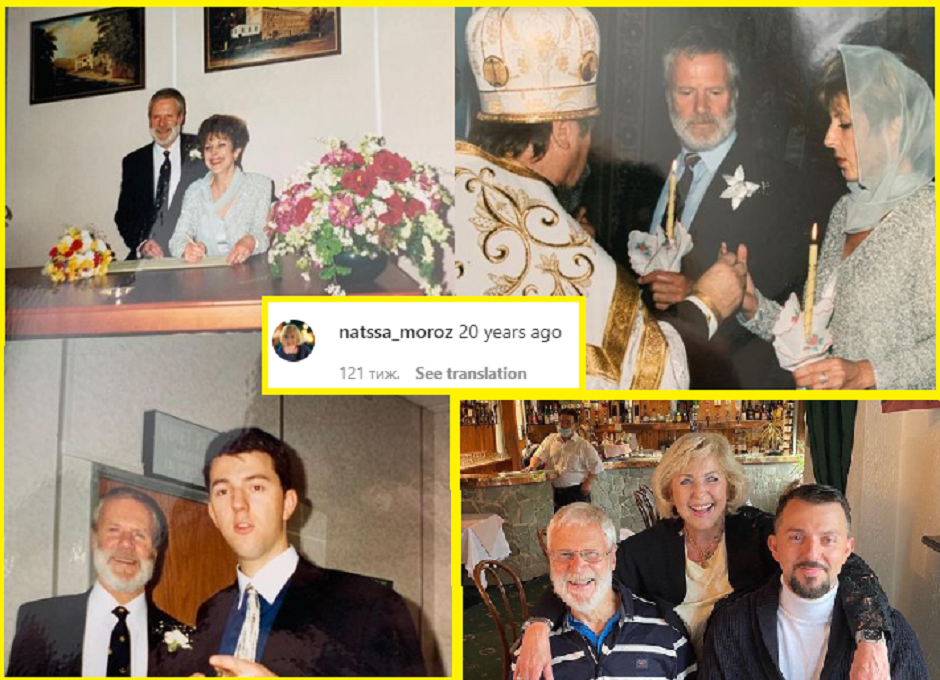 A photo from Natalya Moroz's Instagram page
Sergei Nossoff was present at Natalya Moroz and Britisher Bill's wedding ceremony.
Here, in London, Nossoff's son Maxim goes to school. Naturally, Teslasuit IT company's office is located in the capital of Great Britain.
A photo from Sergei Nossoff and Natalya Moroz's Instagram pages
In the photo to the left is Sergei Nossoff with his son near a London school, to the centre – near the monument to the russian poet Alexander Pushkin, to the right is Sergei Nossoff's mother Natalya Moroz (in the centre of frame) with her students from the London School of russian Language and Literature.
So it is no surprise that for the last 15 years Sergei Nossoff has been responsible for the strategic M&A projects, finance, and general development of various companies in the russian federation.
American and European sanctions painfully hit many russian companies. Their financial records reveal this. But some companies are reluctant to show their shareholders the full picture at all and do not publish their Q1 and Q2 2022 financial reports. Such a decision made, among others, the biggest independent natural gas producer in russia Novatek. Instead, the company sadly stated that in the first half of 2022 the LNG sales amounts on international markets reduced by 8.3% against the same period in the previous year.

A screenshot from the official web site of the company
Q2 2022 financial outcomes of the russian natural gas producer Novatek.
SoftlineIT, the fourth biggest IT company in russia that operates in over 60 countries, faced similar problems. Sales of IT-solutions have grown by 20% a year on average in the last 10 years. In 2021, the company's turnover was $2,2 billion; and half of this amount was created beyond the russian federation.

On 11 march 2022, the company announced that "after different sanctions are imposed, Softline does not expect any tangible impact on their international business" and expressed their confidence that they "will continue to work effectively in the rf." And then they already confessed that they had troubles with supplies, restrictions from producers and financial flows during their operation in russia.

Until now, nobody among seven foreign top managers (these are Britishers and Frenchmen) has left his post since the beginning of the full-scale russian invasion in Ukraine. It was clear why in July 2022.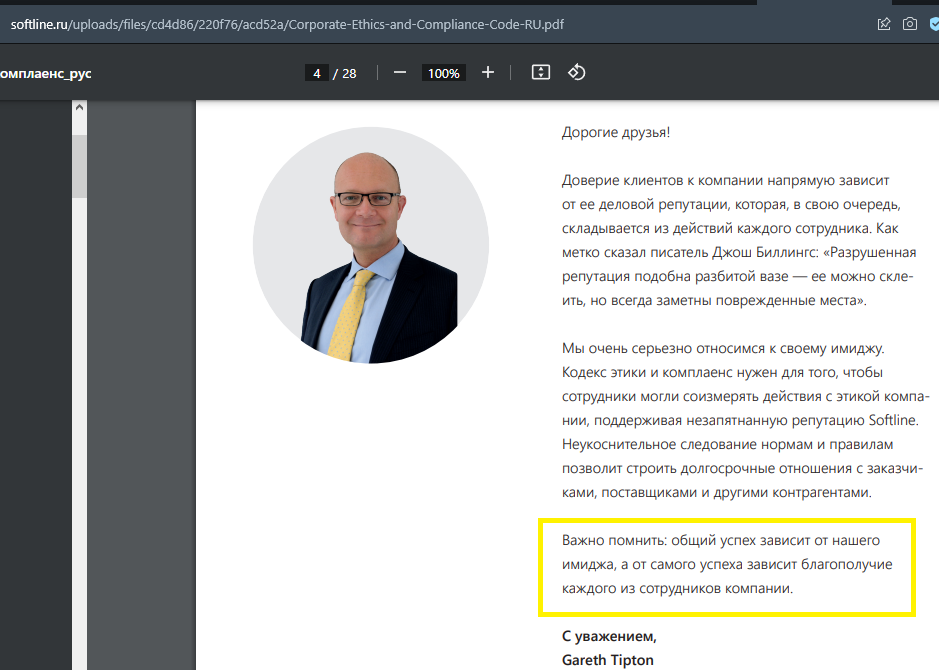 A screenshot from the official web site of the company
A screenshot from the introduction to the SoftlineIT Ethical Code. In the photo is Global Chief Compliance Officer, a British citizen, Gareth Tipton.
In July, SoftlineІТ announced division of the business in two parts: Softline russia (which will operate in the rf) and Softline Global with the headquarters in London (to which assets beyond russia will belong). The official reason for such a business division is "geopolitical processes". And the unofficial one – the anti-russia sanctions.
Three company's top managers, Roy Harding, Erve Tessler, and Burak Ozer, will get new leading positions after the division of the business, but in a new, international, company with non-russian jurisdiction. Thus, they and their business are most likely to avoid sanction issues.

It was the foreign manager who invented this salvation solution – Roy Harding, SoftlineIT Strategic Acquisition Integration Vice President and CEO: "I'm proud that I managed to lead the company successfully through this complicated and uncertain period and find the right option for value optimisation on behalf of our shareholders."
Optimistic forecasts for their operation in the first day of russian invasion in Ukraine, like Softline, had also Polymetal company – one of the leading precious metals extractors with assets in russia and and Kazakhstan, which is among world's top 10 gold-mining companies.

On 24 February 2022, the company claimed that "in response to the escalation in Ukraine (…), targeted sanctions on the Company remain unlikely. Contingency planning has been initiated proactively to ensure business continuity, including selection of key equipment suppliers, liquidity management, debt portfolio diversification and securing sales channels."
On 7 march 2022, six foreigners stepped down from the board of directors: Ian Cockerill, Ollie Oliveira, Tracey Kerr, Italia Boninelli, Victor Flores, and Andrea Abt.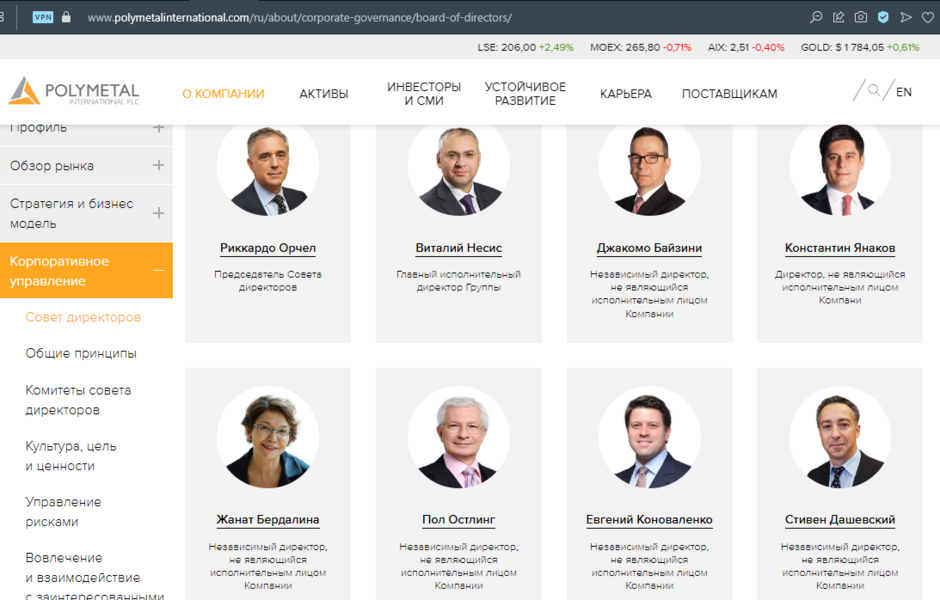 A screenshot from the official web site of the company
Polymetal Public Company's top management consists of foreigners more than by half.
In two weeks Riccardo Orcel was appointed the new Independent Non-Executive Director. Senior personnel of board committees also refreshed. Among others top positions were given to foreigners Giacomo Baizini, Paul J. Ostling, Vitaly Nesis. These very people became the authors of a revolutionary solution for the company: to alternate the company's structure so that to secure the detached ownership of assets depending on their jurisdiction.
On 19 July 2022 Polymetal International plc informed that "the Company… is evaluating the potential disposal of the Company's assets located in the russian Federation (the russian Assets) (the Potential Transaction). If completed, the Potential Transaction would result in the Company focusing primarily on its operations in Kazakhstan." The company believes that the Potential Transaction would also increase the likelihood of the Polimetal's ompany's ability to re-enter all the relevant exchange indices and regain a significantly wider institutional audience.
Meanwhile, the company's business does not look very well. According to Polymetal CEO Vitaly Nesis, the Q2 revenues fell by 36% against the same time of the last year.
After the russian advance had been launched, three among four foreign members of the board of the russian telecom PJSC VimpelCom left their positions on their own initiative. Besides, although a Turkish citizen Serkan Okandan and a German citizen Michael Schulz stepped down from VimpelCom, they remained on the supervisory board of the Ukrainian mobile network operator Kyivstar.

Both VimpelCom and Kyivstar belog to the international group Veon that provides services to 240 billion subscribers in 13 countries. After the beginning of the russo-Ukrainian war the Veon management faced a question: whether or not to remove their business from russia. After all, the company openly calls their values "to firmly uphold integrity and the highest ethical standards."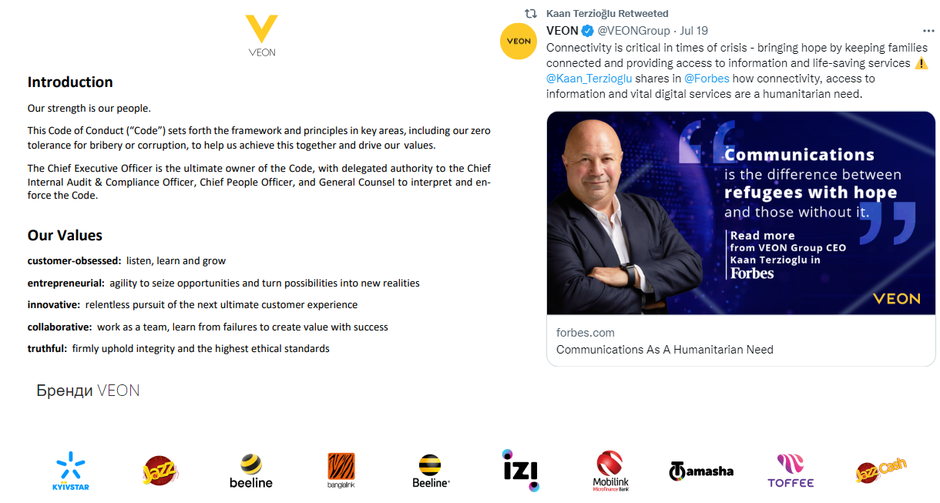 Holding Veon includes the Ukrainian Kyivstar, brands Djezzy in Algeria, Beeline in the russian federation, Banglalink in Bangladesh and Jazz in Pakistan. Veon decided not to go out of the russian market using expressions about communications as a fundamental human need as a cover.
But after several months of doubts the company made a decision to stay.

VimpelCom works in russia under the Beeline brand and provides cell communication, internet access and IP-television services in all rf regions. Over 59 million people use Beeline company's services in russia. The brand is also represented in Kazakhstan, Kyrgyzstan, Uzbekistan, Tajikistan, Armenia, and Georgia.

After the war had started, the Veon executive director and at the same time chairman of the board at PJSC VimpelCom Kaan Terzioğlu assured investors of the stable situation in the company and underlined that the Veon themselves is not the subject of any sanctions imposed by the European Union, the United States or the United Kingdom. "The international community understands our position as a basic services provider, and the regulatory bodies confirm their commitment to supporting sectors that matter for humanitarian activities and sustaining access to the internet and information flow."

Indeed, "despite unprecedented geopolitical challenges" Veon's income in the 2022 second quarter was over $2 billion, that is 5.6% more that in the same period of the previous year. At that, revenues on the russian market grew (+12.2%) and on Ukrainian fell (-2%).

Having summarised their finances for the first half of the year, Veon explained their reluctance to go out of the russian market in July 2022 by the fact that in 21 century communication should be recognized as "a fundamental human need."
On 18 July 2022, Kaan Terzioğlu said in a Forbes column: "Connectivity and communication are important services in times of conflict. When facing a crisis, organisations in this industry should consider the steps they can take to enable loved ones to connect, seek help or search for information and news from reliable sources."
In his column Terzioğlu refers to the White House statement that the US does not object to the work of foreign companies that do "essential humanitarian and related activities that benefit the russian people and people around the world (…), and enabling telecommunications services to support the flow of information and access to the internet which provides outside perspectives to the russian people."
What makes the situation more unusual is that in December 2021 Kaan Terzioğlu chaired the Kyivstar supervisory board. Thus, on one hand, the foreigner tries not to make the russian authorities furious: he doesn't blame their actions, calls the war a "conflict" in russian fashion for the corporation to receive incomes and pay taxes to the russian budget. On the other hand, he does his best to insinuate himself to Ukrainians' favour by donating a part of revenues for the needs of the military and the aggrieved population.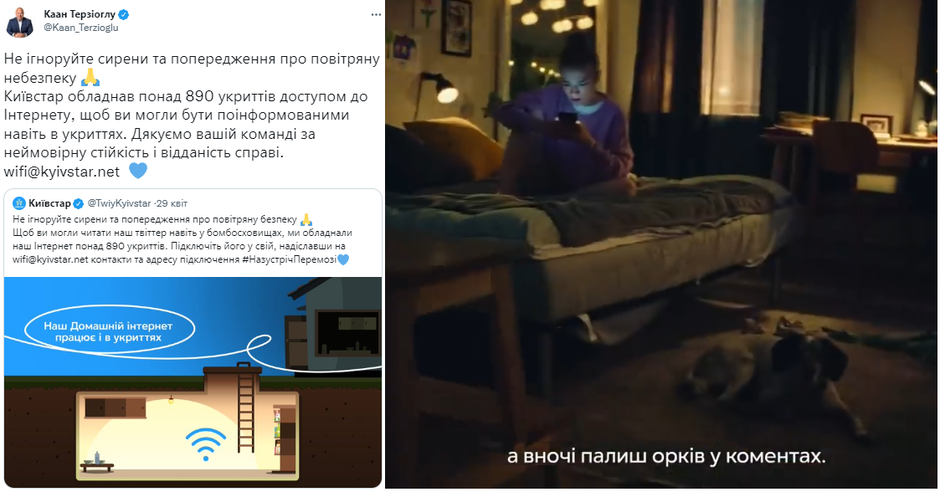 Kaan Terzioğlu calls in his Twitter: "Don't ignore alarms and air raid warnings!" And in Ukraine, Kyivstar makes a patriotic ad: "Dual life is when you are a junior school teacher at day and burn orcs in comments at night." Kyivstar also connected to the internet 1200 bomb shelters and 300 modular towns for people who lost their dwellings due to the war for free. The company has provided free services and bonuses for their subscribers worth 430 million UAH since the start of the war.
PJSC Kyivstar press service responded to Mind's inquiry that the company does not support the russian federation's behaviour in its military invasion in Ukraine and has donated over 33 million UAH on humanitarian aid for the military, hospitals, senior people, and the victims of war.

"Besides, on 4 July 2022 Kyivstar and the Ministry of Digital Transformation of Ukraine signed a Memorandum under which the company gives 300 million UAH assistance that will be directed to a special account in the National Bank of Ukraine for sustaining the United 25 government programme. These funds will be channelled to rebuilding of digital infrastructure that suffers repeated damage by the enemy," learned Mind from the company.
Anyway, judging by the latest statements of the Veon, they will not be able to play a double game. On 8 August Kaan Terzioğlu told Bloomberg that there are objective perils that the network deployment in the rf might slow down or even come to a standstill in the face of sanctions that block imports of essential equipment to the country.

The company also said that senctions affected banks that provided funding to the company: "Complex sanctions against investments and suppliers in russia and ongoing conflict between russian and Ukraine may affect substantially the operation and business plans of the company in russian and Ukraine."
Stay tuned for business and economy news on our Telegram-channel
Mind.ua
and the
Google NEWS
feed
If you have read this article to the end, we hope that means it was useful for you.
We recommend you to join the Mind Club. To become a member, you need to subscribe for $7 per month.
Your support is very important to us!
Why do we introduce paid subscription?
High-quality and independent journalism takes a lot of time, effort and is expensive – it's really not cheap. But we believe in the prospects of business journalism in Ukraine, because we believe in the prospects of Ukraine.
That's why we are creating a paid monthly subscription – Mind Club.
If you read us, if you like and appreciate what we do, we invite you to join the Mind community.
We will develop Mind Club: the amount of materials, available services and projects. As of today all the existing members of the club:
Help to create and develop quality independent business journalism. We'll get the possibility to continue empowering and improving the quality of our materials.
Visit a website – without any banner ads.
Get access to Mind's «closed» materials (a monthly issue where we explore and analyze how entire industries are doing; and weekly analytical summaries).
Free access to Mind Invest Club events for subscribers, and special terms – for other Mind events.
Smart Power. Business owners who become Mind subscribers will get access to a system violations aggregator from Mind and Skazhy.ua analysts. If your business has problems with dishonest officials or competitors, we will analyze whether their behavior is systemic, and together we will be able to solve this problem.
We will continue to develop Mind and add useful rubrics and services for your business.
We work to ensure that our journalistic and analytical work is of high quality, and we strive to perform it as competently as possible. This also requires financial independence. Support us for only UAH 196 per month.
You can unsubscribe at any time in your LIQPAY account or by sending us an email: [email protected]