Life Elixir: how a pharmaceutical company launched the production of infusions
And why is it unique for Ukraine.
Infusion production
Not many people know that during Soviet times it was Ukraine that provided all union states with medicines. For example, the largest volume of drugs in injection ampoules was produced in our country. Moreover, the pharmaceutical company Darnitsa produced a lion's share of such drugs. Its production line yielded about half a billion of ampoules per year.
Over decades, Darnitsa has gained vast experience in manufacturing injectable drugs, which the company's owners decided to turn into a new business area. In 2015 they invested 20 million euros and launched the production line of infusions.
"Infusions are generally the same as injectable drugs, but of a larger volume, 100 ml or more. And since Darnitsa has huge experience in producing such drugs, we only needed to make a little step from smaller to bigger volumes", recalls Yevhen Cherkas, COO of Darnitsa.
Darnitsa was not the first to produce infusions on the Ukrainian market. But the company decided to concentrate on quality. First of all, they improved packing. "Today, Ukrainian manufacturers use primary packaging made of glass, polyethylene, and PVC. We prefer polypropylene," says Yevhen Cherkas.
Why polypropylene? Such packages are mechanically stable, their production is characterized by low power consumption, and therefore it has a small carbon footprint. "Moreover, unlike polyethylene, polypropylene can be sterilized according to a pharmacopoeial regime at 121 degrees during 15 minutes, which provides the necessary level of sterility of the solution. Plastic containers are semi-permeable. But this characteristic gets noticeable with only some drugs that require strict inert protection", adds the company's Operating Director.
The German company Rommelag, the founder of blow-fill-seal technology, or BFS, has become a supplier of raw materials for Darnitsa packaging. "Together with Rommelag we've developed a bottle shape that gives it the ability to compress, and when installing a dropper there is no need for an "air "needle. In other words, the form of packaging is such that it is gradually compressed and squeezes a solution from itself," explains Cherkas.
The so-called euro cap, which is soldered to the bottle, has a protective film and prevents the contamination of the contents and leakage of the solution, has become another innovation for the Ukrainian market.
"To make it safe for usage, a bottle is sterilized and tested for mechanical resistance and leaks by placing the entire package with the drug in a vacuum," says Yevhen Cherkas.
By the way, used infusion packaging is environmentally friendly and can be recycled
It was quite difficult to choose equipment for the new production method. "We wanted our production line to meet international standards or even surpass them, and made our choice in favor of German suppliers," says the Operating Director of Darnitsa.
Frankly speaking, the search for a partner looked more like a blind date, because none of the contractors wanted to share the nuances of their technology for the production of infusions in the BFS packaging without a prior contract. "Therefore, we became pioneers and, in fact, we were intuitively gathering information bit by bit, and used every opportunity to have a look at similar production lines in other countries", admits Mind's guest.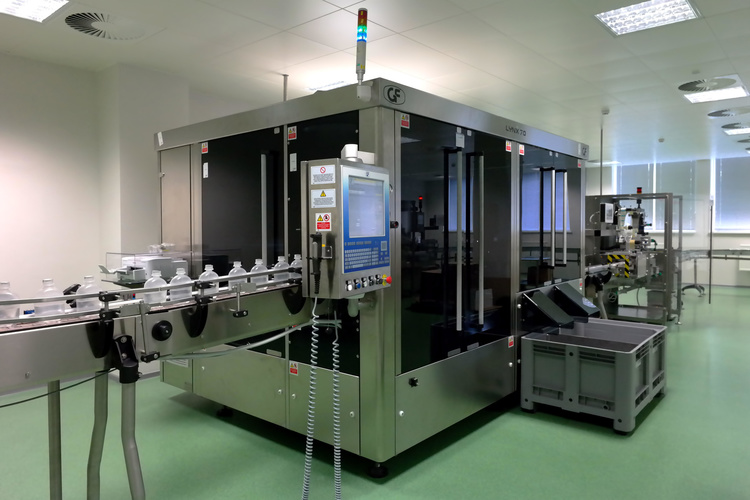 Infusion manufacture
After the selection of a contractor, we developed an adaptation program. "Our colleagues were having practice in Germany for about a month, learning the equipment, dealing with its settings, servicing, and repair," explains Yevhen Cherkas.
As a result, despite difficulties, Darnitsa managed to establish a technological line with all automated processes, from the preparation of drugs to marking and packaging. The only "manual" procedure is the loading of raw materials for infusions. "Moreover, experts from the manufacturing plant helped us launch the production process. This allowed us to produce high-quality products from the very first bottle", assures Cherkas.
In addition, there's an increased control over the production, which almost eliminates the risk of human error. "We have the staff training and assessment program. After the theoretical and practical course, an employee takes a test on safety, labor protection, fire safety, and production processes. In general, we have 40 people working on this line," says Yevhen Cherkas.
The maximum manufacturing capacity of Darnitsa's infusion line is 15 million bottles per year. The bestselling drugs are sodium chloride and glucose. The distribution of infusions is almost equally divided between medical institutions, i.e. hospitals, which buy about 40% of drugs, and pharmacy networks, which get 60% of solutions.
Besides, a number of infusions are exported to the Baltic market. "In 2016 we obtained GMP certification and started our cooperation with partners in Lithuania, where we still sell infusions and parenteral medications in ampoules," clarifies Yevhen Cherkas.
Darnitsa buys raw materials for infusions both in Ukraine and abroad. It's usually 30% in Ukraine, and 70% abroad. This makes it possible to reduce the impact of exchange rate fluctuations on the final cost of drugs. "The in-house production of raw materials isn't cost-effective. The production of substances, active ingredients, and ready-made products by different manufacturers is a common practice worldwide. Moreover, we are trying to diversify supplies. There are several companies selling the same raw material to us," says Yevhen Cherkas.
He also adds that the Ukrainian infusion market capacity is 90 to 100 million vials, whereas the market saturation is 70 to 80%. "Given that our production capacity is utilized at about 40 to 50%, we still have a room to grow," says the Operating Director of Darnitsa.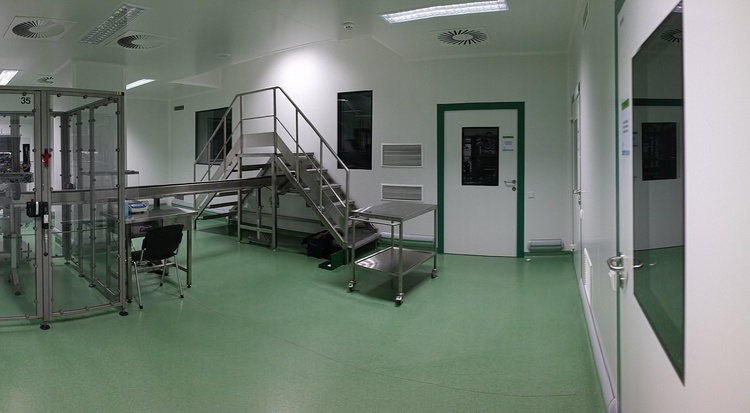 Infusion manufacture
Moreover, 95% of infusions are produced in Ukraine and only 5% are imported. "Importers are scared away by logistics. One pallet can hold up to ten thousand packs of tablets and only a thousand of 500 ml infusions. Therefore their import to Ukraine is unprofitable. Unique and expensive drugs could make an exception. But the demand for such solutions as sodium chloride or glucose is fully covered by Ukrainian manufacturers," explains Yevhen Cherkas.
Sergiy Kravchenko, Executive Secretary of the National Medical Chamber of Ukraine, agrees that the growth potential of infusion production is not exhausted. "All medical institutions use infusion therapy, especially hospitals and ICUs. Therefore, there is and will be the demand," comments Kravchenko.
At the same time, in terms of practicality and convenience, polypropylene packaging is really going to dominate in future. First of all, it's more relevant in situations where it is necessary to provide emergency care or medical manipulations on war fields. "Even though, glass containers are also needed, for example, in hospitals. It is convenient to transport and store glass. But in an ambulance, infusion solutions should better be kept in polyethylene packaging," says Sergiy Kravchenko.
According to Ivan Soroka, President of the Ukrainian Medical Club, Member of the Board at the Ukrainian Ministry of Health, the launch of modern drug production facilities in Ukraine is a positive trend, which in the long run will bring the supply of medicines from abroad to a minimum.
"The share of domestic drug production is constantly growing. And the launch of new facilities that meet global standards not only improves the quality of patient treatment and allows to create drugs in-house, but in some sense becomes a part of national security," says Ivan Soroka.
As before, the quality control of medicines and counterfeiting are still an issue. "For example, our infusion production line is equipped in such a way that it can tag bottles with 2D markers. It is an individual number with which products are protected from counterfeit. But currently this technology is not working. To make it work the state should establish a legal basis and create a common database where these codes will be stored," explains Yevhen Cherkas.
At the same time Victor Serdyuk, President of the Ukrainian Council for the Protection of Patients' Rights and Safety, told the Mind that in 2018, after a three-year break, the State Council for Drugs and Drug Control has restored the quality control of drugs. This should encourage producers to comply with all the necessary requirements and standards for medicine production, as well as reduce the percentage of counterfeit drugs that can sometimes be found both in pharmacy chains and medical institutions.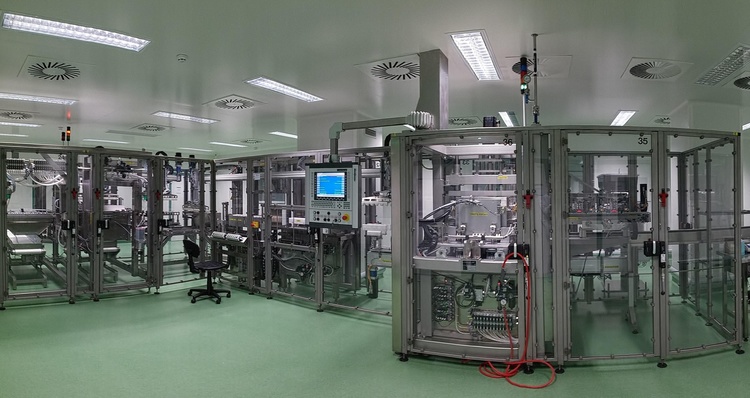 Infusion manufacture
Stay tuned for business and economy news on our Telegram-channel
Mind.ua
If you have read this article to the end, we hope that means it was useful for you.
We recommend you to join the Mind Club. To become a member, you need to subscribe for $7 per month.
Your support is very important to us!
Why do we introduce paid subscription?
High-quality and independent journalism takes a lot of time, effort and is expensive – it's really not cheap. But we believe in the prospects of business journalism in Ukraine, because we believe in the prospects of Ukraine.
That's why we are creating a paid monthly subscription – Mind Club.
If you read us, if you like and appreciate what we do, we invite you to join the Mind community.
We will develop Mind Club: the amount of materials, available services and projects. As of today all the existing members of the club:
Help to create and develop quality independent business journalism. We'll get the possibility to continue empowering and improving the quality of our materials.
Visit a website – without any banner ads.
Get access to Mind's «closed» materials (a monthly issue where we explore and analyze how entire industries are doing; and weekly analytical summaries).
Free access to Mind Invest Club events for subscribers, and special terms – for other Mind events.
Smart Power. Business owners who become Mind subscribers will get access to a system violations aggregator from Mind and Skazhy.ua analysts. If your business has problems with dishonest officials or competitors, we will analyze whether their behavior is systemic, and together we will be able to solve this problem.
We will continue to develop Mind and add useful rubrics and services for your business.
We work to ensure that our journalistic and analytical work is of high quality, and we strive to perform it as competently as possible. This also requires financial independence. Support us for only UAH 196 per month.
You can unsubscribe at any time in your LIQPAY account or by sending us an email: [email protected]