Medicine at war: how the healthcare system has changed
How public and municipal hospitals work after 24 February and whether all services are available for patients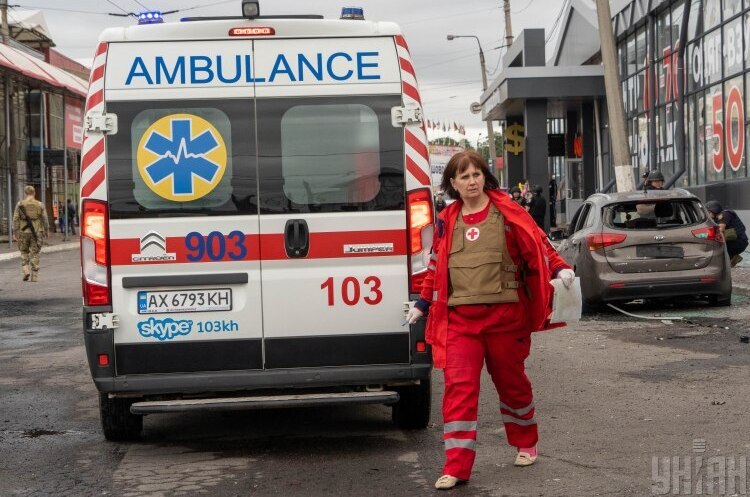 In the course of russia's full-scale invasion in Ukraine, the occupiers have killed at least 18 medical workers and 56 more injured severely, according to the Ministry of Healthcare. Ruscists damaged 884 medical facilities, among which 123 were completely destroyed. The invaders put 87 ambulances out of action by shelling, captured 241 vehicles, and hit about 450 pharmacies as well.
As of 8 August, according to the Ministry of Economy and KSE Institute latest figures, proximate damages by destruction or damaging healthcare facilities made up about $1.6 billion and total indirect losses of the sector – $2.7 billion.
Mind found out how Ukraine's medicine performs under war reality; whether the domestic healthcare system succeeds in providing medical services to citizens in full scale; whether there is a sufficient number of doctors; where displaced and injured persons are treated and how this is funded.
First decisions: ceasing planned hospitalisations and reserve for the injured
After martial law had been introduced in Ukraine, the Ministry of Healthcare (MH) by its 24 February, 2022 Order No. 374 immediately approved the Provisional Measures in Healthcare Facilities for Providing Medical Aid to the Victims of the russian federation's Military Aggression Against Ukraine.
The document suggested among other things: to temporarily cease all planned hospitalisations, prepare additional surgical teams for helping the wounded, and fully provide emergency medical aid. Considering the complicated logistics, the agency recommended increasing assistance with the use of telemedicine and conducting sociomedical expertise through simplified procedure and in absentia.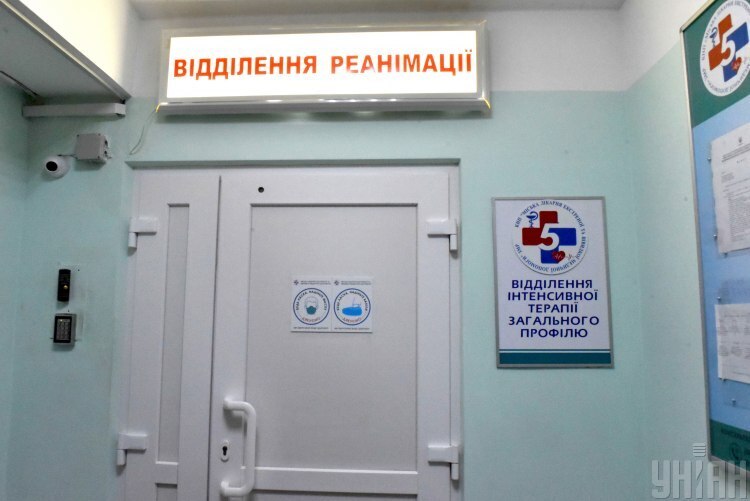 Image: UNIAN
The order also determined that urgent and emergency planned hospitalisations were not to be stopped in spite of martial law. Doctors had to continue planned operations for the pregnant, women in childbirth, newborn children, patients with oncological diseases, palliative hospital patients and when delaying an operation bore serious risk for a person's health and life.
On 20 March, almost a month after the Order No. 374 had been issued, the MH made amendments to it, specifying that planned hospitalisations are to be ceased in the following cases:
when over 70% of therapy bed stock and over 50% of surgical bed stock are filled;
by the decision of healthcare organisational units of Kyiv city and oblast military administrations in view of the tactical situation.
This means in practice that all hospitals have to keep 30% (therapeutics) and 50% (surgery) beds in the peculiar reserve, so that medical facilities could accept injured people when necessary. At the same time, this setup has to regulate medical workers' load.
"In other words, when the hospital surgery is loaded (over 50% – Mind), we understand that this is due to hostilities and doctors have a big load. This is the reason why planned opeartions are restricted," explains Nataliya Shulika, head of the Zaporizhzhia Oblast Office of the National Health Service of Ukraine (NHSU) Eastern Interregional Department.
In particular hospitals, additional pools of medicines were created with the beginning of the russian invasion. We were told at the Lviv City Council's Healthcare Directorate of the Humanitarian Policy Department that city's medioprophilactic institutions with minimum 180 beds of bedspace, based on the 10.08.2001 MH Order No. 331, made reserves of medications and medical products that will secure assistance for victims if 10% of additional beds are deployed.
How did the state funding for medical services change?
The NHSU had time to contract for medical facilities for 2022 before the full-scale war. And on 5 March in order to secure regular financing for hospitals, the government introduced changes to the State Guarantees Programme of Public Medical Care.
"The NHSU started to pay a fixed amount of money to facilities without considering the actual entries in the electronic healthcare system (EHCS). Payment levels are set up monthly at the bigger value of the following values: 1) real cost of the appropriate medical services provided during January 2022; 2) 1/n of the planned cost of medical services under the appropriate package, where n means the number of months during which a contract under the appropriate medical service package is valid," told us Nataliya Shulika.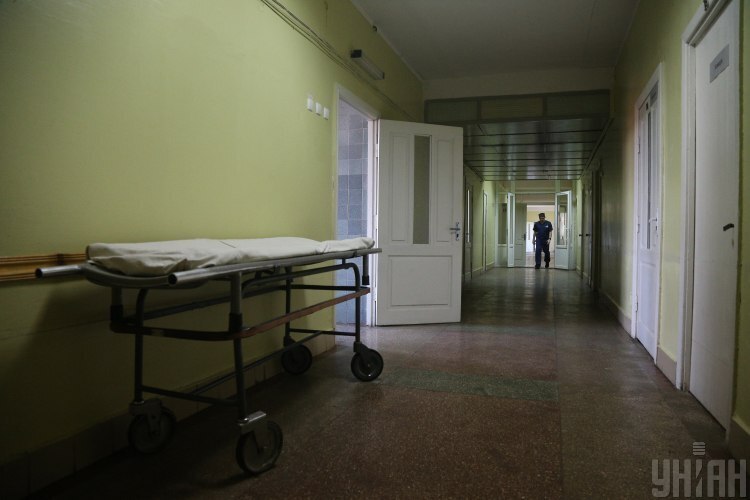 Image: UNIAN
Basically, each contracted hospital received each month 1/12 of the annual amount of funding from the NHSU. From 24 February, such payment was applied to all medical facilities, including hospitals that operate on the occupied lands.
On 1 July, the government brought the system of paying for actual services provided and mandatory reporting on them back. But fixed payment funding continues for those hospitals that have still been working in temporary occupation, in the combat zone and at the front line.
In total, the NHSU has paid over 74 billion UAH to medical facilities and urgent medical aid centres since the beginning of the full-scale war.
What medical aid is available during the war?
Each citizen can personally address any facility contracted for by the NHSU that provides primary care. A patient who does not have a referral and a signed declaration may be seen by a physician, family doctor or paediatrician or receive urgent or emergency medical aid free of charge.
Primary care physicians provide the following services:
overseeing one's health status in dynamics;
diagnosing and treating a disease;
basic tests and analyses;
prescriptions on "Affordable Drugs" as well as insulin (second prescription);
inoculating according to the calendar of vaccination;
palliative help.
It is also he/she who decides whether or not to send a patient to additional examination, treatments, hospitalisation or to a secondary care (specialised) doctor.
It is worth mentioning that referral to a number of narrow specialists is not needed. These are: gynecologist (including child's), dentist (planned and urgent aid for children, urgent for adults), psychiatrist, narcologist, phthisiatrician, and the doctor under whose surveillance is a patient with chronic diseases.
It is possible to consult a family practitioner or paediatrician remotely: via telephone, online or via messenger. If there is communication with him, of course. This way a specialist can write an electronic prescription, form an electronic referral to a secondary or tertiary care doctor, create an electronic referral to basic tests and analyses.
For the martial law period, paper referrals are equally valid as electronic ones (in case a doctor does not have access to EHCS or even the internet). A patient with a referral can go to a secondary care specialist (cardiologist, oncologist, psychologist etc.) in any region and any hospital that has an agreement with NHSU for the appropriate package of services.
Where and how to treat internal migrants?
As of early 2022 the population of Ukraine comprised around 40 million people. Due to the full-scale war the mass migration can be witnessed: over 10 million people have left this country since 24 February, according to the UN Refugee Agency, and more than 4 million of them have already returned. There are also about 7 million internally displaced persons (IDP) in Ukraine, according to the Ministry for Reintegration of the Occupied Territories, and only 4.5 million of them are officially registered.
The IDPs have simplified access to free primary healthcare in the conditions of martial law (this was settled by a particular MH Order No. 494, 17.03.2022). "The medical assistance within the medical guarantees programme is granted to all citizens of Ukraine, including IDPs, no matter whether they acquire this status or not," assures the Healthcare Directorate of the Humanitarian Policy Department of Lviv City Council.
At the same time, the Healthcare Department of Lviv Oblast Administration stresses that an individual who had officially lived in a presently non-Ukraine-controlled area needs, however, to draw up an IDP registration certificate to be able to obtain medical care. The paper would grant him/her a right for receiving medical services at the new place of residence in a state-owned or municipal medical facility. Without such an IDP certificate medical aid may be provided only when there is an urgent condition or planned vaccination.
Internal migrants may choose any facility contracted for by the NHSU, if it is able to provide the needed treatment. A declaration or re-signing it with a local doctor is not necessary (the information is in the electronic system).
"Despite the availability or the absence of a declaration signed with a doctor, the IDP may go to any primary care centre," says the Healthcare Department of Kyiv City Administration, adding that all types of services under medical guarantees programme are available for the migrants: primary medical aid, specialised aid, obtaining medicines through "Affordable Drugs" programme etc.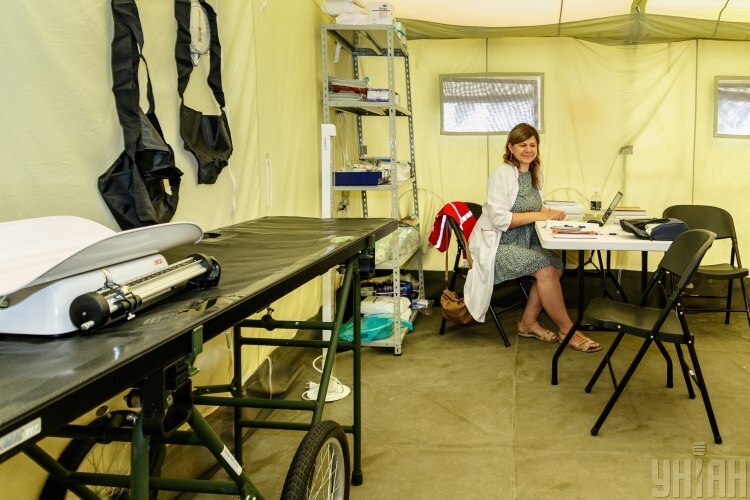 Image: UNIAN
An IDP can find the necessary professionals by calling the NHSU contact centre by number 16-77. If the person cannot visit a medical facility during martial law, the MH contact centre gives free medical counsel by number 0800 60-20-19. One may call these two numbers when a doctor refuses to provide aid to an internally displaced person.
Free medical services and programmes
Medical Guarantees Programme continues to be valid during martial law and covers 38 packages of services this year, including: medical care to women in childbirth and newborns in complicated neonatal cases, treating stroke and infarction, mammography, bronchoscopy, colonoscopy, one-day surgery, diagnosing and treating adults and children with tuberculosis, treating and tracking patients with oncological diseases etc.
"Affordable Drugs" + Insulin. The medication reimbursement programme (the state indemns for their price fully or partly) for cardiovascular diseases, I and II type pancreatic diabetes, bronchial asthma, mental and behavioral disorders, and epilepsy is underway. From 2023 on, the reimbursement will foresee not only medicines but also medical products, such as test strips.
Since the start of the war, all insulin preparations were given to Ukrainians completely free of charge, 100% of their price was indemned for by the NHSU and the total sum reached almost 400 million UAH. Since 15 July, an extra charge of 15% of retail price has been returned to 29 insulins. 47 medications still remain absolutely free for patients..
Ukrainians can get insulins and other "Affordable Drugs" both through electronic and paper prescription. Declaration is not needed. Endocrinologist or "primary" doctor can write out the insulin prescription (if the prescription is the second).
Hemodialysis. Ambulatory treatment for Ukrainians with chronic kidney disease or renal failure is absolutely free. Referral for it is given by a nefrologist, and the patient has to choose a medical facility for treatment on his/her own (if there are free dialysis places). You need to have a declaration to use the service.
Image: UNIAN
Beside the immediate hemodialysis treatment, a patient according to this package gets free examination and treatment efficiency control, drugs and medical products, and also he/she can make necessary analyses.
Antiretroviral therapy (ART). Ukrainians living with HIV can receive treatment in the place of their actual residence. In Ukraine, it is available in AIDS centres or "Confidence" cabinets. If a patient went abroad, he/she can go to a clinic that provides similar aid within the initiative "ART for Ukrainians Abroad" (full list of facilities). Info about where it is possible to get therapy both in Ukraine and abroad could be found in the Telegram-bot #АРТпоруч.
Vaccination. If an infant or an adult missed their planned vaccination under the National Inoculation Calendar due to the war, they have to go to a family doctor/pediatrician (their or the nearest medical facility, including abroad). There is no need for a declaration to do this. In this case doses that lack are administered according to the schedule and with minimal intervals.
Medical evacuation. The Health Ministry in collaboration with Eurocommission arranges free medical evacuation to the safer regions of Ukraine and abroad for the citizens who need high- specialized aid and rehabilitation that is not available at the place of their residence. Ukrainians severely ill or injured as a result of the war can apply for the Medical Evacuation Programme.
Treating the defenders and the injured
We note immediately that information on treating servicemen and other defenders is of restricted access. Mind addressed to regional healthcare directorates and departments, common doctors to find out whether there were many hospitals reequipped for receiving the militarymen and the injured and how the whole sector had prepared for the war. But this data is closed for the sake of patients and medics' safety as long as the martial law is.
Nataliya Shulika, head of the Zaporizhzhia Oblast Directorate of the NHSU Eastern Interregional Department, only pointed out that the share of hospitals that provide care to the injured in action differ in various regions and not always depends on the geographical location of the oblast.
"Hospitals receive the injured servicemen and civilians depending on the patients' pathways developed by healthcare departmenеs," she explained.
According to Nataliya Shulika, treatment of the injured is funded under the NHSU medical guarantees programme. By the way, the amendments to the document take into consideration the peculiarity of war traumas.
Within the "Surgical Operations for Adults and Infants in Hospital Conditions" and "Inpatient Care for Adults and Infants Without Surgical Operations" packages new weight coefficients for diagnostic related groups were installed, distinguishing cases of hospital care for patients with consequences of mine-blast traumas," she says.
It is most likely that there are no civil medical facilities that would completely switch to the inpatient care of militarymen and injured people. Ukraine has enough hospitals subordinate to the Ministry of Defence, Security Service of Ukraine, Ministry of Interior and other enforcement agencies.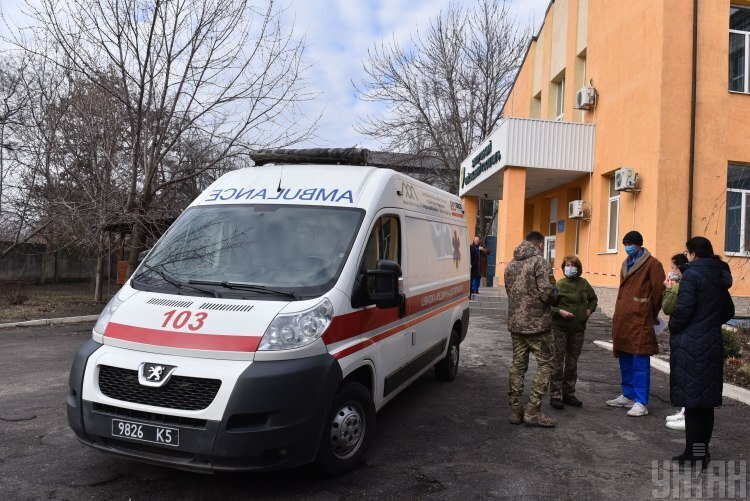 Servicemen generally have a right to address civil hospitals. The care they get at public or municipal facilities is provided at the expense of the Defence Ministry or the other security service they belong to.
Migration of doctors and personnel issues
Due to the full-scale war not only did patients move abroad or to the other oblast, but also doctors. But less than 1% of medics left the country, according to the Ministry of Healthcare, so there is not any big personnel flow-out.
At the same time there is redistribution of professionals at home. Over 3,600 internally displaced medics found a new job from 24 February till now.
Ukraine's West was overloaded with experts at the beginning of the war, there was not work for everybody, though the East and South, and communities along the front line witnessed scarcity in medical workers. And it still exists. According to the Mykolaiv Oblast Military Administration's Healthcare Directorate, there is a deficit in personnel in the region. "Staffing in doctors is 64%, mid-level staff – 86%. Over 200 doctors and over 500 nurses have left since the hostilities began," we were told in the agency with the remark that they willingly take on migrant medics.
In some regions, such as Zaporizhzhia, Poltava or Dnipropetrovsk oblasts, doctors who had left these areas were "replaced" by professionals who were fleeing from temporarily occupied territories.
Considering the complicated situation with many hospitals, NHSU started the additional funding package within the medical guarantee programme for communal medical institutions that are currently unable to secure paying basic salaries for medics amounted to 20,000 UAH for doctors and 13,500 UAH for mid-level professionals. A contracted medical institution that cannot execute the government resolution on providing market salaries for medics, according to its accounting, can pretend on it.
Note that even doctors' who did not manage to leave the temporarily occupied territories payroll is done. 235 hospitals and over 200 emergency medical crews are located on those lands.
Humanitarian aid, medevac, and medicine record system
Deliberate ruining Ukrainian medical infrastructure by ruscists and troubles with logistics made hospitals face the lack of certain medications and equipment since the start of the war. International benefactors, Ukrainian businessmen, and volunteers came to assist with domestic healthcare.
So during almost six month of war Ukraine obtained 8,500 tons of medical humanitarian aid to the total amount of over 12 billion UAH. These were medications, as well as medical products, including medical equipment, and consumables, and medical transport, medical furniture, mobile hospitals etc.
To account the humanitarian aid in the peripheral warehouses and distribute it according to needs of medical facilities the Health Ministry founded the MedData research and information system. Hospitals make queries for their needs via the system. Facilities also do this through the United24 fundraising platform where they mainly reveal needs for medical equipment.
Injured Ukrainians are also admitted for treatment to the best specialized clinics in 18 countries. Medical evacuation was provided to over 1000 patients who had got complicated mine-blast wounds, burn traumas or had severe diseases that are now hard to treat in Ukraine.
Medical sphere also gets direct financial aid. The United24 platform brought $5 million to the MH account from the Qatar state fund and 200 million UAH more were raised from benefactors for reanimation cars just in the last few weeks.
To distribute their resources optimally, the Ministry and the State Enterprise "Medical Procurement of Ukraine" worked out implementation of the e-Stock electronic system that would store data on available medications and medical products in medical facilities around the nation. The service's data would be public, it would refresh in real-time mode and contain information on centralised purchases for budget funds, purchases by international organisations, "Affordable Drugs" programme, purchases for regional budgets etc.
Healthcare reform goes on: what awaits the industry
In spite of the war, the healthcare reform initiated in 2017 continues in Ukraine; it is time for its infrastructural stage in particular. On 19 July, the Law No. 2347-IX which stipulates consolidation of the medical facilities network in every oblast into hospital districts divided in its turn into clusters, came into effect.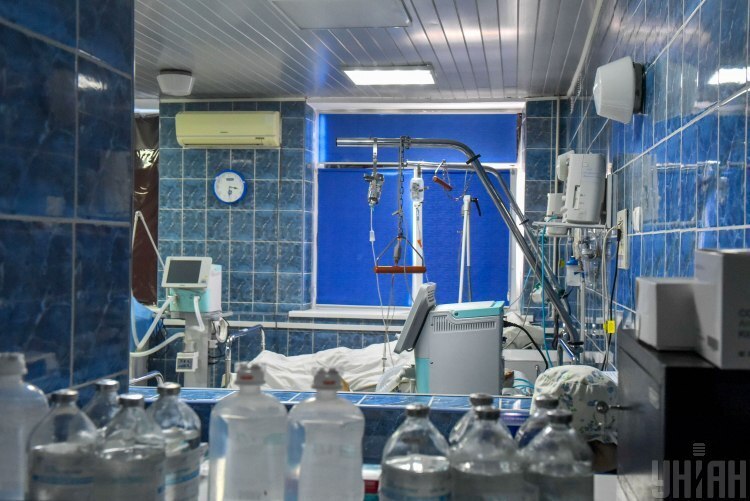 Image: UNIAN
Depending on the kinds of medical care provided, optimal patient pathways and medical workers' load, hospitals will be general, cluster or supercluster ones. Nowadays, we remind, the division is among city, rayon, and oblast hospitals that often overlap in their functions.
By the novelties, each healthcare facility will have its defined functionalities. Basic services will be provided by general hospitals as close to the patient as possible, and high-specialized and narrow-specialized ones – in cluster and supercluster ones.
Such approach stipulates, among other things, supplying medical institutions with the equipment that corresponds to the level of their services in order to utilize resources more effectively.
As the Ministry said, supercluster, cluster, and general hospitals and their role in the most priority services will be determined by the end of 2022, and the Cabinet of Ministers will approve the boundaries of each hospital district and clusters it is divided in.
If you have read this article to the end, we hope that means it was useful for you.
We recommend you to join the Mind Club. To become a member, you need to subscribe for $7 per month.
Your support is very important to us!
Why do we introduce paid subscription?
High-quality and independent journalism takes a lot of time, effort and is expensive – it's really not cheap. But we believe in the prospects of business journalism in Ukraine, because we believe in the prospects of Ukraine.
That's why we are creating a paid monthly subscription – Mind Club.
If you read us, if you like and appreciate what we do, we invite you to join the Mind community.
We will develop Mind Club: the amount of materials, available services and projects. As of today all the existing members of the club:
Help to create and develop quality independent business journalism. We'll get the possibility to continue empowering and improving the quality of our materials.
Visit a website – without any banner ads.
Get access to Mind's «closed» materials (a monthly issue where we explore and analyze how entire industries are doing; and weekly analytical summaries).
Free access to Mind Invest Club events for subscribers, and special terms – for other Mind events.
Smart Power. Business owners who become Mind subscribers will get access to a system violations aggregator from Mind and Skazhy.ua analysts. If your business has problems with dishonest officials or competitors, we will analyze whether their behavior is systemic, and together we will be able to solve this problem.
We will continue to develop Mind and add useful rubrics and services for your business.
We work to ensure that our journalistic and analytical work is of high quality, and we strive to perform it as competently as possible. This also requires financial independence. Support us for only UAH 196 per month.
You can unsubscribe at any time in your LIQPAY account or by sending us an email: [email protected]