Canadian APCs by Roshel were spotted at the frontline. Who is their manufacturer and where they came from to Ukraine?
A hundred of them are already cruising along the frontline roads, one more hundred are waiting to be sent to Ukraine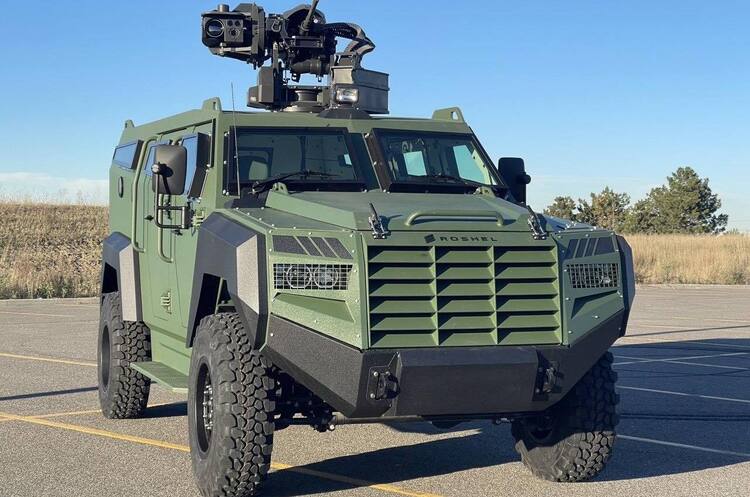 Military assistance to the Ukrainian Defense Forces from allies is one of the key factors in the fight against russian aggression. A reliable partner in this regard is Canada, having allocated almost $3 billion in aid to our country, including more than $1 billion for military assistance. For the first time Ottawa donated 8 modern wheeled armoured personnel carriers Senator protected against mines and ambushes to Kyiv back in May. These vehicles were manufactured by Roshel Corporation from Ontario.
This was only the beginning. In general, within international technical assistance from NATO and the European Union, more than 200 Senator vehicles have been manufactured for the needs of the Armed Forces, the State Border Guard, the Main Intelligence Directorate and the Security Service of Ukraine. As of today, our defenders have been already using over 100 Canadian armoured vehicles, and about a hundred more are expected to be delivered.
Mind talked to Roshel CEO Roman Shimonov to find out why the allies chose his armoured vehicles to be supplied to Kyiv, what has changed in his life and work since February 24, and why the company that is located 8,000 kilometres away from Ukraine helps our country move closer to victory.
Expanding geography
Roman Shimonov founded Roshel Corporation in 2016, just four years after he had emigrated to Canada from Israel. The company's production facilities are located in Mississauga, Ontario. As early as 2018, the company debuted on the market with a special operations vehicle called Senator. This very model of armoured personnel carrier is currently in service with the Ukrainian Defence Forces.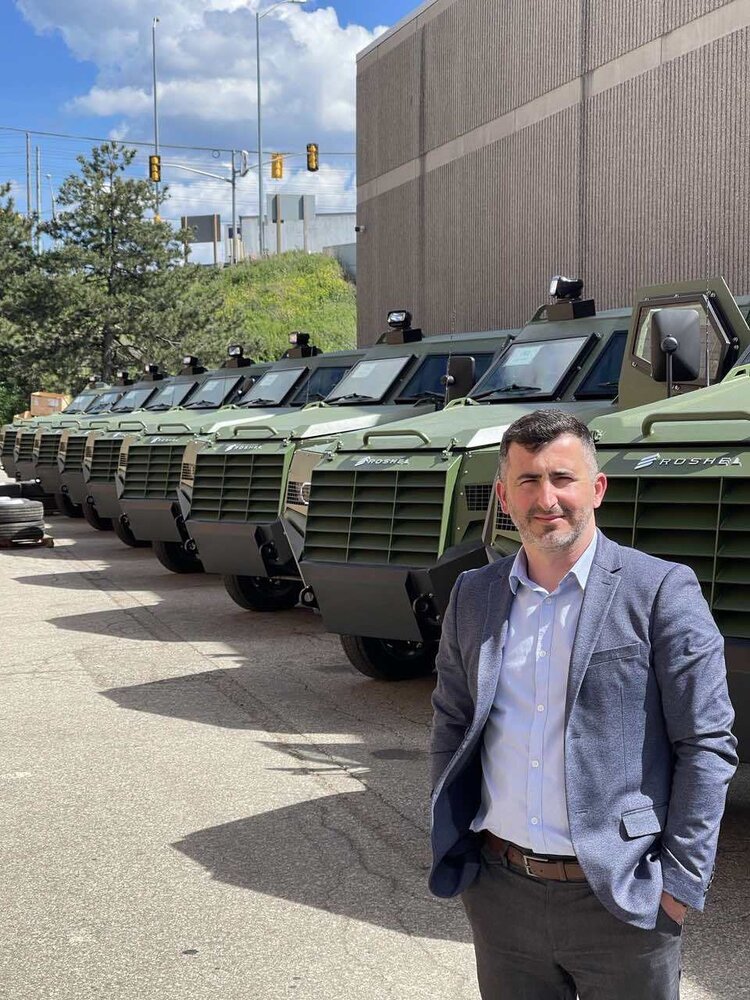 Roshel currently designs and manufactures smart armoãred vehicles (APCs, medevacs, rescue and border patrol vehicles), electronic warfare equipment, integrated tactical systems built on various vehicles, and the development and manufacture of surveillance systems, remote weapon control and other innovative solutions are also the specialisation of the company.
Until 2022, the company was focused on the North American market, and Senator armoured vehicles were mainly produced for security and law enforcement agencies of the United States, in particular for the State Customs and Border Protection and the Department of Homeland Security. Roshel products are also used by the Department of National Defense of Canada, the US Department of the State, the FBI, NASA and other North American security and military agencies
February 24 brought a new stage to the company's history . After the russian invasion, Shimonov, willing to help Ukraine and its brave defenders, reoriented manufacturing to the fastest possible production of APCs, so urgently needed by the Armed Forces and other structures directly involved in the liberation of the temporarily occupied territories.
Speed, price and quality: Three pillars for choosing a vehicle to be supplied to Ukraine
The decision to choose Roshel armoured vehicles to be supplied to Ukraine was made by the Government of Canada and other allies based on previous operation experience of cars and successful cooperation with the company. "The choice was made among the vehicles that had already proven themselves. Only companies that have the necessary range and high quality of products were considered. For example, we work in accordance with all North American standards", explained Shimonov, adding that Senator cars are fully certified and tested. The company has a special QVM (Qualified Vehicle Modifier) certificate that allows it to build cars based on Ford chassis in accordance with the requirements of the automotive giant.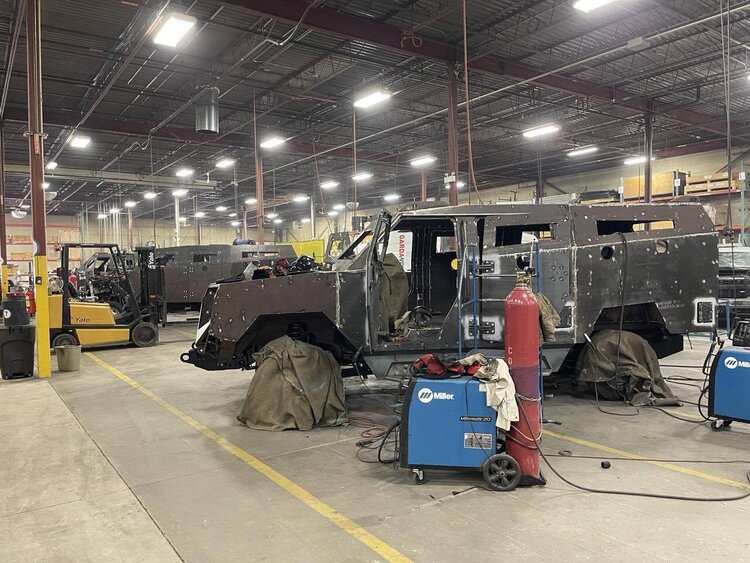 Another reason was the company's ability to produce APCs in large quantities. Today Roshel produces four units of Senator per day. Back in July, this number was half as much. The company has achieved this amazing speed by optimising logistics, expanding production space, modernising the armoured vehicle production line and hiring highly qualified specialists.
"We have very perfected logistics and we produce the vehicles ourselves. That is, we do not outsource any part of the production to subcontractors – the whole cycle goes on here," added Roshel CEO.
The company procures the majority of components for armoured vehicles in North America, including chassis, wheels, metal, glass. It is easier and more profitable in terms of logistics, and has a positive effect on quality as well.
This year Roshel has already produced more than 200 Senator cars, but plans to increase its capacity and produce about 1000 more units in 2023. They also want to reduce delivery time as much as possible. The company understands that the Ukrainian Defense Forces need armoured vehicles as soon as possible, so they work seven days a week and on holidays.
What an APC from Roshel is
Senator is an armoured wheeled vehicle with protection against mines and ambushes. The vehicle has ballistic protection level 7 (CEN B7 / STANAG II) and can withstand gunfire from 50-caliber weapons. The vehicle is also protected from explosions of two DM51 hand grenades or their equivalent – two anti-personnel mines. It is equipped with smart technologies that help not only to protect the crew inside from fire, but also to detect and avoid dangers in time.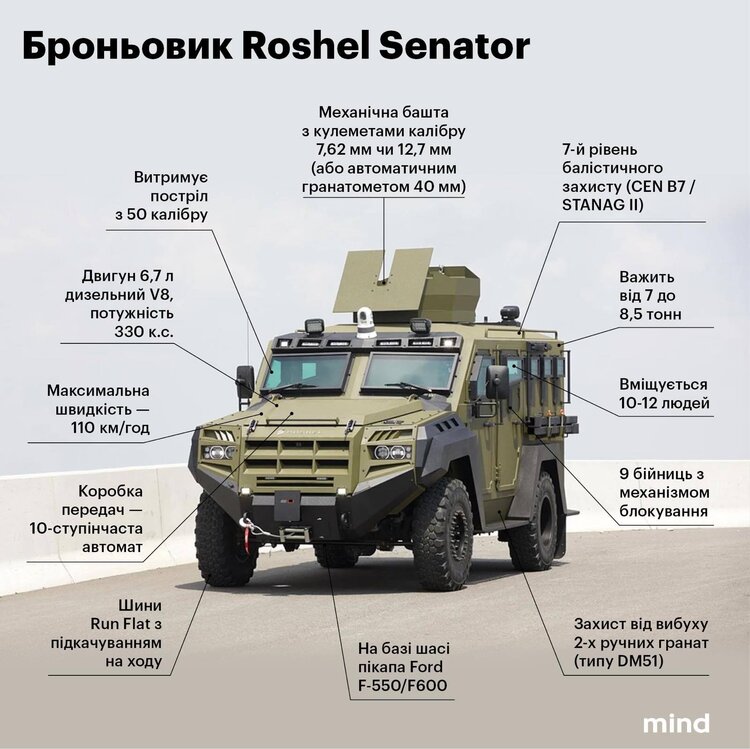 The APC is based on the heavy Ford F-550/F600 pickup truck's commercial chassis (the most reliable version of the F-series) and has Run Flat tires. The total weight of the carrier is from 7 to 8.5 tonnes. However, this car is very dynamic: it has a 6.7-litre turbodiesel V8 engine with a capacity of 330 horsepower and is able to drive at speeds up to 110 km/h.
The passenger capacity of the armoured vehicle is 10-12 people (including the driver), the cabin can also accommodate up to 2 stretchers if necessary. There are 9 openings for shooting with locking mechanisms scattered on the car's body.
The vehicle is equipped and customised according to the requirements and needs of the customer. And as an option, the APC can be equipped with a mechanical turret with 7.62 mm or 12.7 mm machine-guns or a 40 mm automatic grenade launcher. Adding other combat modules and components such as chemical or radioactive protection systems, 360-degree thermal vision system, etc. is possible as well.
The Senator design was initially developed on a by-order basis for the US special force, and one of the requirements was to create a platform that would allow the vehicle to be used for various purposes and environments. "And we have achieved this. Senator is a multifunctional platform that can be used to transport personnel, evacuate the wounded, collect information, as command and control posts, etc. In other words, it is a platform that allows you to navigate through different terrains, including cross-country ones, and thus use it as widely as possible," said Shimonov.
The multi-purpose platform on the Ukrainian front
Ukraine currently has more than 100 Senator vehicles of various configurations in service, and about a hundred more are being prepared for dispatch from Canada.
Although the armored vehicles are not designed for combat operations on the forefront, they allow safe and fast movement in flashpoint areas, and therefore are actively exploited by the Ukrainian Defense Forces for carrying troops, medical evacuation, transportation of prisoners after the exchange, rescue of civilians, delivery of aid, as well as to make sudden strikes on the enemy.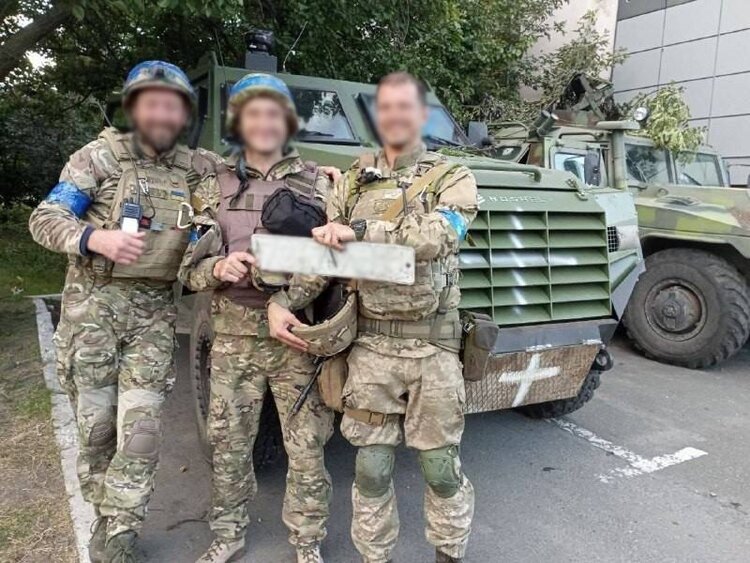 Canadian APCs are involved in many operations, such as counter-offensive and liberation of the temporarily occupied territories in the East and South of Ukraine. Senator vehicles, among other things, were spotted in early autumn in Balakliya during the Kharkiv offensive, used by the Kraken military intelligence special unit.
The vehicles have proven themselves well in Ukraine and received extremely high and positive feedback from the highest military leadership, the Commander-in-Chief of the Armed Forces of Ukraine Valeriy Zaluzhny in particular.
A video has also appeared online, showing Ukrainian defenders demonstrating the effects of the bombing when pojectiles from a russian Grad MLRS had fallen within a metre from the Senator. The glass and the body of the APC were damaged, but withstood the blow, and the crew was not injured. As the military later said, "the Senator armoãred carrier survived, which means that it accomplished the mission for which this vehicle was built."
Who procures Canadian APCs for Ukraine?
All Senator vehicles ordered for the Ukrainian Defence Forces were contributed by allied countries, including Canada, the United States and the EU. Roshel CEO pointed out that he could not disclose many details and name all customers, as the information is sensitive. However, he added that a lot of cars were ordered by one of the EU countries.
According to Shimonov, we are talking about hundreds of donators in total. Ukrainian government agencies are among the customers. "The supply of most vehicles was sponsored by donor countries. That is, the main funds received for the cars to transfer them to Ukraine were received from the countries that support Ukraine literally and figuratively," he said.
The company itself, along with trying to produce vehicles for Ukraine as quickly and efficiently as possible, helps our citizens in all possible ways. Roshel has employed dozens of Ukrainian refugees at the plant who are more than motivated to produce APCs for the defenders of their Homeland. The company also provides assistance to our country with a variety of professional solutions, which it cannot yet speak about in public.
Shimonov's support of Ukraine has not gone unnoticed by russia. In August, Roshel CEO was included in the sanctions list of the russian Ministry of Foreign Affairs. When he openly mocked the aggressor in a November interview in Global News, saying that he had opened a bottle of champagne on the occasion of being blacklisted because he was proud of it, Shimonov and his company were given a special episode on the kremlin-controlled channel russia-1. In the broadcast, honoured russian propagandist Olga Skabeyeva accused Canada and Roshel of "creating and exacerbating an international crisis."
Medevacs and anti-drone vehicles based on Senator
Roshel engineers and mechanics contact permanently online with Ukrainian soldiers using the APCs and advise them on the operation and maintenance of the vehicles. With the production of each successive vehicle for Ukraine, they to into account suggestions of its army. Furthermore, the company is constantly implementing the experience gathered from the feedback from our defenders.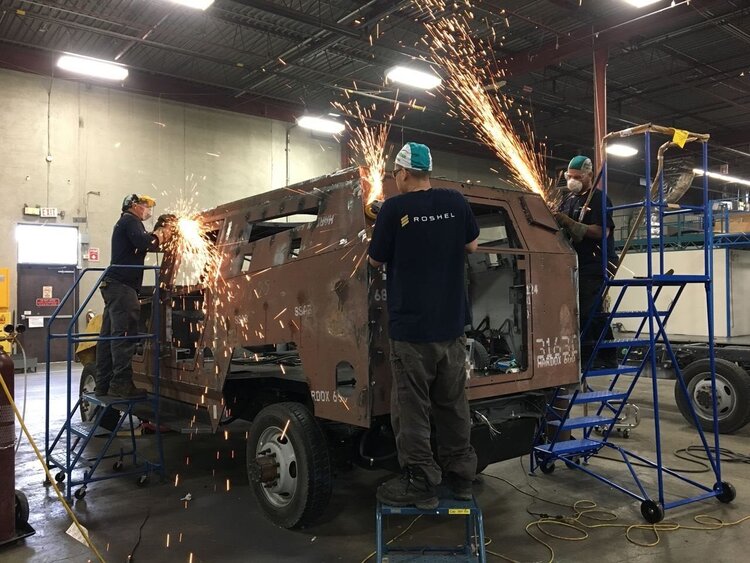 "It is very important for us to get as much information as possible to improve the vehicles. Initially, our vehicles were made for the North American market, so there were differences between how the APCs are used here and how Ukrainian soldiers employ them in Ukraine," said Shimonov, explaining that the conditions on the Ukrainian front are much more difficult.
Roshel has also received several requests from Ukraine for specialiwed vehicles to evacuate the wounded: with special medical components, stretchers, defibrillators, etc. "We are now working to compile a complete list of options that we can offer, and we hope that in the near future our vehicles will be able to successfully evacuate the wounded and return them home safely," said Shimonov.
The company is also working on several other areas of modification on the Senator chassis , including vehicles with combat modules and vehicles that will be able to repel drone attacks (in particular, Shaheds) and successfully resist various means of electronic warfare. "We are working to provide a mobile platform that will solve these problems," the CEO says.
And to be able to provide effective service for those cars that already drive on Ukrainian roads, the company has already started working on the creation of service centres and even plans to open production in Ukraine in the future. But this is after the victory. "We are deeply convinced that as soon as Ukraine wins this war, it will be one of the best, if not the best place on earth to invest in," says Shimonov, "Here you can develop the automotive industry and use the limitless potential of Ukraine in terms of highly qualified personnel, as well as sites for long-term projects."
If you have read this article to the end, we hope that means it was useful for you.
We work to ensure that our journalistic and analytical work is of high quality, and we strive to perform it as competently as possible. This also requires financial independence. Support us for only UAH 196 per month.
Become a Mind subscriber for just USD 5 per month and support the development of independent business journalism!
You can unsubscribe at any time in your LIQPAY account or by sending us an email: [email protected]