Kingdom of Norway Ambassador to Ukraine: "There is a desire to welcome Ukraine into the EU family. But it won't be easier than for any other country"
Erik Svedahl speaking on the investment climate in Ukraine, challenging cases, Norwegian assistance during the war, and European prospects for our country
A few years ago, Norwegians invested quite well in the Ukrainian agricultural sector, our oil exploration and production, transport, processing industry, and banking sectors. They also made significant investments in renewable energy sources in Ukraine – peaking in 2019. But from 2020, the volume of Norwegian capital investments in Ukraine began to gradually decline. And with the start of russia's full-scale invasion of Ukraine on 24 February 2022, it practically froze.
Mind spoke to Erik Svedahl, Ambassador Extraordinary and Plenipotentiary of the Kingdom of Norway to Ukraine, about this. We also discussed how Norwegian businesses are coping with the war in Ukraine and their current interests, what affects our country's investment attractiveness and the assistance provided by the Kingdom of Norway to Ukraine, which is at war.
On the impact of the war in Ukraine on Norwegian investments
– How has the full-scale russian aggression against Ukraine affected diplomatic relations between Ukraine and Norway? Can we say they have strengthened? And has this affected the business sphere?
– The war in Ukraine has, undoubtedly, affected not only Norway but practically the whole of Europe and the world. And now, Ukraine is at the centre of attention. For Norway, this is of particular importance, as russia is also our neighbour. It was a huge shock when we realised that russia was capable and willing to attack other countries.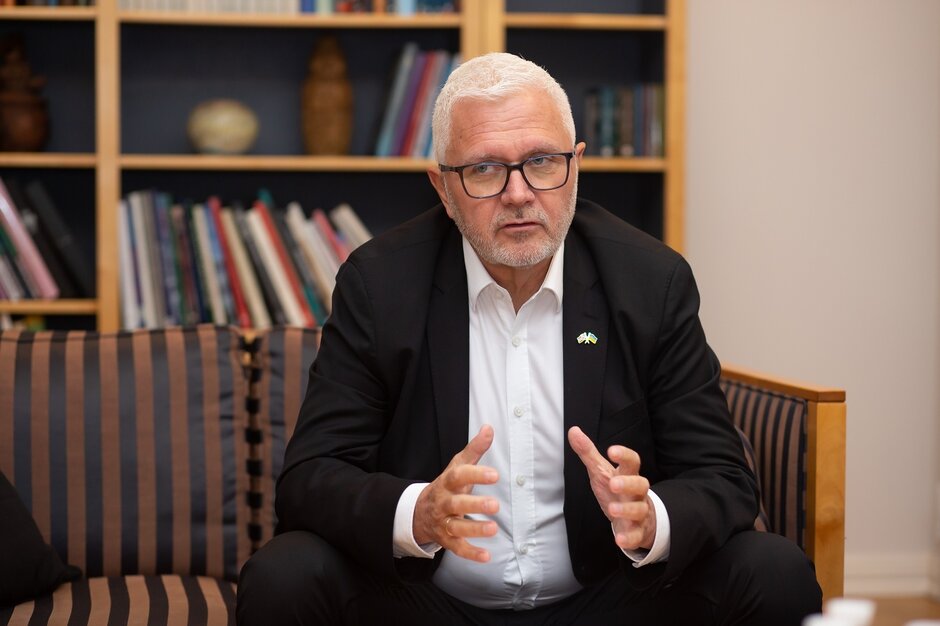 Photo: Oleksandr Zadnipryany/Mind
The war has led to great sympathy from Norwegians towards Ukraine. And at almost all levels, especially among the population, there is significant support. Unprecedented changes have also occurred in politics: Norway (not a NATO country!) provides military support to Ukraine. One and a half years ago, this was unimaginable.
As for our economic and investment relations, the war has not had a particular impact on them. If we compare with our previous interview (two years ago), trade and investments have remained at a medium, not very high level. After all, Norway purchases Ukrainian grain and metal in very small quantities – in this sense, the war has not had any special economic impact. And many Ukrainian companies cooperating with Norway are located in the central and western parts of Ukraine.
– As you correctly pointed out, our cooperation was characterised by small volumes of investments. However, they were. According to the National Bank of Ukraine data as of 31 December 2021, Norway made $34.8 million in direct investments into our economy – 0.1% of the total volume of foreign direct investments in Ukraine's economy. What are the Norwegian statistics: how have Norwegian investments changed since the beginning of the war in Ukraine?
– I don't have specific figures. But, in terms of a general assessment, the war has not had the best impact on Norwegian investments in Ukraine. They have not increased – rather decreased. Potential investors are not risking getting involved in the Ukrainian market right now. Although a dozen large Norwegian companies that worked in Ukraine a few years ago remain here now.
– What is your investment forecast for 2023?
– There is definitely interest from the Norwegian business sector – both among entrepreneurs and in the business environment as a whole, and in organisations that unite businesses (in particular, the Norwegian-Ukrainian Chamber of Commerce shows significant interest). Currently, businesses and government structures are even discussing how much and in what way business can be done in Ukraine under the current conditions. There is a huge interest in the country's reconstruction. But everything is hampered by uncertainty, which imposes barriers and new conditions. The key question is how Norwegians can support their business here, entering Ukraine, and what kind of support your country can provide to them.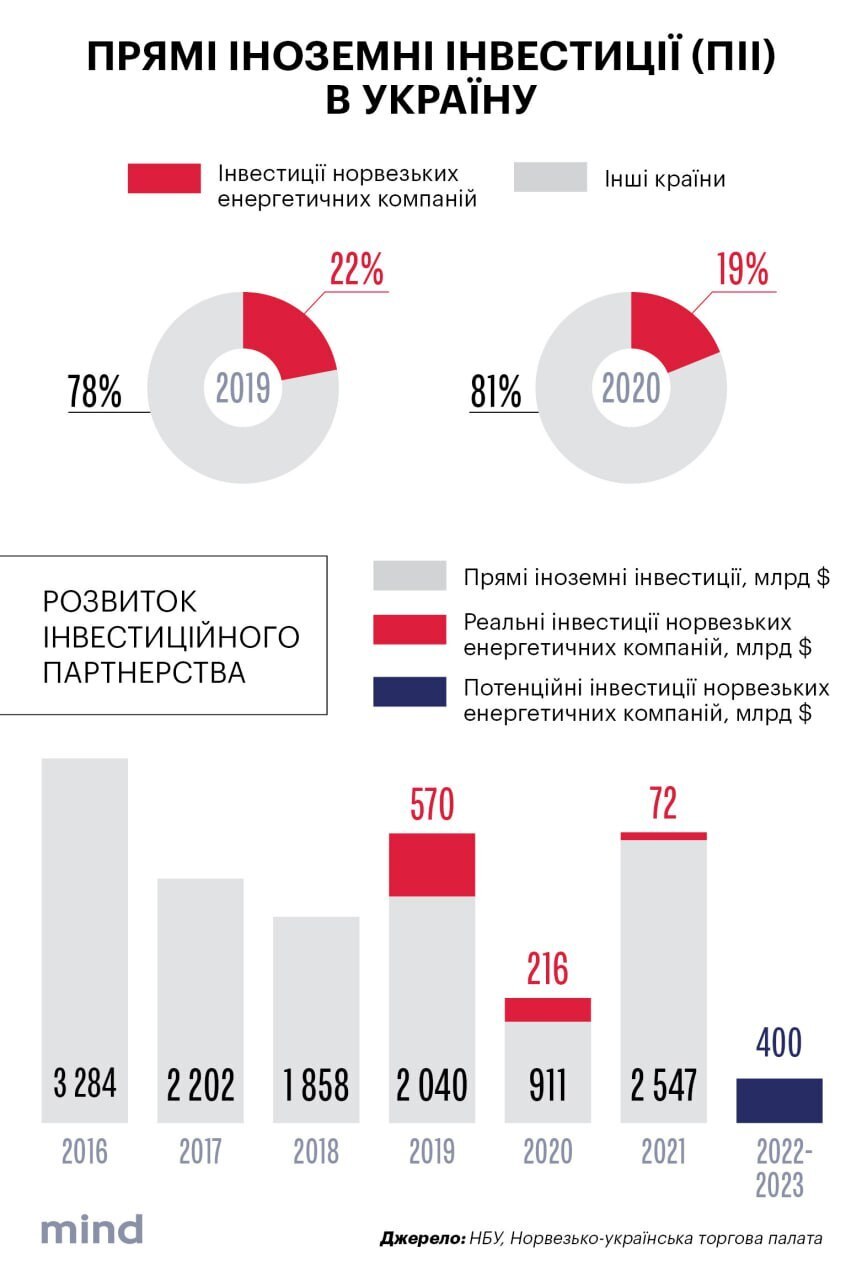 On the situation in the energy market and the renewable energy sector
– The aggression of the russian federation against Ukraine and the anti-russian sanctions that were introduced as a result have significantly reshaped the European energy market (and continue to do so). Is this leading to an intensification of Norwegian-Ukrainian cooperation in the energy sector? In what sectors? What supply chains are being restructured and what financial prospects might this have in the near future?
– As a result of the sanctions imposed on russia, Norway has become an even more important supplier for Europe – especially gas. At the same time, this has affected gas purchases for Ukraine (Norway itself allocated certain funds for this). By the way, two years ago, the private Norwegian company Petroleum Geo-Services (PGS) signed a contract with Naftogaz of Ukraine for conducting seismic exploration work in the Black Sea, and certain works were started. Unfortunately, due to the war, they have been completely halted. The project has been suspended.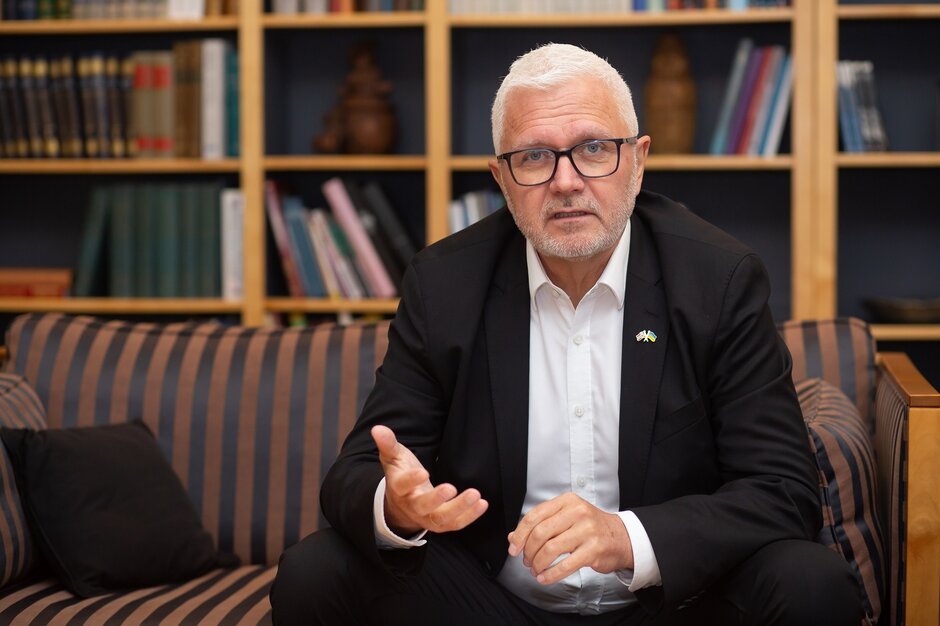 Photo: Oleksandr Zadnipryany/Mind
Norway has also been working in the renewable energy sector in Ukraine for several years (wind farms, solar panels). And the war has had a very negative impact on this sector. First of all, let me mention our company Emergy (formerly known as NBT), which specialises in wind turbines. By the way, a large station of theirs was located in the Kherson Oblast. Unfortunately, as of today, this is a lost investment since the station is located in the occupied territory.
Emergy had another project: the Zofia Wind Farm in the Zaporizhzhia Oblast (one of the largest onshore wind power plants in Europe). It was under development but was suspended before the war due to issues with the "green tariff" in Ukraine. The company did not have time to invest a significant amount of money: there is a leased plot of land, permits, but construction has not started. However, under current conditions, there is still interest in the project, although it cannot be realised.
Another company operating in Ukraine is Scatec (specialising in solar power generation). Its production has hardly suffered: 95% of its capacity is in working condition. With the onset of the war, there has, of course, been a drop in energy consumption – primarily due to the suspension of many enterprises in Ukraine. In addition, the operation of such companies is related to the problem of the "green tariff", which has not been resolved yet. The company is working, but it is a non-profit activity.
– Two years ago, in an interview, you emphasised the problem of untimely debt repayments to Norwegian companies generating electricity from renewable sources (in particular, Scatec – 17.3 million euros). Have the debts been paid off?
– Unfortunately, the problem has not been resolved – the debts remain. Of course, our investors remind the Ukrainian side of this, but so far there has been no significant response.
In other words, our cooperation in the energy sector and the renewable energy sector is not very active at the moment. And there is no need to talk about any financial injections/projects from Norway in the near future.
– You mentioned that the company Emergy still has business in the territory now controlled by russia. Are there any other examples of Norwegian businesses that ended up under the protectorate of russia due to the war? And do the owners have the right to receive reparations in the future, or is this process ongoing?
– I don't know about other companies. As of today, the mentioned wind energy station is an example of an "inaccessible investment". But I am not aware of the company's plans to receive or not receive reparations. At least for now, I haven't heard about any active actions taken by the company regarding this issue.
On the Ukrainian business climate during wartime and the prospect of becoming an EU member
– In a previous interview, you noted that corruption and bribery are widespread in Ukraine, deterring Norwegian investors due to the lack of predictable business conditions and an ineffective judicial system. Has the situation changed in the last two years – for better or worse, and in what specific ways?
– The impressions have remained almost the same. Yes, new opportunities have emerged for investors, but at the same time, there are higher risks. I will give an example with the company Pelagia. The two-year-old story of a debt for the supplied fish products from Norway, amounting to almost 3 million euros, remains unpaid to this day. The Ukrainian side is still investigating the case...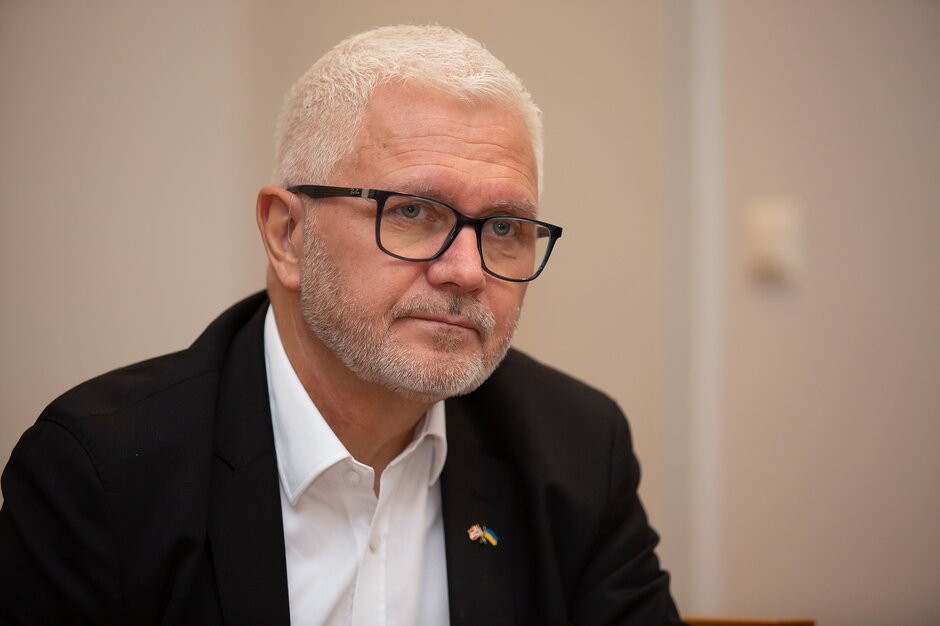 Photo: Oleksandr Zadnipryany/Mind
Unfortunately, this case is well-known in Norway. It highlights that the local legal system is ineffective – it does not protect investments as such. However, despite this, our business still wants to learn more about Ukraine. Entrepreneurs are interested, they see opportunities here (particularly in the country's renewal – this is very interesting for them). But unpleasant stories involving Pelagia, Scatec and others significantly dampen their enthusiasm..
– Recently, messages from ambassadors and foreign officials increasingly suggest that under certain prospects (almost "tomorrow"), Ukraine will become a member of the European Union. However, they do not provide a specific date or year... As a representative of a country that is not part of the EU, what is your opinion on this issue?
– Ukraine has come a long way to become an EU membership candidate. And there is a desire within the European Union to welcome Ukraine into its family. But it won't be easier for Ukraine than for any other country. This is because the process itself is complex and there are a large number of requirements that must be met. There must be an independent legal system, human rights must be respected, and so on. In other words, nothing will happen for Ukraine just like that.
On Norwegian fish and the lack of Ukrainian investments in Norway
– In the structure of Norway's GDP, one of the main positions is fish. Ukraine traditionally exported capelin, mackerel, herring, blue whiting, salmon, and so on. How have the annual volumes of Norwegian fish supplies changed due to the war?
– The most record-breaking year for fish exports to Ukraine was 2021. But even now, fish trade is going very well. Fish export figures have almost reached pre-war levels – an average level between 2021 and 2020. In total, 80% of all Norwegian exports to Ukraine are fish.
– I would like to talk about the other side of the coin – Ukrainian investments in the Norwegian economy. According to our statistics, as of 31 December 2021, no investments from Ukraine to the Norwegian economy have been recorded. What does Norwegian statistics say about this? And why don't Ukrainians enter the Norwegian market?
– I am not aware of any recent investments. As for your question – why Ukrainians do not enter the Norwegian market, it should be addressed to the Ukrainian investment community. Overall, our level of investment interaction is low: very few Ukrainians know about the possibility of investing in Norway, and vice versa.
On how Norway supports Ukraine during wartime
– In mid-March, Norway approved a five-year aid package for Ukraine amounting to 7 billion euros. According to the programme, 1.3 billion euros will be allocated annually. In 2023, half of the payments will go towards military assistance. This includes funds for both civilian support and reconstruction. What is meant by "civilian support" and what amounts will go towards the reconstruction of Ukraine (provinces, cities/enterprises)?
– Civilian assistance encompasses everything that does not relate to the military sector. It is provided as a contribution, not a loan, and its majority is humanitarian. It is mostly provided through large international organisations (UN systems, Red Cross, Norwegian humanitarian organisations). Also, as part of civilian assistance, Norway provides significant budget support to Ukraine (pensions, salaries for teachers, doctors, etc.).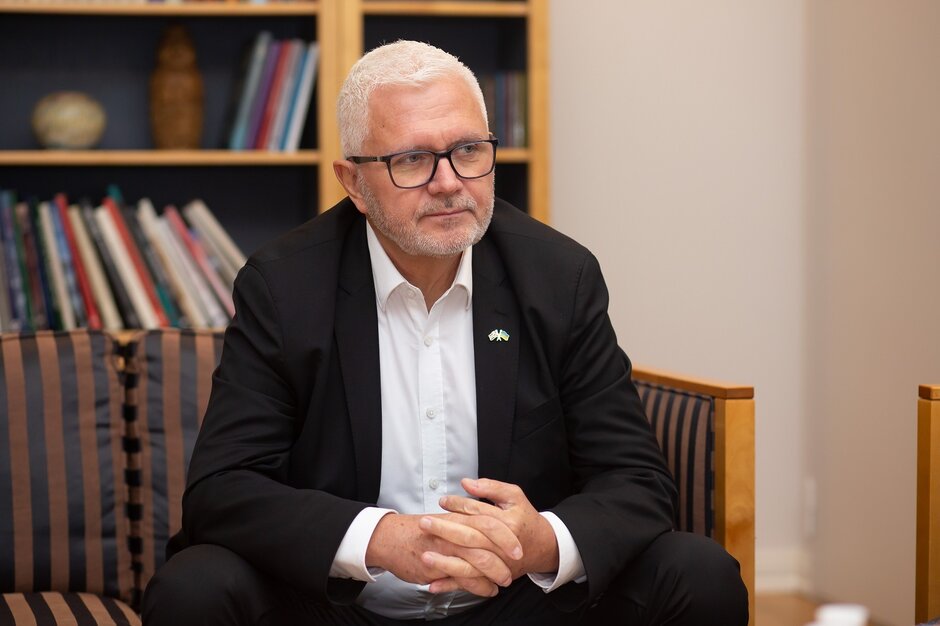 Photo: Oleksandr Zadnipryany/Mind
Regarding assistance for restoration, this has already been provided in the form of aid for road and bridge repair (in January, Norway provided Ukraine with ten temporary bridges worth 30 million Norwegian kroner – over $3 million). Also, for critical energy infrastructure: in December, our government transferred $100 million to the URTF (Ukraine's Trust Fund for Assistance, Recovery, Reconstruction and Reform) through the World Bank for the repair and restoration of the damaged energy system.
As for the global recovery of Ukraine, this issue has not yet taken on specific outlines. However, Norway will not limit its support to a particular region. And Norway has a traditional approach: money is mainly directed to trust funds managed by major international organisations (EBRD, World Bank, etc.), based on requests from the Ukrainian side. In general, as this is a multi-year programme, decisions on the amount of funds allocated will be made from year to year – depending on the situation in Ukraine. One year, more aid may be allocated for humanitarian assistance, and another year for recovery.
– At the beginning of the year, Bloomberg agency calculated how much weaponry countries have provided to Ukraine since the beginning of the war – Norway is in 13th place. Is there any criticism of this policy within the Kingdom?
– It is almost impossible to find any critics of military assistance to Ukraine here. When the five-year Ukrainian Assistance Programme was announced in February, almost all the parties present in the Storting (parliament) supported it – except for one. This is the Red Party (left-radical, communist ideology). Its representatives opposed direct military aid and proposed instead to transfer money so that Ukraine could decide for itself how to use it for military purposes. However, the programme has been adopted for five years – which means that the next parliament will implement it. Generally, our government traditionally does not take sides in military conflicts. And Norway has very often facilitated peace negotiations. But in this situation, the Norwegian government has stated that Ukraine must win this war and Norway must help it to achieve victory.
Speaking about ordinary Norwegians, there is a great deal of support for Ukrainians. There are no protests in the country aimed at opposing the provision of military assistance to Ukraine.
On the situation of our refugees in Norway
– It is probably difficult to name a country where there are currently no refugees from Ukraine. In 2022, the country received a record number of applications for shelter from Ukrainian refugees – 40,750, according to the Norwegian Directorate of Immigration. The European Union has already announced a reduction in funding for a large number of refugees due to the prolonged war and the rising cost of living. Will there be similar measures in Norway? What is the amount of social benefits for our refugees? And what is the state policy in the labour migration market concerning Ukrainians: what jobs are they employed in, and is there any difference in payment (compared to locals)?
– There are currently no plans to reduce assistance to refugees. Norway will continue to accept Ukrainian refugees in need of protection and provide housing, employment, etc. Social benefits for Ukrainian refugees are the same as for refugees from other countries. The amount depends on the individual's needs – the type of housing they live in, age, whether they are single or with dependents, employed or unemployed, sick or disabled, etc.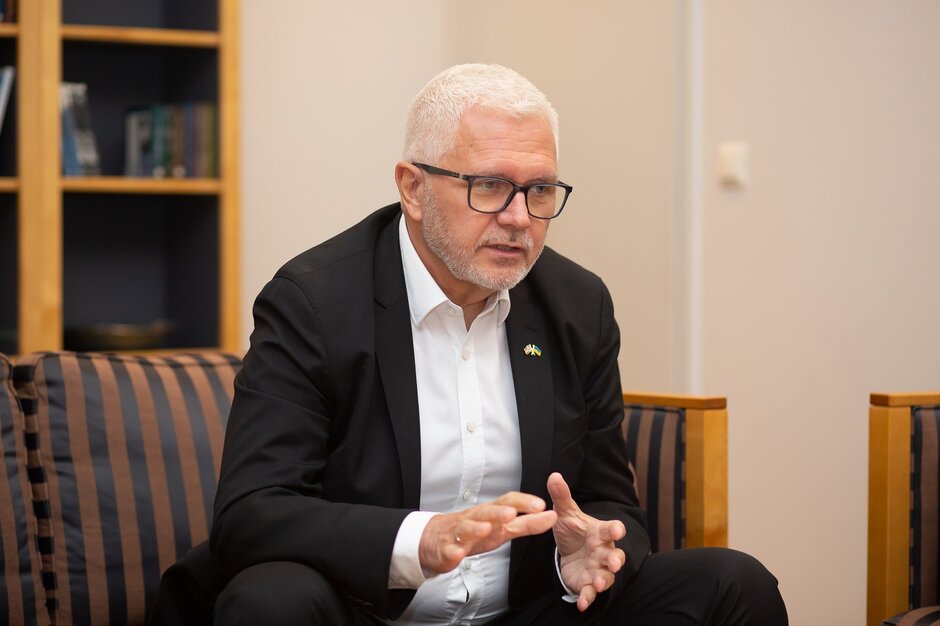 Photo: Oleksandr Zadnipryany/Mind
As for the employment of refugees from Ukraine, they are considered in our labour market on absolutely equal terms with Norwegians. And the payment does not differ; it does not depend on ethnicity. However, lack of knowledge of the Norwegian language, of course, limits the opportunities for employment in certain positions. Therefore, Ukrainians are mainly employed in so-called trade jobs.
On Norway's losses from anti-russian sanctions and the Nord Stream pipelines
It is no secret that the EU has suffered greatly from anti-russian sanctions. How significant are the losses for Norway?
When talking about the overall impact of russian counter-sanctions on our economy, they briefly slowed down fish exports in a very short term. However, the demand for Norwegian fish in the world is so high that it is not difficult for us to redirect these flows to other markets – for example, Asian ones.
There has been no calculation of such losses from anti-russian sanctions in Norway. I can only note that our oil companies participated in polar exploration and oil projects together with the russian federation: of course, Norway is not participating in them now.
In February, major media outlets published an investigation by American journalist Seymour Hersh, where he claimed that the Nord Stream pipelines were sabotaged by the United States with the help of Norway and under Biden's order. The sabotage of the mines was carried out by the Norwegian Armed Forces, dropping a hydroacoustic buoy from a reconnaissance aircraft on September 26, 2022, which triggered the charges. The US immediately denied involvement in the sabotage. How would you comment on the version of Norway's involvement? After all, Norway received a record profit from gas in 2022 and became its main European exporter after a significant reduction in supplies from Russia (revenue for 2022 – 131 billion euros, which is three times more than the previous year).
The investigation of this incident is being conducted by the Danish authorities. Until official conclusions appear, I would not speculate on this topic.
If you have read this article to the end, we hope that means it was useful for you.
We work to ensure that our journalistic and analytical work is of high quality, and we strive to perform it as competently as possible. This also requires financial independence. Support us for only UAH 196 per month.
Become a Mind subscriber for just USD 5 per month and support the development of independent business journalism!
You can unsubscribe at any time in your LIQPAY account or by sending us an email: [email protected]