Ambassador of the Kingdom of Denmark to Ukraine: "The ban on currency operations is a significant barrier to new Danish investments in Ukraine"
Ole Egberg Mikkelsen talks about the work of Danish businesses, assets affected by the war, corruption issues, and support for Ukraine in the war against russia.
Photo: Oleksandr Zadnipryany/Mind
Many Danish companies have been operating in Ukraine for over 20 years. About ten years ago, there were quite good trade and investment trends between our countries – the Ukrainian market had good potential. Before the war in our territory, such giants as Maersk (the world's largest container carrier and logistics company), Novo Nordisk (insulin manufacturer), Carlsberg (one of the largest beer producers), and others were actively working. Danish investments predominated in traditional industries such as textiles, wood and metal processing, and pork production. Geographically, Danish companies were located throughout Ukraine. However, over the past 10 years, the situation has changed, influenced by COVID-19 and russia's full-scale invasion of Ukraine.
Our conversation with Ambassador Ole Egberg Mikkelsen is about how Danish investors are doing in Ukraine during more than a year of martial law, the successes and problems of their businesses today, future business plans and prospects, as well as Denmark's assistance to Ukraine during difficult times.
– During 2021, according to the National Bank of Ukraine, Ukraine received $45.6 million from Denmark (almost three times more than in 2020). The total amount of direct investment from Denmark in our economy as of the beginning of 2022 was $342.8 million (0.53% of the total investment in Ukraine). And how does Danish statistics reflect the state of our investment relations for the period of 2021-2022 – where is the main capital invested?
– First, let me tell you about Danish companies operating in Ukraine. Prior to the war in Ukrainian territory, at least 300 companies were represented here through their branches or local representatives. And their number was growing before the war. That is, Danish entrepreneurs were increasingly interested in Ukraine to develop their assets here.
Most Danish investments went to Western Ukraine (Lviv, Ivano-Frankivsk, Rivne), as well as to central regions and Kyiv. Only a few companies were based in eastern and southern oblasts.
If we talk about the specifics of Danish capital investments, these are various industries: textiles, footwear, metalworking, etc. But mostly money was invested in the agricultural sector. And mostly, companies that were the first to start working in the Ukrainian market came here from Poland.
– What was their motivation?
– When labour and production processes in Poland became significantly more expensive, Danish companies crossed the border and settled in Western Ukraine. It was the first wave of Danish investors, approximately 10–15 years ago.
The second wave was the arrival of Danish companies specialising in the technology, particularly the IT industry, to Ukraine. Another wave was the large cluster of Danish agricultural (farming) companies in Western Ukraine, engaged in the production of dairy products, pork, and so on.
– What changed after the start of the armed aggression of the russian federation?
– After the full-scale invasion, our companies were considering how to continue working in such difficult and uncertain conditions and how to ensure safety. However, they quickly returned to work here, and as far as I know, no Danish company has currently withdrawn its investments in Ukraine due to the war.
Several Danish IT companies were based in eastern Ukraine, particularly in Kharkiv. However, after the start of the hostilities, they moved to Lviv.
There are currently no new Danish investments in Ukraine – the situation is still unstable and investors are extremely cautious about this. However, the former Danish investments in Ukraine are still working. And I see that today Danish companies are becoming more confident about tomorrow.
– What does this entail?
– There is, for example, a Danish manufacturer of soft furnishings that exports its products to Western Europe, Japan, and the USA. They operate in Western Ukraine, in Rivne, where there are many forests. And before the war, the company planned to open new factories there. With the start of hostilities, all the equipment was taken out. However, now it has been returned, and the production processes have already been established. The company is geared towards working more actively than before the war and increasing the number of jobs for Ukrainians. I would be happy to go with you to Rivne to show you the production opportunities there. It is precisely the kind of work and investment example that Ukraine needs today.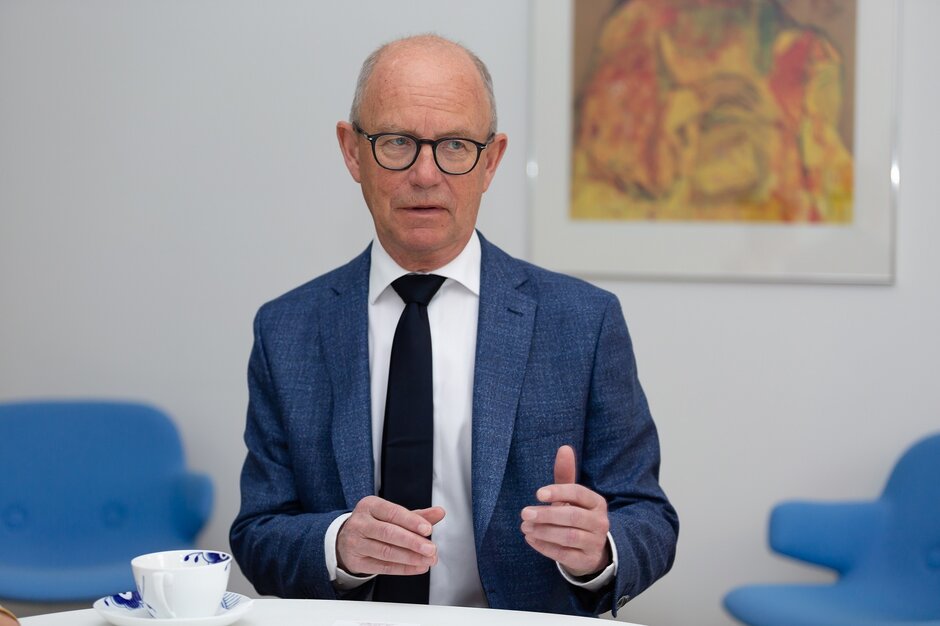 Photo: Oleksandr Zadnipryany/Mind
However, there are currently restrictions on currency exports in Ukraine (during the war), and Danish companies are suffering greatly as a result. The problem is also related to the fact that some of our companies have taken out loans and are now unable to repay them. Not because they don't have the money, but because of the ban on currency transactions.
We are discussing this important issue with our Ukrainian partners. However, at the same time, we must understand that it is a significant barrier to new Danish investments in Ukraine. And we see a significant role for our work here in helping and promoting new Danish investments in Ukraine. We understand how important it is to launch the national economy so that Ukrainians can work and pay taxes. Therefore, it is necessary to create comfortable conditions for new investors.
– You said that before the war in Ukraine, there had been around 300 Danish companies, and all of them remained with us despite the hostilities. Can you name three of the largest companies currently operating in Ukraine and the scale of their investments?
– I cannot name company names without their permission. I can only say that the largest Danish investor in Ukraine operates in the brewing industry. Also, a large Danish transnational corporation (they have subcontractors here) operates in the Ukrainian market – they sell mattresses, household goods, furniture, and furnishings.
Regarding the question of statistics on Danish investments in the Ukrainian economy, we do not have such separate data. In Denmark, only statistics on trade relations are kept, which include data on investments.
There is no centralised statistics on Danish investments, as it is too difficult to calculate. For example, if a Danish company has a branch in Poland, the statistics already count it as Polish investments, not Danish. Moreover, Danish investors freely invest in countries they deem necessary. They do not report to the Danish government, and it does not require such reports from them. Danish companies do not ask for permission to invest in a particular country. Therefore, investment statistics are taken precisely from the country where the money flows. In this case – from Ukraine.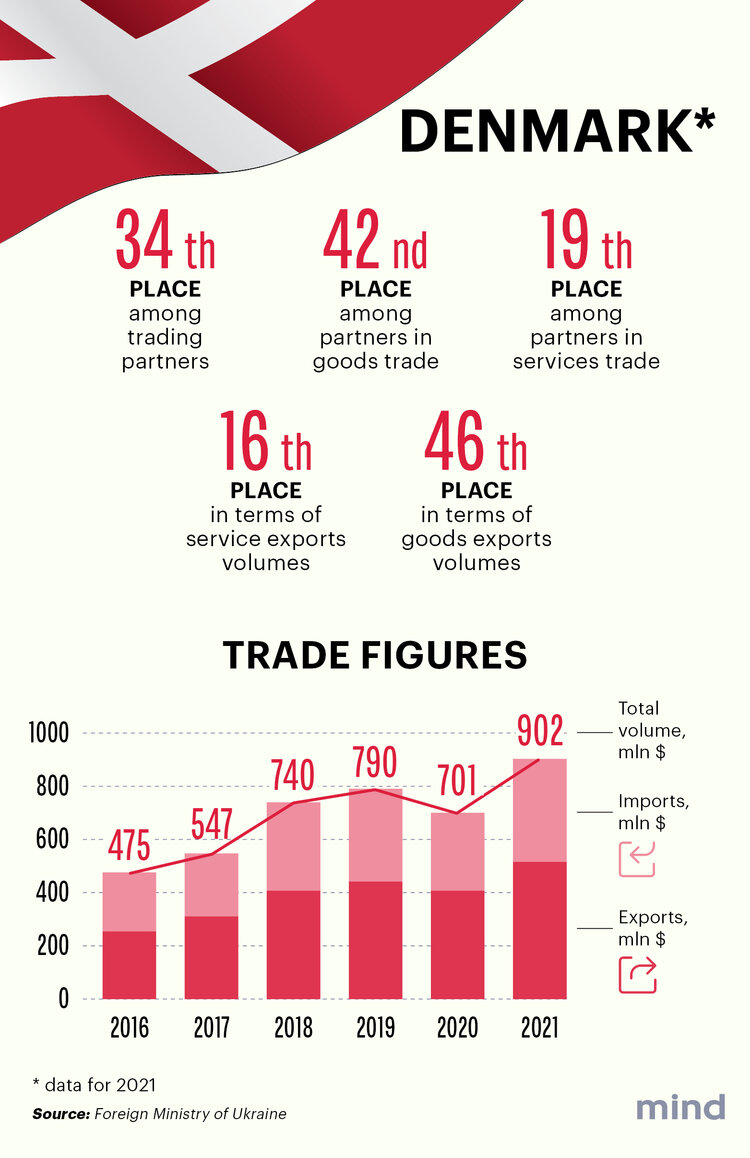 I think that the most accurate source of information regarding Danish investments is the NBU, whose data you have mentioned. However, many Danish companies have export credit insurance, and that's when they turn to the state. But not all of them. In general, our companies are not obligated to report or inform the state about the volume of their investments. There are cases when some of them contact the government or embassy of the country where they are investing or want to invest. But this is more of an exception than a rule.
– A few years ago, Denmark ranked third in terms of investment volumes in the agricultural sector of Ukraine, primarily due to the success of the projects of the Danosha company. What is the current state of this production, and what is happening with Danish investments in our agricultural sector?
– Currently, the largest company operating in Ukraine in the field of agriculture is Goodvalley (formerly Danosha, which changed its name in March 2018). Its profile includes pork, dairy products, as well as grain cultivation, food processing, and biogas production. The company is located in Rivne and has many farms throughout Western Ukraine. The embassy cooperates extensively with Goodvalley – we even have an attaché for agricultural cooperation now.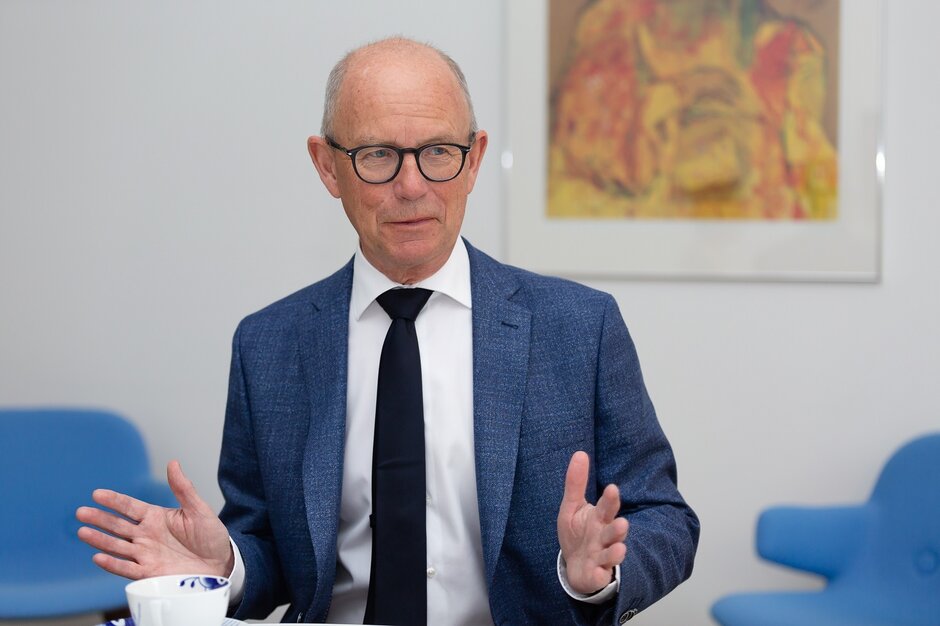 Photo: Oleksandr Zadnipryany/Mind
If we speak generally about Danish investments in the Ukrainian agricultural sector, the focus of activity is mainly concentrated on pork. Our entrepreneurs bring the DNA genetics of Danish pig breeds to the highest quality and import genetic material to Ukraine, including delicate bacon breeds.
Our companies also actively work in the dairy industry. But pork is, above all, the most important direction. By the way, there are 6 million people and almost 20 million pigs in Denmark. That is, there are many more pigs than Danes themselves. As a diplomat and not a farmer, I cannot go into detail about all the nuances of the work of Danish farmers here. However, I know that exporting pork from Ukraine abroad is complicated by former problems with swine flu. Therefore, there are certain difficulties in exporting pork raised on Ukrainian territory.
Mind's background. According to the Ministry of Agrarian Policy, the forecast for pork production in 2023 is 625,000 tonnes. As of March 1, 2023, the number of pigs is 4.877 million (13.6% less than the corresponding period in 2022), of which 3.148 million are on agricultural enterprises (14.7% less) and 1.729 million are on private farms (11.6% less).
In 2022, seven cases of African Swine Fever (ASF) were officially registered in Ukraine, but the actual number may be higher. Deputy Minister of Agrarian Policy Taras Vysotsky is confident that legislation should be adapted to European standards for exporting pork to European markets. The Meat Industry Association has already initiated the registration of ASF vaccines in Ukraine and the unlocking of pork exports from Ukraine.
Due to the full-scale war, over 100,000 pigs have been lost. There are also significant logistical and export problems. Pork supplies to foreign markets were extremely limited in 2022, with slightly over 500 tonnes shipped (compared to 2,900 tonnes in 2021). The maximum volumes were directed to the UAE (70%), Hong Kong, and Angola (14% each). In May 2022, the EU allowed Ukrainian pork to transit through Romanian ports.
As of today, 80% of pig farms in Ukraine-controlled territories are operational, and every fifth one claims to have implemented projects that have started before the war. However, from April 15, 2023, to July 1, 2023, Poland, Slovakia, Hungary, and Bulgaria imposed a ban (Romania is considering such a possibility) on the import of agricultural products from Ukraine, including pork..
I want to emphasise that Denmark is a world leader in wind turbine production, and this is also an important direction for Ukraine. And the weather conditions for wind energy production are very favourable on the coast of the Black and Azov Seas. Recently, we travelled to the south of Ukraine (on the border between the Mykolaiv and Odesa oblasts). There is a large wind farm that produces electricity. These are turbines produced by the Danish company Vestas.
– You mentioned that until February 24, 2022, several Danish IT companies were operating in eastern Ukraine, which moved to Lviv. Are there any other examples of Danish businesses that have ended up in areas controlled by russia? What is happening to them? In particular, Denmark was involved in a large wind project on the left bank of the Dnipro River in the Kherson Oblast, which is still occupied by russia. How much investment was lost? Are you exploring opportunities to obtain compensation?
– Denmark participated in a large international wind project to build the Syvash wind power plant, located near the administrative border with Crimea on the shore of Lake Syvash, in the currently occupied part of the Kherson Oblast. The total cost of the project is 375 million euros, of which the Danish state investment fund (IFU) provided a loan of 15 million euros. We know that the facility was damaged on the first day of the war. All shareholders and creditors hope for the restoration of the station after de-occupation and are working with insurance companies regarding compensation, but the process is complicated by the inability to access the object. We are waiting for the liberation of the Kherson oblast.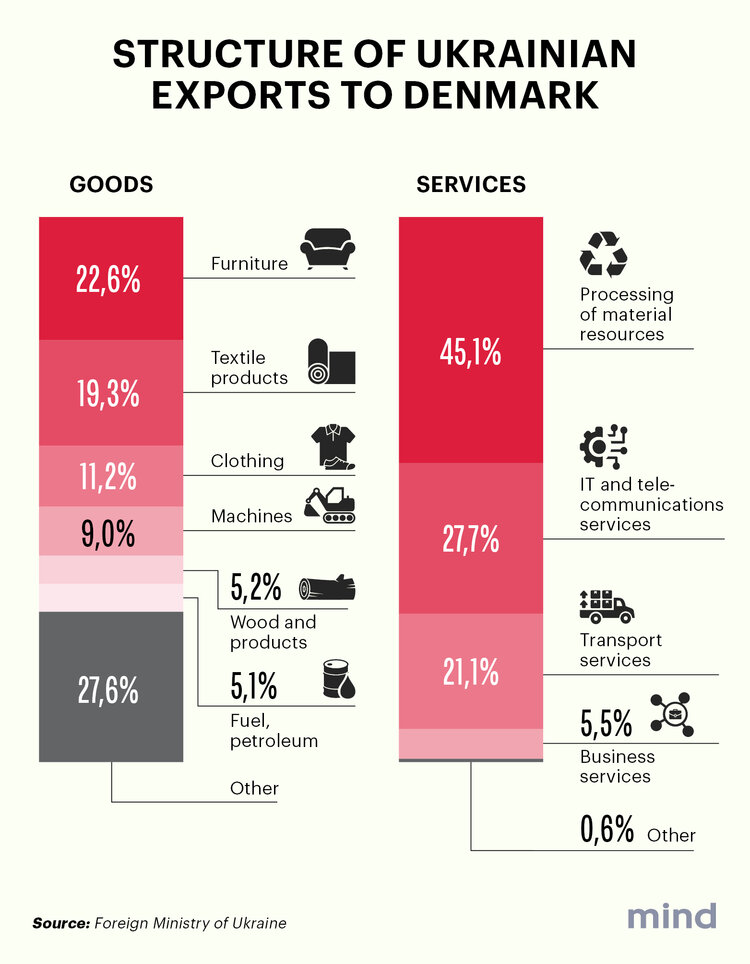 – In 2013, your colleague Mikael Borg-Hansen stated in an interview that Danish businesses in Ukraine were complaining about the increasing corruption, fiscal pressure from tax authorities and customs, and protectionism from local companies. Do you agree with these words today? How do you evaluate the current business environment in Ukraine? And what troubles Danes the most, apart from the war?
– The problems you mentioned are still present in some cases. It is mainly related to obtaining permits for construction. However, the positive change is that there is significant political will in Ukraine to overcome corruption. It is related to Ukraine's application for EU membership.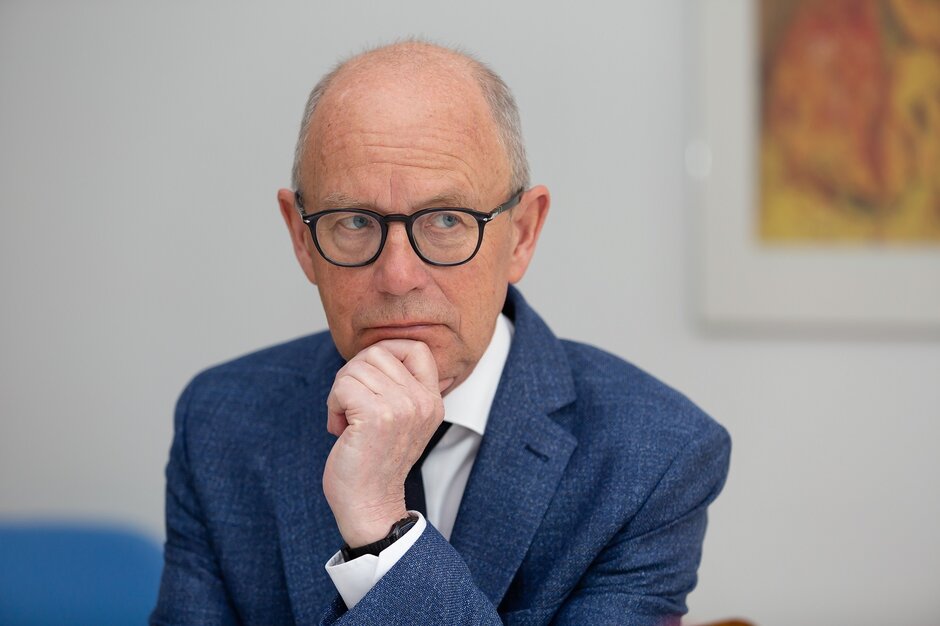 Photo: Oleksandr Zadnipryany/Mind
And the criteria for a country's admission to the European Union must be met – these are the so-called Copenhagen criteria. They were developed in our capital back in 1993. Overcoming corruption is one of the main conditions. The Copenhagen criteria contain clear formulations regarding the principles of state governance. And if corruption prevails in the country, access to the EU is impossible. We see that Ukraine has a strong political will to overcome this problem, but there is still a lot of work ahead.
It is good that you have an anti-corruption system – NABU, SAPO, HACC, ARMA. These institutions were founded, in particular, with Danish support. Denmark is the implementing (executive) partner of the EUACI (European Union Anti-Corruption Initiative) in Ukraine on behalf of the European Union. We are in close contact with Ukrainian anti-corruption agencies. And when we see that certain violations/corruption components are taking place (including in connection with the activities of Danish companies in Ukraine), we immediately contact local anti-corruption agencies and discuss the issue.
The absence of corruption is one of the conditions for the influx of foreign investment, including Danish investment. I know that on the eve of the war, many of our companies that have their own production facilities in Asia, China, were looking to move them closer to Europe – to Ukraine. They were looking at various countries – Romania, Bulgaria, Poland, as well as Ukraine, and called me and asked about the situation here with corruption, to what extent local legislation corresponds to European legislation. They were not interested in the cost of labour or the specifics of working with loans. The first question was about corruption. And it is a key issue for all foreign investors.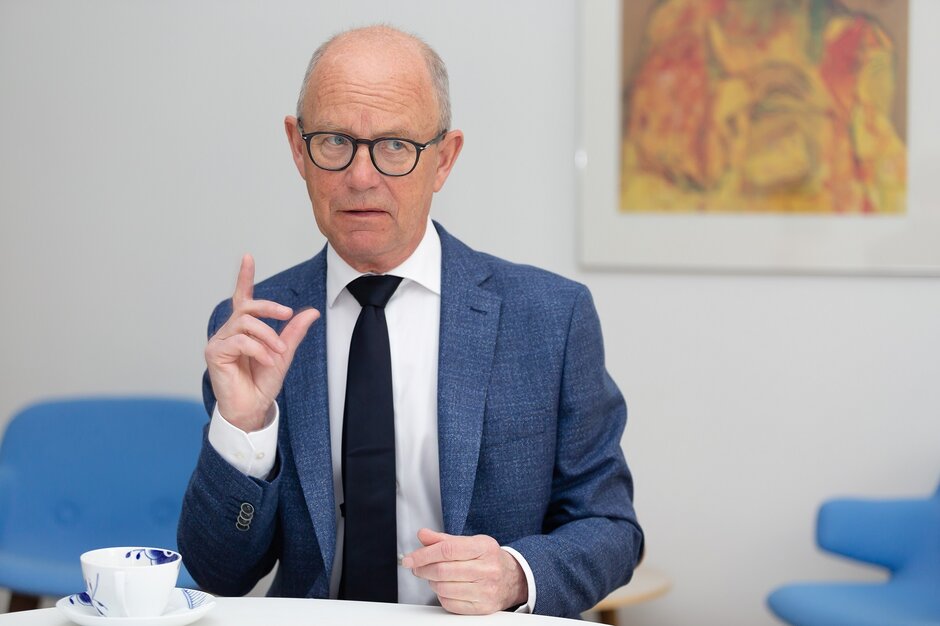 Photo: Oleksandr Zadnipryany/Mind
In my opinion, investors are primarily hindered not so much by corrupt practices, as by cumbersome bureaucratic procedures and their length. Our companies strictly adhere to Danish business rules. For example, they are not allowed to give money in envelopes (if this became known, their activities in Denmark would be terminated).
– By the way, some ambassadors often talk about how one demands bribes from their entrepreneurs for the resolution of certain issues in Ukraine. Do Danish businessmen complain to the embassy about these Ukrainian 'features' of doing business?
– I cannot name the company and where exactly in Ukraine it has happened, but Danish business had such a sad experience. The story was related to building permits. Of course, the embassy intervened: we had a conversation with the relevant Ukrainian officials and authorities. The problem was resolved.
By the way, in our EUACI project, there is a programme called Integrity Cities. Safeguards were developed to prevent corruption at the local level there. And when it comes to foreign investment, if the city is on this list, it is a bonus for potential investors (like 'marks of honesty'). Mykolaiv, Zhytomyr, Chernivtsi, Chervonograd, Mariupol, and Nikopol are on this list.
– Are there cases when Danish companies curtailed their operations in Ukraine for certain reasons even in peacetime?
– As far as I know, such information has not been recorded. Perhaps some Danish companies sold a part of their business here, and that reduced their investments or work volumes. But I do not remember any systematic process of winding down our investments.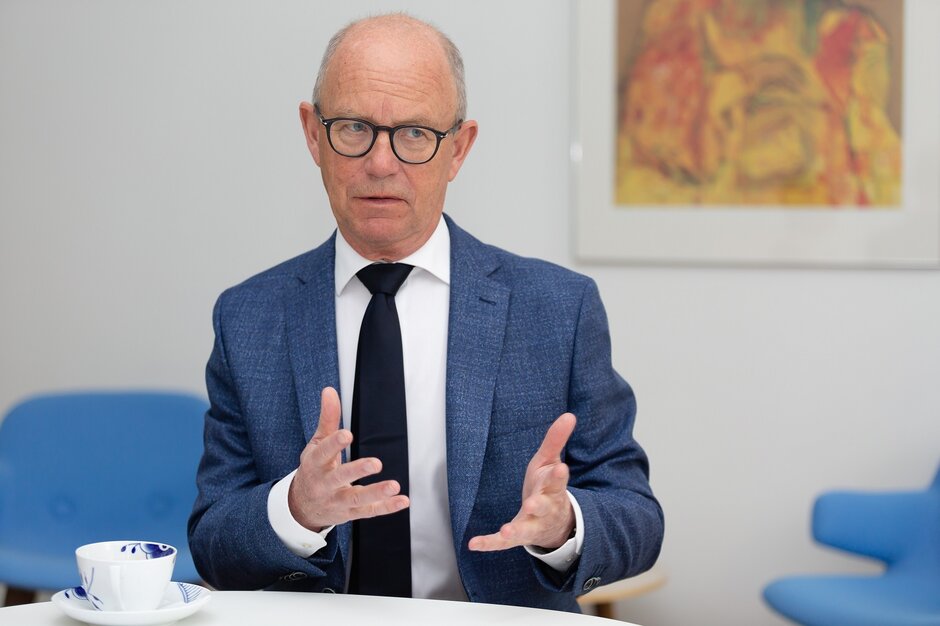 Photo: Oleksandr Zadnipryany/Mind
I hope that when Ukraine becomes a member of the EU, it will open up a wide path for foreign investment – as it will mean that all Ukrainian legislation has changed. The same was in Poland. I worked as an ambassador to Poland for four years, and I know how huge the role of foreign investment was there after the country joined the EU..
– Let's talk about the other side of our investment relationship – Ukrainian investments in the Danish economy. It is known that until 2014, the Dan Steel plant was owned by Ukrainians (the main shareholders were businessmen from Lugansk). And Ukrainian oligarch Igor Kolomoysky invested in the Danish airline Cimber Air. How successful is our business in Denmark, how much of it is there, and in what areas?
– These examples are isolated, and I do not know the fate of these assets now. And I would not say that there are any massive investments from Ukraine to Denmark. We welcome foreign investors in our country, but there are currently no large-scale investments in Ukraine that could be announced.
If Ukrainian companies do enter our market, it happens quite gradually. This is because it is not easy to enter the Danish market. The Danish embassy in Ukraine is more involved in these matters – in particular, it makes a lot of effort to bring Ukrainian products to the Danish market.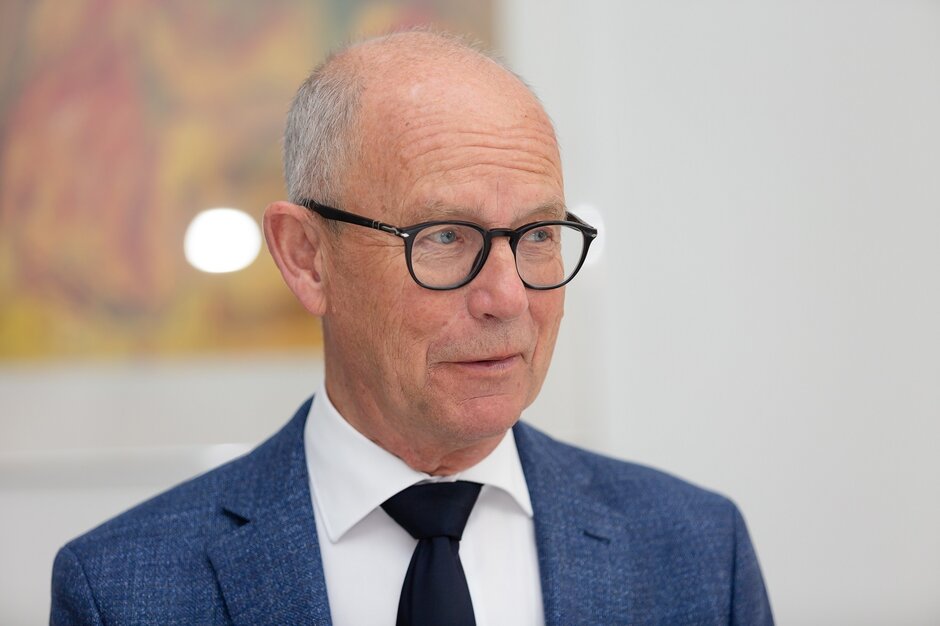 Photo: Oleksandr Zadnipryany/Mind
By the way, Ukrainian wine and some food products are already available in Danish supermarkets. The only thing is that our market, and the EU market in general, is very demanding – products must meet high standards. Previously, Ukraine had significant economic relations with russia – now this market has closed. However, russians are not as demanding on the quality of products as Western Europe. However, Europe pays much more.
– In March, Danish Finance Minister Wammen announced that the Kingdom would allocate almost 1 billion euros for military, economic, and civilian aid to Ukraine. In what proportions will the amount be distributed, in what time frames, and for which projects/regions?
– The main line of assistance that Denmark provides to Ukraine is defence. 75% of our support is specifically for defence. Recently, the Danish government created the Ukraine Support Fund for 2023 in the amount of nearly 935 million euros (7 billion Danish kroner), with the broad support of all political parties in the Danish parliament. The fund is aimed at meeting the needs of the Ukrainian state in the military-civilian sphere and supporting business. Thanks to the creation of this fund and its size, Denmark is one of the leading countries in Europe providing active support to Ukraine in various fields.
When it comes to humanitarian aid to the civilian population and the long-term reconstruction of Ukraine, the Danish Support Fund for Ukraine has allocated 160 million euros (about 1.2 billion Danish kroner) for these needs in 2023. A significant portion of them is aimed at the restoration and economic development of the Mykolaiv Oblast and the rebuilding of Mykolaiv itself, with which Denmark has a special partnership. The funds will primarily go to social and energy infrastructure, water supply systems, and restoration of energy infrastructure at the national level.
In addition, the size of humanitarian support will be increased and funding for Ukraine as a developing country will be increased from Danida Sustainable Infrastructure Finance and the Danish Investment Fund. Funds from the Danish Support Fund for Ukraine are also directed towards supporting business initiatives.
– At the beginning of the year, Bloomberg agency counted how many weapons different countries had supplied to Ukraine since the start of russia's invasion, and Denmark ranked 14th. Is there any criticism of this policy within the Kingdom?
– In our country, there is unanimous agreement that Ukraine should be supported in the war against russia. There are no voices calling for less support – everyone is united on this issue. And it is not just talk. Recently, a delegation from the Danish Parliament's Committee on Foreign Policy visited Kyiv, consisting of representatives from all political parties (right-wing, left-wing, and centrist), and the support for Ukraine was unanimous.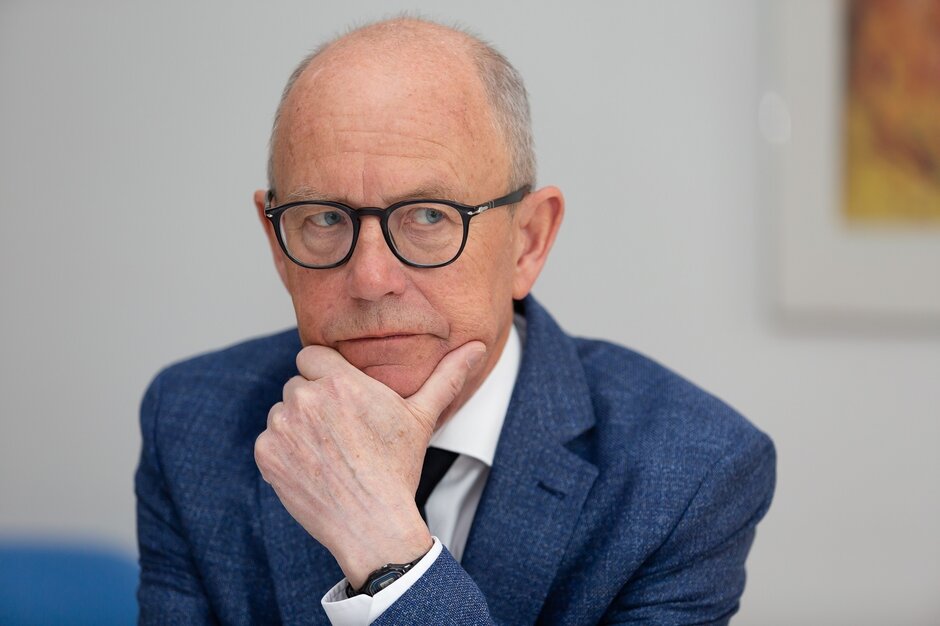 Photo: Oleksandr Zadnipryany/Mind
When our parliament decided to establish the Danish Fund for Support for Ukraine, all parties voted in favour without exception. It significantly improves my work as an ambassador, as I am entirely confident in the unequivocal support of the Ukrainian people from Danish society and parliament.
If you have read this article to the end, we hope that means it was useful for you.
We work to ensure that our journalistic and analytical work is of high quality, and we strive to perform it as competently as possible. This also requires financial independence. Support us for only UAH 196 per month.
Become a Mind subscriber for just USD 5 per month and support the development of independent business journalism!
You can unsubscribe at any time in your LIQPAY account or by sending us an email: [email protected]