The russians drove the Pion self-propelled gun with the flag of Ukraine to Energodar for provocations - intelligence
The invaders are actively creating a "appropriate image" for their propaganda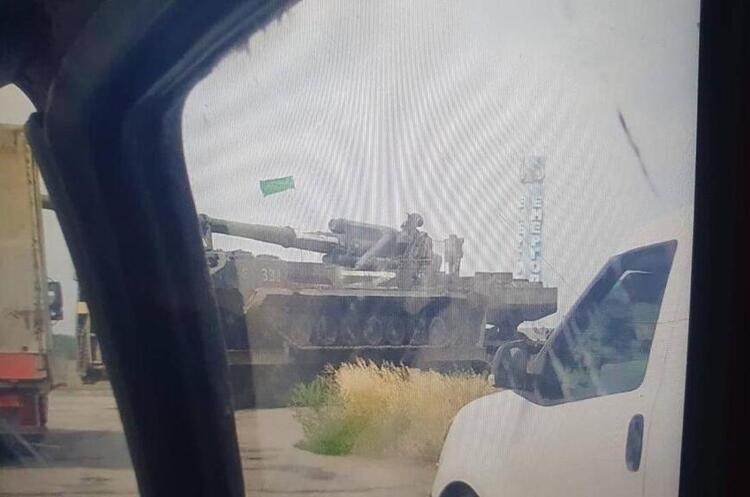 What happened? At the entrance to the temporarily occupied Energodar, the russian military drove up the Pion self-propelled gun with the Ukrainian flag in order to prepare for provocations.
Source. Chief Directorate of Intelligence of the Ministry of Defence of Ukraine.
Details. "The occupiers drove a Pion self-propelled gun with the letter 'Z' painted white, on which a blue-yellow flag was raised, to the Energodar stele at the entrance to the town. Obviously, it will be used for further provocations with the aim of accusing the Armed Forces of Ukraine," the intelligence agency notes.
According to the information of the Chief Directorate of Intelligence, the invaders are shelling the Zaporizhzhya NPP from Vodiane village. One of the artillery strikes damaged the first block of the pumping station of the thermal and underground communications shop. Another one led to the partial destruction of the fire department responsible for the safety of the ZNPP.
As a result of the enemy shelling, the forest and grass in the surrounding areas also caught fire, which caused a lot of smoke. Firefighting is complicated due to the shelling of the fire department.
Meanwhile, the intelligence officers inform that the invaders are actively creating a "appropriate image" for their propaganda. For this purpose, two buses with "extras" were recently brought to the station. The people have to play the role of "local residents and staff".
"Real local residents and staff refuse to participate in such productions", says the intelligence.
Background. On August 11, the occupiers again shelled the Zaporizhzhia nuclear power plant, which is considered to be the biggest in Europe. Five strikes were recorded in the area of ​​the commandant's office of the station – immediately adjacent to the welding area and the storage of radiation sources.
Stay tuned for business and economy news on our Telegram-channel
Mind.ua
Related stories