UPDATED: russians shelled a residential building in Zaporizhzhia
1 dead and 25 injured have been reported so far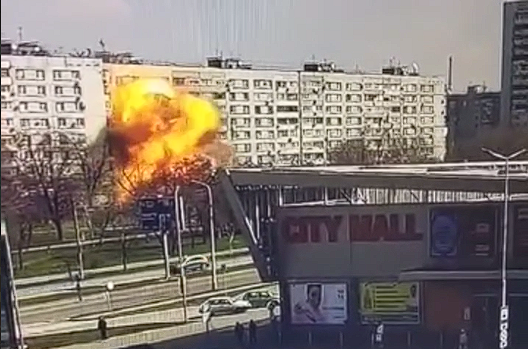 UPDATED at 5:11 p.m.:
According to updated data from the State Emergency Service, 32 people were injured due to the attack – 27 were hospitalised, including 3 children. 5 more people were provided with medical aid on the spot.
Moreover, 6 people and 1 dog were rescued from the rubble. However, search operations are still ongoing.
---
UPDATED at 3:00 p.m.:
The Prosecutor General's Office has established that russians fired 6 missiles at Zaporizhzhia around 12:00 p.m., the type of which has not yet been identified. One of the missiles hit between two high-rise buildings.
The strike partially destroyed apartments and balconies in the buildings, damaged roofs, and smashed windows. The blast wave and debris also damaged neighbouring residential buildings, cars and other civilian infrastructure.
---
UPDATED at 2:19 p.m.:
Mr. Kurtev says that one person, who was in serious condition after the missile hit, died. As of now, 25 people are in hospitals. Of these, 3 are in serious condition, 19 are in moderate condition, and 3 – in light one, including two children.
---
UPDATED at 2:02 p.m.:
According to the secretary of the city council Anatoliy Kurtev, 18 people are known to have been injured, including two children aged 7 and 9. A total of 11 adults have been hospitalised, four of them in serious condition, seven in moderate condition. Another 5 people received medical aid on the spot.
---
UPDATED at 1:34 p.m.:
Volodymyr Zelensky has posted a video of a ruscist missile hitting a residential building in Zaporizhzhia. At the same time, the Oblast Military Administration clarifies that 2 missiles hit the high-rise building. No information on casualties and injuries has been reported so far.
---
russians are shelling civilian infrastructure in Zaporizhzhia.
Andriy Yermak, Head of the Office of the President, reports this.
According to the head of the Office, residential buildings as well as Khortytsia Island came under enemy fire.