The former head of NASA's innovation department: "Trump pays a lot of attention to the Mars exploration"
Omar Hatamleh – about space education, interesting startups, as well as opportunities and dangers that await us outside the planet Earth
After a lecture at the Kyiv-Mohyla Business School on the future of innovation, Omar Hatamleh stays to take some pictures. In particular – a souvenir photo with the youngest listener. In addition to the opportunity to be photographed with, Omar Hatamleh gives the boy an honorary NASA pin.
"You've already become a local celebrity," – Mind journalist tells him with a smile.
"I'm just an ordinary person, like everyone else," – replies Dr. Hatamleh modestly.
But not everyone is able to make such a career at NASA.
Omar Hatamleh has been with NASA for over 20 years. He currently holds the position of Director of the Space Curriculum of the International Space University. Prior to that, he was Director of Innovation at NASA Johnson in Houston and Chief Scientist at NASA ARC in Silicon Valley. He developed creative thinking, expanded innovation capacity, and identified promising research areas. Mind was able to talk to Dr. Hatamleh about space education, interesting startups, and the opportunities and dangers that await us outside of planet Earth.
– Almost every child in the world dreams of working at NASA. Have you dreamed about this since early childhood?
– Yes, when I was a little boy, I already knew that I wanted to make a career in the space industry. I remember 20 years ago when I had an interview with NASA, I was very excited that I might work for this organization.
– During your lecture, you mentioned a lot about the International Space University. What projects are implemented within it?
– The International Space University (ISU) is an interdisciplinary, intercultural, and international educational system, unique in the world. This summer in Cork (Ireland) we held a 9-week course with 112 participants from 26 different countries. The program combined everything related to space, but not only from a technical point of view: it included economics, jurisprudence, and the humanities.
For the first three weeks, students listened to the main course, then had the opportunity to choose the direction of lectures for the next three weeks. If you are an engineer, you can go to business school, or vice versa. We encouraged learning in areas where students had the least knowledge. We then divided them into groups of about 30 people and commissioned them to work on projects with people they had never worked with before: from China, Britain, India, or the Middle East. In the last three weeks, they also had to write a thesis.
Astronauts gave many lectures during the course. Students could choose from hundreds of different workshops: we launched a ball into space, organized rocket competitions, did robotics and programming. And although the environment is very stressful and the program is intense, most students admitted that this experience dramatically changed their lives. In addition to knowledge, they gained access to the space community from around the world.
– Have you checked the careers of university graduates?
– According to our statistics, about 80% of people who participated in the program continued to work in the space industry. Therefore, if you want to get into this field, studying at ISU is one of the best ways, because you get both the knowledge and the connections you need to continue working in the field.
– The United States is now a few steps ahead of other countries in innovation and space exploration and development. In Soviet times, it was more like a race. Is there such competition between countries now?
– In my opinion, the environment is now much more cooperative. I come across a lot of companies that use an international approach to working on projects. They take something from China, order parts in Europe, hire workers from South America. Therefore, it is cooperation rather than competition. But when it comes to startups, it's a different story, because they are competitive by nature and are constantly fighting for survival. The current infrastructure makes access to space cheaper, the components have become smaller in size, and you no longer need to use a lot of hardware. And all this together creates a good foundation for startups that want to enter this market.
– Everyone is talking only about the success of Elon Musk. What other startups are worth following, in your opinion?
– Planet Labs, Spire, Zero 2 Infinity (more information at the end of the article. – Mind). These startups, by the way, were founded by graduates of our university. The value of Planet Labs has already crossed the $1 billion mark.
– How do you think the Trump presidency affects NASA's strategy?
– Each president has his own vision of space. Therefore, every four years we have to adapt to the new administration and adjust our plans. But these are the rules of the game. Trump is more committed to the commercialization of space and everything related to it. He also pays much attention to the exploration of Mars.
– A few hours ago, Trump announced a new NASA chief – James Breidenstein, who is a politician, but by no means a scientist. What is your opinion on this?
– You don't have to be a scientist or an engineer to be a manager, director, or administrator. First of all, you need good management, then you can move in the right direction.
– Lately, NASA has become closer to people. If before most of the projects were kept secret, now anyone can watch a live broadcast from space, and view photos taken by Curiosity, and even take part in a raffle for a one-way ticket to Mars. Why is this happening and what will it lead to?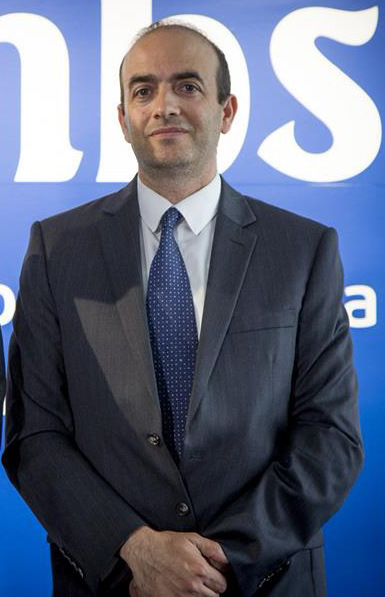 Omar Hatamleh
Photo kmbs
– It is very important to interest people in space and to gain public support. Therefore, the more we emphasize the benefits of space exploration, the development of new technologies that help improve people's lives, create jobs and strengthen the economy, the easier it is for us to move forward. Because in the end, it all depends on public support.
– What tools are used to stimulate the creative process at NASA?
– Design thinking is very important, models of "open innovation", various methods of brainstorming, creative spaces that inspire people to new ideas. We are constantly trying to assess the state of affairs and look for opportunities for change for the better, and for this, we use a variety of tools.
– We still do not know much about space. What do you think are the biggest opportunities and dangers it hides?
– We do a lot of research to find Earth-like planets. Kepler's mission enables us to identify thousands of planets that could potentially be habitable. The planet must be a certain size – not too big, but not too small; must be at a certain distance from the star. Much remains to be explored, but it has been one of the most important scientific discoveries of recent times.
– Will it help with the problem of overpopulation?
– I see the main problem of overpopulation of the Earth in the lack of water and food. But 75% of the Earth is water from the oceans, and it's only a matter of time before we learn to desalinate it. As well as improve resistance to various diseases and produce more food. The problem of overpopulation exists, but at the same time, we are constantly learning to adapt to it and create new solutions.
As for the dangers, for example, the approach of asteroids is also only a matter of time. But the more we invest in technology, the better we can protect ourselves. And before the asteroid gets too close, we will be able to detect such things in advance and direct it away from Earth. The better the technological progress, the easier it will be for us to solve such problems.
Additional Information:
Planet Labs is one of the world's largest players in the field of remote sondage of the Earth. The company specializes in launching miniature satellites weighing less than 10 kg, called Dove. Planet Labs has already launched more than 100 spacecraft, which allows customers to get images from anywhere on Earth with an optical resolution of 3-5 meters. In 2015, the company joined the "unicorn club", i.e. startups, which in record time are estimated at more than $1 billion. This status Planet Labs received in 747 days since the first round of investment. For comparison: it took 396 days for Facebook.
Spire Global specializes in data collected from a network of small satellites. To launch the first satellite, Spire raised $106,330 on the crowdfunding platform Kickstarter. Investments in the company now reach $80 million. Spire has offices in San Francisco, Glasgow, Singapore, and Boulder.і.
Zero 2 Infinity is a Spanish company specializing in the development of stratospheric balloons for space launches. Zero 2 Infinity plans to launch the first 4-hour tourist flights no further than 36 km from Earth on balloons in 2019.
Omar Hatamleh also recently gave a lecture on the future of innovation and technological trends at Google. Check out the recording of the lecture.
Якщо ви дочитали цей матеріал до кінця, ми сподіваємось, що це значить, що він був корисним для вас.
Ми запрошуємо вас стати частиною Mind Club. Для цього потрібно оформити підписку за $7 на місяць.
Нам дуже важлива ваша підтримка!
Чому ми впроваджуємо платну підписку?
Справжня якісна та незалежна журналістика потребує багато часу, зусиль та витрат, це дійсно недешево. Але ми віримо в перспективи ділової журналістики в Україні, тому що віримо в перспективу України.
Саме тому ми створюємо можливість платної щомісячної підписки – Mind Club.
Якщо ви читаєте нас, якщо вам подобається та ви цінуєте те, що ми робимо, – пропонуємо вам вступити до спільноти Mind.
Ми плануємо розвивати Mind Club: обсяг матеріалів і доступних сервісів і проектів. Уже сьогодні всі члени клубу:
Допомагають створювати та розвивати якісну незалежну ділову журналістику. Ми зможемо і надалі розвиватись та підвищувати якість наших матеріалів.
Отримують вільний від банерної реклами сайт.
Отримують доступ до «закритих» матеріалів Mind (до щомісячного випуску, в якому ми досліджуємо та аналізуємо, як працюють цілі галузі; до щотижневих аналітичних підсумків).
Вільний доступ до івентів Mind для підписників та спеціальні умови на інші події Mind.
Smart Power. Власники бізнесу, що стануть підписниками Mind, отримають доступ до агрегатора системних порушень від аналітиків Mind та партнерів «Cкажи.uа». Якщо у вашого бізнесу виникли проблеми з непорядними чиновниками чи конкурентами – ми проаналізуємо, чи є їхня поведінка системною, і разом зможемо вирішити цю проблему.
Ми і надалі розвиватимемо Mind та додаватимемо корисні журналістські рубрики і сервіси для вашого бізнесу.
Ми працюємо над тим, аби наша журналістська та аналітична робота була якісною, і прагнемо виконувати її максимально компетентно. Це вимагає і фінансової незалежності. Підтримайте нас за 196 грн на місяць.
Ви можете скасувати підписку у будь-який момент у власному кабінеті LIQPAY, або написавши нам на адресу: editor@mind.ua.