General director of pharmaceutical firm "Darnitsa": "Import substitution is nothing more than another form of competition"
Svitlana Didenko speaks about market realities, public interests, patients' preferences and the company's readiness for the healthcare reform
The healthcare reform launched in Ukraine makes it necessary to reconsider approach to treatment practice at all levels. One way or another, new doctor–patient relationship forms have an impact on the pharmaceutical industry as well, all the more so because active phase of the healthcare reform began at the first anniversary of launching the reimbursement programme providing that money paid for vital essential medicines are paid back to the patients. In 2017 700 million hryvnias were allocated from the Ukrainian State budget for this purpose, and one billion hryvnias is planned to be allocated this year.
The National List of medicines covered by the Affordable Medicines Programme now includes 239 items.11 of them are being produced by PrJSC Darnitsa Pharmaceutical Firm and are intended for the treatment of cardiovascular disorders. According to the representatives of the company, thus far there is no significant economic effect of the innovations in the market, but in mid-term perspective reimbursement can stimulate the demand.
As emphasized by Darnitsa, the Affordable Medicines Programme should be based upon the National List, take into consideration possibilities of the State Budget and medicines affordability with regard to therapeutically equivalent doses. For the pharmaceutical industry these documents are an orienting point helping to form product portfolio. But the realities are such that the National List includes some medicines with almost finished life cycle which are to give way to new drugs in the market. Representatives of the industry are ready to actively cooperate with the government on amendments to regulatory documents.
PrJSC Darnitsa Pharmaceutical Firm is one of ten biggest pharmaceutical manufacturers in Ukraine. While the company is the third-largest player of 2017 by value, for a decade now it has been taking the lead by volume. During the last two years hryvnia exchange rate stabilization and increased demand for Ukrainian medicines stimulated Darnitsa to change the business plan strengthening the expensive drugs portfolio. Svitlana Didenko, Director General of Darnitsa Pharmaceutical Firm, speaks about products the company is working upon, the way the market is being "accustomed" to them, countries the company is going to supply medicines to and the reasons why today it is hard to compete with the western pharmaceutical brands in an interview to Mind.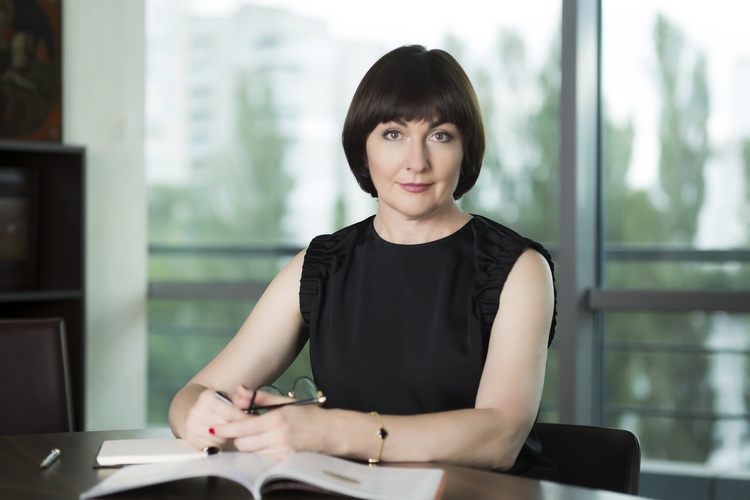 Svitlana Didenko
–These days the Ukrainian pharmaceutical market is growing even in dollar terms. What is the reason for that?
– As of the end of 2017, Ukrainian pharmaceutical market volume was 61.2 billion hryvnias or 2.3 billion dollars. We think that in 2018 the market will increase by 20% in hryvnias. But we can speak about market growing with a proviso. Comparing with two previous years it is really growing. Comparing with the period of time from 2010 to 2014, this is the beginning of market recovery. First of all, it is connected to the improvement of the economic situation in the country.
– How does your company response to these changes?
– From 2015 to 2017 Darnitsa had been reloading its business plan; it has been transformed from a manufacturer to a marketizing company. It helped the company proactively grow both by value (3% higher than the market) and by volume (4% higher than the market), thus showing higher evolution index.
– Which medical brands of Darnitsa are the most popular in the market?
– Nine medicines from the company's product portfolio became market leaders in 2017.
As for the doctors, it should be noted that they're very interested in the cardiac segment of Darnitsa's portfolio, especially in our new products. The reality we face is that cardiovascular disorders cause one-third of deaths worldwide. And in Ukraine, it is the most widespread cause of disability and death. To counter this tendency, we actively and persistently develop new medicines for coronary artery disease, arterial hypertension, as well as for primary and secondary prevention of cardiovascular diseases. From 2015 to 2017 Darnitsa presented eight medicines for this group of diseases. During this time 16 new products were brought to the market, and it is planned to launch other 14 new products in 2018.
Researches and development of new medicines are performed by our team consisting of almost 70 specialists; many of them have the highest academic degrees. Also we engage the scientific leaders and make advantage of valuable experience and scientific knowledge in Ukraine. Among our partners there are M.D. Strazhesko Institute of Cardiology, A.A. Shalimov National Institute of Surgery and Transplantology, Shupik National Medical Academy of Postgraduate Education.
In total, the company's portfolio consists of more than 250 items and 15 dosage forms, thus providing the doctors with effective solutions in such fields as cardiology, neurology, pain management and others. It should also be noticed that we focus on medicines with sound evidence.
– Which new products will reinforce the product portfolio in 2017, what do you plan to launch this year?
– In 2017, Darnitsa presented Ukrainian cardiologists to an extended line consisting of two fixed-dose combination products with proven clinical efficiency for essential hypertension of 2nd and 3d degree. Their formulae contain such agents as valsartan, amlodipine and hydrochlorothiazide which are among the most effective and well-established first-line antihypertensive agents and have the soundest evidence.
Also we have launched a medicine necessary for treatment of consequences of heart failure. Another new Darnitsa's product is a preparation containing L-arginine hydrochloride for treatment of arteriosclerotic heart disease and cerebral atherosclerosis, CAD and angina. Now it is successfully used by cardiologists, general practitioners and surgeons. This is not only an up-to-date molecule but also an innovative infusion form fully meeting the requirements of the European pharmacopoeia.
At the beginning of 2018, we presented neurologists to a new medicine for central and peripheral neuropathic pain. Also this year we offer otolaryngologists a new modern medicine for complex treatment of acute and chronic tonsillitis.
– How do you attract the health worker's attention when launching new products?
– When communicating with the doctors, we also look for innovations. For example, we have created the GreenBook mobile application. First of all, it was designed for cardiologists, neurologists and general practitioners, but in the future we plan to develop it to provide more effective communication with pharmacy technicians and pharmacists.
GreenBoоk is a tool created to facilitate access to the update information for the doctors: it contains European and Ukrainian treatment guidelines, healthcare delivery models, conferences and trainings schedule and scientific publications. The application suggests targeted communication with the doctors and feedback receiving.
It also provides educational opportunities. We invite doctors to undergo online training – webinars and online lectures; a certificate will be issued upon the course completion.
Also in very near future we plan to activate the geopharmacy function – medicines searching in the nearest pharmacies indicating its price; for a doctor, this is a resource-light way to ensure additional comfort for a patient during a visit.
– You export your products to 15 countries. What can you say about export geography, and are you going to expand it this year?
– In addition to the so-called organic markets (Georgia, Moldova, Kazakhstan, Uzbekistan etc.) we plan to increase supplies to the Middle East, and by the end of this year we want to be registered in some Southeast Asia country. Also according to the results of work done during the last two years we expect an increase in supplies to the European market.
– Ukrainian companies account for about 2/3 of pharmaceutical sales by volume but only about 1/3 by value. Is Darnitsa going to develop the expensive medicines segment?
– The so-called expensive medicines segment is a heterogeneous group. For the most part this is the same generics (medicines having active substance with expired patent protection or patented medicines produced under a compulsory license. – Mind) but of foreign origin. And just a small share consists of originator products – both patented and those which lost exclusivity in the market.
Today, about 60% of Darnitsa's retail sales are middle and high-priced medicines. Anyway, development of this segment will not be a goal in itself, but the result of product portfolio upgrading through development of new advanced originator products in such areas as cardiology and neurology.
– The experts foresee an increase in import substitution in the medicines market. What does Darnitsa do in this regard? Which market segments are still ruled by the foreign companies?
– Yes, import substitution is going to increase, and for a good reason. I want to emphasize that "import substitution" is just a form of business competition. But it always attracts attention when exchange rates are fluctuating – it is important for economic evaluations and national level prognoses. For market players, for us particularly, share of foreign-made medicines in some segment can be just a predictive index of the segment's attractiveness.
Import is also heterogeneous: it may include both products made in countries with strict regulatory policy and in countries with more liberal policy, let's put it this way; originator products and generics, medicines produced by well-known companies and by quite new ones which are "western" only due to their registered address.
This is the result of multi-faceted competition which includes quality of a medicine, efficiency, manufacturer's credibility, background experience, recommendations of doctors and pharmacists, feedback from the clients, commitment to some brands and manufacturers.
Of course, Darnitsa is interested in achievements of big transnational companies, concerning both originator products and generics, in cardiology and neurology segments. We always evaluate three aspects: innovativeness of molecules, complexity of combination and proved clinical efficiency. Oncology, diabetes mellitus type 1 (modern insulin), hepatitis C, orphan (rare) diseases – these market segments require global development work and researches, and, therefore, investment. First of all, it can be done by the global foreign companies.
– What is your actual share in Borshchahivskiy Chemical Pharmaceutical Plant now? What can you say about accusation of hostile acquisition made by the shareholders of this plant?
– In Ukraine, just like in any part of the world, amalgamation and merger of companies are evolutionary paths of development. I will exemplify it by just a few cases in point. In 2015, Swiss Acino Pharma AG completed acquisition of Ukrainian pharmaceutical company Pharma Start. In 2016, Teva Pharmaceutical Industries purchased Allergan departments on manufacture of generic Actavis Generics drugs.
Exchange by assets between the companies is also a common thing. The last year French Sanofi and German Boehringer Ingelheim exchanged their assets: veterinary business of Sanofi was exchanged for OTC medicines manufacture of Boehringer Ingelheim.
I gave just a few isolated examples of universal partnership development which are a part of the global trend, and Ukraine is not an exception. Our company's strategy always provided for possible inorganic growth. That is why we used an opportunity to participate in public auction for a part of BCPP share block.
Now Darnitsa is an owner of more than 30% of the BCPP shares. We think that this investment is an opportunity for growth and development of both companies. So we made other shareholders and management of BCPP several proposals on synergy of management experience, product portfolio, effectiveness of business increasing and corporate management.
Contrary to business reason, our proposals were not yet received by the BCPP shareholders in a proper manner, but it is just a matter of time.
– You said that the State programme Affordable Medicines is a "retro portfolio" of medicines having run their course long ago. Do you work with government authorities on bringing this portfolio up to date?
– This is inaccurate interpretation of words I said in some interview. This is exactly what I said: "in fact, instead of promoting new medicines we are urged forward creating a "retro portfolio". It was said within the context of our approach to formation of our product portfolio.
I also gave an example of such a product – simvastatin. I'll say once again: simvastatin was finishing its life cycle in the Ukrainian market with 2% by value and by volume giving way to more up-to-date representatives of this class, atorvastatin and rosuvastatin, before the programme was launched. This is why back then we decided to terminate production of simvastatin and replaced it by more modern molecules. Statins are characterized by class effect, so, in my opinion, it's incorrect to use only one representative of a class. The established practice suggests usage of therapeutically equivalent doses, i.e. doses of different medicines with different active substances having the same effect.
In other words, due to this approach, the State buys not a medicine but effect, and cost of this effect doesn't change depending on a drug name or its active substance. This model is applied in the countries with highly developed healthcare system.
I mentioned the price analysis as of November 2017 to demonstrate how much the programme lost. In fact, to improve the situation, it is necessary to include now at least the statins' market leader, atorvastatin, specifying that the price for a dose of 10 mg of this medicine should be equal to the price for 20 mg of simvastatin.
As for cooperation – yes, we always try to take such opportunities.
– In your opinion, which steps should make the State to improve business climate in the pharmaceutical market in Ukraine?
– There should be strategic cooperation between the State and the industry. In the Western world it is called Public–Private Partnership.
Steps we expect are the steps towards fiercer economical competition. No more and no less. I think that such an important step as reimbursement programme launched by the government to support the population has to be followed by a switch to open electronic auctions with participation of manufacturers, by development of long-term plans for government sponsored reimbursement programmes. It is necessary to hold tenders for forward deliveries, to amend procurement regulations concerning public funds according to the "1 item = 1 medicine name" principle, to extend the National List of medicines, as well as to adopt a clear and concrete anti-counterfeiting plan at the State level (serialization, aggregation).
– Will the medical reform have an impact on Darnitsa's business?
– Yes, this reform will certainly affect all the market players. It is yet difficult to predict exactly how. Anyway, it doesn't really matter how the reform is being made because the medicines portfolio used by a doctor is established by the treatment guidelines. And efforts made by Darnitsa are mainly concentrated on forming a portfolio of medicines (molecules) used in the European treatment guidelines, no less.
Nevertheless, I think we have good chances for growth and business development. We already have the wide, affordable and rapidly growing product portfolio in case the reform of primary healthcare is successfully and effectively implemented.
– Could you specify rates Darnitsa finished the year with?
– According to the results of 2017, our market share was 15% constituting twice the rate of the nearest competitor. And we are the third by value, like the previous year.
– What are your key growth factors?
– In my opinion the internal factors which can be considered as a success are that we managed to balance efforts made to maintain momentum of the existing "mature" product portfolio and resources we spend to develop and launch new products.
Trust and commitment of doctors, pharmacists and patient to our products became the external success factor of the last few years. Cooperating directly at the point of launch – at the manufacturing site – we involve doctors, receive feedback and break the stereotypes about Ukrainian pharmaceutical industry formed once in their minds. And this approach is quite fruitful.
– What can you tell about Darnitsa's business strategy for the next 2-3 years?
– In the next 2-3 years we are going to continue expanding our portfolio of medicines for treatment of complex cardiac and neurological diseases and for pain management, as well as to continue developing services for doctors and patients.
The task important for Darnitsa is to take care of doctors and to support their professional evolvement. We offer new concepts of online training in addition to the scientific and practical events the company holds for a number of years.
To get closer to our goal – to explain the role fixed-dose combinations play in treatment of patients with arterial hypertension and atherosclerosis – Darnitsa joined the online education project for Ukrainian doctors (cardiologists, family practitioners) on the basis of WEBCARDIO.org and WEBFAMILY.ORG websites. This is our common initiative with Shupyk National Medical Academy of Postgraduate Education; it will consist of training scientific and practical lectures on arterial hypertension and atherosclerosis. Also it will provide general information and specify advantages arterial hypertension treatment by the fixed-dose combinations produced by Darnitsa and include online tests for doctors.
Recent experience when doctors blatantly violated the instructions for medical use of our medical products resulting in death of a patient made us have a new look at the problem of following recommendations for use of medicines provided by the instructions for medical use. We cannot sit idle and are going to initiate introduction of additional measures at the State level to enhance responsibility and to improve professionalism of the doctors.
- Does your strategy involve engagement of foreign partners?
- We are going to consider this during the next six months. We are interested in strategic cooperation in the field of development and introduction of new, modern and highly effective medicinal products in Ukraine. This will help us bring drugs not readily available to the domestic consumer to the Ukrainian pharmaceutical market and offer the most affordable prices for them.
- How can you reduce prices?
- Darnitsa would like to focus on a new economic and legal phenomenon that has been gaining traction in recent years globally – the patent cliff. The point is that the patents for medicinal products created in the 1990s and sold under well-known trademarks have begun to expire.
The trend offers great opportunities for the development of pharmaceutical companies around the world. Many of them combine their efforts and research to quickly cover the growing range of modern and effective drugs becoming available to the market participants through access to patented information that used to be restricted.
We do believe that the strategy of the international partnership for joint pharmaceutical production will speed up the introduction of new products in the Ukrainian market and allow to increase their number several-fold. Today, 20 times fewer international non-proprietary medicinal products are sold in Ukraine than, for example, in Germany. Ukrainians have less access to unpatented drugs as compared to people in the developed countries and are forced to pay extra for pharmaceutical treatment.
At the same time, the Ukrainian drug market grew by 14% in size in 2016–2017, and it will keep expanding at a steady rate in the coming years, estimates show. Darnitsa sees great potential for growth in the launching as fast as possible the effective, high-quality and renown drugs, production protocols of which become available owing to the expiration of patents.
- But the procedure for the introduction of new drugs on the market is still lengthy.
- Yes, it takes several years to develop and launch a new drug. However, we believe that cooperation with a partner whose portfolio already includes modern drugs will significantly shorten the products' way from the development to the consumer. According to the company's analysts, ready-made partnership dossiers will reduce the marketing time for such drugs by at least two years.
- How many drugs are we talking about?
- Darnitsa currently has 50 drugs under development that will enter the market over the next three years. We are confident that the partnership with international companies that have the competence to launch drugs in the Ukrainian market will increase the number of new drugs three times. We are also committed to the strategic task of conducting a series of M&A transactions on the Ukrainian pharmaceutical market in 2018–2019.
- One of such transactions is Borshchahivskiy Chemical and Pharmaceutical Plant, isn't it? Can you name the others?
- Indeed, as I said, the agreement with Borshchahivskiy CPP is a matter of time. But we are also looking into other Ukrainian pharmaceutical manufacturers, which I cannot disclose now.
Якщо ви дочитали цей матеріал до кінця, ми сподіваємось, що це значить, що він був корисним для вас.
Ми запрошуємо вас стати частиною Mind Club. Для цього потрібно оформити підписку за $7 на місяць.
Нам дуже важлива ваша підтримка!
Чому ми впроваджуємо платну підписку?
Справжня якісна та незалежна журналістика потребує багато часу, зусиль та витрат, це дійсно недешево. Але ми віримо в перспективи ділової журналістики в Україні, тому що віримо в перспективу України.
Саме тому ми створюємо можливість платної щомісячної підписки – Mind Club.
Якщо ви читаєте нас, якщо вам подобається та ви цінуєте те, що ми робимо, – пропонуємо вам вступити до спільноти Mind.
Ми плануємо розвивати Mind Club: обсяг матеріалів і доступних сервісів і проектів. Уже сьогодні всі члени клубу:
Допомагають створювати та розвивати якісну незалежну ділову журналістику. Ми зможемо і надалі розвиватись та підвищувати якість наших матеріалів.
Отримують вільний від банерної реклами сайт.
Отримують доступ до «закритих» матеріалів Mind (до щомісячного випуску, в якому ми досліджуємо та аналізуємо, як працюють цілі галузі; до щотижневих аналітичних підсумків).
Вільний доступ до івентів Mind для підписників та спеціальні умови на інші події Mind.
Smart Power. Власники бізнесу, що стануть підписниками Mind, отримають доступ до агрегатора системних порушень від аналітиків Mind та партнерів «Cкажи.uа». Якщо у вашого бізнесу виникли проблеми з непорядними чиновниками чи конкурентами – ми проаналізуємо, чи є їхня поведінка системною, і разом зможемо вирішити цю проблему.
Ми і надалі розвиватимемо Mind та додаватимемо корисні журналістські рубрики і сервіси для вашого бізнесу.
Ми працюємо над тим, аби наша журналістська та аналітична робота була якісною, і прагнемо виконувати її максимально компетентно. Це вимагає і фінансової незалежності. Підтримайте нас за 196 грн на місяць.
Ви можете скасувати підписку у будь-який момент у власному кабінеті LIQPAY, або написавши нам на адресу: editor@mind.ua.
Related stories