Healthy planet: how to take care of people and the environment at the same time
Darnitsa ecologist tells how the company was creating its ecosystem and managed to involve employees in responsible waste management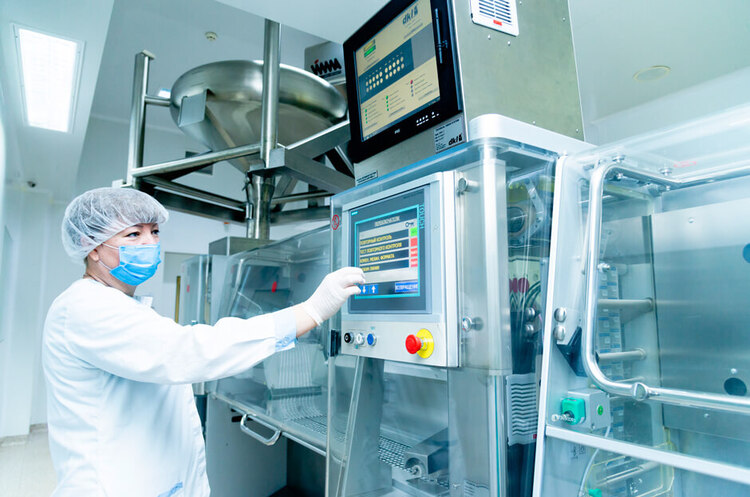 Mind continues the project «Big business – big responsibility», in which we publish materials and cases about large Ukrainian companies implementing socially significant programs, which help to solve environmental problems.
The fight against waste and pollution on the planet is one of those problems. Pharmaceutical companies are particularly active in this process. They are interested not only in ensuring that waste generated during the production of medicines does not enter the environment, but, ultimately, in fostering a culture of responsible waste management.
Darnitsa has become one of the first pharmaceutical manufacturers to introduce in Ukraine a comprehensive system of waste sorting and further transfer to processing and disposal. Mind tells how these processes are set up within the company and what is special about them.
Every year, countries of the European Union spend more than 100 billion euros on environmental protection and fighting with pollution. In Ukraine, UAH 8 billion was provided for the same purpose in the 2020 state budget. Moreover, in 2017, the Cabinet of Ministers approved the National Waste Management Strategy until 2030 in order to address the critical situation with accumulation, storage, processing and disposal of various groups of waste. But this program has remained a formality, while 400 to 500 million tons of garbage appear in Ukraine every year. And only 3-4% of them go for recycling, everything else gets dumped in landfills.
As a result, waste disposal, as well as environmental protection, becomes a problem to be solved exclusively by the business itself. Pharmaceutical companies were among the first in Ukraine to pay close attention to the need for responsible waste management and care for the environment.
Why pharmacists? It's a fact that specifics of this industry is associated with production of a large number of different types of waste, which volume reaches 2% of all waste, or 8-10 million tons per year. At the same time, up to 60% of this volume is harmless waste and up to 35–40% is hazardous waste, which penetration to the outer world is unacceptable, and therefore it must be disposed of.
In 2010, the pharmaceutical company Darnitsa began to implement and apply the principles of responsible waste management. Today, the company has a system of sorting and separate waste collection, which then gets transferred for recycling or disposal.
"Our task is to gradually reduce the impact on the environment and reduce the use of resources. We use the latest technologies and approaches to production and business processes and this contributes to progress in this direction," says Maria Tatarchuk, head of the sanitary-ecological laboratory of the pharmaceutical company Darnitsa.
She recalls how 10 years ago she and her colleagues made first steps to establish a separate waste sorting routine and looked for partners to recycle and dispose of waste. The fact is that Darnitsa produces drugs in 15 different dosage forms: tablets, capsules, sachets, drops, parenteral solutions of various volumes, etc. On average, 667,000 packages of various drugs come off the assembly line every day. It is logical that a significant amount of different waste is generated during the process.
Containers and packaging materials – cardboard and paper, plastic and film, foil, glass. According to Maria Tatarchuk, there were no problems with these types of waste: they are mostly recyclable. What is more difficult that's the so-called pharmaceutical waste – raw materials and drugs that have not passed quality control, and those that were used during research and development, as well as those formed during the manufacturing of medicines. Such wastes are not recyclable, so they must be sent for disposal.
All waste is classified as safe and hazardous. "The ratio is about 70% to 30%. We transfer most of the safe waste for recycling. Hazardous waste is disposed of. This is done by our partners who have a license to handle this type of waste," explains the ecologist.
Maria Tatarchuk is proud that in recent years the share of waste that Darnitsa transfers for recycling has exceeded 60% and it keeps growing every year. In 2017, Darnitsa recycled 68.7% of waste, and in 2019 – the figure grew to 69.3%. According to Maria, it is quite difficult to achieve higher rates, since there are certain legal restrictions regulating the management of certain types of waste – they must be disposed of.
However, almost 70% is a very good figure. For comparison: even in such a developed country as Germany, where there are strict environmental standards in action, according to the World Health Organization, medical institutions dispose of 2/3 of drugs by flushing them into the sewer or mixing them with ordinary household waste.
The amount of waste transferred for recycling also speaks volumes about the responsibility of employees. "One can't take care of people and destroy the environment at the same time. Our team quickly understood this and supported the idea of waste sorting," says the ecologist. This process has been thoughtfully set up, to the smallest detail, and now runs smoothly.
To make waste easier to process or dispose of, it gets sorted by type. First in small containers, then in larger containers, from which the bulk of waste is formed. "Once the tanks are filled – they are transferred to be baled, we even bought two special presses for this purpose. Then the compressed waste is sent to the utilities service, which deals with their sale. There is also a returnable packaging, which we give to the manufacturer," says Maria Tatarchuk.
Waste that is not subject to sorting is collected separately by the company. These are the components of household waste, such as adhesive tape cores, paper that cannot be separated from the adhesive tape, rubber gloves, and so on.
Pharmaceutical waste generated during the research or production of medicines (during the adjustment of the equipment, its cleaning, drug residues, rejected drugs, etc.) must be disposed of. But the disposal process in this case has certain nuances.
"For example, tablets that have not passed quality control during packaging or in the laboratory must be separated from the blisters, collected separately and sent for disposal. This must be done manually. Ampoule glass is refractory, so ordinary glass processing plants don't accept it, we have to look for specialized companies," explains Maria the peculiarities of the process.
Maria Tatarchuk notes that Darnitsa's partners who process and dispose of waste contribute greatly to the fight against pollution. "We take waste management seriously, so we choose the contractors accordingly. That's because we want to be 100% sure that our waste will be properly and safely disposed of and will not harm the environment," explains the head of the sanitary-ecological laboratory.
Maria Tatarchuk reveals the secret of choosing reliable partners: "Before concluding a contract with a contractor, it is necessary to make sure that the company is on the list of licensees for hazardous waste management, published by the Ministry of Environment and Natural Resources. Then we request the necessary documentation and visit the company to make sure that everything is true. Because there have been incidents. Once I visited a company with a colleague of mine and upon arrival we saw that the main components and equipment were standing in the packaging film, and it was obvious that it had never been turned on … Although we had been told that the company had been working for several years and had all the permits," gives Maria Tatarchuk an example.
Darnitsa is trying to build long-term cooperation with contractors and transfer more of different types of waste that have already been sorted. "We try to work out so that besides the main waste, they also take additional waste, which is more difficult to process. For example, together with waste paper – a bandage tape, cardboard drums. Of course, it is easier for us to send all waste for disposal without separating. And many companies do just that. But we want to increase the share of processing, because our main task is to reduce the negative impact of production on the environment," explains the ecologist.
It is noteworthy that Darnitsa not only implements eco-principles in production, but also promotes responsible waste management among its employees who are introducing eco-style to everyday life.
All administrative buildings of the pharmaceutical company operate on the principle of "green office". "We have almost completely replaced fluorescent lamps containing mercury with cleaner and more economical LED lighting for all rooms. We have provided automatic lighting control and heat control, and introduced electronic paperless document management as well," says Maria Tatarchuk.
Darnitsa has its own artesian wells and a system for refining drinking water, and it is being constantly monitored. The company's office has reverse osmosis systems installed to reduce scale formation in kettles and coffee machines, as well as to reduce electricity costs.
Electric forklifts are used to transport raw materials and finished products on the territory. They move through a system of internal galleries that connect the shops with the warehouse. "The company has an international GMP standard, which prohibits the movement of products outdoors. Gyroboards are used to enable employees to easily move around the 12-hectare area," said the ecologist.
In addition, the company's employees practice separate collection of used batteries, expired medicines from home medicine cabinets and used fluorescent lamps that contain mercury. The disposal of such waste is covered by the company. Prior to quarantine, when the canteen was open, food waste was transferred to an animal shelter.
"We have created an ecosystem in Darnitsa and continue to develop it, involving staff in all new initiatives. We are convinced that by raising the awareness of employees in the field of environmental protection and motivating them to use all types of resources carefully, we can foster a culture of responsible waste management and spread it widely in society," concludes Maria Tatarchuk.