How Germany "surrendered to the Russians" and had its defense and energy policies overturned by Putin's invasion of Ukraine
Volodymyr Zelensky calls on Europe to take decisive action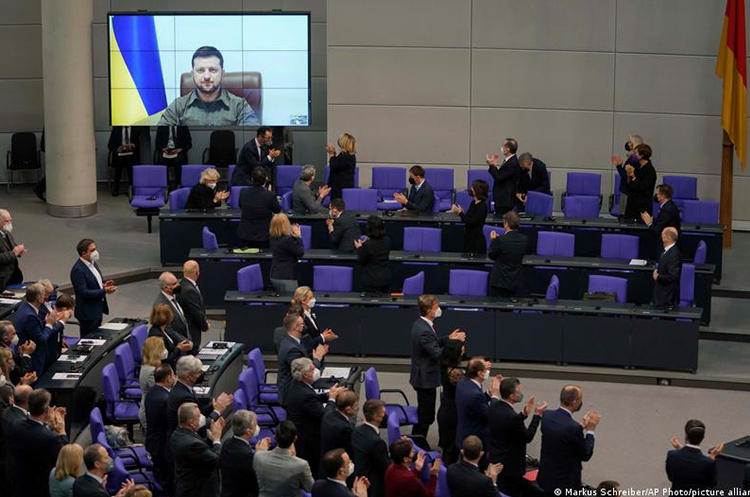 Today, President of Ukraine Volodymyr Zelensky gave a speech in the German Bundestag. In his speech, he made several important statements.
The head of state stressed that Russian troops continue to bomb Ukrainian cities, leveling them to the ground with missiles, air bombs and artillery. Thousands of Ukrainians have already been killed, including 108 children
He mentioned the Nord Stream-2 gas pipeline, which Ukraine has always considered to be a weapon, and urged to help Ukraine stop Russian aggression. Zelensky also thanked all those who chose the lives of Ukrainians over Russian money.
The subject of reassessing relations with Russia is one of the most relevant ones among German experts engaged in economic and political research. To give an insight into the process, Mind offers its readers an abridged translation of an article prepared by German columnist Alec McGillisfor ProPublica and The New Yorker, in which abuse of power in various countries is investigated.
Bad choice
A few weeks after Putin's forces attacked Ukraine, Germany rethought its energy policy and diplomacy toward Russia, as well as its own military role in the world. One observer said, "The changes are staggering."
Last October, I was sitting in the office of Klaus Emmerich, head of the Garzweiler mine trade union in West Germany, as he shared his concerns about Germany's famous plan to phase out coal. Increasing the capacity of renewable energy sources was lagging behind.
Given that coal accounts for more than a quarter of the country's total power capacity, it meant that Germany would have to rely on a different energy source: natural gas, which was mainly supplied by Russia. "We are surrendering to the Russians," Emmerich told me. "I have a bad feeling about this."
Five months later, Emmerich's premonitions were convincingly confirmed. Putin's invasion of Ukraine has led to bloodshed among civilians and the military, devastated cities and forced some two million (over 3 million now – Mind) people to become refugees
The consequences of Russian aggression spread in waves across Europe and the world. But one of the conclusions remained underestimated:
*Russia's war against Ukraine has overturned Germany's political and economic policies;
*forced the German government to reconsider its long-approved energy transition plan;
*destroyed the favorable political position towards Russia, which had existed for half a century;
*and abolished the policy of military minimalism that began after World War II.
In many ways, Germany has rethought its place in the world – and all this in the two weeks.
At the heart of this shift is Germany's dependence on Russian fossil fuels, which until recently was not considered a problem by the German authorities. On the contrary, it was part of Berlin's deliberate long-term effort to maintain a favorable relationship with its enormous neighbor armed with nuclear weapons, with whom Germany fought in two bloody wars in the 20th century. .
Germany chose its dependence on Russia because it considered the economic ties that fuel imports created – physical ties in the form of pipelines through Eastern Europe and the Baltic Sea – to be an integral part efforts to maintain peace and integrate Russia with the rest of Europe.
New reality
On February 22, German Chancellor Olaf Scholz announced a reduction in dependence on Russian energy. Nord Stream 2, a new gas pipeline from Russia capable of supplying 55 billion cubic meters of gas per year to Europe, has been shut down. The move was a recognition that the Eastern Policy strategy of reconciling with Russia, which Scholz's center-left Social Democratic Party had followed for more than 50 years, had failed.
On February 27, Scholz made another, even more startling statement. After the decision to send heavy weapons to support Ukraine was reached, Germany decided to significantly increase its own defense spending, which will make it, according to preliminary estimates, the third country in the world in terms of military spending after the United States and China. "President Putin's invasion of Ukraine has created a new reality," Scholz said. "This new reality needs a clear answer – and we have responded."
The next day, German Finance Minister Christian Lindner told ARD (TV channel) that over the next decade, Germany "will have one of the most capable, powerful and equipped armies in Europe." 75 years after the victory over the Nazis, Germany will once again allow itself to think and act as a regional state proud of its military potential.
Foreign Minister Annalena Burbock said: "If our world has changed, then our policy must not fall behind to respond to the change".
Fatal distortions of "eastern policy"
It is difficult to overestimate the scale of this transformation, which shocked many Germans. "I do not think I have seen anything like this in my political career. This is staggering, "said Thomas Kleine-Brockhoff, vice-president of the Marshall Fund's German think tank in Berlin and a former senior government adviser.
German "Eastern policy" has its roots in the era of Chancellor Willy Brandt, who brought the Social Democrats to power in West Germany in 1969. This policy was born of a combination of pragmatism in the face of the nuclear threat, guilt over the catastrophic atrocities of the Nazis on the Eastern Front, and a desire to demonstrate at least some independence from Germany's main ally and defender, the United States.
With the fall of the Berlin Wall and the collapse of the Soviet Union, "Eastern policy" was seen as a significant success, and many Germans believe it helped end the Cold War.
"The Germans thought that because the Berlin Wall fell without any obstacles arising, the Eastern policy was right and that ensuring uninterrupted gas supplies from Russia was of paramount importance not only for the German economy, but also proved to be the right strategic decision, "said Christine Berzina, an expert at the German Marshall Fund.
However, for Berzina and other analysts, this interpretation of the situation was the result of a fatal distortion of memories of "Eastern policy" and an exaggeration of its role in the fall of the Iron Curtain.
Disturbing vector
The success of Germany's "eastern policy" depended not only on diplomacy and economics, but also on military force. Willy Brandt was not a "hippie peacemaker" at all, but a Cold War soldier who survived the Soviet blockade of Berlin in the late 1940s.
After the collapse of the Soviet Union, Germany's military spending fell below 1.5% of GDP. This is despite some indications that Russia chose a disturbing vector under Putin, who razed to the ground the city of Grozny, the Chechen capital, in the 1990s. He has run a regime that persecutes dissidents and kills journalists.
Meanwhile, Germany further expanded its energy ties with Russia. Chancellor Angela Merkel gave the Kremlin her consent to build the first Nord Stream, and her predecessor, Gerhard Schroeder, was head of the company which was responsible for the project and controlled by Gazprom.
As chancellor, Merkel promoted German investment in Russian energy. She continued to do so even after other sinister signs came to light:
*Putin's speech at the Munich Security Conference in 2007, in which he criticized NATO enlargement;
*the Russian bombing of Georgia in 2008;
*the annexation of Crimea by Russia;
*incitement of the conflict in the Ukrainian Donbass in 2014;
*the assassination of Russian opposition leader Boris Nemtsov in Moscow.
Against this alarming background, Germany's dependence on Russian fossil fuels only increased. After the accident at the Japanese nuclear power plant in Fukushima in 2011, Merkel promised to close the entire nuclear generation in Germany in just over ten years. At that time, nuclear energy provided almost a quarter of the country's electricity production.
Silent populism
"When Germany closed the first nuclear power plant, the Kremlin apparently raised champagne glasses to that. That's when we gave up our energy sovereignty, "Berends said.
Berends blames not only Merkel. In 2014 and 2015, the United States effectively handed over to Berlin the control of the policy regarding Russia at the Minsk talks aimed to resolve the Donbas conflict. "Why did the United States outsource its policy toward Russia to Merkel and trust her?" If the United States was sitting at the negotiating table then, they would have had much more influence, but they were not there, "Berends said.
Looking back, Germany's complacency about Putin's abuse and concentration of power in his hands seems reckless. But in Germany there was no public interest in the confrontation. Berends called Merkel's soft stance a form of "silent populism." She understood that Germans, who were bathing in peace and prosperity, would not support a change in the status quo and step outside their comfort zone.
Updated prospects
Russia's aggression against Ukraine has changed everything.
Scholz's new defense plans call for an immediate increase in military spending, which will again reach more than 2% of GDP in the coming years. Reaching the 2% threshold will be in line with Germany's commitment to NATO. Putin's actions will help achieve what former US President Donald Trump failed to achieve with intimidation.
But the question of how Germany plans to build an economy with much less Russian fossil fuel, which it relied on in previous years, remains unresolved. In order to secure enough energy, the country should not only diversify its supplies, but also reconsider its attitude to nuclear energy.
However, the situation is conducive to new solutions. "The moral imperative for Ukraine now outweighs all outdated Cold War fears," said Christine Berzina of the German Marshall Fund.
If you have read this article to the end, we hope that means it was useful for you.
We work to ensure that our journalistic and analytical work is of high quality, and we strive to perform it as competently as possible. This also requires financial independence. Support us for only UAH 196 per month.
Become a Mind subscriber for just USD 5 per month and support the development of independent business journalism!
You can unsubscribe at any time in your LIQPAY account or by sending us an email: [email protected]