Hunger, cold and debts: how the war in Ukraine provokes a three-dimensional global crisis
1.7 billion people in 107 world's economies could face food shortages, debt disasters or power outages
The UN report says that the war in Ukraine is escalating a triple crisis in the world's food, energy and financial markets. Food is already 34% more expensive than a year ago, oil is 60% more expensive, gas and fertilizers have more than doubled in price. In addition, interest rates on loans have increased in countries that import these resources. Mind has studied the opinions of international experts on how these crises are formed and how they can unfold.
"We are now facing a perfect storm that threatens to devastate the economies of many developing countries," said UN Secretary-General António Guterres, presenting his report. "As many as 1.7 billion people – one-third of whom are already living in poverty – are now highly exposed to disruptions in food, energy and finance systems that are triggering increases in poverty and hunger… Prices were already on the rise – but the war has made a bad situation far worse."
According to UN estimates, 69 countries with a total population of 1.2 billion people, could face this "perfect storm" and the emergence of three crises: food, energy and debt. Another 38 countries with a population of 500 million people could meet at least one disaster: rising food prices, energy shortages or deteriorating financial conditions.
¹1: food crisis
russian and Ukrainian agricultural products became the "quiet weapon" of the war. In 2021, exporters from russia and Ukraine used to provide 30% of wheat supplies in the global market and 55% of world exports of sunflower oil. Ukraine also used to cover 15% of the global corn market. In addition, russia and belarus are covering 20% of the world fertilizer market. russia is a leading exporter of nitrogen fertilizers and the second largest supplier of potassium and phosphorus ones.
The war has blocked Ukraine's access to the cultivated areas in the Southern and Eastern regions of the country as well as seaports in Odesa and Mariupol, through which the domestic grain used to reach consumer countries.
Moreover, russia has said it will not export its products and agricultural products to "unfriendly countries" and has disrupted the supply and sale of fertilizers that play a key role in agricultural production. Small farms all around the world may not receive fertilizers, and this will reduce the yield of their fields by 50%.
Increase in wheat and maize prices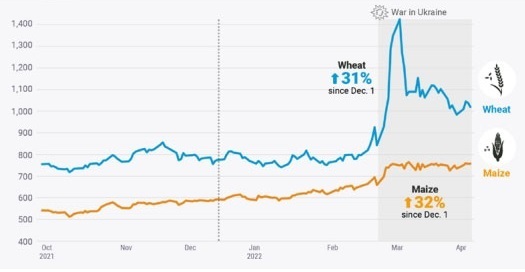 On April 11, US Senator Joni Ernst noted, "400 million people are dependent on Ukraine and russia for food, and that production this year will drop 40-45% in Ukraine due to the lack of availability of fertilizer, pesticides, and diesel fuel – which is being used by the military to fight the war." Furthermore, the russian army is likely to try to destroy Ukrainian food depots.
Experts say that the kremlin is deliberately seeking to cause a global shortage of food in order to provoke unrest in various parts of the world in the second half of 2022 and use it as an excuse to start a dialogue on easing the anti-russian sanctions.
The UN fears that the food crisis could deepen if countries respond to it by closing food markets. This will create a domino effect of export bans, which can lead to catastrophic consequences.
¹2: energy crisis
Tension in the oil, natural gas, coal and electricity markets had arisen before the russian invasion of Ukraine. The shortage of energy resources and the increasing of their prices were due to the rapid recovery of economies after the COVID-19 pandemic in 2021. However, the war in Ukraine has pushed oil, gas and electricity prices up dozens of percents.
Fluctuations of oil and gas prices

The "Brussels Times" reported on February 24, "For delivery in March, the gas price goes up 40%, to about €125 per megawatt-hour (MWh). The price for the supply of electricity is also rising some 40%, to €300 per MWh. Energy traders in Europe are buying up energy resources for fear that the russian gas imports will dry up completely."
Traders in European and some Asian countries fear that russia could cut off gas to Europe at any moment in retaliation for Western sanctions. Market participants also warn that gas pipelines to the EU could be accidentally or intentionally damaged as a result of the war.
During the war, oil and gas prices dropped as a result of various announcements about increasing supplies of these energy resources. However, black gold and blue fuel are still about one and a half times more expensive than at the beginning of the year. The UN is worried that a long period of high prices may again divert investment in fossil fuels and reverse the progress made over the last 5-10 years towards decarbonisation.
¹3: debt crisis
The world is on the verge of a global debt crisis, the harbinger of which became Sri Lanka. The $22 million country has announced its default on its $51 billion external debt after running out of currency to import essential goods. This year, other poor nations will also have to make difficult choices – to save themselves from default or to save their people from starvation.
According to the World Bank data, in 2009-2019, the debts of low- and middle-income countries increased by 1.9% annually. And in 2020, due to the "centennial" health crisis, this time caused by COVID-19, their debt burden jumped immediately by 9% of GDP. Now the lack of currency for buying more expensive energy and food is driving many countries to despair. Seeing their financial difficulties, creditors increase the cost of their loans and further undermine their financial situation.
"Even before the start of this crisis developing countries spent on average 16% of their export earnings in servicing their debt obligations, with Small Island Developing States spending more than twice this figure. By comparison, after Germany's debt was restructured in 1953, debt servicing payments never exceeded 3.4 percent of export revenues in any year," it was stated in the UN report.
According to the organization data, external loans for developed countries have risen since September 2021, and with the beginning of the russian invasion of Ukraine, interest rates for the poorest countries upsprang from about 7% to 8.4% per annum due to fears that their economies will suffer from price shocks of energy and food.
Analyzes and historical data from the United Nations show that civil unrest is usually closely connected with rising food prices. And because the level of socio-economic stress in poor countries has increased under the influence of the COVID-19 pandemic, it could escalate and cause outbreaks of violence in the most unexpected parts of the world.
If you have read this article to the end, we hope that means it was useful for you.
We recommend you to join the Mind Club. To become a member, you need to subscribe for $7 per month.
Your support is very important to us!
Why do we introduce paid subscription?
High-quality and independent journalism takes a lot of time, effort and is expensive – it's really not cheap. But we believe in the prospects of business journalism in Ukraine, because we believe in the prospects of Ukraine.
That's why we are creating a paid monthly subscription – Mind Club.
If you read us, if you like and appreciate what we do, we invite you to join the Mind community.
We will develop Mind Club: the amount of materials, available services and projects. As of today all the existing members of the club:
Help to create and develop quality independent business journalism. We'll get the possibility to continue empowering and improving the quality of our materials.
Visit a website – without any banner ads.
Get access to Mind's «closed» materials (a monthly issue where we explore and analyze how entire industries are doing; and weekly analytical summaries).
Free access to Mind Invest Club events for subscribers, and special terms – for other Mind events.
Smart Power. Business owners who become Mind subscribers will get access to a system violations aggregator from Mind and Skazhy.ua analysts. If your business has problems with dishonest officials or competitors, we will analyze whether their behavior is systemic, and together we will be able to solve this problem.
We will continue to develop Mind and add useful rubrics and services for your business.
We work to ensure that our journalistic and analytical work is of high quality, and we strive to perform it as competently as possible. This also requires financial independence. Support us for only UAH 196 per month.
You can unsubscribe at any time in your LIQPAY account or by sending us an email: [email protected]
Stay tuned for business and economy news on our Telegram-channel
Mind.ua
Related stories