In the arms of russia: why China and India are helping the kremlin
Two Asian giants are saving russia's economy from Western sanctions. Experts explained their motives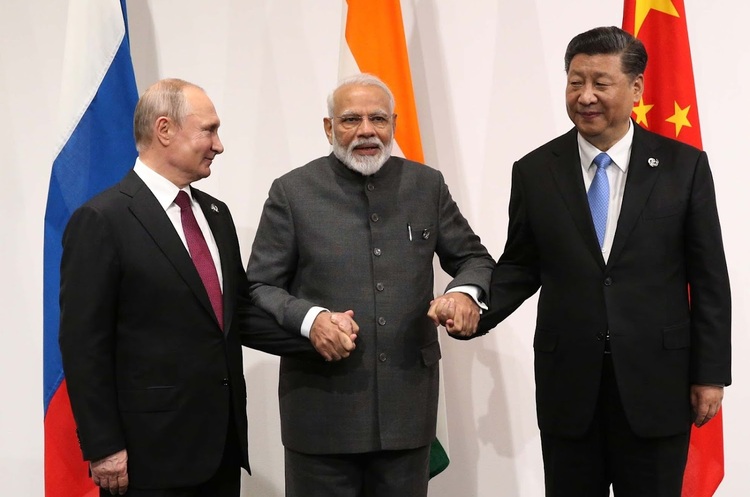 russia's invasion of Ukraine has united European countries against a common enemy. In contrast, a shaky coalition led by China and India has been formed in Asia, which is helping to keep russia's economy afloat since the conflict began.
Between January and March 2022, China increased the commodity circulation with russia by almost 30% to $38.2 billion. And India has increased its purchases of russian oil and sends to russia containers of rice, tea, coffee and seafood to fill the empty shelves of moscow shops.
Why are Beijing and New Delhi refusing to condemn russia's invasion of Ukraine and easing a sanctions strike on moscow? Analysts attribute this to anti-Western ideologies of India and China, national security interests and economic opportunism.
The 1st reason: ideology
China declares its neutrality regarding the war in Ukraine. However, this neutrality is clearly pro-russian. Beijing refuses to condemn moscow for the military invasion of Ukraine, reiterates the kremlin's rhetoric about a limited "military operation," and accuses the United States and NATO of fomenting the war in Ukraine.
"Beijing is showing solidarity with a fellow authoritarian regime as it confronts the West's liberal democracies and especially arch-rival America. With the prospect of punishing sanctions China is unlikely to go down that road, say some analysts. Others argue that russia's success is so crucial to Beijing, it will feel compelled to act if moscow's war efforts founder," the National Post reports.
According to Gordon Houlden, a former Canadian diplomat and director of the Institute of Chinese Studies at the University of Alberta, Beijing had a "huge advantage" from russia's sudden war in central Europe, which has distracted the US and its allies from a long-delayed pivot toward China and east Asia.
According to US intelligence, russian president vladimir putin has warned Chinese President Xi Jinping about his preparations for an invasion of Ukraine by meeting with him at the beginning of the Winter Olympics in Beijing. putin is likely to have been approved for the war.
"Beijing has long espoused a belief in the sovereignty of all nations and non-interference in their internal affairs. But it would have seen the war in Ukraine as a diversion for the West, taking its attention away from the more powerful and important rival that is China," said Gordon Houlden.
Experts are oppressed by the fact that India, the richest democratic country, is also not on the side of Western democracies, in particular because of ideological differences with them. According to Paul Cobaugh, Vice President at Narrative Strategies Think-Do Tank, India's refusal to condemn russia was a "hard blow" to its QUAD partners – the "Asian NATO" that unites Australia, India, the United States and Japan.
"Ignoring war crimes committed by the russian army against countless Ukrainian civilians runs contrary to being a global leader of significance. The U.S. has been generous in support of India as a democracy. India was willing to take our aid but not share the burden of leadership as a key player," said Paul Cobaugh sadly.
According to him, India is hindered from being on the US side by its traditional policy of non-interference, as well as specific populism. There are widespread conspiracy theories that the United States is financing terrorism in Pakistan against India, as well as the visions that the United States has done nothing for India in order for Hindus to support the condemning of russia's war with its neighbor.
"Why should India pay for US folly in drawing Ukraine into Nato? US sanctions are hurting us and we should support them?" The Guardian quoted Indian Foreign Minister Kanwal Sibal.
The 2nd reason: national security
Supporting moscow is in China's long-term military interests. In case of war with the West, the kremlin regime could become a critical partner in securing the 4,209-kilometer russian-Chinese border and providing Beijing with a stable supply of food and energy.
In mid-March, in the heat of hostilities near Kyiv, Chinese Deputy Foreign Minister Le Yucheng officially stated that the West's "crisis in Ukraine is a stern warning." The Chinese Foreign Ministry has made it clear that just as NATO's strengthening and expanding in Europe prompted moscow to respond with war, any NATO expansion in the Asia-Pacific region could provoke China to start an open conflict.
Now when the prospect of seeing russia shattered and broken arises, Beijing has to worry about what will happen next. By punishing putin, the United States and its allies will no longer fear authoritarian rulers and may challenge Xi Jinping.
"Beijing see the prospect of a russian defeat as a direct threat to its own territorial security and ability to compete head-to-head in the geopolitical rivalry with the United States – and China simply can't allow that to happen. If putin were eventually to fall from power, would his successor remain aligned with Beijing? So the more anxious Beijing becomes about the war and putin's personal position in power, the more likely it is to step up support," said Jude Blanchette, a Chinese policy specialist at the US Center for Strategic and International Studies.
For its part, India is worried about the security of its 3,500-kilometer border with China, where the Indochina War broke out in 1962 and bloody clashes are still raging. New Delhi is counting on russia's support or at least neutrality in the border disputes with Beijing. India fears the kremlin may start playing on China's side, and it will have problems at the border.
The quarrel with russia will also arise problems in providing the Indian army, which is heavily dependent on the supply of military equipment, spare parts and technologies from moscow. India is building russian-made submarines, its "Vikramaditya" aircraft carrier is a rebuilt "Admiral Gorshkov" cruiser with russian equipment, and more than 50 percent of its fighter jets, tanks and rifles are russian-made.
The 3rd reason: economic opportunism
China had actively increased trade with russia before the war in Ukraine and continues to do so, despite the atrocities of the russian military. In 2021, the trade turnover between the two countries jumped by 36% to $147 billion, and during the first quarter of 2022 – by 28.7%, to $38 billion. russia supplies China mainly oil, gas, coal and petroleum products, and purchases engineering products, transport equipment, cars and mobile phones.
Beijing has promised not to take any special steps to circumvent Western sanctions against russia. However, representatives of the Chinese Foreign Ministry and Xi Jinping personally assured that they would not impose restrictions on russia and would continue to develop normal trade with it.
According to experts, China is preparing to take opportunistic steps, including importing oil from russia at a discounted price and occupying niches in the russian market that have become vacant after the departure of Western companies.
According to analysts, in March, China's trade with russia slowed as the Chinese were reluctant to make deals, being afraid of falling under the secondary Western sanctions. Some corporations, such as Didi and Huawei, have even announced that they are leaving the russian market for ethical reasons. However, according to Investment Monitor, they were criticized in the Chinese media and social networks for following US instructions and had to continue working in russia.
"Public support for russia has left Chinese companies with little room to manoeuvre, as has Beijing's uncritical stance towards putin. The result is that, for companies such as Didi and Huawei, the safest course of action is inaction, while simultaneously avoiding any statements that are friendly to russia, lest they get boycotted by Western companies… A very similar picture is with Indian companies, not least since New Delhi has remained very uncritical of putin," the Investment Monitor reports.
Having got the opportunity to buy raw materials at a discount price, India ordered at least 16 million barrels of oil from russia after February 24. That's more than it bought in 2021 (12 million barrels). In March, the Land of Sacred Cows also purchased more than a million tons of coal from russia, an embargo on which eas imposed by the United States and Britain.
The desire to reap the economic benefits of the current crisis brings India closer to China – since the beginning of the Ukrainian war, New Delhi has voted like Beijing, held on like Beijing and is looking for ways to trade with russia to circumvent Western sanctions. This will be an additional challenge for President Joe Biden. His administration has to figure out ways to stop India from helping the aggressor countries and persuade it to return to good company.
Якщо ви дочитали цей матеріал до кінця, ми сподіваємось, що це значить, що він був корисним для вас.
Ми запрошуємо вас стати частиною Mind Club. Для цього потрібно оформити підписку за $7 на місяць.
Нам дуже важлива ваша підтримка!
Чому ми впроваджуємо платну підписку?
Справжня якісна та незалежна журналістика потребує багато часу, зусиль та витрат, це дійсно недешево. Але ми віримо в перспективи ділової журналістики в Україні, тому що віримо в перспективу України.
Саме тому ми створюємо можливість платної щомісячної підписки – Mind Club.
Якщо ви читаєте нас, якщо вам подобається та ви цінуєте те, що ми робимо, – пропонуємо вам вступити до спільноти Mind.
Ми плануємо розвивати Mind Club: обсяг матеріалів і доступних сервісів і проектів. Уже сьогодні всі члени клубу:
Допомагають створювати та розвивати якісну незалежну ділову журналістику. Ми зможемо і надалі розвиватись та підвищувати якість наших матеріалів.
Отримують вільний від банерної реклами сайт.
Отримують доступ до «закритих» матеріалів Mind (до щомісячного випуску, в якому ми досліджуємо та аналізуємо, як працюють цілі галузі; до щотижневих аналітичних підсумків).
Вільний доступ до івентів Mind для підписників та спеціальні умови на інші події Mind.
Smart Power. Власники бізнесу, що стануть підписниками Mind, отримають доступ до агрегатора системних порушень від аналітиків Mind та партнерів «Cкажи.uа». Якщо у вашого бізнесу виникли проблеми з непорядними чиновниками чи конкурентами – ми проаналізуємо, чи є їхня поведінка системною, і разом зможемо вирішити цю проблему.
Ми і надалі розвиватимемо Mind та додаватимемо корисні журналістські рубрики і сервіси для вашого бізнесу.
Ми працюємо над тим, аби наша журналістська та аналітична робота була якісною, і прагнемо виконувати її максимально компетентно. Це вимагає і фінансової незалежності. Підтримайте нас за 196 грн на місяць.
Ви можете скасувати підписку у будь-який момент у власному кабінеті LIQPAY, або написавши нам на адресу: [email protected].
Stay tuned for business and economy news on our Telegram-channel
Mind.ua