Big research: How the war affected Ukrainian salaries
How much professionals in the greatest demand earn and how many people lost their jobs at all
Work.ua experts researched wartime salaries by position, professional level, sex and knowledge of English. They polled 20,000 Ukrainians and 600 employers from the most widespread fields in Ukraine: finance and banking, logistics, agri-business, commerce, healthcare and pharmaceutics, hotel and restaurant business, tourism. The poll was conducted in July 2022. Respondents who had lost their jobs more than three month ago and had not found a new one yet, were not taken into account in the salary analysis (about 8,000 people).
Mind picked up the most interesting information from the presentation of the research for journalists.
So many respondents lost their jobs (19% respondents were made redundant or fired, the company of 11% shut down). Still the majority of employers reñovered their businesses and saved jobs.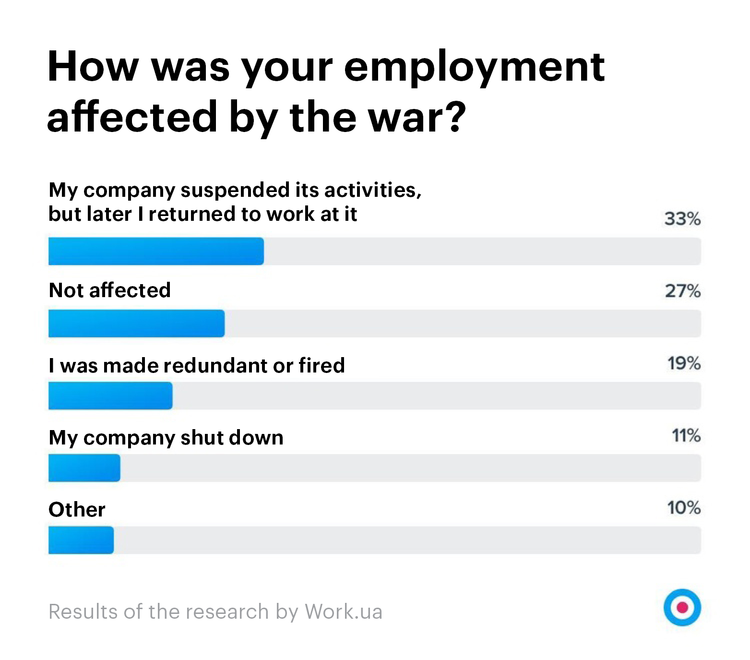 As many respondents had to relocate to other city or country because of the war.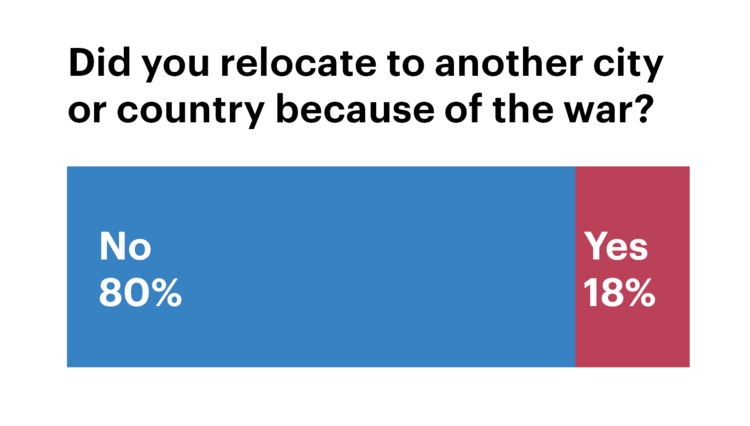 So many interviewed work in Ukrainian companies. "While a third of employers are businesses with 10-20 years' history," clarifies Olga Tarasevych, co-author of the research and HR Director at Work.ua.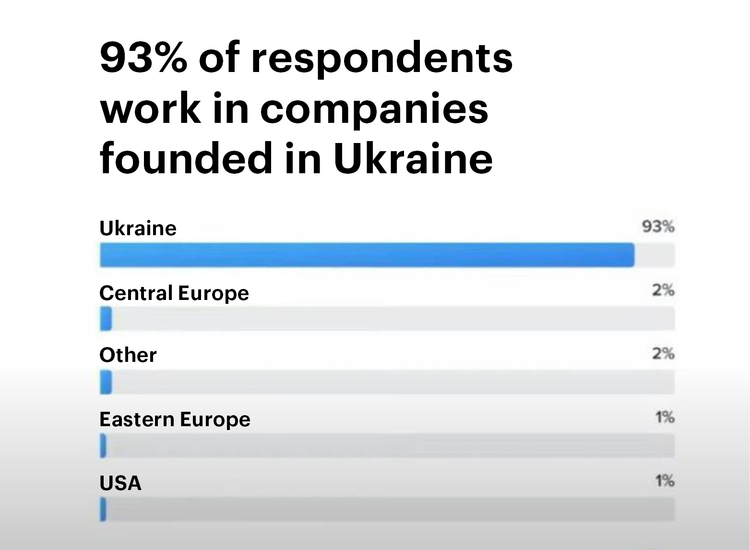 of respondents have just secondary education. And most Ukrainian employees graduated from institutes, academies, and universities.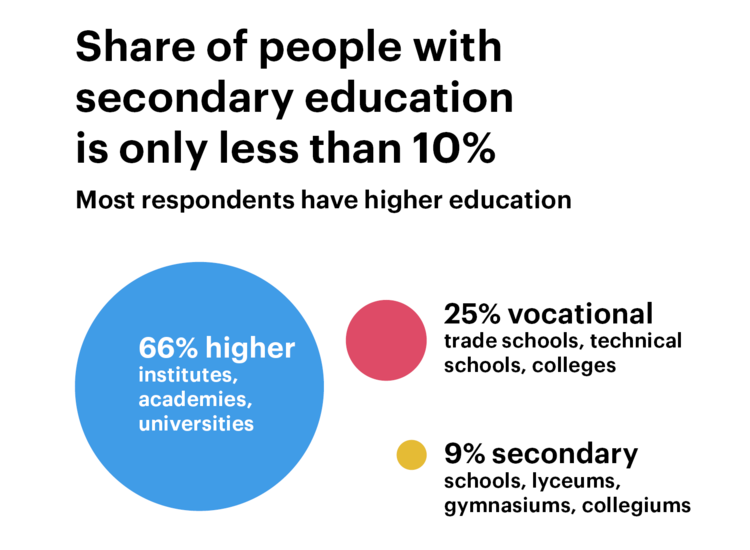 The researchers confirmed that experts with higher education usually are paid higher salaries as well.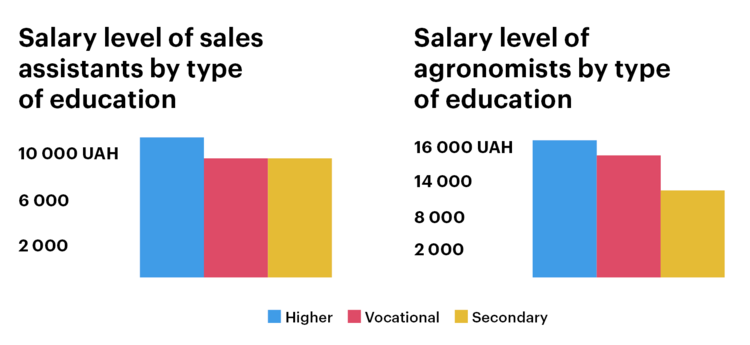 That is how many respondents speak basic English. But only 1% do advanced English. And 23% did not learn it at all.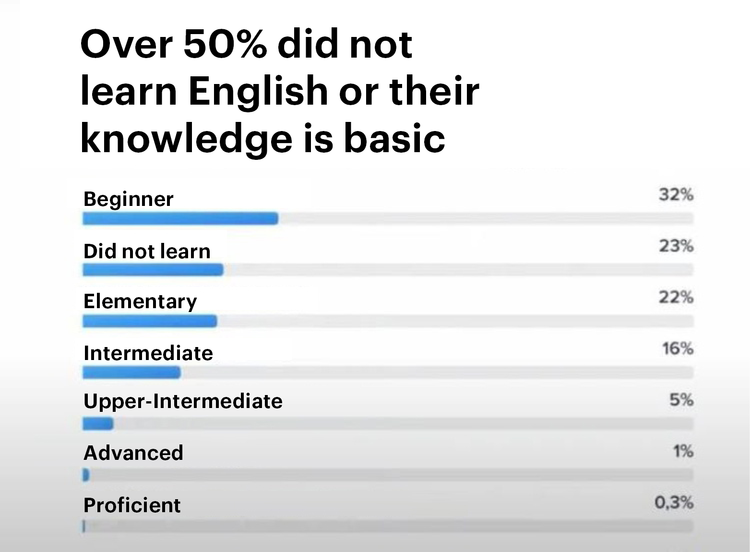 "We expected a little bit different results, as almost everyone now learns English since his/her school years. Ukrainian companies reorient actively on western markets. English will be needed. Moreover, we can see so far that salary level is connected to the knowledge of language." explains Tarasevych.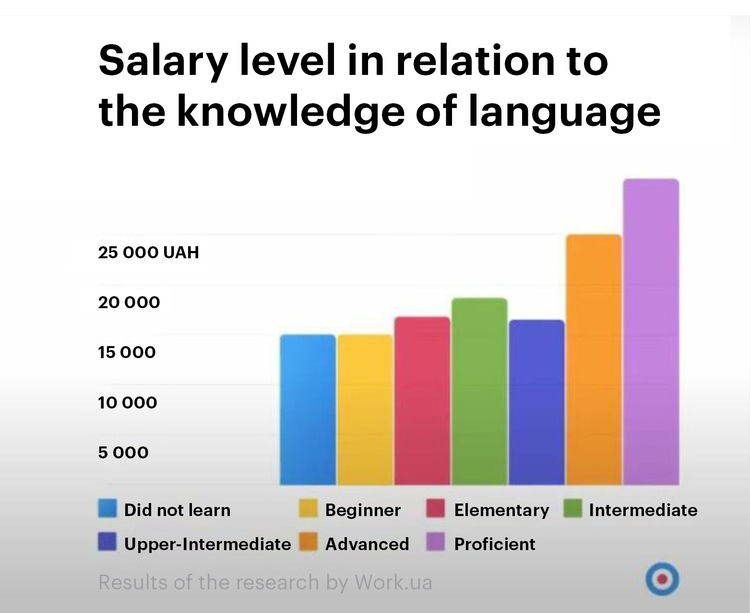 of workers mentioned the increase in their salaries. While 52% claimed reduction in remuneration.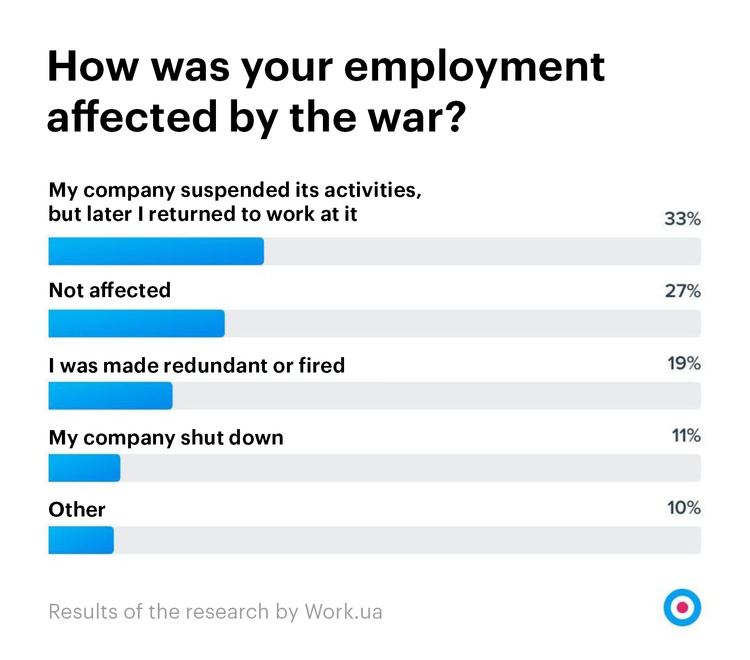 Only one tenth of companies bound their salaries to foreing exchange rate, other continue paying in hryvnia regardless of exchange fluctuations.
So many workers do not get bonuses. The most popular kind of bonuses among the rest is up to 20% from their salary (16% respondents).
This is the highest salary level mentioned by employees according to 12 most popular positions.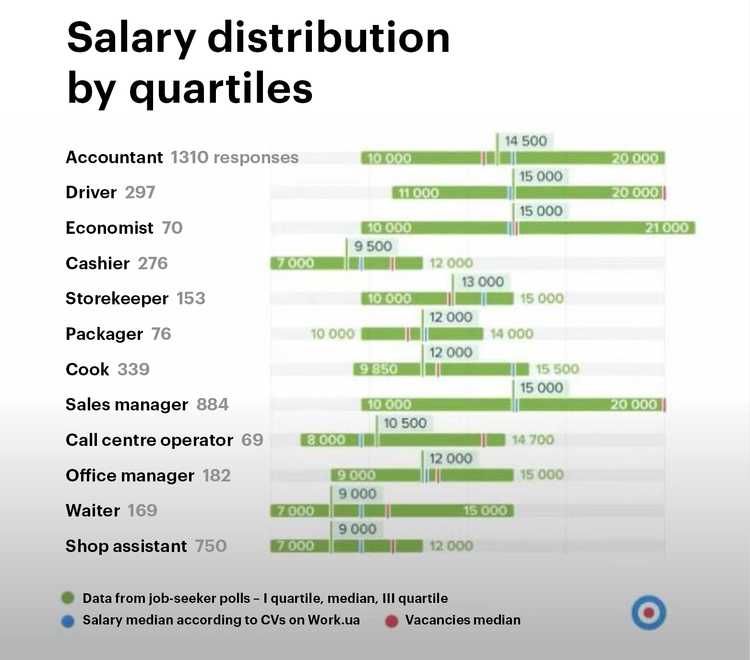 There are three indices on the graph:
I quartile (values refer to labour compensation for junior specialists with minimal working skills);
median (average market level of labour compensation for professionals who have at least 2-3 years' experience and belong to the intermediate level);
III quartile (values refer to labour compensation for high-level professionals).
Researchers have found out that the salary level depends on sex as well: "We see from responds of certain employees that on 8 of 12 examined positions men are paid more than women. For example, the male first-class cook gets 18,000 UAH and the female one 15,000, the professional sales manager earns 22,000 when he is male, and 18,000 when female."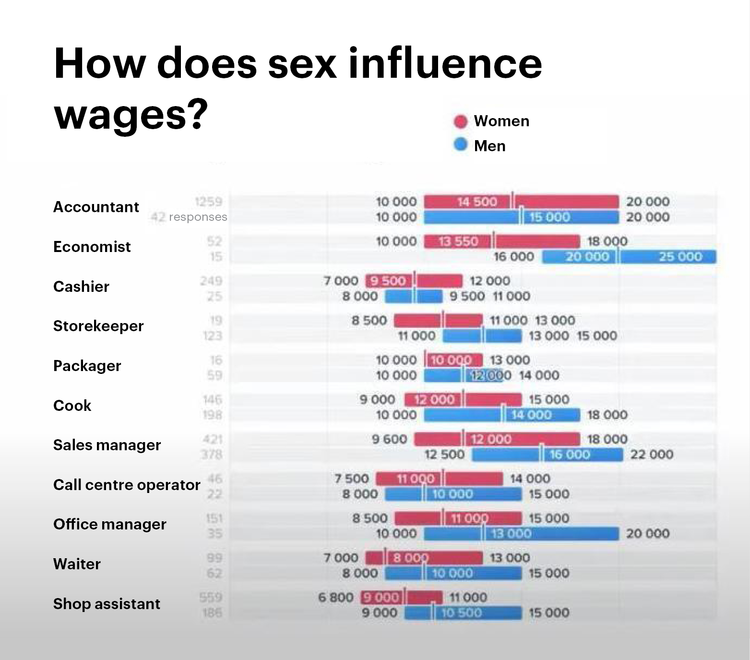 And this is the highest salary level offered by employers in big cities (Dnipro, Odesa, Lviv, Kharkiv, except for Kyiv).
The researchers eventually concluded that any significant increase in salaries should not be expected. Although, employers might review their payments for labour.
If you have read this article to the end, we hope that means it was useful for you.
We recommend you to join the Mind Club. To become a member, you need to subscribe for $7 per month.
Your support is very important to us!
Why do we introduce paid subscription?
High-quality and independent journalism takes a lot of time, effort and is expensive – it's really not cheap. But we believe in the prospects of business journalism in Ukraine, because we believe in the prospects of Ukraine.
That's why we are creating a paid monthly subscription – Mind Club.
If you read us, if you like and appreciate what we do, we invite you to join the Mind community.
We will develop Mind Club: the amount of materials, available services and projects. As of today all the existing members of the club:
Help to create and develop quality independent business journalism. We'll get the possibility to continue empowering and improving the quality of our materials.
Visit a website – without any banner ads.
Get access to Mind's «closed» materials (a monthly issue where we explore and analyze how entire industries are doing; and weekly analytical summaries).
Free access to Mind Invest Club events for subscribers, and special terms – for other Mind events.
Smart Power. Business owners who become Mind subscribers will get access to a system violations aggregator from Mind and Skazhy.ua analysts. If your business has problems with dishonest officials or competitors, we will analyze whether their behavior is systemic, and together we will be able to solve this problem.
We will continue to develop Mind and add useful rubrics and services for your business.
We work to ensure that our journalistic and analytical work is of high quality, and we strive to perform it as competently as possible. This also requires financial independence. Support us for only UAH 196 per month.
You can unsubscribe at any time in your LIQPAY account or by sending us an email: [email protected]