War did not thwart: Ukrainian craftsmen rank eighth in the world in terms of sales on Etsy
How domestic handmade masters lure foreign buyers now
A product of AradiyaToys company
Photo: Etsy
"What tourists? Who needs handmade souvenirs when rockets are flying nearby and the earth is trembling?", this is what domestic craftsmen could say and fold their legs. However, there is a way out of any hopeless situation, so our craftsmen began promoting themselves more actively on foreign handmade marketplaces in 2022.
The largest of them is Etsy. Founded in 2005, the site is gaining momentum every year: in 2012, craftsmen from around the world sold their products for $890 million, in 2017 – $3.25 billion, in 2021 – $13.4 billion (data for 2022 has not been published yet). The income of Etsy itself is also increasing naturally: in 2012 – $70 million, in 2017 – $440 million, in 2021 – $2.32 billion, and in the first three quarters of 2022 it reached $1.76 billion.
Now there are more than 94 million buyers and 7.3 million sellers on the platform. At the end of 2021, there were slightly more of them: 96.3 million and 7.5 million respectively. The decline was because, in early April 2022, Etsy closed access to the marketplace for buyers and sellers from russia and belarus. "We continue monitoring the situation. However, we cannot give a timeline for the lifting of sanctions yet or say when participants from belarus and russia will be able to return to Etsy," the team reports.
According to Similarweb, Etsy ranks fourth in the world in popularity among marketplaces (behind only Amazon, eBay, and Walmart). In December 2022 alone, the handmade platform was visited more than 566.4 million times. The top five traffic leaders are residents of the United States, Great Britain, Canada, Germany, and France.
Therefore, craftsmen have a solvent demand, and domestic craftsmen can sell their products 2–3 times more expensive than in Ukraine. According to the Etsy team, the most popular items on the site are household goods, furniture, jewellery, and personal accessories. And what do Ukrainian masters surprise buyers with? Mind has monitored their pages and found out what domestic products are currently in trend and how our producers are creative.
How are Ukrainian craftsmen advancing? There are more than 1.223 million products from 19,110 Ukrainian craftsmen on Etsy. According to Coalanda, Ukrainian craftsmen rank eighth in the world in terms of total sales: foreign buyers have purchased almost 14.397 million different domestic products on Etsy.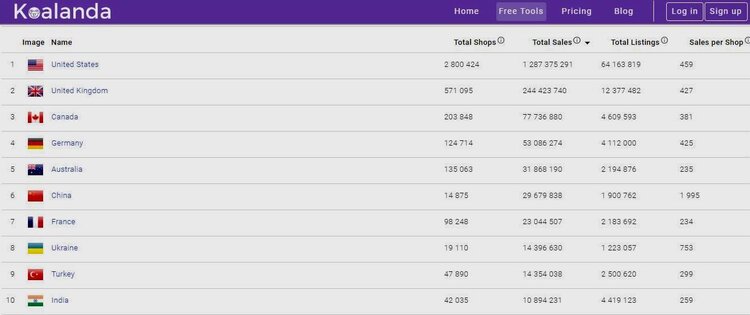 It is not difficult to enter the platform. You need to create your own store (i.e. register an account), upload high-quality photos and product description. Those who wish can additionally read many tips on each step from the Etsy team. The marketplace collects from sellers $0.20 for each ad and 6.5% of the order amount.
The 100 most successful Ukrainian brands include both Etsy old-timers (registered in the noughties) and relatively young markets (appeared on the platform in 2018-2020). Mind selected the five most popular stores by the number of sales.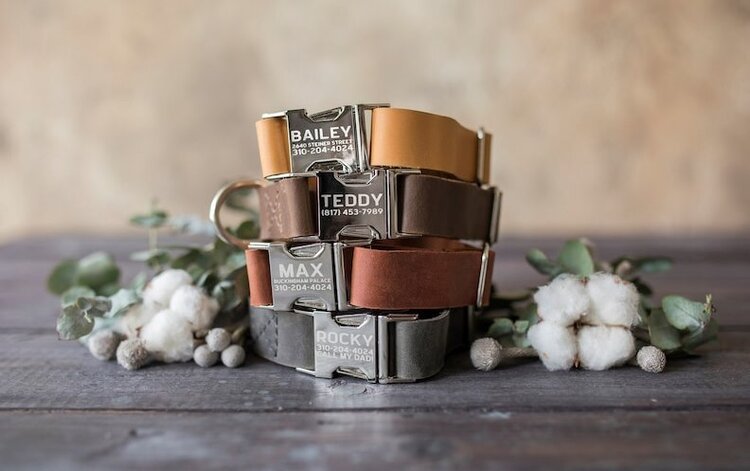 Number of sales: 384,167 since 2015
What they sell: leather bags, wallets, cases, keychains, handmade collars, etc.
Prices: from $3.15 to $55.5
Where the brand is from: Lviv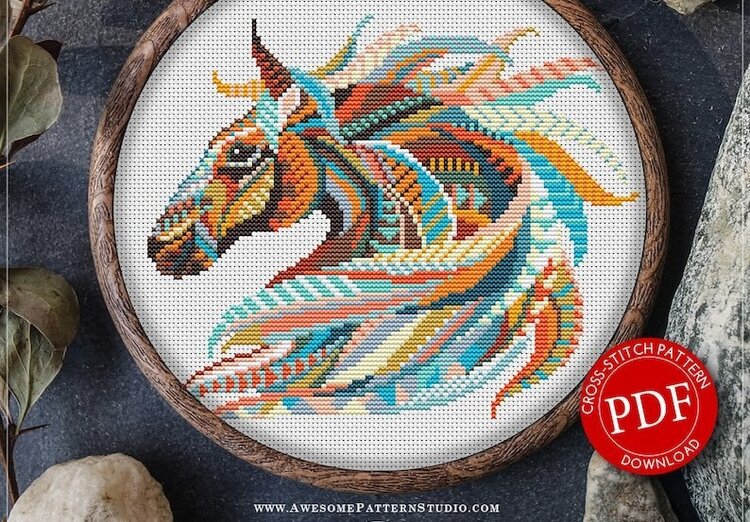 Number of sales: 91,916 since 2017
What they sell: PDF patterns, kits and tools for embroidery
Prices: from $3.95 to $83
Where the brand is from: Kyiv
Founders: Olexiy and Andriy Proforuks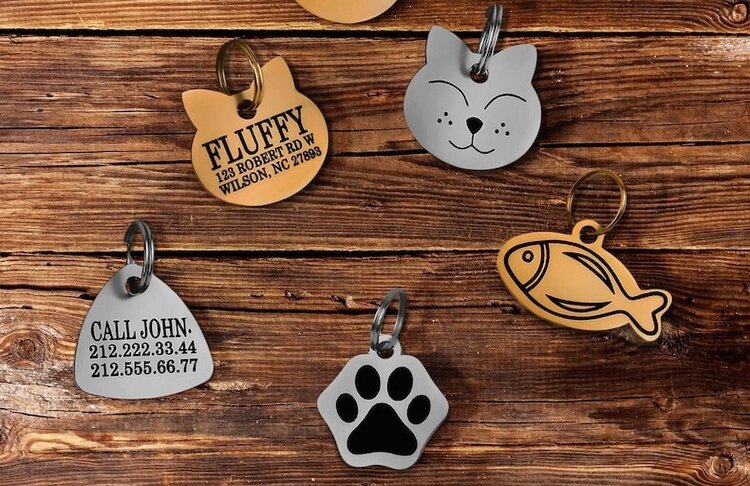 Number of sales: 91,885 since 2013
What they sell: collars, leashes, muzzles, identification tags, toys for pets
Prices: from $7.99 to $46.39
Where the brand is from: Chernigiv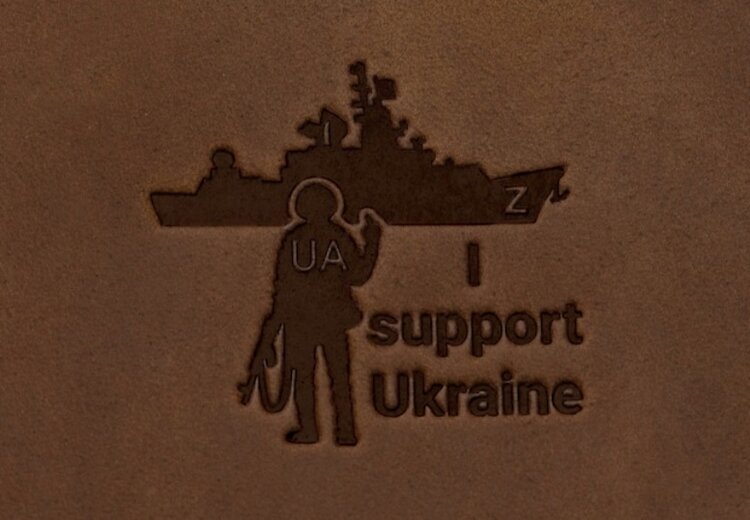 Number of sales: 88,852 since 2015
What they sell: leather cosmetic bags, backpacks, handmade bags
Prices: from $1 to $144.99
Where the brand is from: Kyiv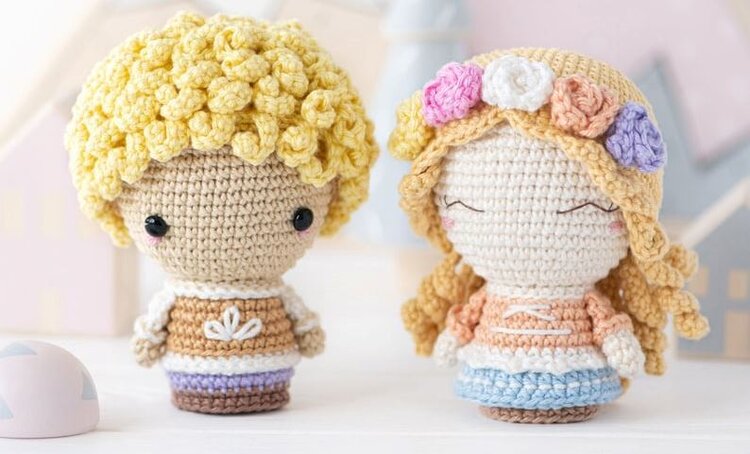 Number of sales: 80,492 since 2013
What they sell: PDF crochet patterns
Prices: from $4.85 to $12.15
Where the brand is from: Kyiv
Founder: Olga Novytska
What is in trend now? Various things with Ukrainian military symbols remain at the top of the products from our country: T-shirts, sweatshirts, and pillows with the coat of arms of Ukraine, the "direction of movement" of the russian moskva warship, portraits of Zelensky; toys "Dog Patron", knives with the inscriptions "Welcome to Ukraine", "Together to Victory"; painting kits and digital templates depicting the resistance of Ukrainians in the war; paintings with tractors "stealing" tanks; jewellery and dishes in yellow and blue tones; didukhs (Christmas decorations), stylized postcards and even recipes of local dishes.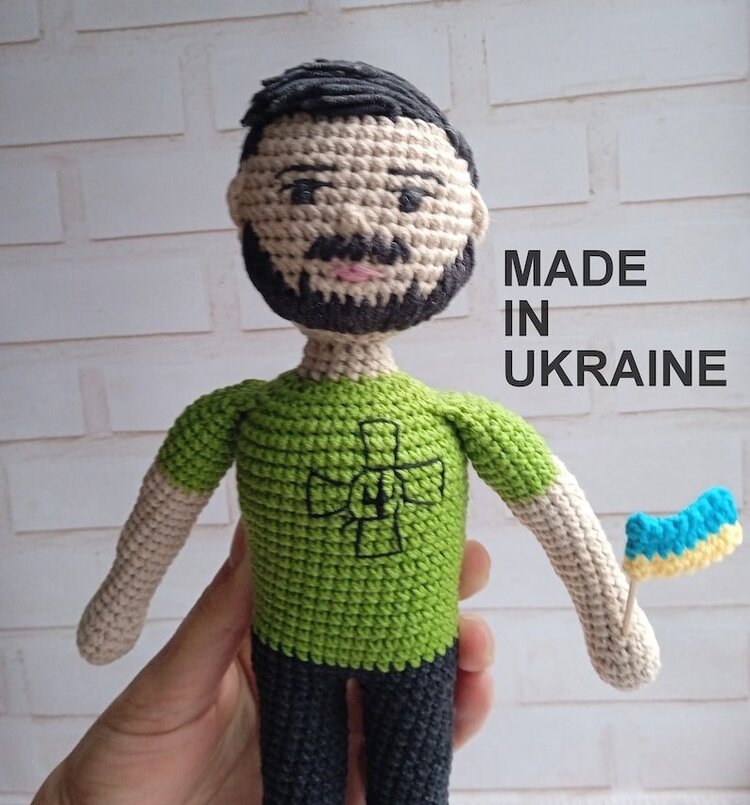 The studio JoyLandCrochet from Vinnytsia estimated the president at $35. Buyers are delighted: they have bought a doll to decorate their Christmas trees
Some crafters have set up production of more creative things. For example, Kyiv-based MemorySteelUA exhibits keychains made from the steel of a russian tank that has been "stolen" in Ukraine. "Made in russia – recycled in Ukraine," the masters joke and sell such products for $45.5, fuelling demand with a limited collection. However, judging by the feedback from English-speaking buyers on the page of this product, the masters did not miscalculate: the keychains go off like hotcakes.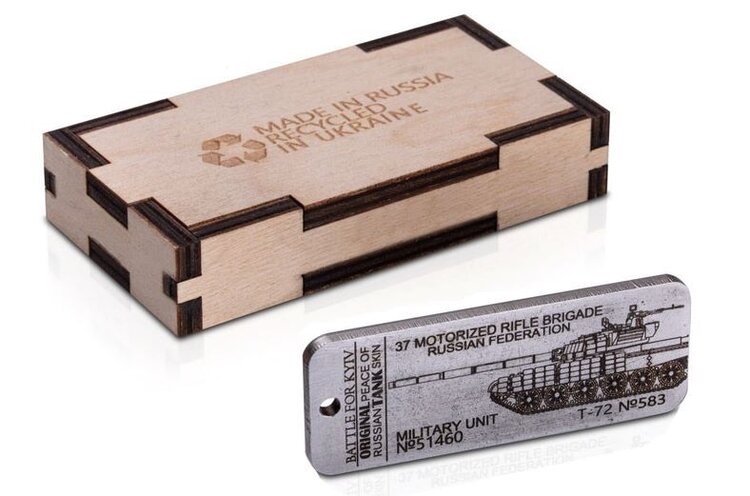 And Kyiv-based DezPeras became one of the "sales leaders", having sold about 700 keychains made from shot-downed russian helicopters and warplanes. Each series of products has its own price (from $77 to $249) and story. "These keychains are from Mi-35. The russian helicopter was shot down on February 24. It sank in the Dnipro River, Ukrainians raised it only on June 3... These keychains are from a piece of Su-34 covering. The plane was downed during a battle in Ukraine, in Borodianka in March 2022," the craftsmen say. According to reviews, buyers just wanted to support Ukraine and did not expect such fast delivery and good quality.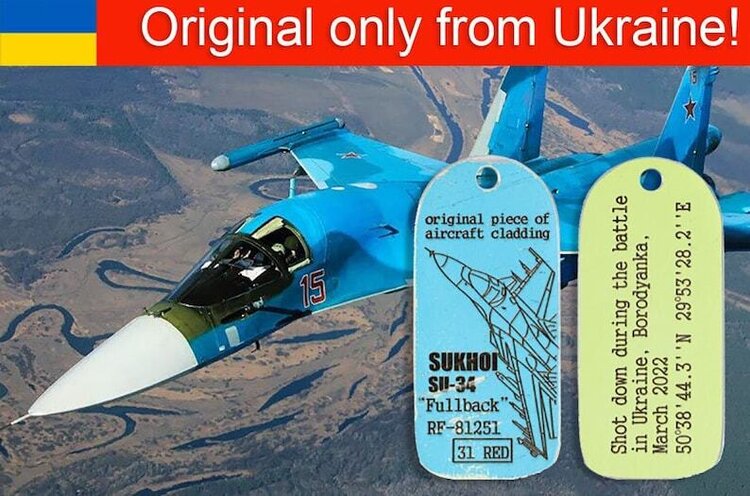 Among the most popular are projects aimed at raising funds to support the Armed Forces of Ukraine and those affected by the war. For example, UkraineInYourHeart offers photos of our defenders with cats for $9.9. "The photo shows Ukrainian army servicemen who have saved cats and dogs from shelling. Every dollar from the sale of this photo will be sent to the account of the Ukrainian army and animal nurseries from Kharkiv, Dnipro, and Kyiv" the volunteers say.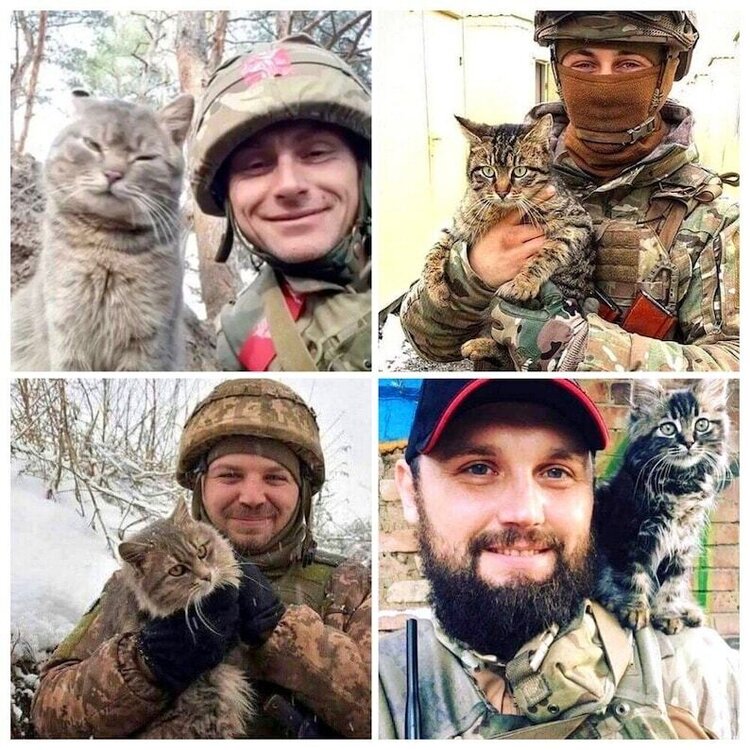 The most expensive items of domestic craftsmen. As always, works of art: paintings, sculptures, and unique dolls are at the top of the leaders by value. For example, for $47 000 Kyiv store ARTBUZgallery sells a sculptural series "Naive Ark." It is an art project by Oleksiy Shevchuk, created under a licence agreement with the grandchildren of Maria Pryimachenko: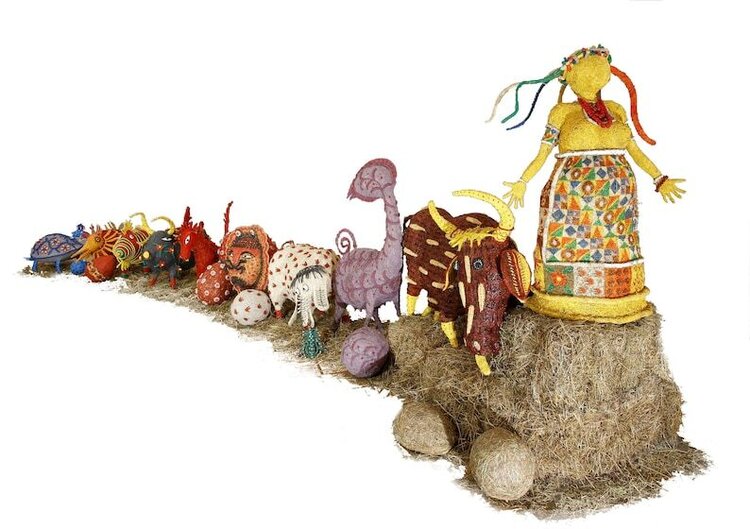 The top of the most expensive products from Ukraine also includes the painting "Oh, my Rus, my dear Homeland!" ($16,522). It and more than 30 similar works with "birches" are sold by the Ukrainian studio SmirnovGallery. However, there are no reviews and zero sales on the store page. SmirnovGallery has been on Etsy since 2020.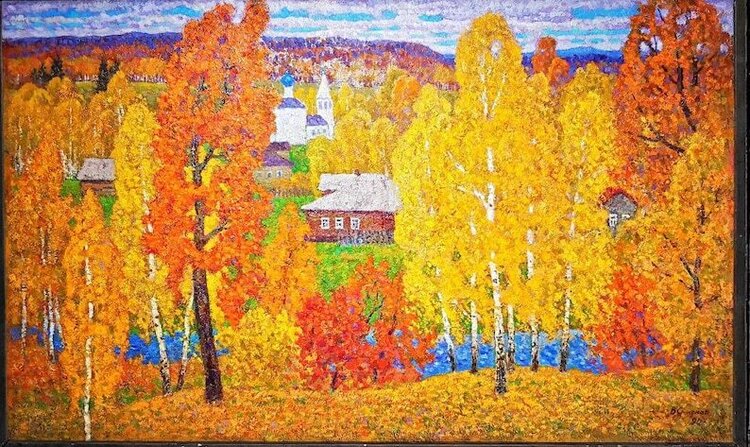 If you have read this article to the end, we hope that means it was useful for you.
We work to ensure that our journalistic and analytical work is of high quality, and we strive to perform it as competently as possible. This also requires financial independence. Support us for only UAH 196 per month.
Become a Mind subscriber for just USD 5 per month and support the development of independent business journalism!
You can unsubscribe at any time in your LIQPAY account or by sending us an email: [email protected]