Starlink in Intercity: Speed, launch of the first train, cost and other interesting features of the project
Will there be normal Wi-Fi in other trains and what are SpaceX engineers doing here?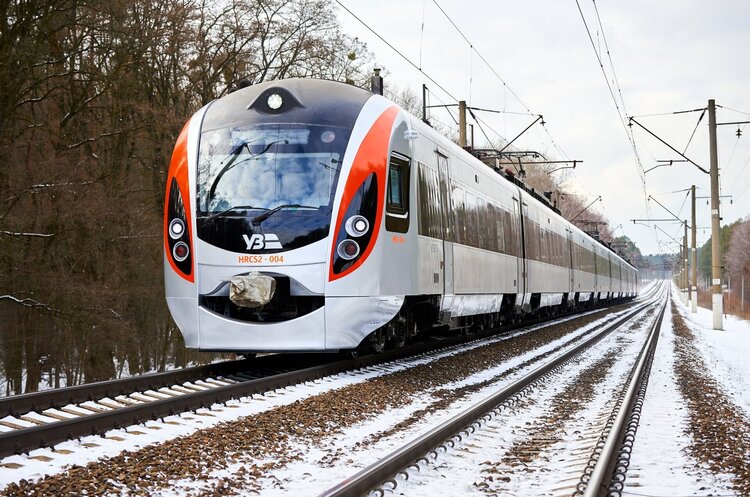 Photo: Ukrzaliznytsia Press Service
Last week, Head of the Board at Ukrzaliznytsia Oleksandr Kamyshin and Minister of Digital Transformation Mykhailo Fedorov tested Starlink in Intercity+ train and announced the start of the project. Mind asked the experts from the Ministry of Digital Transformation and Ukrainian Railways to explain its details.
How was the idea tested? The team from the Ministry of the Digital started testing terminals "on-the-go" during summer 2022. Then SpaceX hadn't offered transport services yet and explained that Starlink works reliably only from a fixed location. But then war challenges forced them to look for out-of-the-box solutions.
The first tests were done in cars – at different speeds. "The highest speed was 134 km/h. It is approximately the same as the maximum speed of Intercity. To make the measurement complete, scripts for automatic speed tests and determining connection stability were developed. During 30 minutes of drive, the speed test showed an average of 100 Mbps. The packet loss – a marker of Internet stability – amounted to only 7%. That is, the Internet stability through Starlink in motion was 93%. This was a good sign to continue testing and introducing such a solution already for communication in trains", said Andriy Nabok, Head of Fixed Internet Development at Ministry of Digital Transformation.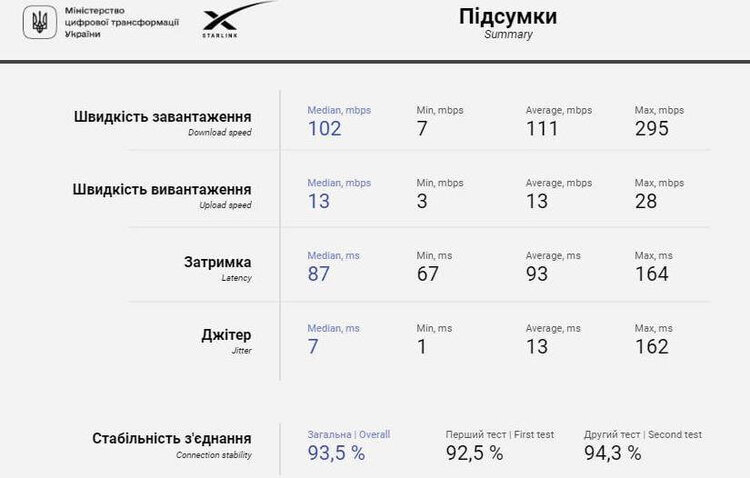 Over the next half year, digital transformation experts and Ukrzaliznytsia were testing terminals on trains. "We tested different Starlink models and protective domes. We experimented with network equipment inside the carriages and monitored quality indicators depending on the number of people using the Internet at once", says Andriy Nabok.
So what speed can passengers count on, depending on the occupancy of the train car and "weight" of content? The speed per user is very dynamic, depending on the number of people and traffic consumption.
During the last test drive in Intercity+ (passengers had access to Wi-Fi), the average internet speed reached 100 Mbps. This is enough to watch videos, chat online and exchange large files.".
What models are the Ukrainian Railways team providing to the Ministry of the Digital? In December 2022, SpaceX launched its Starlink services for transport and explained that a better model of terminals to use is the flat high-efficiency aerials for $2500. "Indeed, SpaceX already has its own technological solution for use on mobile transport. At the same time, we use conventional terminals that do not have 100% stability during movement. On some sections of the route (from 3 to 7%), the Internet does not work due to technological features," says Andrey Nabok.
At the press centre of Ukrzaliznytsia Mind was explained that the Ministry has provided more than 400 terminals of different models. What terminals will arrive in the next batch for UZ at the beginning of February is currently unknown.
How do trains get "outfitted"? "On the roof of the car is installed a Starlink terminal, protected by a radio transparent dome. The terminal's external aerials is connected to the internal network equipment of the car, distributing Wi-Fi for passengers. For the user, this is an ordinary Wi-Fi network to which you need to connect from your gadget," explains the Head of Fixed Internet Development at Minsitryfri. According to the Ministry's calculations, about 100 terminals are needed to equip all "Intercity" trains.
UZ clarifies: the test system had two terminals installed on Hyundai's "Intercity +" train. The optimal number for Intercity+ is 4–6 units. "However, since the installation of terminals on Intercity+ is being done for the first time – the exact number of terminals in process may change. In addition, this is only the first stage of the project. A full reconstruction requires a distribution Wi-Fi network on board. Also necessary is an installation of an administration system that would allow passengers to use additional services and manage user connections," they say at UZ press centre.
So now, following the results of the pilot project, Ukrzaliznytsia is preparing technical requirements and documentation for a tender that will include not only the supply of additional equipment, but also a full range of installation, launch, commissioning and further maintenance activities.
How many trains will receive Internet from Starlink? At the first stage, UZ plans to launch it on all 10 Intercity + trains running between major cities and do it by the end of the year. Why so long? "We need to organise and go through many mandatory procedures for purchasing necessary communication equipment. Then get it, install and configure it. Given the current situation with supplies, this may take some time" they explain at the press center.
When does the first train start? He has already been running. "There is a likelihood that your next trip on Intercity + will have quality Internet because the pilot train has been traveling on various routes for some time now. The Intercity + rolling stock is not tied to specific routes. This means that today Hyundai Rotem's train departs, for example, to Lviv or tomorrow – to Kharkiv. So there is no talk about selecting priority routes – trains are gradually equipped with internet" UZ informs.
Is there a plan to upgrade other trains? Yes – in the next stage. "In the future we strongly want to provide quality connection for all of our trains very. But it is important to understand that setting up ordinary passenger trains and terminals, and supporting the system's performance is significantly more complex. Every car of an ordinary train is separate and this complicates the system's functioning and requires constant reconfiguration and maintenance," the Ministry of the Digital says.
The Ministry of the Digital clarifies: it is difficult to forecast the total number of terminals for all trains yet, as individual tests are required. "With adequate number of terminals and financial resources, eventually we plan to equip ordinary passenger trains," adds Andriy Nabok.
What sources are funding the project? All Starlink terminals have been purchased and transferred to Ukraine by international partners at the initiative of the Ministry of the Digital, they say at the authority. No state budget funds are spent on this.
Mind received a response from the UZ: "The cost of the pilot project for Ukrzaliznytsia amounts to zero: the Starlink equipment was granted by the Ministry of Digital Transformation, and startup and installation of additional technical systems were provided by companies involved in the 'pilot' at their own expense."
What is the total cost? "It's too early to talk about this, since some networking equipment inside the cars needs to be upgraded. Right now we are getting ready for a tender to search for integrators who will provide all the necessary equipment and make the installation," says Andrii Nabok.
This is also confirmed by UZ: "The budget at this point has not yet been determined, as the cost of additional equipment and services is still being formed. Ukrzaliznytsia continues to calculate the cost of the project, since it depends on future conditions for using terminals and access rates through them.
What other tasks does Ministry of Digital Transformation have in this project? "To implement it Ukrzaliznytsia created a working group which includes specialists from Ministry of Digital Transformation. Our team is constantly negotiating with international partners on new terminals for Ukraine, part of which we transfer to Ukrzaliznytsia. The latest news – we agreed with SpaceX engineering team on providing consultations on this project," summarizes Andriy Nabok.
If you have read this article to the end, we hope that means it was useful for you.
We work to ensure that our journalistic and analytical work is of high quality, and we strive to perform it as competently as possible. This also requires financial independence. Support us for only UAH 196 per month.
Become a Mind subscriber for just USD 5 per month and support the development of independent business journalism!
You can unsubscribe at any time in your LIQPAY account or by sending us an email: [email protected]