Created by Ukrainians: How Mate academy start-up trains IT specialists in time of war
Why its co-founder exchanged Google for "vague prospects" and why founders seek a new round of investment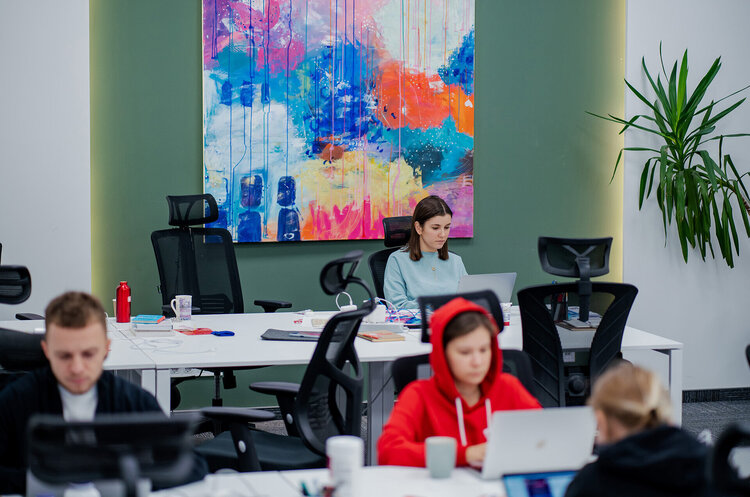 In 2022, exports of IT services grew by 5.8% to $7.34 billion despite the war. According to the IT Ukraine Association, the industry currently employs nearly 309,000 IT professionals. About 2,200 of them graduated from the Mate academy programming school. The startup has ambitious plans to teach programming to 1 million people from all over the world. Will they succeed? What is the current demand for specialists in Ukraine? Why has the number of people willing to learn this trade increased? How is the company doing abroad? Mate academy founders, spouses Anna and Roman Apostol and Maksym Lysak, told Mind about this and many other things.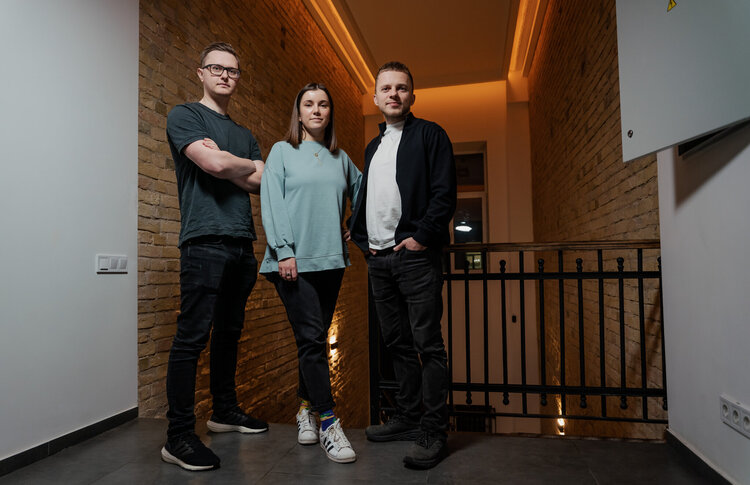 Photo: Mate academy
About testing the idea
Mate academy is an online educational platform for learning programming: QA, Front-end, Java, Fullstack, recruiting, and UI/UX design. Its story began in 2014, when Anna Apostol took a course in testing at an IT company that was training staff for itself. There were people from different fields in the group, but in the end, almost all students received a job offer. "That is, a person does not necessarily need an IT background to master a profession. That's when I started generating ideas for training courses, but I wanted to stand out from the crowd," she recalls.
That's how the startup's main feature appeared, the monetization model – the Income Share Agreement, where students do not pay tuition but have to share a percentage of their income after employment. The future co-founder of the startup started telling her friends about it, but 90% of them were sceptical. They were sure that the post-payment model would not work in Ukraine.
So Anna decided to test her concept. "At that time, Roma and I had already moved to America. I remotely found a friend who couldn't find a job after graduation. He was the first student who helped me understand the market. Along with his studies, he spent 4-5 months looking for a job. When he found it, I realised that this was a working approach. If you devote a lot of time to people, invest in them, they will definitely pay," says the co-founder.
Later, they started looking for a team in Kyiv. Anna Apostol found trainers on a semi-volunteer basis and launched small offline groups of 10 people. Classes were held in the evening three times a week.
About the startup's transformation
When Anna was building Mate academy, Roman was working in New York at Google. "It was a great company, I liked everything, but Anna was changing people's lives. It seemed a much more interesting thing to do than making the rich Google even richer. So in 2018, I joined Anya. At that time, she had already hired more than 100 students," says the co-founder. At the same time, the third co-founder, Maksym Lysak, joined the couple.
As soon as they joined, the startup began launching online courses: first, evening classes were added, and three months later, full-time classes were introduced. "It turned out that online is much more effective. And in mid-2019, we realised that full-time online learning is what we are focusing on. We began to scale this area by adding new courses," says Roman Apostol.
We offered two training formats. Full-time – takes place every day from 9 to 18:00. In this case, the student pays 17% after employment in IT for two years. The part-time model provides flexibility: students learn at their own pace. "Since the training period is not fixed, people pay in advance part-time," the founders explain. In both formats, a person can withdraw from the course during the first two weeks. If a student doesn't get a job in IT, he or she doesn't pay for training either.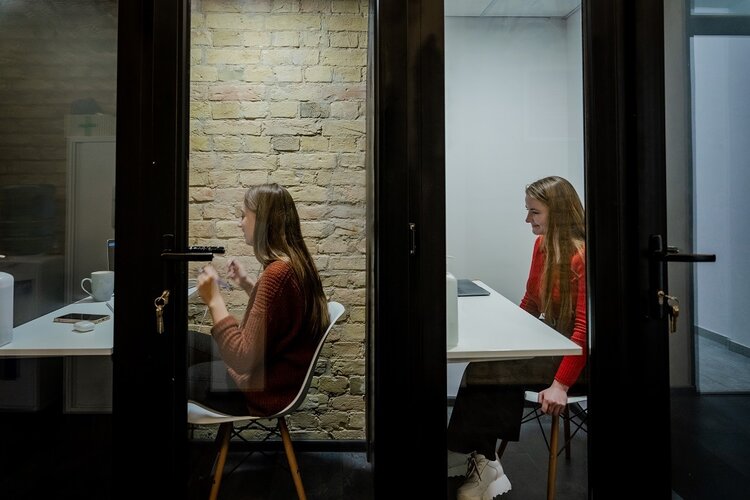 Photo: Mate academy
Roman Apostol recalls that at first the startup operated without a learning platform, but later the funders realized that it was necessary. Now the team is working on its own LMS platform that is the startup's major product. In fact, the platform is the main working tool for students, where they can see their schedule, videos, a list of all the tasks to be done, and read textual theory.
"When we started operating without the platform, it was very painful because we had four front-end coaches. Each of them told us what they thought was necessary. Now that we have developed our own platform, where everything is structured and standardised, we know for sure that all students learn the same way, regardless of the mood of the trainer," Roman adds.
On challenges during the war
On February 24, the company took a two-week vacation. The team moved to a safe place and continued to work. Anna Apostol notes that the number of people willing to study has increased: in the first months of the full-scale invasion, the growth reached 30%. "We were surprised, because we thought the number of applications would drop. But people were losing their jobs and wondering what to do next," the co-founder adds.
At the same time, it has become more difficult for graduates to find work. Before the war, the team would hire a person for two weeks, while in 2022 it took an average of one and a half to two months. This is due to a drop in demand for specialists: there are 40% fewer vacancies on the market. "However, since the new year, we have been seeing more positive dynamics, which pleases us," the co-founder adds.
She explains that some outsourced projects were frozen. And when the blackouts began, some customers became afraid that Ukrainians would not be able to work normally. "Now everyone is starting to realize that people continue to work. The results show that the IT business has adapted. Everyone has installed power Starlinks, generators, and tapped fibre optics. I think that the fear of customers and organisers will subside," Anna Apostol predicts.
She recalls another challenge. When the trouble with blackouts started, the team's 130 specialists had to be connected to a stable Internet in order to assist students. "We provided them with various instructions and life hacks on how to watch the recordings and develop without the Internet. We also cooperated with students to rent coworking spaces," she adds.
About the client profile
Students come to Mate academy to study with very different backgrounds. The team segments them into several groups. The first and largest is people aged 25-33 with a university degree. They work in some other industry that is slowly developing. Maksym Lysak says that such people realize that their market is not very dynamic, and they have plenty of time and energy, so they go to study.
The second group is university students. According to Lysak, the quality of teaching in most universities has fallen during the Covid and the war, and Mate academy, in his opinion, provides more applied and practical skills.
The third group is people who have completed school education. Instead of going to a regular university, they enrol in training courses. "In five years, when their peers graduate from university, they will already have practical experience," summarises the co-founder.
On expanding to foreign markets
Mate academy teaches students from many countries: India, the USA, and most European countries. However, the main focus is currently on Ukraine and Poland. Last year, the startup opened a representative office in Poland and fully localised the platform into Polish. "After that, we realised that our scaling model is country by country. This is when we fully localise the platform to the language of the country, hire a local team there, and scale with them," explains Maksym Lysak. He notes that as soon as Poland reaches the performance levels expected by the team in the first quarter, they plan to open an office in another country this year. Currently, they think about the UK or Romania.
On the peculiarities of job search
The team helps students find jobs: they select vacancies, analyze applications, give tips, and prepare students for interviews. Anna Apostol says that their students apply for 500 jobs on average to get an offer.
The team has developed an automated programme that collects vacancies from all job portals. Additionally, the vacancies are verified by a manager. "Often a person applies for 20 vacancies and waits a week for a response. Before the full-scale war, the market was overheated, students would send 30 resumes, have three conversations with recruiters, and maybe get an offer. Now the market is not like that," says Anna Apostol. She adds that the most important thing is to instil motivation in people, that they need to apply systematically and a lot, and that it is normal to receive rejections. "You need to do a lot of tests to make each one better than the last," says the co-founder..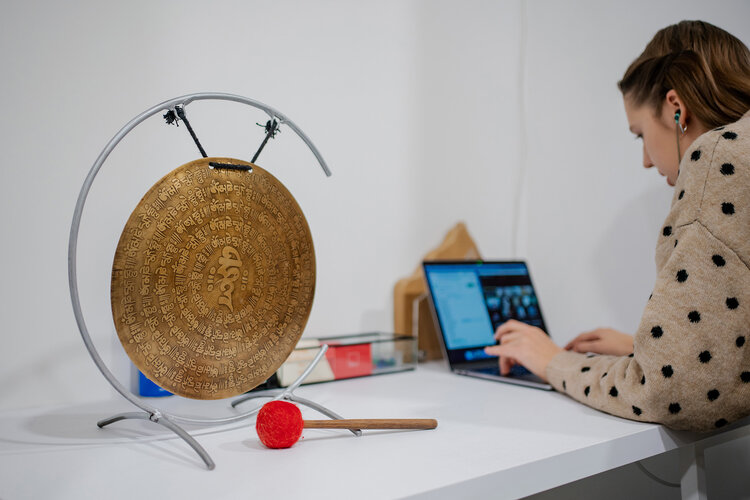 Photo: Mate academy
The team also has a specialist who communicates with companies about student employment and recommends graduates when there is a request. The startup also has a career support team that makes sure that students develop after they find their first job. "Sometimes people don't always have someone to consult. We help them grow either within the company or help them change jobs," explains the co-founder.
In her words, before the war, as many as 90-93% of graduates found employment, while today it is about 85-90%. More challenges have emerged: when the missile attacks began, some students were unable to continue their studies. "But in general, people are super-adaptive. When the war started, we thought it would be very difficult, but in two or three weeks everyone found safe places to continue their studies. It's the same with blackouts: the first month was difficult, but now we're used to it. Nevertheless, we still host about 60-80 people every month," adds Anna Apostol.
About investment
At the beginning, the co-founders invested about $20,000 of their own money in the startup. The first external investment ($50,000) was raised by Roman Apostol from friends who worked for FAANG companies (Facebook, Apple, Amazon, Netflix, Google). In 2018, the startup received another $580,000 from TA Ventures and Flyer One Ventures. The last big round took place in 2021. The team raised $1.9 million from the founders of large companies: Wise (Transferwise), Teleport, Pipedrive, and Bolt.
According to the interlocutors, the company is now profitable, so the startup does not need funds for operations. However, it plans to raise funds to launch new markets and further scale.
About competitors
Maksym Lysak says that there are no companies in Ukraine that teach on a postpaid model. If we are talking about some alternatives where people get knowledge, we can distinguish other private programming courses, as well as centres at large IT companies: SoftServe, GlobalLogic, etc.
However, there are already a few companies in the world that operate on a consumption-based model: Ironhack, Le wagon, General Assembly. However, according to Maksym, Anna Apostol started doing this back in 2014, before other companies with a similar business model started actively using the postpaid format.
On interim results and plans
The startup has trained about 2,500 professionals in various fields, of whom more than 2,200 have found jobs. "If we have employed more than 2000 specialists, and the Ukrainian IT market is about 200,000–300,000 IT professionals, then we have graduated about every 100–150th specialist," says Roman Apostol.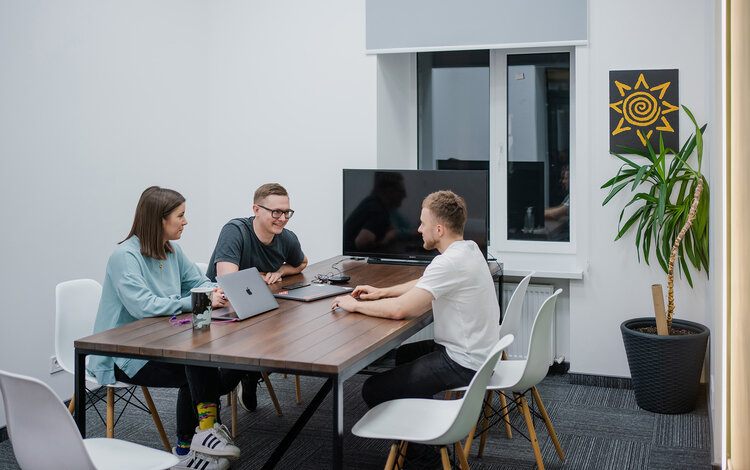 Photo: Mate academy
"The company plans to add DevOps training courses this year. We are also considering adding a Mobile training programme," the co-founders summarise.
If you have read this article to the end, we hope that means it was useful for you.
We work to ensure that our journalistic and analytical work is of high quality, and we strive to perform it as competently as possible. This also requires financial independence. Support us for only UAH 196 per month.
Become a Mind subscriber for just USD 5 per month and support the development of independent business journalism!
You can unsubscribe at any time in your LIQPAY account or by sending us an email: [email protected]