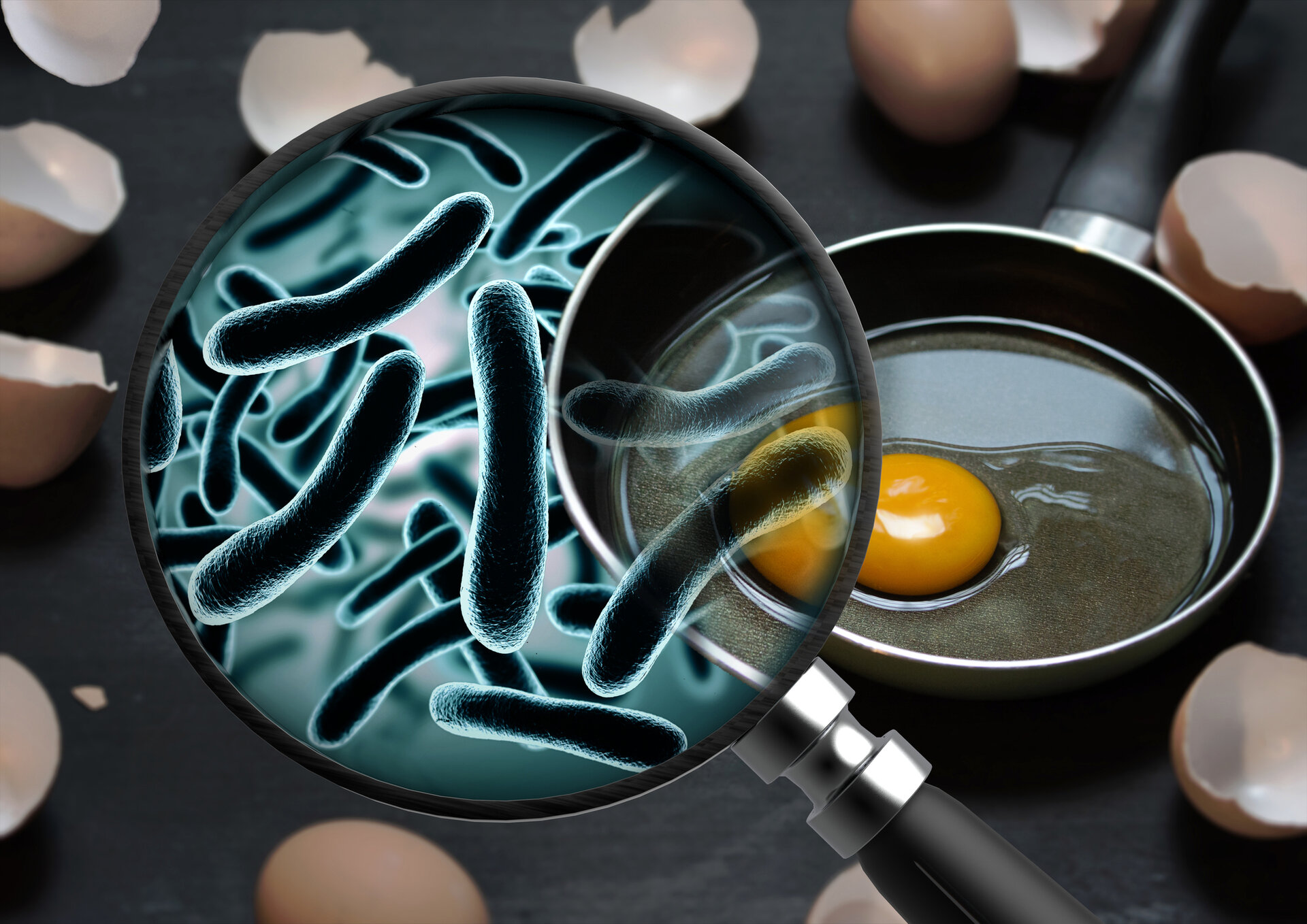 Egg fever: The outbreak of salmonellosis in Kyiv is a logical consequence of wartime realities. To what extent is the state control system to blame and how can citizens protect themselves?
Power outages, logistics disruptions, and declining standards of living bring to mind the sanitary and hygienic challenges of the "wild 1990s"
Another outbreak of salmonellosis has been recorded in Kyiv. This time, in the Golosiyivsky District, five people were affected. As was the case with the previous incident at Honey Cafe (Shevchenkivsky District) at the end of January, visitors became infected after consuming food that had not undergone proper heat treatment, allowing bacteria to survive. According to Oleg Ruban, Head of the Kyiv State Food Service Department, fish products such as salmon and dishes with eggs ("poached eggs", "Egg Benedict") may be a cause. The diagnosis for those affected is acute intestinal infection, Salmonella enteritidis.
As in the case of Honey cafe, officials did not name the location – it was Alpaka Café. Both cafés belong to the "higher than average" price category and have never given any reason to doubt the quality and safety of their kitchen before.
Thus, the official number of victims in the capital has now reached ten people. According to data from Ukraine's State Food Service Department, however, the real number of people infected with Salmonella since the beginning of this year is more than one hundred. Among them is Andriy Stavnitser – the co-owner of TIS who spent five days in hospital "two days without remembering anything."
"I got Salmonellosis after breakfast at a café. Feverishness, spasms, numbness, minus 7 kg which I'd best hadn't lost... We all survived a very unpleasant hospitalisation and frankly thought about death," he posted on his Facebook page.
Salmonellosis is primarily spread through animal products and most often through chicken eggs due to their popularity and "gastronomic availability." Stavnitser pointed out a specific brand of eggs (YasenSvit), but declined: "I cannot assert for sure" that this company, Ovostar Union, was the supplier. According to Ukraine's State Food Service Department an investigation is underway into another manufacturer whose owner currently remains unidentified. Shares in Ovostar Union on the Warsaw Stock Exchange have not reacted in any way over what happened; actually they even added +0.80 (1.96%) , reaching 41.60 PLN per share today .
What lies behind this "egg fever" and why it is a symptom of a much wider problem was explored by Mind.
Is salmonella a fixture in the bowl? On a global scale, yes it is.
Every year, 550 million people, including 220 million children under five years old, fall ill worldwide.
It would be wrong to think that this is a "third world" disease, although there is certainly a certain geographical bias to its spread.
Are the current salmonella outbreaks limited only to the capital? Most likely, not.
It was just in Kyiv that due to a high concentration and popularity of restaurants, incidents have gained wide publicity.
Why has the problem of infections worsened now? It is a combination of three factors caused by war:
reduction of state control;
increased risks for big business due to disruptions in electricity and logistics;
weakening of population and unemployment which forces people on one hand to switch to available means of making money (sometimes violating all sanitary norms), and on the other hand consumers become less critical when choosing goods (in anticipation of savings).
Something similar was observed by residents of Kyiv and other provinces in early 1990s. The spread of open markets against the backdrop of collapse of the Soviet quality control system led to massive salmonella outbreaks. A typical attribute for any Kyiv family then was a special container for immersing chicken eggs for 30 minutes in 2% dilution of drinking soda (or wash with household soap) and separate pan for boiling them.
But nobody cancelled food quality control despite the war, did they? Of course not. This responsibility falls on the State Food Safety Service.
It is difficult to blame this agency for negligence, given the personnel deficit and lack of funds against the backdrop of increased duties. In particular, the SFSS inspects the state of bomb shelters in schools and kindergartens and – quite reasonably – takes this as a priority.
Furthermore, it is tacitly assumed that during cold weather when low temperatures are an additional preventative measure, inspections of food groups of products are less intensive.
But what does such control look like? It comes in two categories – planned and statement-based.
The first format is determined at the beginning of the year in agency plans and runs according to schedule. As already mentioned, due to personnel shortage and seasonality, such preventive checks are now weakened. The second one takes place after an incident and a statement from the victims has been received.
After receiving it, SFSS specialists arrive at the scene and conduct epidemiological investigation – laboratory sampling of products and inspection of a catering establishment. The law enforcement can also be involved in checking the product's origin in case violations are detected; catering locations may be closed until all conditions are restored.
What is salmonellosis? It is a disease caused by Salmonella bacteria. More than 2,500 types of salmonella are known.
The bacterium has increased resistance, survives freezing and can survive in dry or wet environments. It can be ingested by consuming raw animal products, untreated water or even from humans – both sick people and carriers of salmonella. The second method is common for children and large groups alike.
What are the first symptoms when you should rush to visit a doctor? A sudden increase in temperature (up to 39), pain in abdomen muscles and joints, nausea, diarrhoea, weakness, bloating. Symptoms appear within 6–72 hours after infection, the illness lasts from two to seven days.
What makes salmonellosis dangerous? Intoxication and dehydration.
The bacteria can affect vital organs causing kidney failure, toxic or dehydrating shock, heart-vascular system damage. In most severe cases it can lead to meningitis, osteomyelitis, salmonellosis pneumonia.
Which products pose the highest risk for infection? Eggs. Up to 70% egg stocks in households infected with salmonella.
What is the best way to treat the illness? The most common treatments for illnesses include:
Flushing out toxins with gastric lavage.
Taking antibiotics.
Cleansing therapy for the body.
Rapidly administered antibiotics allows for easier recovery but rarely caught in enough time after infection. But patients rarely see a doctor in the first hours after infection. When the symptoms are obvious, it means that the toxin has already spread through the body.
How to safeguard oneself from infection on a daily basis:
✔ Temperatures of 70°C or higher can eliminate salmonella if food has been kept at this temperature for 5–10 minutes. However, if large portions such as meat or fish are prepared, bacteria may survive in thicker parts even after boiling.
✔ Having separate pots and pans for meat and fish, as well as a distinct cutting board – not only increases hygiene, but also creates a physical barrier against infection.
✔ Washing hands when handling food is essential.
✔ Regularly performing anti-bacterial cleaning of kitchen surfaces.
✔ Buying products from trusted and reputable stores (though unfortunately this does not guarantee complete safety during periods of war).
If you have read this article to the end, we hope that means it was useful for you.
We work to ensure that our journalistic and analytical work is of high quality, and we strive to perform it as competently as possible. This also requires financial independence. Support us for only UAH 196 per month.
Become a Mind subscriber for just USD 5 per month and support the development of independent business journalism!
You can unsubscribe at any time in your LIQPAY account or by sending us an email: [email protected]