Robots for Nova Poshta and more: How Ukrainian Deus Robots is promoted in the EU and the US
How blackouts allowed the startup to upgrade its product
The development team
Photo: Deus Robots
Deus Robots' ambitious plans to build its own production facility were put on hold with the start of russia's full-scale invasion of Ukraine. The foundation that had supposedly invested in the Ukrainian startup froze the $5 million deal. It would seem that the team's life experienced some dark period. Nevertheless, they managed to quickly evacuate their developments from Kyiv. And now the company is already negotiating with Western customers. This was made possible after raising $1.5 million from Oleksandr Kosovan's SMRK Foundation in February 2023.
For what purpose does the team plan to raise another $5-7 million? What exactly can the robots do? How is the startup entering the US market? Will the company succeed? Pavlo Pikulin, the company's founder, told Mind about this and many other things.
How did Nova Poshta move robots into construction? Deus Robots creates robots to automate warehouse and logistics operations. They are able to sort, transport racks and pallets, and work with orders. It all started in his childhood, recalls Pavlo Pikulin: at the age of 13, he wrote an artificial intelligence programme to identify car number plates. Then Pavlo realised that everything would be automated and robotic in the future. That's how he came up with the idea to start a tech company. But it wasn't until 2018 that he had enough resources and experience to start it. "I found engineers and programmers, invited them to join the team, and created Deus Robotic," the founder recalls.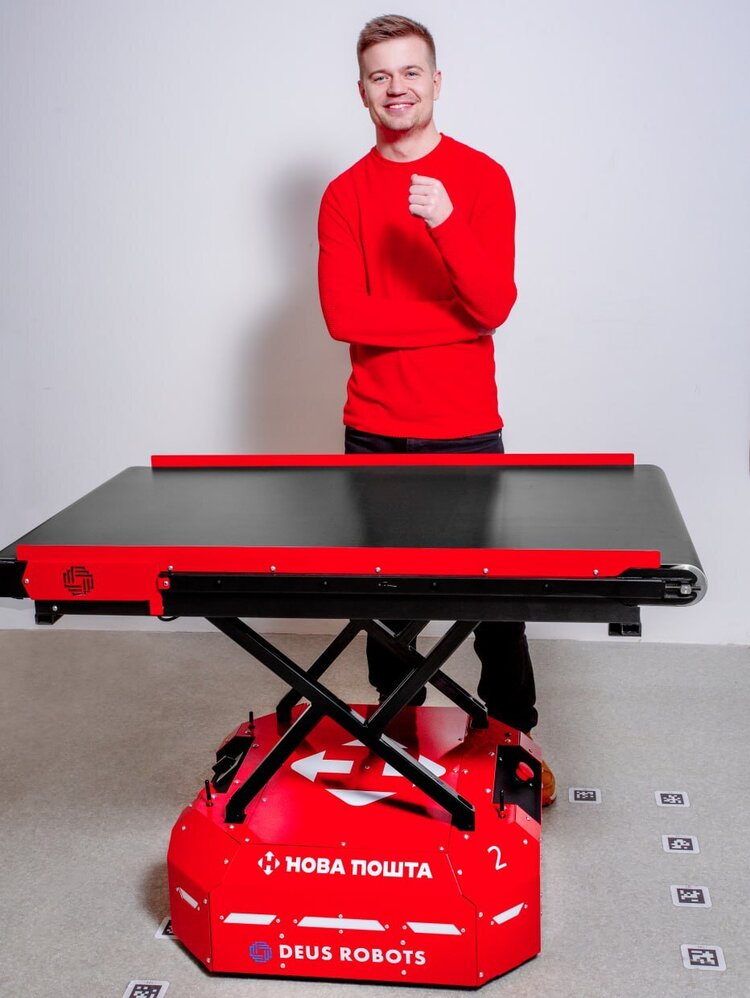 Pavlo Pikulin
Photo: Deus Robots
Initially, the startup developed robots for construction. The portfolio included a robot for sanding parquet and a robot for laying tiles. The startup's first and so far only client, Nova Poshta, changed its focus. Pikulin says that the director of one of the NP's departments came to the company with a request for robots for warehouses. It took the team several months to develop a prototype. "We already had some developments, so we quickly placed an order. That's how we signed our first contract," the source recalls.
Why hasn't it worked out with your own plant yet? The company's production facilities are located in Ukraine: products are designed and tested in Kyiv, and assembled at the Odesa-based Telekart-Prom electronics plant. According to Pikulin, the company can produce up to 100 robots a month. However, Deus Robotics does not yet have that many orders. This year, the company plans to produce 200 to 400 units.
In early 2022, the team had ambitious plans to build its own production plant in Kyiv. The startup then signed a $5 million investment agreement with BGV Trident Capital, which was founded by Ilya Ponomarev, a russian with Ukrainian citizenship, and ATB co-owner Gennadiy Butkevych. Under the terms of the contract, the money was supposed to arrive by the end of February. But the war broke out and the startup never saw the money.
"But now is not the best time to build in Ukraine: there are risks – missiles and logistical difficulties. When the war is over, we will be happy to resume these plans," says the company's founder.
What devices does Deus Robotics produce? The company has three types of robots:
The smallest – S Bot 10 – is used for sorting goods weighing up to 30 kg;
the medium-sized Rack Robot is used for transporting goods up to 300 kg;
Heavy Robot, which can transport objects weighing up to 1 tonne.
Deus Robots doesn't sell robots separately, but offers companies complete solutions for warehouses: a control system, integration of the solution with the client's warehouse management system, and network equipment. The price depends on many parameters and, according to the founder, is formed individually for a specific task and warehouse. "Customers don't need a robot alone – they need a comprehensive solution that they can work with, including service support. And if a company buys a single robot, it won't be able to integrate it and work with it," the founder explains.
How many clients have you managed to attract so far? Just one – Nova Poshta postal service. The company has about 200 robots at its innovative terminals, including Deus Robotics products. The startup has signed several contracts with the postal service for 40 robots. Some of them have already been delivered, while others are being tested. "This is already a very fruitful cooperation. This is a strategic partner for us. Of course, having one customer is a risk. We are looking for other customers in the US and Poland. We understand that this cooperation is beneficial for both of us. Therefore, I see no reason why it should stop," comments Pikulin.
According to him, before the full-scale war, the startup was in talks with ten major retailers. But as a result of reduced investment in innovation, the negotiations were suspended. However, Pikulin adds that there are still a few companies that still want to cooperate and have the means to do so. The startup is currently negotiating with them.
What was rearranged during the full-scale war? In the first days of the invasion, Deus Robots evacuated to the west of Ukraine. The team was helped by Nova Poshta, which provided its drivers and lorries. They took all the equipment to Mukachevo. The team was accommodated in one of the carrier's offices. Later, when russian troops withdrew from the capital, the team returned to Kyiv. In total, the company employs 30 people, 20 of them full-time. With russia's massive missile attacks on critical infrastructure, the startup began to experience problems with communication and electricity. "Starlinks and generators saved us," says Pikulin.
Another challenge is the slowdown in supply chains: deliveries have become much longer, which has resulted in a longer development cycle. Before the war, spare parts could be delivered in a month, but now it takes one and a half to two months. The company buys most of its spare parts in China, and some in Europe and the US.
How did the blackouts push you to upgrade your robots? Pavlo Pikulin says that blackouts helped improve the product: "Now it is our competitive advantage over other manufacturers."
Initially, the products were not ready for blackouts. But in two weeks, the company finalised the system and their robots became resistant to interruptions.
The first thing that changed was that the robots began to go to the charging station earlier, before they started to run out of power. Before that, they used to work for 8-12 hours, but now they charge every 4 hours.
"There was a situation when the electricity was switched on, and the robot couldn't even get to the charging station because it was discharged during the time when there was no power. Now we constantly maintain a high level of charge," explains Pikulin.
The second innovation is that the company has foreseen how robots should behave if all the people have left during the air raid: they don't just switch off, they pause to continue working at any time.
According to the founder, long procedures were required to get the robots back up and running after a communication outage. The recovery time for all systems used to be about 5 minutes, and now it takes 5 seconds.
In addition, the robots have become safer in the event of a communication outage: they do not crash into each other.
"We were able to think of everything so that there would be no collisions between robots. Even if the connection is disconnected and the robot is in front of an intersection where its colleague can theoretically pass. So they stop until the connection is restored," adds Pikulin.
​Who are their competitors? In the founder's words, there are currently no Ukrainian manufacturers that can compete with the company. Though, there are over a hundred of them in the world: Amazon, Locus Robotics, Fetch Robotics, Geek+, QuickTron, InVia Robotics, Exotec.
Pikulin adds that their warehouse emulation system speeds up the integration of the solution several times compared to competitors. "This is a system where you can put everything that happens in the warehouse and see how our robots will work with people in this warehouse," he explains.
In his words, the startup uses less accurate sensors, which allows it to compete with other manufacturers in terms of price: "Our algorithm makes it possible to perform the same tasks as competitors, but using cheaper sensors."
Where are the funds raised spent? In February 2023, the startup received $1.5 million in seed investment from Oleksandr Kosovan's SMRK Foundation. The company plans to invest the funds raised in scaling up its business in Europe and the US: to open a sales office in America and form a team there to find the first customers. Deus Robots is already in talks with some companies that the founder has not yet disclosed. According to Pikulin, part of the funds will also be spent on R&D in Kyiv and the creation of new robots.
Photo: Deus Robots
A total of $3 million has been injected in the startup: apart from $1.5 million from SMRK, $1 million of its own funds have been invested and $500,000 has been raised from the angels.
Are they still looking for third-party investments? Yes, they are. The startup plans to raise another $5-7 million after attracting the first customers in the US. The money is needed to open a service centre to service the robots. Production is planned in Ukraine. But if orders in the US continue to grow, the company wants to open production in the US. "These are all preliminary plans, they can change. We are constantly communicating with venture capital funds. I am confident that we will quickly raise funds as soon as we sign the first contract in the US," Pikulin hopes.
If you have read this article to the end, we hope that means it was useful for you.
We work to ensure that our journalistic and analytical work is of high quality, and we strive to perform it as competently as possible. This also requires financial independence. Support us for only UAH 196 per month.
Become a Mind subscriber for just USD 5 per month and support the development of independent business journalism!
You can unsubscribe at any time in your LIQPAY account or by sending us an email: [email protected]