From Scratch: Business mistakes that should remain in 2022
What managers should learn in 2023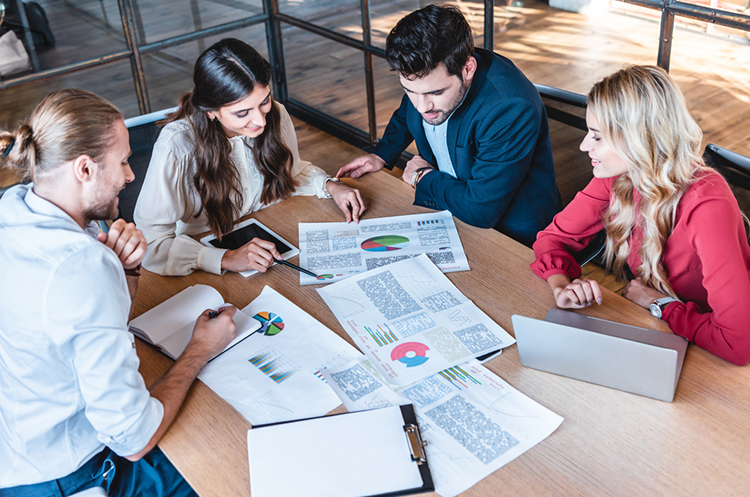 A good business project is a well-implemented idea that offers the market or a certain group of people competitive and creative solutions to their pressing problems. Even in peacetime, any entrepreneurial activity is a great challenge. A full-scale invasion has cancelled the plans of almost every Ukrainian manager. Many businesses in the country have shut down or frozen in the waiting stage, while the rest of the world continues improving the project management sphere. Considering that the war has been going on for almost a year, managers already have the opportunity to analyse their own mistakes, borrow management experience from colleagues, not necessarily Western ones, but also from compatriots, and ensure that their projects get a second wind. Lidiya Bilas, a founder of the MRIYDIY educational project network and co-founder of the Kyiv International School of Business, told Mind what business shortcomings should be left in the past and what would be important in 2023.
State of the business in 2022
Diya.Business and its partners have conducted the ninth wave of research on the state of Ukrainian business during the russian aggression against Ukraine. The analysts found that the business activity index in November was 30 out of a possible 100. The index is calculated based on hiring, number of orders, inventory, output or volume of services provided, and the ability to increase trade turnover. Compared to the summer months, the trend has improved, but compared to September, it has deteriorated.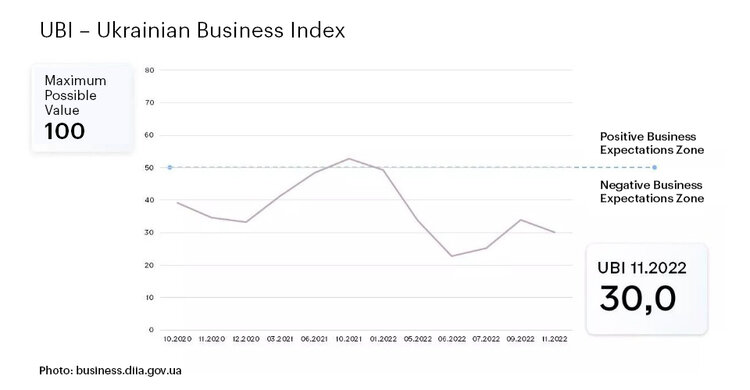 Photo: business.diia.gov.ua
Analysing the work of enterprises, it is noticeable that in November last year, the situation was better than in previous months. The number of companies that stopped working completely decreased, while the number of companies that increased their workload compared to the pre-war period increased.
Another positive finding of the survey is that businesses are returning laid-off workers. Thus, gradually, managers are getting back on their feet and restoring business processes, creating new jobs, but they still can't return to the usual ways of planning and managing projects.
Therefore, what should we leave behind in 2022?
Fear of remote work format
It would seem that the whole world is returning to offices after the end of the COVID-19 pandemic, and Elon Musk is even threatening to fire those who refuse to get used to offline. In fact, the Microsoft Work Trend Index study showed that remote work continued to be a trend in 2022.

Photo: l-a-b-a.com
Numerous professionals do not accept office schedules and prefer a company that is ready for online collaboration.
Managers need to improve their remote project management and communication skills, learn to trust remote workers, and have ways to prevent burnout.
In Ukraine, remote work is not only a trend, but also a guarantee of safety for employees. The mental health of many Ukrainians has suffered, and if employers have the opportunity to reduce stress by allowing online work, it is worth taking this risk.
Ignoring export
Experts believe that one of the ways to overcome the consequences of russia's aggression is to increase export. Currently, 27.3% of the surveyed managers are already exporters, and another 17% have said they plan to develop exports. As of November, almost 5 million Ukrainian refugees were registered in Europe. These are potential buyers of Ukrainian goods – our usual products that are hard to find in Europe, Ukrainian books that are presented in short quantities in European bookshops (and in some countries are not presented at all), even embroidered shirts and other goods. Refugees still need language courses, tax consultations, psychological and career support.
Among the problems faced by managers are the lack of ties with suppliers, qualified staff, the lack of conformity of goods to the foreign market, and a lack of understanding of the international market. However, each of these problems can be solved by meeting the needs of Ukrainians abroad, winning the love of European buyers, and expanding the export network.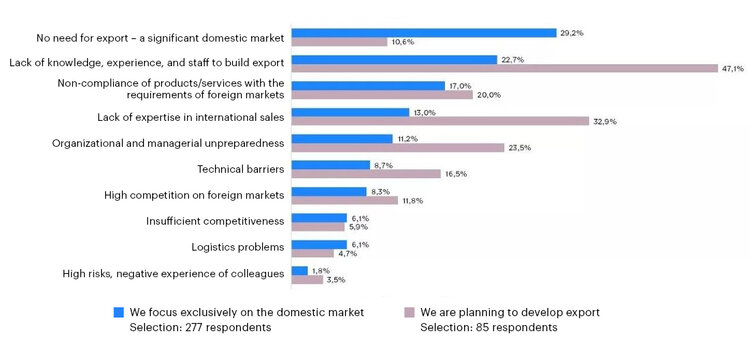 Neglecting emotional adaptability
Business coach Patrick Mayfield found that leading project managers spend 60 to 80% of their time interacting with team members. The ability to feel the emotional state of the interlocutor, find an approach, and see the situation through the eyes of a subordinate is one of the most important competencies of a leader. Therefore, in 2023, it is worth reading books or taking training to find motivation for each employee, create a positive atmosphere in the team, and organize relationships in which there will be trust and a desire to share their ideas, problems, and opinions.
Good psychologists are made, not born. Courses and books will help you understand another person. Understanding other people and proper communication will help you choose the right person for the project, find encouragement, overcome conflicts, and increase efficiency at work.
In times of increased stress, when people are often too exhausted and can break down, it becomes extremely important for a manager to show empathic flexibility
Neglecting the mental health of subordinates
The Microsoft Work Trend Index 2022 study found that 53% of respondents prioritize their mental health and personal well-being. The millennial and Gen Z generations will not tolerate toxic leaders because they are good at reflection, know how to say no, understand emotions, and protect boundaries. If an employer is unable to maintain mental health, 24% of employees would prefer to move to a company where the psychological state of colleagues is one of the key values.
Authoritarianism and tyranny should be left behind in 2022. In the new year, we should pay attention to the fair distribution of tasks, encouragement, emphasizing what we liked about our work, ensuring physical and psychological safety, and creating a life-work balance.
Neglecting the help of the army
The phenomenon of Ukrainian resilience is unity. A significant number of businesses, regardless of size, regularly donate a part of their profit to the Armed Forces, realizing that in doing so they are also bringing victory closer.
When creating business projects, we should not forget about creating a culture of mutual support in teams and encouraging assistance to our army or those who are in dire need.
Helping your neighbour has never been such an important marker, because it not only saves someone's life, but also "points" to your own, and thus improves relationships and understanding between people in the team.
The OpenMind authors, as a rule, are invited experts and contributors who prepare the material on request of our editors. Yet, their point of view may not coincide with that of the Mind editorial team.
However, the team is responsible for the accuracy and relevance of the opinion expressed, specifically, for fact-checking the statements and initial verification of the author.
Mind also thoroughly selects the topics and columns that can be published in the OpenMind section and processes them in line with the editorial standards.