10 Reasons Why You Need to Hold PROB This May 2021
With a plethora of user-centric events in May set to launch in the coming days, ProBit Exchange continues to experiment with the competitive utility driving PROB's success as the token continues to land on the radars of traders due to steady growth and healthy tokenomics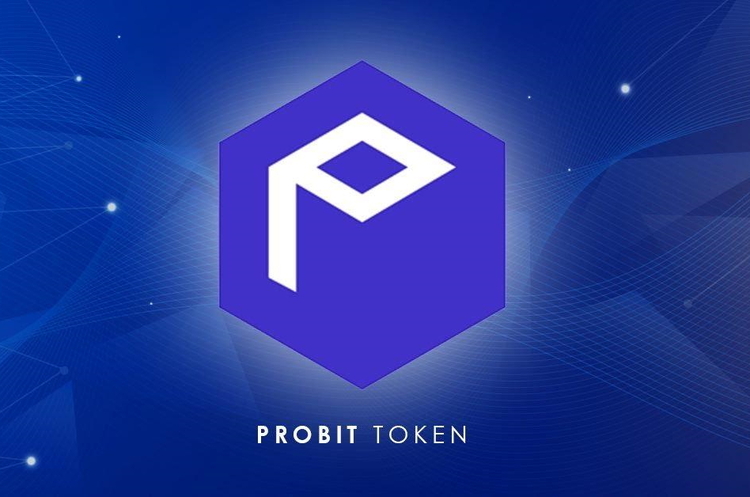 With PROB zooming past the monumental $.50 barrier to clip an ATH at $.579 on May 7, ProBit Exchange's cornerstone utility token has been growing by leaps and bounds for holders. Despite being one of the relatively fresh faces competing in the highly competitive exchange token sector, it has captured considerable value in that span and continues to expand its adoption ranks due to steady price appreciation and market mechanics that illuminate a clear runway towards the psychological $1 mark.
PROB's current market cap stands at $113,154,954 with the max supply capped at 200,000,000 PROB. The rising demand and low circulating supply of 43,995,208 PROB points towards a potential skyward trajectory for holders, particularly early adopters benefitting from 872% since launch.
While most token valuations stop at surging market prices, PROB's performance and consistent ATH performances only touch on the surface of its versatile utility highlighted by a frenetic flurry of May events aimed at rewarding first-time and long-term PROB holders alike.
Here are the top 10 reasons why you need to grab PROB during MAYhem on ProBit Exchange.
1. Buyback & Burn Programs
During private and presale rounds, 14,000,000 PROB was purchased in total while the unsold allocation of just over 6M PROB was subsequently burned to reduce the total supply further from 200M to just under 194M PROB.
In order to further optimize PROB's underlying ecosystem and utility, ProBit Exchange launched the PROB buyback program, a routine repurchasing of PROB using trading fee revenue with all purchased tokens sent directly towards an emergency contingency reserve called the ProBit Safe Fund.
With an additional 1,000,000 PROB repurchased back on April 17, 2021, the Safe Fund is now secured by $3,647,784 from a total of 7,000,000 PROB purchased via the buyback feature. The buyback feature represents an integral component and commitment towards a larger scale initiative aimed at optimizing both user experience and the overall ecosystem.
As PROB purchased during buybacks are locked in the Safe Fund, this effectively adds a deflationary element as it removes them from the circulating supply for sustained long-term value.
2. Lower Trading Fees to 0.03%
VIP membership in conjunction with PROB provides users with considerable discounts on trading fees, an essential consideration when approximating the value of an exchange token and platform as a whole. By paying trading fees with PROB, you can offset the costs to as low as 0.03%, when reaching the pinnacle of the VIP membership platform.
New users joining ProBit Exchange pay a standard level trading fee of 0.2% and can lower their fees down to 0.18% when paying fees with PROB for a total discount rate of 10%. These key savings are especially critical for newer traders who are not familiar with the different exchange fee dynamics such as those based on flat trading fees or trading frequency which are more appropriate for larger volume traders.
The ability to lower trading fees by .02% regardless of membership level is a key utility towards making crypto trading more accessible and as inexperienced traders quickly familiarize themselves with the basics, the rapidly accumulating membership-based trading fee increases will start to kick in at an opportune time.
3. Join ProBit Exclusive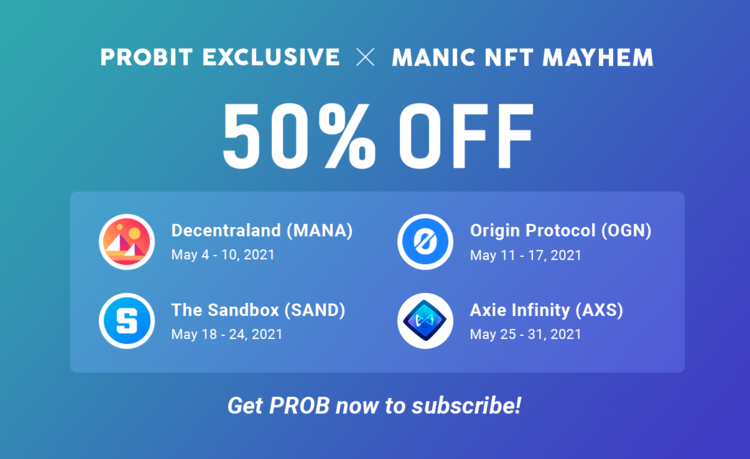 ProBit Exclusive has become a staple for PROB stakers, with users capturing an average of 20X courtesy of the 50% discounted subscriptions featuring many cream of the crop tokens including BTC, DOT, MATIC, and more. During the special ProBit Exclusive MAYhem event, 4 different NFT will be featured during MAY, offering an excellent chance for all PROB holders to get involved in the immersive and rapidly expanding world.
Exclusives operate on a subscription basis which provides a huge competitive advantage by giving all participants a slice of the pie based on the specific subscription rate of each offering. Following distribution, tokens are listed shortly after and have benefited Exclusive participants with many tokens seeing accelerated price appreciation across key markets including USDT and BTC.
ProBit Exclusives provide ample opportunity to augment current portfolios with some of the top-performing tokens at favorable price points not seen elsewhere in the market to lower the entry barrier for beginners.
4. Earn 4% Per Annum Staking Rewards
By simply locking PROB in your staking wallet for the requisite 180 days, earn up to 4% per annum passive rewards alongside climbing the VIP ladder and unlocking compounding benefits along the way. This is an easy way to generate passive income where PROB stakers can earn daily staking rewards simply by locking up their tokens.
5. PROB stakers can Compete for Diverse Trading Competition Rewards
Staking 100 PROB is the sole requirement to join the multiple trading competitions running concurrently with hefty rewards for the top 20. The low entry requirements give all stakers a chance to diversify their own holdings and add a competitive trading environment that anyone can participate in without any high barriers or complicated procedures.
Special trading events are also conducted such as the recent XYM listing, $5,000 USDT trading competitions, as well as regional-specific events to accommodate local demand across global communities.
6. Get Top Bonuses During IEO
IEO bonuses remain a key component of accelerating fundraising and wide-scale adoption for budding projects, with PROB purchases affording the highest bonuses. The difference between joining IEO with PROB and another quote currency can be vast with PROB often affording up to 10% higher bonuses, a figure that quickly compounds with many IEO tokens taking flight on secondary markets.
ProBit Exchange's IEO engine has long served as the heart of the foundation for both blockchain projects and opportunistic digital asset holders benefitting from rapid increases in token valuation on the heels of global exposure and adoption.
Carefully vetted IEO campaigns serve as an ideal chance to claim a strategic position as an early adopter in promising blockchain ventures, with many tokens proceeding to greatly outperform IEO valuation several fold following listing on secondary markets.
7. Refer Friends and Earn 10–30% Trading Fees
PROB benefits extend to friends and family via our referral program, which essentially distributes 10–30% referral rewards based on the trading activity of your referees. By taking full advantage of the program and multiplying it with the trading fee reduction benefits via PROB, these tiered bonuses play a large role in lowering the entry barrier for newer crypto users learning the tools of the trade.
8. Compete for the 20,000 USDT ProBit Cup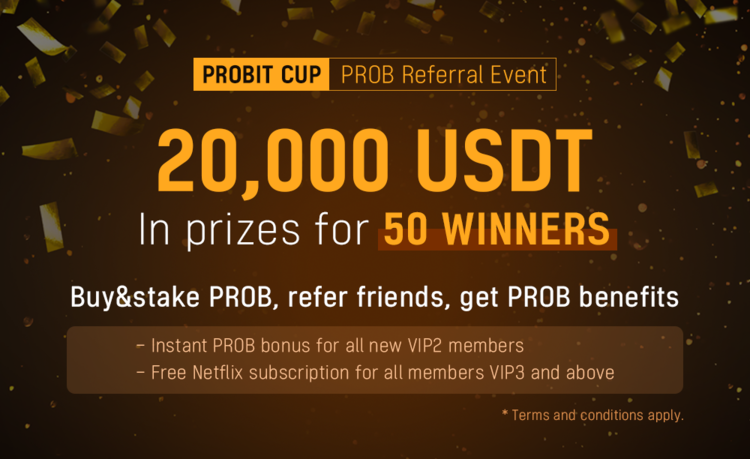 The dynamic benefits behind holding PROB ramp up rapidly according to a VIP membership tier for the benefit of users and their referrals. To further reward users for taking their first steps as well as those already climbing the VIP scale, ProBit Exchange will launch another edition of the popular ProBit Cup which rewards the top 50 highest point accumulators with 1 point awarded for every PROB purchased or staked.
The standard 10,000 USDT prize pool has been doubled to 20,000 USDT and all PROB purchased and staked by referrals also count towards the final point standings. Weekly leaderboards will be provided to intensify healthy competition between traders.
9. Level up to VIP 2 to receive 20 Staked PROB
As a special bonus for PROB stakers, users increasing their PROB stakes up to the minimum 3,000 required to unlock level 2 will receive 20 automatically staked PROB to increase their 4% per annum staking rewards.
10. Level up to VIP 3 and Receive a 6-Month Netflix Subscription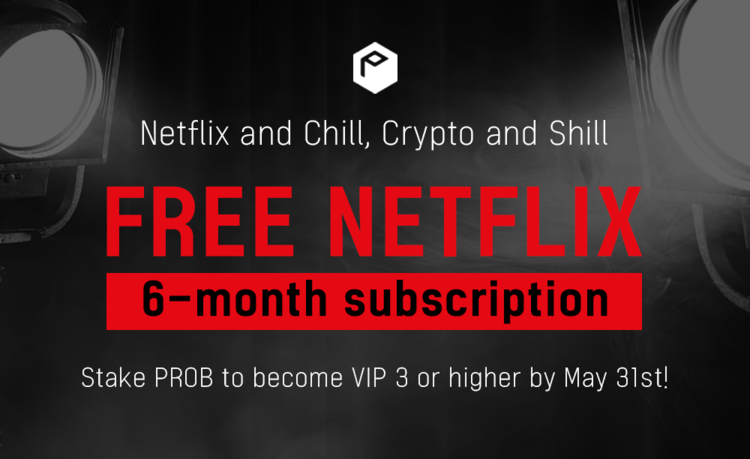 During the Netflix and Chill, Crypto and Shill event, all users who level up to VIP 3 will receive a 6-month Netflix subscription in USDT as part of a month-long campaign to encourage and reward users with the myriad benefits afforded to PROB holders.
A snapshot will be taken on May 31, 2021, at 23:59 KST, giving all users until the end of the month to stake a minimum of 8,000 PROB to qualify.
With a plethora of user-centric events in May set to launch in the coming days, ProBit Exchange continues to experiment with the competitive utility driving PROB's success as the token continues to land on the radars of traders due to steady growth and healthy tokenomics.