Lifeline: how Ukrainian ports turned out to be irreplaceable for export
And what can be done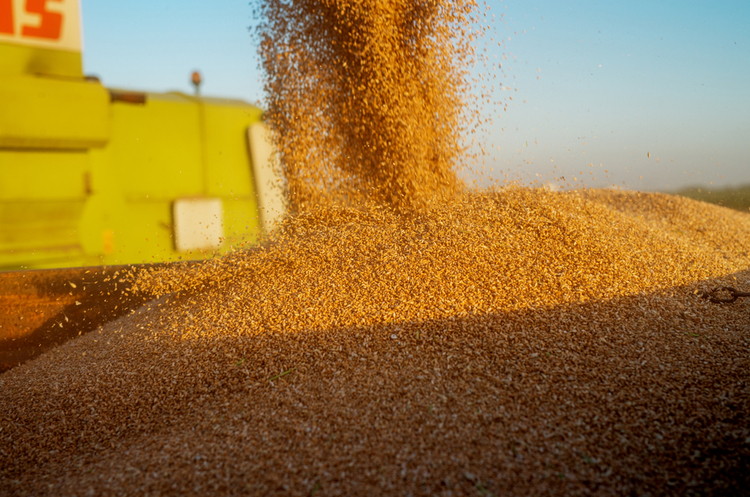 For three months now, the Ukrainian ports remained blocked. Desperate attempts have been made to get agricultural products out in alternative ways. Still, the last two months show that it is unattainable to ensure the grain export in the required volumes without access to the sea.
The maximum output generated by the railroad amounts to 1.5 mln tonnes of grain per month with a minimum demand of 4 mln tonnes and a port capacity of up to 6 mln tonnes. Before the new season begins, i.e., in the next one and a half months, 20 mln tonnes of grain must be transhipped. Why is it only possible to do so by sea, and how to achieve it?
Why railroad and motor vehicles failed
The idea to replace 90% of the sea export with overland was doomed from the beginning. No surprise that the reality did not prove any different. Big Odesa ports used to receive 3,000 cargos daily, and the same number of those is now amassed on the western border.
It took three weeks for a trial shipment of grain to make it from Ukraine via Poland to the Lithuanian port of Klaipėda.
Lack of carriages and fuel, queues, phytosanitary control, and size difference between European and Ukrainian railroads (the latter having it nine sm wider) hinder grain logistics. An additional obstacle is the insufficient number of storage facilities in European ports that were not designed to cope with this many grain cargos. The potential route via Belarus is also on the table, but it is dubious due to the allied perils and ethical matters.
As a result, the grain export has declined to 300,000 tonnes in March and 1.1 mln tonnes in April compared to pre-war 4-5 mln tonnes a month. For the first 22 days in May, only 28,000 tonnes of grain were exported by automobile transportation.
The government's plan to boost the export by land of the agricultural products by up to 2 mln tonnes per month is still two times less than the minimum required amount of transshipment. That is, even if achievable.
What is the threat?
Financial losses of Ukraine caused by the blockade of the ports total up to 200$ mln per day. However, damages incurred by the world are far more significant and are measured by human lives.
Ukraine is one of the few countries that can export more than half of the harvested crop. For some oil-bearing-crop, like rape, the export potential sums up to 90% of the produced. Ukraine's share in the worldwide export of wheat amounts to 12%; likewise, 15% accounts for corn and over 50% for sunflower oil.
Export from the Black Sea region reaches hundreds of countries, including the most vulnerable in East Africa, facing food security challenges.
Share of food imports in the entire imports of goods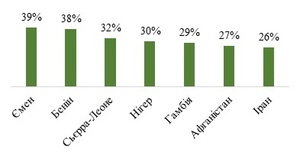 Accordingly, in 2020 Yemen imported 710,000 tonnes of wheat from Ukraine and 800,000 tonnes from Russia. About 400 mln people depend on Ukrainian grain and have lost this resource since the beginning of March.
David Beasley, Executive Director of the World Food Programme, notes that if the Ukrainian grain quota remains unfilled, the world will descend into a food crisis for the next 10 to 12 months. "It literally could lead to hell on earth," he adds.
How the famine will spread across the globe
One would think that the problem of hunger is deliberately escalated to increase pressure on the Russian Federation. It is not the phantom menace, though. Ukraine occupies a place too prominent in the world food market to have no ill consequences after its absence or be easily replaced in the short term.
"The suspension of shipments from the ports of Odesa, Kherson, and Mykolaiv, responsible for over 90% of Ukrainian grain exports, led to an increase in [world] prices. Suppose Ukrainian ports continue to be blocked for a long time, and the railway through which the country is trying to conduct transportation service is constantly damaged. In that case, prices will continue to rise," says Kateryna Markevich, a leading expert on economic and social programs at the Razumkov Center. She adds that rail logistics are pretty expensive as it is.
According to her, the increase in grain prices affects meat and dairy products by default. The corn is a case in point as its price has risen to $350/tonne (in January, it was $276/tonne) and is used as feed. "Only 12% of corn is consumed," she points out.
As reported by Oxfam, an international association that tackles poverty challenges, one person dies of acute hunger every 48 seconds in East Africa.
As a food crisis unfolds in some parts of the world, Ukrainian grain is in danger of rotting in the open. By as early as the end of summer, the grain from the new crop will supplement the current surplus of 20 million tonnes. Even with the inevitable decline in the harvest compared to last year, the export potential will be at least 40 mln tonnes.
Though, the long-term consequences are much more ominous. Let us assume that the domestic market remains congested, and farmers cannot sell their grain. Then, the economic expediency of launching a 2023 sowing campaign will be open to question.
What are Russians really up to?
Russia keeps its rhetoric 'straight' regarding the grain export matter. Their official version is "Ukrainians Are Bombing Themselves." Hence, Ukraine does not want to take the grain out, having approaches to Odesa mined.
Nevertheless, the Kremlin understands perfectly well that one can only stress so much the importance of the famine factor and the upcoming migration wave to Europe, which the first may provoke. That is why they try to use it as a weapon in a battle for mitigating sanctions. Vasil Nebenzia, Permanent Representative of Russia to the United Nations, has stated that "fertilizers and grain are not officially under any sanctions." "However, we are faced with logistics, transportation, insurance, and banking problems" orchestrated by the Western restrictions that "come in the way of free export."
As explained by him, there is a "secured corridor" of 80 nautical miles in length (148 km) and 3 nautical miles in width (5.5 km), providing access to Odesa. "But Ukraine has to remove the mines from the waters." That said, nobody can guarantee that Russia will abstain from taking Odesa by force, having achieved a safe passage.
In a conversation with French and German leaders over the phone, Putin said that Russia is ready to discuss the ways to allow Ukraine to resume grain shipments from the Black Sea ports. "In return, Russia is willing to aid in establishing prospects for the unimpeded export of grain, including the export of Ukrainian grain from the Black Sea ports," the Kremlin said. Russia is prepared to increase the export of fertilizers and agricultural products "if sanctions are lifted."
The Minister of the Foreign Affairs of Ukraine, Dmytro Kuleba, deemed Russia's standpoint "the best example of blackmail in international relations."
Currently, there is no alternative to the maritime export of grain from Ukraine. At the same time, our allies have declared that no sanctions relief is planned in exchange for a humanitarian corridor. U.K. Secretary of State for Defense Ben Wallace rejected the idea of negotiations on lifting sanctions on such conditions. He called on Russia to "do the right thing" and let Ukraine export its grain to avoid hunger in some Asian and African countries.
The international humanitarian mission seems to be the most practical way to carry out an essential export like this, which means that a joint campaign of Ukrainian grain importing countries will be able to provide the convoy.
Two factors can hamper its implementation. The first is the stand of Türkiye, which adheres to neutrality and has received the offer to open the Bosphorus for the passage of convoying ships. The second is that nothing stops the Russian Black Sea Fleet from attacking one of the echelon ships even under a military escort. Any shot fired would mean the third world war had begun.
If you have read this article to the end, we hope that means it was useful for you.
We recommend you to join the Mind Club. To become a member, you need to subscribe for $7 per month.
Your support is very important to us!
Why do we introduce paid subscription?
High-quality and independent journalism takes a lot of time, effort and is expensive – it's really not cheap. But we believe in the prospects of business journalism in Ukraine, because we believe in the prospects of Ukraine.
That's why we are creating a paid monthly subscription – Mind Club.
If you read us, if you like and appreciate what we do, we invite you to join the Mind community.
We will develop Mind Club: the amount of materials, available services and projects. As of today all the existing members of the club:
Help to create and develop quality independent business journalism. We'll get the possibility to continue empowering and improving the quality of our materials.
Visit a website – without any banner ads.
Get access to Mind's «closed» materials (a monthly issue where we explore and analyze how entire industries are doing; and weekly analytical summaries).
Free access to Mind Invest Club events for subscribers, and special terms – for other Mind events.
Smart Power. Business owners who become Mind subscribers will get access to a system violations aggregator from Mind and Skazhy.ua analysts. If your business has problems with dishonest officials or competitors, we will analyze whether their behavior is systemic, and together we will be able to solve this problem.
We will continue to develop Mind and add useful rubrics and services for your business.
We work to ensure that our journalistic and analytical work is of high quality, and we strive to perform it as competently as possible. This also requires financial independence. Support us for only UAH 196 per month.
You can unsubscribe at any time in your LIQPAY account or by sending us an email: [email protected]