A blow to putin: Finland becomes 31st NATO member
Today, on 4 April, the border between russia and NATO is extended by 1,340 kilometres, fulfilling the russian president's nightmare
Finnish soldiers against the backdrop of M270 MLRS
Photo: DR
On Tuesday, 4 April, the Finnish flag will be raised at NATO headquarters in Brussels to mark the country's accession to the military bloc. It will be a strategic and political blow to russian president vladimir putin, who has been opposing NATO's expansion to the borders of russia for a long time.
According to NATO Secretary General Jens Stoltenberg, putin invaded Ukraine to push the Western alliance away from russia's borders, but got the opposite result – NATO's border with russia is doubling to 2,600 km. Stoltenberg announced that Finland's accession to NATO would make the Nordic country safer and the collective alliance stronger.
"This is a historic week. Tomorrow we will welcome Finland as NATO's 31st member," Jens Stoltenberg said on 3 April, "We will raise the Finnish flag for the first time at NATO headquarters. It will be a good day for the security of Finland, the security of the Nordic countries and the entire NATO alliance."
As with any other NATO member, Finland will be subject to Article 5 on collective defence: an attack on Finland will be treated as an attack on all NATO members. In its turn, NATO will receive from Finland large areas for training and military bases in the immediate vicinity of st. petersburg, russia's second-largest city.
Finland's contribution to NATO
Finland's accession will help NATO complete the 'geographical puzzle' by filling a major gap in the strategically important Northern European region. The Baltic Sea will effectively become an "inland water body of NATO", and if necessary, the Alliance will be able to lock russia into the Gulf of Finland, cutting it off from the kaliningrad exclave.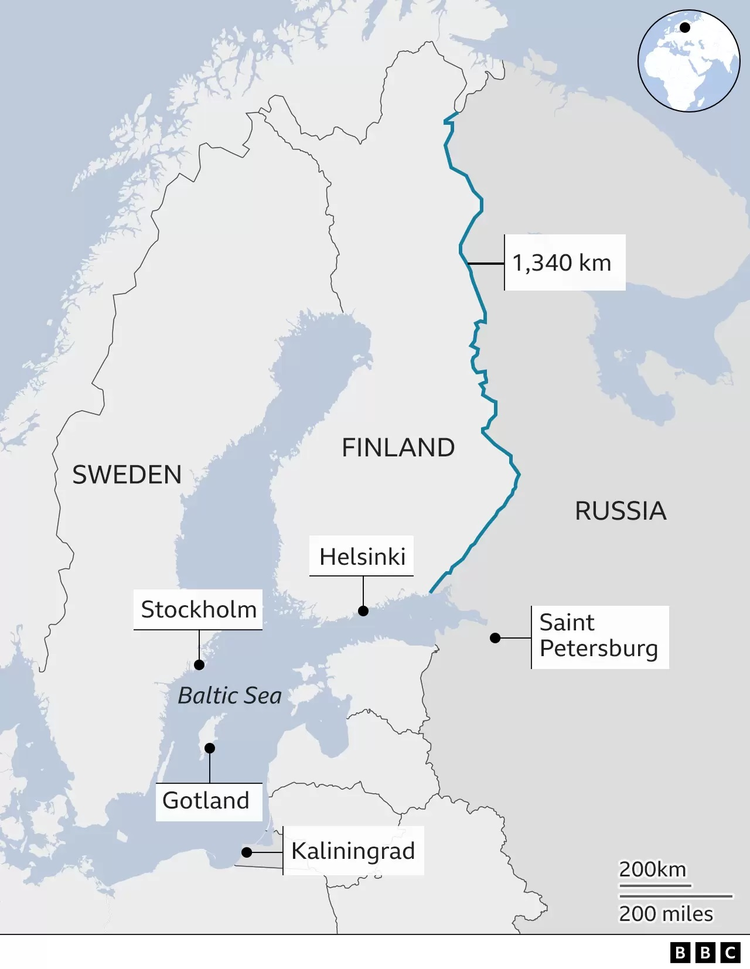 "Every time russian ships have to move out of bases in the russian part of the Gulf of Finland, they will have to ask permission from Helsinki, Stockholm, and Tallinn to move in their territorial waters, and it will take only one snap of NATO's fingers to refuse it, after which russia will have exactly two options: either to go ahead and cause an international incident or to silently swallow the insult until better times... NATO will be able to blockade st petersburg by sea. russian Baltic Fleet, squeezed from all sides, will have nowhere to turn in such conditions," Politnavigator describes the problem.
Finland will contribute more than 257,000 troops to NATO's combined forces. Finnish troops have the largest arsenal of 1,500 artillery pieces in Western Europe, as well as well-trained elite units capable of operating in the freezing conditions of the High North. Helsinki also boasts a large order for 64 fifth-generation F-35 fighter jets made in the USA.
Accelerated accession
Jens Stoltenberg called Finland's accession process "the fastest in NATO's history". It took less than a year for the country's membership to be ratified by all 30 Allies.
Finland has maintained military neutrality since 1948, after signing the Treaty of Friendship, Cooperation, and Mutual Assistance with the USSR. The idea of integration into NATO was unpopular: in January 2022, only 28% of Finns were in favour of joining the North Atlantic Alliance. However, russia's invasion of Ukraine alarmed the Nordic country of 5.5 million people, and within weeks, almost 80% of the population joined the camp of those who wanted to join NATO.
Finland applied to join the military bloc in May 2022, along with Sweden, which abandoned its centuries-old policy of non-alignment. Turkish President Recep Erdoğan opposed the admission of both countries to the alliance, demanding that Helsinki and Stockholm support the Turks in their fight against Kurdish organisations. The acceptance of new members into NATO was also hampered by Hungary, which expressed concern over the risk of a direct armed conflict with russia.
However, at the end of March, the Hungarian and Turkish parliaments voted to ratify Finland's membership in NATO. As for Sweden, the green light is likely to be given after Turkey holds elections in mid-May. With Finland as a shield, the Swedes will feel more secure in the short term.
"Sweden's accession will have to be completed quickly," Jens Stoltenberg was quoted as saying by Euractiv. "We should not leave the impression Sweden is left alone. Allies are ready to act. It is inconceivable if there is any threat of attacks against Sweden without allies reacting, even more so with Finland as a member"
russia's reaction
In response to Finland's accession to NATO, the kremlin has promised to build up forces on its border. It was announced by deputy foreign minister alexandr grushko.
"Some measures have already been announced. We will strengthen our military potential in the western and north-western direction. In case of deployment of forces and assets of other NATO members in Finland, we will take additional measures to ensure reliable military security of russia," said alexandr grushko.
The diplomat did not specify what kind of measures he was talking about. Analysts at the Center for a New American Security (CNAS) note that so far, russia's reaction to Finland and Sweden's accession to NATO has been negative, but surprisingly restrained. Due to its involvement in the Ukrainian war, russia has expressed its dissatisfaction only in words, without taking any action.
Throughout the year, russian officials criticised Finland and Sweden for becoming 'US puppets' and 'targets' for russian strikes. putin has been escalating his nuclear rhetoric and in October 2022 moved several Tu-95 and Tu-160 strategic bombers capable of carrying nuclear cruise missiles to the northern border.
CNAS experts believe that due to the losses incurred in Ukraine, russia will not be able to respond to NATO expansion by building up conventional weapons on the border with Finland. Therefore, we should expect hybrid tactics from it, such as cyberattacks, GPS jamming, and disinformation campaigns to foment internal political unrest. The kremlin is also likely to try to use migrants as a weapon, as belarus did on the border with Poland in 2021. To protect against such a threat, Finland has recently begun erecting fences on the most vulnerable parts of the border adjacent to st. petersburg.
If you have read this article to the end, we hope that means it was useful for you.
We work to ensure that our journalistic and analytical work is of high quality, and we strive to perform it as competently as possible. This also requires financial independence. Support us for only UAH 196 per month.
Become a Mind subscriber for just USD 5 per month and support the development of independent business journalism!
You can unsubscribe at any time in your LIQPAY account or by sending us an email: [email protected]