How war facilitates the new technology development: Cases for the military, rehabilitators, and manicurists
Part 1: Path of Inventions
Besides horrors and destruction, war always gives rise to newly urgent needs that force people to act quickly and seek unique ways to manage them, ensuring the availability of relevant resources, technologies, and access to them. It's no wonder that such times stimulate people to invent. For example, after the end of World War II, there was an unprecedented surge in technology patents issued in the United States.
Matthew Clancy from Iowa State University notes that not only World War II but also other major crises, such as the oil shock of the 1970s or the COVID-19 pandemic, have led to an intensification of efforts aimed at overcoming the consequences of these crises. For instance, the COVID-19 outbreak stimulated a sharp increase in clinical trials of drugs, vaccines against COVID-19, and the development of treatment protocols. Simultaneously, many patents and various life hacks related to forced lockdowns and remote work during the pandemic emerged.
The full-scale invasion of Ukraine forced individuals and organisations to reconsider old approaches and find new ways to solve problems. Currently, innovations in Ukrainian business are progressing along two paths: through inventions and new developments, as well as through rapid integration of new global technologies into business processes. In this issue, Mind, together with the international business community Board, has prepared a digest of Ukrainian innovative solutions in the field of security, defence, and rehabilitation.
Skiftech – Innovative Training Systems for the Military
Product: Tactical simulators by Skiftech.
Innovativeness: The simulator allows for the closest possible training experience to real combat, enabling soldiers to hone their skills in training as if they were gaining actual combat experience.
In addition: Combat leaders can not only observe the training exercises in real time but also make recordings for subsequent analysis of individual participants' actions and overall group performance. Such training is cost-effective, as soldiers can train even without live ammunition using the Dry-fire mode, reducing expenses on ammunition and weapon maintenance.
Similar simulators have been developed for various military units, including armoured vehicles (tanks, APCs, IFVs, etc.), artillery, mortars, anti-tank missile systems, anti-aircraft missile systems, and explosive devices. In other words, the Ukrainian company can provide training opportunities for almost all types of Land Forces units simultaneously on a single training ground.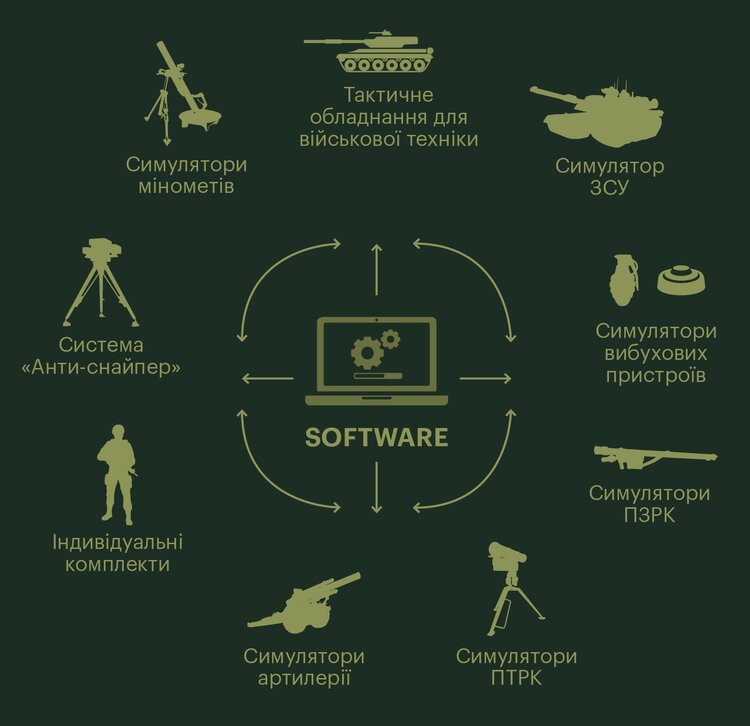 Usage results: Over the company's nearly 9-year existence, at least 30,000 military personnel have been trained on the simulator. According to user feedback, these simulations increase battlefield survival rates by 30%.
Mykhailo Obod, one of the founders of Skiftech and a mentor at Board, says: "War stimulates us to develop simulators that save lives on the battlefield. These simulators provide maximum realism, require no expenditure on ammunition, and, most importantly, allow soldiers to 'die' 100 times in simulation to analyse their mistakes and avoid them in counteroffensives."
VR Simulators for the Rehabilitation of Military and Civilian Individuals
Product: ADVIN virtual reality (VR) simulators for the rehabilitation of individuals with limb loss or musculoskeletal problems.
Innovativeness: The use of immersive augmented and virtual reality technologies in VR simulators, which significantly reduce phantom pains resulting from limb loss through a gaming process. With these VR simulators, patients visually immerse themselves in a created 3D world and physically attempt to balance and develop their impaired limbs.
Additionally, ADVIN has developed simulators for psychological rehabilitation, where patients similarly immerse themselves in a 3D world, interact with 3D objects, hear sounds, see the environment, and experience its atmosphere, thereby calming themselves and alleviating their emotional state.
Usage results:Tests have already been conducted, and the simulators have been implemented in a rehabilitation centre, where people actively learn to use them and have reported significant improvements in their mental and physical health.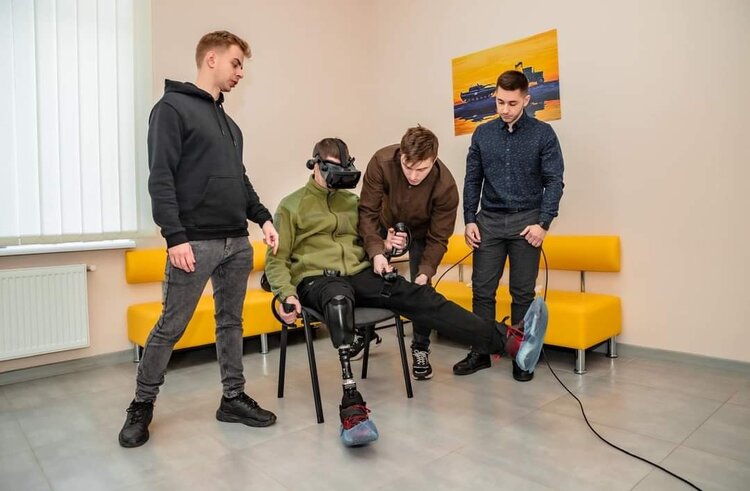 Artem Chygyrynsky, Co-founder and CEO of ADVIN, says: "Our company has been operating in the market for over six years, and during this time, our team has implemented more than 250 immersive projects for various brands. With the onset of a full-scale invasion, we have directed our efforts towards creating projects to assist the Ukrainian military and civilians. Immersive practices are already widely used in the world and demonstrate striking results. That's why we decided it was time to create such simulators for our military personnel."
Power Bank by BrotherHood
Product: Specialised Power Bank for manicurists.
Innovativeness: This product was developed in response to attacks on the country's infrastructure and power outages, which negatively affected the operations of many businesses. According to a survey conducted by Diya.Business regarding the state and needs of businesses during times of war in November 2022 (when the situation with energy resources was particularly tense), 48% of enterprises reported that turnover had decreased by 20% or more due to power supply disruptions.
PowerHood became a kind of 'lifesaver' for manicurists, allowing them to work uninterrupted and ensuring the safety of their tools during power outages.
Yuriy Zakharchuk, owner of BrotherHood (a Ukrainian brand of military-style clothing), 7stepstudio (a custom furniture manufacturing studio), and Steel Mastery (a theatrical props manufacturing company) said:
"With the onset of the war, we took three steps.
The first step was simple – we revived an old project that was created in 2014 – the development and production of military clothing and equipment.
Then we took more complex steps:
The second step was to start the production of ceramic armour plates. The project cost five times more and took three times longer to launch than originally planned.
Within nine months of its launch, we established serial production of ceramic armour plates. Currently, we are achieving a ratio of 3100 grams per 760 square centimetres of ceramic protection at level 6, which corresponds to modern standards of NATO countries' manufacturers.
We couldn't find an investor, so we are developing and scaling our business using internal funds. We are actively growing and expanding every month.
The third step was to start developing our own unmanned aerial vehicle (UAV). During this time, we established production areas within the company:
- matrices for manufacturing UAV bodies,
- a composite area for direct body production,
- sewing of covers and parachutes,
- manufacturing catapults for launch,
- the setup of electronics and the assembly of aircraft and drones.
Thanks to the international business community Board (an investment chat), we obtained a small business loan from one of the community members, which allowed us to purchase quality components."
If you have read this article to the end, we hope that means it was useful for you.
We work to ensure that our journalistic and analytical work is of high quality, and we strive to perform it as competently as possible. This also requires financial independence. Support us for only UAH 196 per month.
Become a Mind subscriber for just USD 5 per month and support the development of independent business journalism!
You can unsubscribe at any time in your LIQPAY account or by sending us an email: [email protected]