No vessel carrying Ukrainian agri-products has been able to pass inspection in Istanbul since May 9. What options do exporters have?
Is there an alternative to the grain corridor, and what needs to be done to develop it?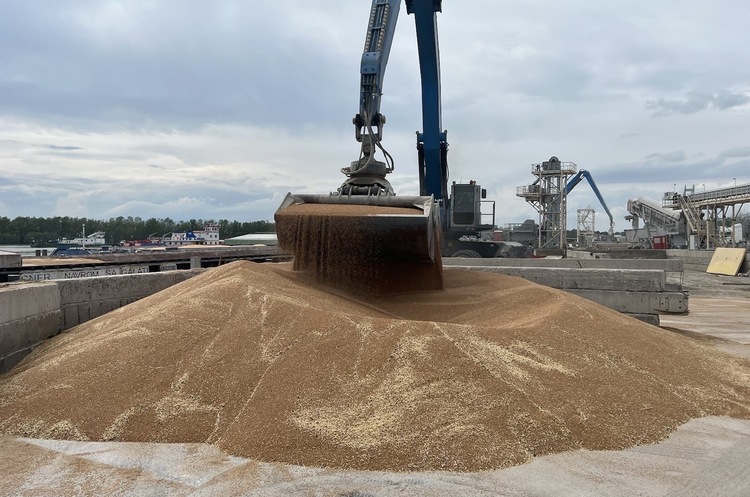 Photo: Facebook page of the Ministry of Infrastructure of Ukraine
"Grain corridor" – the logistics route that allows Ukraine to export its grain from the ports of Great Odesa – demonstrates the worst performance in its entire history. The number of vessels passing through this canal to the ports of Odessa, Chornomorsk, and Pivdenny, decreased from 5.9 per day in September 2022, when the corridor was operating at full capacity, to 1.9 in April 2023. Furthermore, according to the monitoring data from Black Sea News, no ship has been able to enter Ukrainian waters since May 9th – such interruptions have never occurred throughout the entire duration of the grain initiative.
Undoubtedly, the congestion of inspections at the final stage is related to the peak of the pre-election presidential campaign in Turkey, where russia openly supports one of the candidates and increases his significance by creating artificial problems.
But the bad news is that even Recep Erdoğan's victory does not guarantee the activation of the grain corridor: as long as the kremlin has this lever of influence on Ukrainian foreign trade, it will continue to use it.
Mind has investigated: What alternatives are available to Ukrainian grain traders besides the established but faltering grain corridor?
Why are the inspection delays so critical? Ship chartering is an expensive affair, costing thousands or tens of thousands of dollars per day, depending on the tonnage. The downtime required for inspection passage through the Bosphorus is typically already factored into the calculations of the exporting company.
It should be noted that these additional costs are subtracted from the grain purchase price from Ukrainian farmers, resulting in an absolutely anomalous gap between domestic and global grain prices in Ukraine, which differ significantly. However, as russia increased its sabotage at the inspection group level, the actual freight costs began to exceed the initially estimated expenses.
"The economic feasibility of transporting grain through the corridor loses its meaning – the vessel's downtime, which can last for months, 'eats' everything," said Viktor Berestenko, the President of the Association of International Forwarders of Ukraine. Taking into account the downtime, to make a profit from exports, grain traders need more than just purchasing grain from Ukrainian farmers at almost break-even prices – they need additional payments.
So should we forget about the sea and transport everything by land? No, we can't. The sea is the primary pre-war channel for grain handling, accounting for 90% of the share. It was impossible to replace this figure, even when there was a regime of maximum support for Ukrainian exports from EU countries – at its peak, the railway was handling up to 3 million tonnes of agricultural cargo per month. Those times are gone. In April 2023, Eastern European countries put a "stop" to Ukrainian grain, fearing – quite reasonably – the saturation of their own market with cheaper products from Ukraine.
"The volume of daily grain transfer after the introduction of restrictions by EU countries at the western border amounts to 14 railcars per day, in April – 28 wagons; in March – 58.19 wagons per day," says Berestenko.
Overall, the volume of transportation by all modes of transport has decreased by half – from 621 million tons in 2021 to 318 million tons in 2022. In addition, air connections and ports have experienced the most significant decline – by 85% and 62%, respectively.
However, Eastern European countries have only restricted their own markets, and transit is still allowed. So what's the problem with exporting through European ports to our traditional markets? The issue lies in the fact that European ports prioritise European grain, while Ukrainian grain is handled on a residual basis. In May-June, the final months of the 2022/2023 marketing season, just before the arrival of the new harvest when everyone is trying to get rid of their leftovers, access to export facilities is crucial. Unfortunately, Ukraine cannot boast of such access.
According to market logistics analyst Maksym Kharchenko from UkrAgroConsult, there may be insufficient handling capacities in the Romanian port of Constanța, which is one of the important routes for Ukrainian grain exports, as Romania itself expects an increase in its own harvest to 25 million tonnes.
At the same time, estimates for the grain handling capacities of the Constanța port in 2023 range from 30 to 34 million tonnes, of which 21 to 25 million tons are through terminal handling, and an additional 9 million tonnes are handled by floating cranes.
So what logistics options are left? The Danube ports. Until February 24, 2022, they were not seriously considered due to their low capacities: the three Danube ports – Reni, Izmail, and Ust-Danube – accounted for only about 5% of Ukrainian exports.
After the blockade of Odesa, Mykolaiv, and the occupation of Mariupol, the situation has changed dramatically – the Danube ports have become indispensable. In fact, the port of Izmail was operational even in February-March 2022, but this was carefully concealed to avoid shelling and infrastructure damage.
The Danube ports have shown a significant increase in handling volumes by 2–13 times, and by the end of 2022, cargo turnover through these ports had increased to 16.3 million tonnes. As problems in Odesa escalated, activity on the Danube increased again: in March 2023, cargo handling reached a record level of 93,000 tonnes per day.
The announced goal of the Ukrainian Sea Ports Authority (USPA) is to reach 23 million tonnes of exports per year through the Danube ports.
If you have read this article to the end, we hope that means it was useful for you.
We work to ensure that our journalistic and analytical work is of high quality, and we strive to perform it as competently as possible. This also requires financial independence. Support us for only UAH 196 per month.
Become a Mind subscriber for just USD 5 per month and support the development of independent business journalism!
You can unsubscribe at any time in your LIQPAY account or by sending us an email: [email protected]