SMART solution as an alternative to unreliable russian software
With SMART business company, we have prepared a selection of solutions that can become a reliable and functional replacement for russian software and stimulate the growth of your company
The lion's share of Ukrainian companies continues to use unreliable russian systems to automate business processes. In the second year of the war, some popular CRM systems, accounting systems, email marketing services, antiviruses still serve a significant number of Ukrainian enterprises.
In early May, the business was stirred up by the news about the final cessation of Bitrix24 in our country. On June 1, 2023, the russian service finally ceased its work in Ukraine, and all user data will be completely deleted. This is an unexpected, albeit quite logical, result of a protracted war with russian software.
There is no absolute analogue of Bitrix24 on the market. However, depending on the size and objectives of the business, there are several dozens of solutions. If you did not have time to prepare for the transition and find a convenient system for migration, we suggest considering several alternatives from the Ukrainian company SMART business.
SMART business is an international company with offices in Ukraine, Poland, Georgia, and Azerbaijan, developing solutions for automating modern business processes and providing services for the implementation of the entire Microsoft product line. For 14 years, the company has been helping customers build an IT ecosystem and achieve their goals by implementing ERP, CRM, HRM systems and services based on AI and predictive analytics.
We, together with SMART business, have prepared a selection of solutions that can become a reliable and functional replacement for russian software and stimulate the growth of your company.
SMART CRM – organization of B2B, B2C sales and service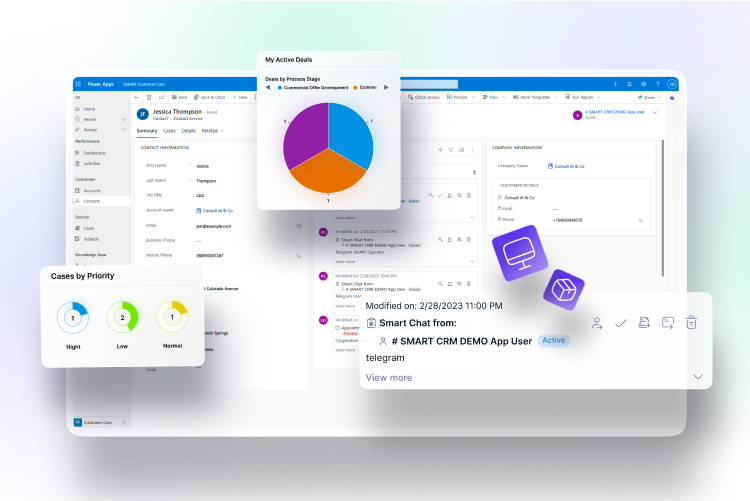 SMART CRM is a comprehensive platform for B2B, B2C sales and service. Ukrainian CRM is developed on one of the best Low-code/No-code platforms, Microsoft Power Platform, and is also integrated with other Microsoft and Office 365 solutions, which helps to simplify and centralize messaging, teamwork and collaboration on documentation.
The system can become a reliable foundation for building strong relationships with customers and strengthen your business with new channels and functionality. The platform includes 3 solutions that can be installed separately or supplement each other:
SMART Sales – for automating the B2B sales process from the appearance of a potential customer to closing a deal
SMART Customer Care – for registration and processing of service requests from customers
SMART Order Management – for registration and processing orders in B2C sales
SMART CRM also involves using modern applications, channels and services to effectively interact with customers throughout the entire life cycle of a company. This is implemented thanks to the connectors available in the platform, including: a connector for Binotel; a connector for eSputnik; connectors for GMS and Infobip. And also for PayPal, Nova Poshta and Ukrposhta.
You can also expand business interaction channels using the SMART Chat module, which allows you to build clear communication with customers, partners and employees within a single platform using the familiar Facebook Messenger, Telegram, WhatsApp, Viber and Instagram messengers. The additional SMART Easy Bot module will help you easily and comfortably manage Viber and Telegram chatbots and communicate with subscribers using bulk and personal messages for selected segments.
The advantages of the platform include fast migration, integration with modern services and providers, compliance with GDPR and CCPA requirements, and affordable implementation cost.
In support of Ukrainian business, SMART business offers special conditions: 80% discount on its own solutions within SMART CRM for the first 6 months in case of signing the contract until June 30, 2023.
Get 80% discount: https://bit.ly/3NeIIxU
SmartPoint DMS – solution for electronic document management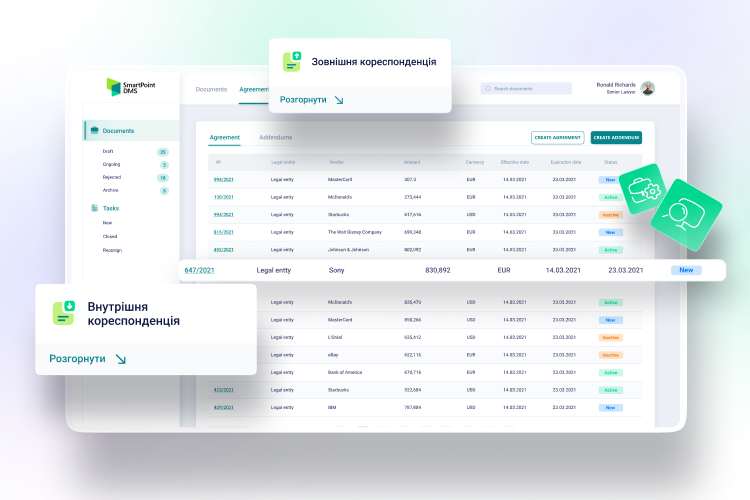 One of the most important components of running any business is document management. The absence of a well-defined document flow process involving many approvers at different stages can lead to confusion in the sequence of actions. This, in turn, can slow down decision-making and increase the number of reviews and approvals needed.
With large volumes of documentation comes an equally great need for process automation. SmartPoint DMS acts as a unified system for creating, approving and signing documents with a high level of access rights differentiation.
SmartPoint DMS is a system developed on Microsoft technologies that provides a comprehensive set of tools to effectively control, manage and store various types of documents to maximize the efficiency of each business process.
This solution includes several modules covering the full range of issues related to internal and external documentation. They include:
Contracts module
Correspondence module
Tenders module
Purchases module
Thus, the customer can choose which modules to implement and which not, thereby optimizing the cost of implementing the solution.
Ukrainian companies that migrate document flow from other systems are given the opportunity to get an 80% discount on SmartPoint DMS licensing for the first 6 months. This offer is valid until June 30, 2023.
Get discount: https://bit.ly/42wZ09M
SmartPoint Intranet – digital workspace for teamwork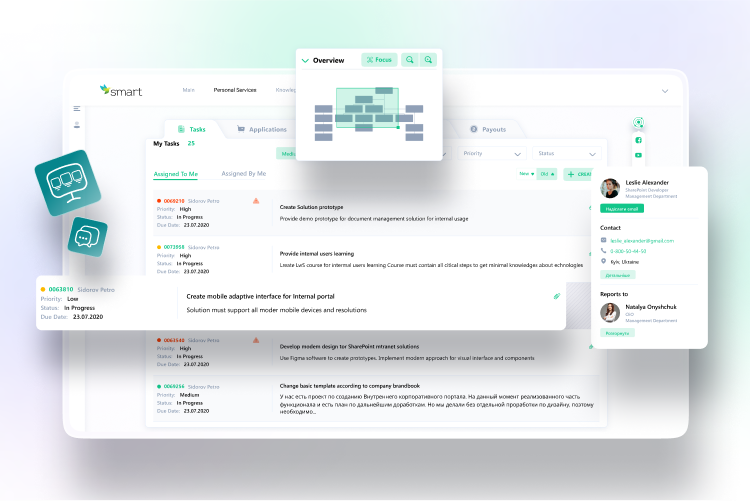 Increasing productivity, optimizing communication, developing corporate culture and creating a virtual work environment for the team – all this and other non-obvious functions are covered by the internal corporate portal.
Given the rapid development of a hybrid work format, when some employees work remotely, the introduction of a digital work environment is becoming an increasingly inseparable part of building a company's HR ecosystem. Digital workplace combines a large number of tools for employees in a single environment, reducing the burden on the company's HR department and creating a convenient place to share, store and transfer corporate information.
SmartPoint Intranet is a unified company communication environment built on Microsoft SharePoint technology, which includes all the necessary elements of a modern digital workspace for the effective work of teams and departments of the company.
SmartPoint Intranet includes a number of components that cover all of the above processes, namely:
Task management
Personal and corporate knowledge base
Workspaces with documents
Event calendar
Communication app
Organizational structure
Power BI analytical reports
An employee has access to all of the listed components both from the desktop and mobile versions, thanks to the Microsoft SharePoint app available on Google Play and App Store. In addition, once SmartPoint Intranet is installed, new and existing Microsoft Teams users receive the app in the Quick Access Toolbar, allowing the portal to work as an integral part of Microsoft Teams.
One of the strengths of the solution is seamless integration with CRM and ERP systems, so the company receives additional data for deeper analysis and making key management decisions.
Just like with SMART CRM and SmartPoint DMS, for companies migrating to the Ukrainian SmartPoint Intranet solution, the offer is valid: 80% discount on product licensing for the first 6 months, subject to signing a contract before June 30.
Get the discount here: https://bit.ly/3X9yJO1