Import Undercover: the SBU investigates russian fertiliser imports as an attempted coup. What else needs to be done to cut off supply channels?
What tricks do dealers resort to, and what do they promise to gullible counterparties? A real case
Despite numerous anti-russian sanctions, goods originating from russia are still present in the Ukrainian markets. This applies to nitrogen fertilisers, in particular. Of course, their suppliers try to conceal the true 'homeland' of such products.
russian fertilisers are mainly directed to Ukraine through those CIS countries that have the most crucial raw material for their production – cheap natural gas, and therefore, significant export volumes. It has been known that they are delivered from Uzbekistan, Georgia, Turkmenistan, Azerbaijan, and Kazakhstan. These countries 'disguise' russian fertilisers with their packaging, stamping counterfeit certificates without any qualms. In such a way, they help the aggressor country bypass international sanctions and smoothly sell the products all over the world – there are no import bans on fertilisers from these countries in Ukraine or elsewhere.
In Ukraine, the monopolistic producer of nitrogen fertilisers is Dmytro Firtash's Group DF, which used to compete openly with russian imports in Ukraine before the full-scale invasion. However, nowadays, the company states that russian fertilisers are being imported under counterfeit certificates of origin by dozens of different legal entities. According to Oleg Arestarkhov, Group DF's Communications Director, these proxy legal entities, through which fertilisers are imported from russia, are constantly changing. In other words, quite sophisticated schemes are being applied.
Mind has learned the details of one such scheme and spoken to representatives of law enforcement and regulatory agencies to find out what is being done at the state and agency level to stop the flow of grey russian imports to Ukraine.
What scheme is being referred to? Based on the materials available to Mind, OSKAR OPTIMA LLC, registered in Kharkiv, ordered the delivery of 2,207.5 tonnes of carbamide-ammonia mixture through the port of Constanța in Romania from the company Agro Chain General Trading LLC, registered in Dubai, UAE. The cargo was delivered by the barge DDS1. On April 4, 2023, Odesa Customs stamped the corresponding shipping document, and the fertilisers entered Ukraine.
However, customs officials seized this production on suspicion that it actually originated from russia.
Moreover, on April 17, OSKAR OPTIMA company, on behalf of its director Valeriy Andriushchenko, sent a commercial proposal to traders and potential consumers. In this proposal, they offered to purchase urea and ammonium nitrate mixture i (UAN) in a quantity of 3,000 tonnes at a price of 17,000 UAH per tonne on FCA terms at the port of Izmail, provided 100% payment is made. For those who preferred to purchase UAN on CPT terms, the Kharkiv-based company proposed paying a 10-20% advance, with the final payment to be made before the goods' delivery to the destination.
The OSKAR OPTIMA offer includes the country of origin of the goods – Turkmenistan, and the manufacturer – the Garabogazcarbamid plant, which belongs to the Turkmenhimiya state concern. The signature on the certificate of origin, attached to the business proposal, was made by the head of the laboratory of the Garabogazcarbamid plant.
Mind attempted to get a comment from Valeriy Andriushchenko regarding how he ended up delivering russian fertilisers to Ukraine under the guise of Turkmen ones. However, he did not respond to the calls.
What is known about the company? OSKAR OPTIMA LLC was founded on 15th March 2019, and its registered location is in Kharkiv. The authorised capital is 10,000 UAH. The owner and director of the company since 16th February 2023 is Valeriy Andriushchenko. In February 2023, the company changed its specialisation from wholesale trade in grain, unprocessed tobacco, seeds, and animal feed to wholesale trade in chemical products. In 2022, no financial statements were submitted, or the company did not operate, as it had no income or profit. The taxpayer certificate is not cancelled. On 27th June 2023, the Kyiv Court of Appeal left under arrest the documents of OSKAR OPTIMA LLC, and a vessel from Romania that was transporting them, containing russian fertilisers.
What do customs officers say? The State Customs Service of Ukraine (SCSU) has refused to comment on the details of the investigation into the detained batch of UAN from the OSKAR OPTIMA, citing the confidentiality of the investigation. "We inform that disclosure of information mentioned in Article 11 of the Customs Code of Ukraine will result in the responsibility of customs officials," the response to the request by Mind stated.
Meanwhile, the Security Service of Ukraine (SBU) confirmed that the supply from the Andryushchenko company indeed came under investigation. "The circumstances you mentioned are being investigated as part of a criminal proceeding," the SBU replied to Mind's inquiry. "To ensure that those involved do not evade responsibility, pre-trial investigation information remains confidential and is not disclosed," the SBU stated.
Is this incident isolated? From a competent interlocutor within the law enforcement agencies, Mind found out that the episode involving the supply of russian nitrogen fertilisers 'undercover' is part of an investigation being conducted under Article 109 of the Criminal Code of Ukraine, "Actions aimed at violent change or overthrow of the constitutional order or seizure of state power".
For example, this includes creating unauthorised military or armed formations with the specified purpose, seizing buildings belonging to government authorities, de facto establishing illegal authorities, spreading materials calling for violent change of power. In other words, according to the investigation's version, Valeriy Andriushchenko's business with russian fertilisers could have been used to finance a private army or group in order to organise a coup against the existing Ukrainian government.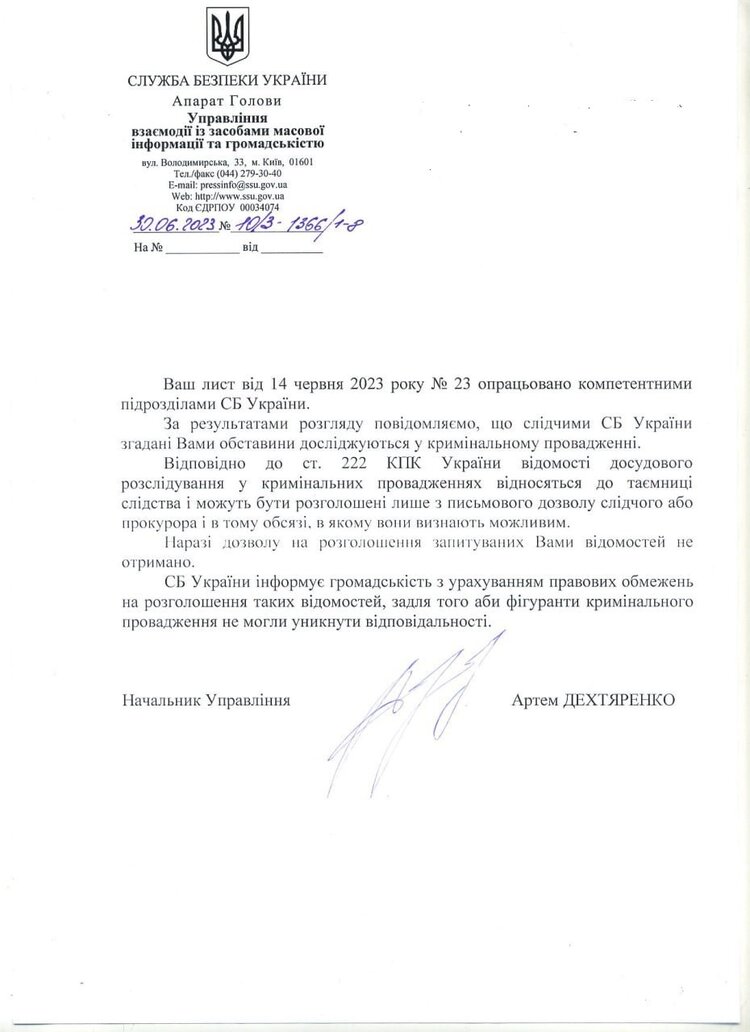 In the State Customs Service, we were informed that during 2023, customs officers compiled five protocols for violations of customs rules. These pertained to forged documents for the passage of mineral fertilisers.
"During this period, customs officials identified five cases of mineral fertilisers crossing the Ukrainian customs border in sacks bearing labelling with 'made in russia'," said Sergiy Zviagintsev, the Acting Head of the State Customs Service. According to him, based on the five compiled protocols, customs officers seized goods with a total value of $3.7 million. The confiscated fertilisers were placed in the customs warehouse pending the resolution of the case in court.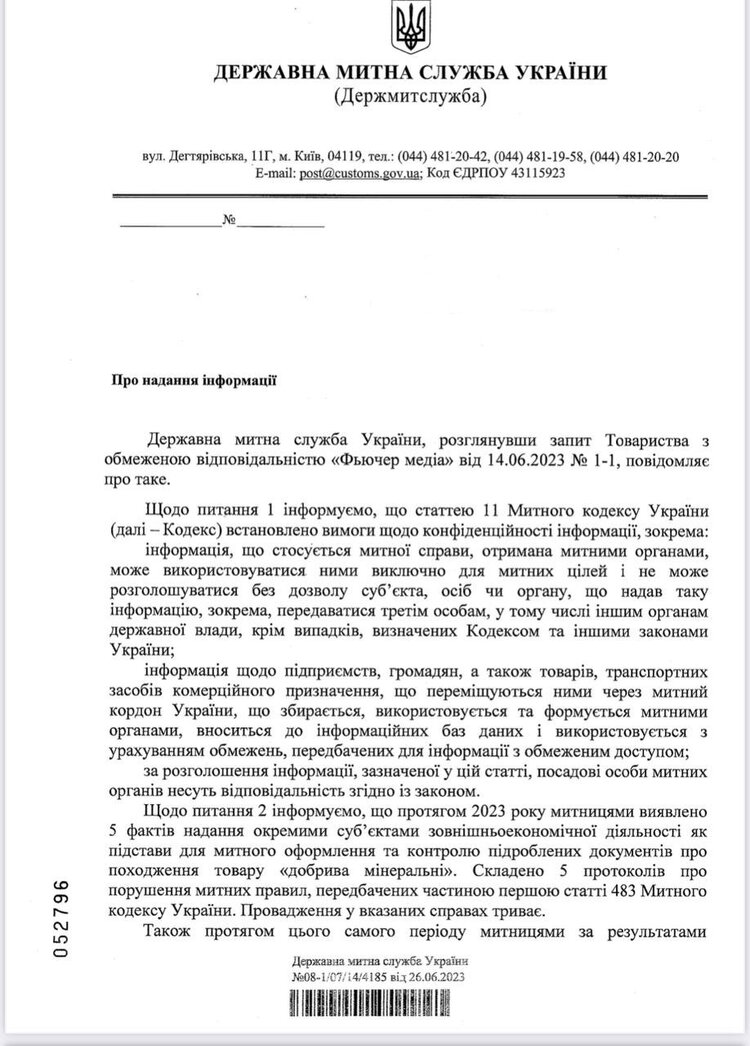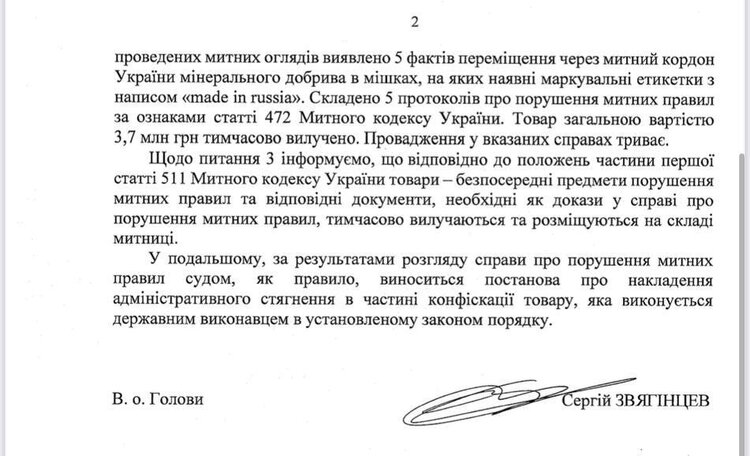 Zviagintsev clarified that in the future, after considering the case, typically, a decision is made to impose administrative penalties, and a state executor confiscates the goods in favour of the state.
How to deal with such schemes? Members of the Verkhovna Rada's Committee on Financial, Tax, and Customs Policies are well aware of the supply of 'disguised' russian fertilisers to Ukraine and are highly knowledgeable about the supply schemes. "Mineral fertilisers originating from russia can be delivered to any country, where the certificate of the country of origin can be altered with forged documents, and then we receive these mineral fertilisers as if they were from some other country," states the chairman of this committee, Danylo Hetmantsev.
Despite this, he believes that imposing customs duties on russian goods from CIS countries is an unacceptable step, and he assigns the leading role in combating fertiliser supplies from russia to the Security Service of Ukraine (SBU).
"The Security Service needs to thoroughly investigate the supply of goods that are traditionally russian. These include fertilisers, fuel, and raw materials that can be imported from the russian federation. All of this must be scrutinised, and the documents must be verified with the country from which it is seemingly being imported. If it is found to be russian, then this product should be confiscated," believes Hetmantsev. Currently, this is how things are being done in Ukraine.
From January to May 2023, 70.6% of all imported urea (270,000 tonnes), 21.3% of the UAN (48,600 tonnes), and nearly 10% of all imported saltpetre (33,000 tonnes) were from CIS countries. Around 20% of these imports are believed to be from russia, according to Group DF, owned by Dmytro Firtash.
Therefore, the success of protecting the Ukrainian fertiliser market from russian imports will depend on how effectively, professionally, and, most importantly, systematically the law enforcement agencies work to close these distribution channels.
"In this case, it largely comes down not to some separate special operation of the SBU or the customs, but to how capable Ukraine really is of defending its interests," believes Oleg Arestarkhov.
Thus, the scale of the problem demands greater determination from the State Customs Service and the Security Service of Ukraine. It is evident that government decisions are needed to close the loopholes for russian fertilisers and other goods that are being directed to Ukraine through roundabout ways from other countries.
If you have read this article to the end, we hope that means it was useful for you.
We work to ensure that our journalistic and analytical work is of high quality, and we strive to perform it as competently as possible. This also requires financial independence. Support us for only UAH 196 per month.
Become a Mind subscriber for just USD 5 per month and support the development of independent business journalism!
You can unsubscribe at any time in your LIQPAY account or by sending us an email: [email protected]