The Prime Minister of Portugal visits Ukraine and provides 250 million euros of financial aid
António Costa shares his impressions of visiting Irpin on his Twitter page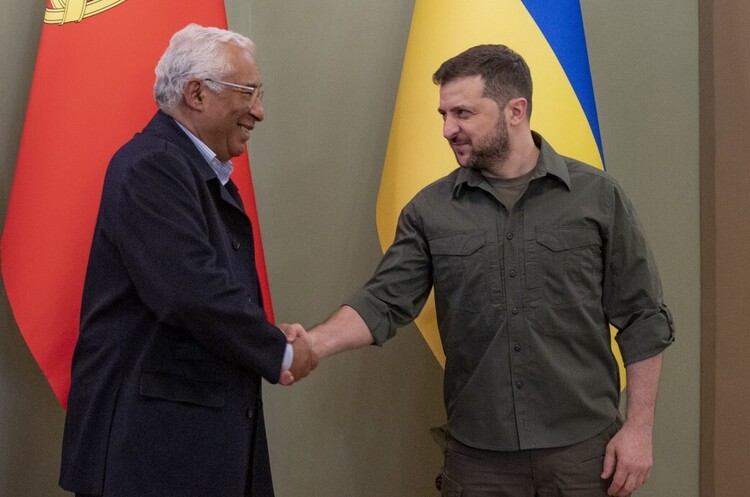 The President of Ukraine Volodymyr Zelensky met with the Prime Minister of Portugal António Costa, who arrived in Ukraine on a visit of support.
This was the first visit of the Portuguese Prime Minister to Ukraine, and it was quite symbolic that António Costa visited it on Europe Day, because the Ukrainian people are defending the independence and freedom of all Europeans, said Volodymyr Zelensky.
Portugal will provide up to 250 million euros of financial support to Ukraine. The Prime Minister António Costa signed the relevant document during his visit to Kyiv, the Prime Minister of Ukraine Denys Shmyhal said in his Telegram channel.
The first financial aid of 100 million euros will be sent this year to maintain macroeconomic stability during the war and economic recovery.
On his Twitter page, Costa posted photos from the meeting with the President of Ukraine, having written: "I met with President Zelensky today. Portugal stands unequivocally with Ukraine and we are committed to further deepen our humanitarian, financial and military support."
During the visit, António Costa visited Irpin, that had suffered from the russian bombing. He wrote about this on his Twitter page: "I will never forget the visit to #Irpin. The levels of destruction and violence are completely devastating. I testified the evidence of vicious, indiscriminate and unjustified attacks. War always affects innocent people. Families that had their lives here, their jobs, their neighbourhood, had to abandon everything to try to save their lives. What impresses me the most is violence against civilians."
During the meeting with the President, a wide range of important issues related to the defense of Ukraine was discussed, including further defense assistance. Attention was also paid to the issue of prosecuting russian war criminals.
"We agreed to further increase the sanctions pressure on the aggressor. The key issue now is the sixth package of sanctions against Russia, which must include an embargo on Russian oil, oil blends and petroleum products. We appreciate Portugal's understanding that Russia is using all this to put pressure on Ukraine and a united Europe," Zelensky emphasized.
The interlocutors also discussed European integration of Ukraine. "We hope that the state vote of Portugal will be in support of our country on the status of a candidate for accession to the European Union during the consideration of this issue at the European Council in June," said the President.
Stay tuned for business and economy news on our
Mind.ua