90% of Ukrainians donate to the Armed Forces, every second saves on leisure – Deloitte survey
According to the survey, 71% of citizens boycott goods related to russia
Deloitte in Ukraine has conducted a study "Consumer sentiment of Ukrainians after the full-scale invasion". According to the study, more than half of Ukrainians have started saving more often on leisure and taxis – 55% and 66% respectively.
This is stated in the Deloitte report.
It is reported that 90% of respondents said they would donate to help the Armed Forces and/or victims of the war. Most help from time to time, one in five respondents do it systematically, and one in four – sometimes.
71% of respondents stated that they boycotted goods from manufacturers or sellers who remain on the russian market. Despite this, the study says, every fifth respondent is neutral about it.
"Since the beginning of the full-scale war, Ukrainians have started saving more and shopping less often. Depending on the category of goods, 47% to 86% of respondents save money," the document says. At the same time, Ukrainians save the least on medicines, and one-third of respondents have increased spending on this category of goods.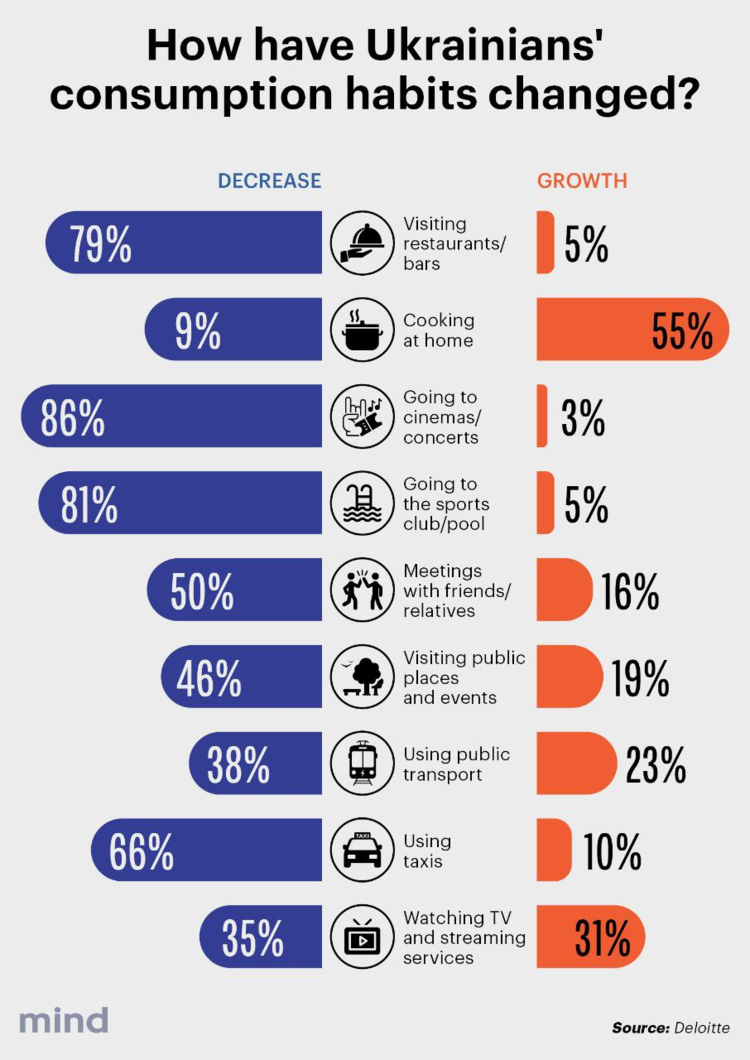 One in three began to spend less on food, the report says, and more than half said they were willing to save on food. This is most common among residents of the northern regions (80%), and least common in the western regions (65%). The study says that 58% of Ukrainians buy food as a strategic reserve.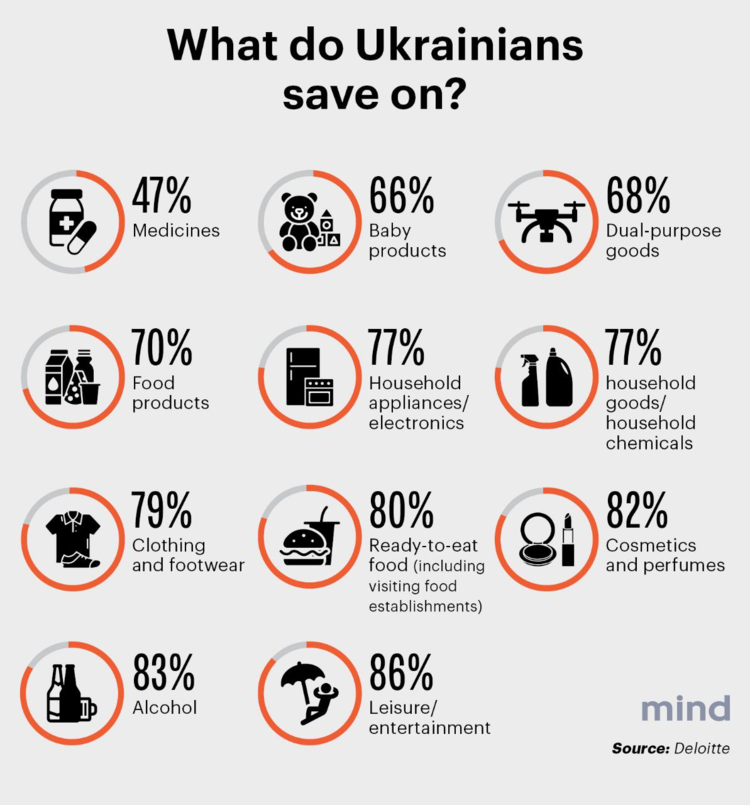 The majority of Ukrainians prefer offline stores, in particular, because of the opportunity to see the goods, but the share of such buyers has significantly decreased from 83% in 2021 to 55% in 2022.
"The choice of certain categories of goods and shopping activity was significantly influenced by the forced change of location. In view of this, citizens with IDP status are the leaders in terms of the average check size in most of the surveyed segments and the frequency of purchases," the company says.
The online survey was conducted from 30 November to 7 December 2022, with more than 1,100 respondents aged 18 and over from all regions of Ukraine (except for the respondents from the Autonomous Republic of Crimea and other temporarily occupied territories, as well as those who are temporarily displaced abroad).