Czech Republic to grant Ukraine a license for production of CZ BREN 2 assault rifles
Czechs will also help Ukrainians to establish ammunition production
The Czech Republic will grant Ukraine a license to produce CZ BREN 2 assault rifles.
Source. This is stated in a statement by the Czech Ministry of Defense.
In particular, on Friday, September 29, Deputy Defense Minister Daniel Blazkovec took part in the first-ever International Defense Industry Forum in Ukraine, which was held under the patronage of Ukrainian Defense Minister Rustem Umerov, Minister of Strategic Industries Oleksandr Kamyshyn and Foreign Minister Dmytro Kuleba.
In his speech, Blažkovec clearly stated the government's position that the Czech Republic's support will continue until Ukraine's final victory.
On the sidelines of the forum, the deputy also discussed with the Ukrainian side current joint projects at various stages of development, as well as the possibility of starting cooperation on new projects.
Among the main so-called flagship projects are the transfer of production of the Bren 2 Sich assault rifle from Česká zbrojovka or a small-caliber ammunition production line from Sellier & Bellot.
Other joint projects include the production of solid polymer ammunition for large-caliber ammunition, which is an innovative solution in times of raw material shortages.
For example, cooperation in the production of armored vehicles, infantry fighting vehicles, or the supply of special Tatra chassis was discussed.
Last but not least, cooperation in the field of self-driving cars and related technologies looks very promising.
"Our support has changed from the level of military assistance and supply of end products to long-term intensive defense-industrial cooperation involving not only our armies but also defense companies, both public and private. However, we want to develop this cooperation even further," said Deputy Defense Minister Daniel Blazhkovets.
He added that a common theme should be, and to a large extent already is, the discussion of technology transfer and the creation of joint ventures in Ukraine, which the Czech Republic fully supports, as evidenced by projects with Ukrainian partners.
As a result, the parties agreed that the Czech Republic would transfer to Ukraine a license to produce CZ BREN 2 assault rifles.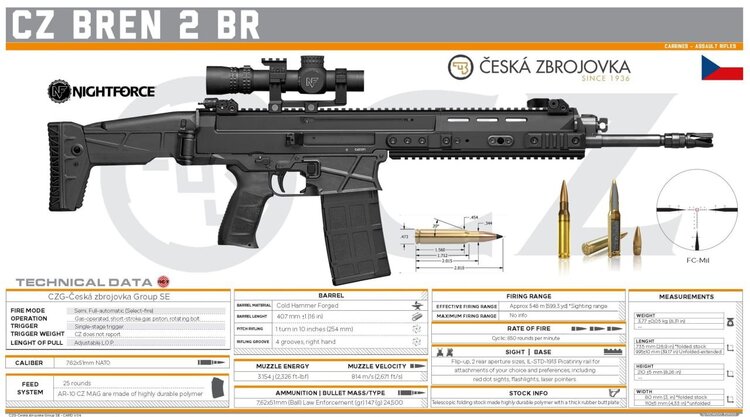 In addition, the Czechs will also help Ukrainians establish ammunition production. This project will be implemented by Sellier & Bellot.
The first International Defense Industries Forum (DFNC1) was held in Kyiv on September 29. It brought together 252 companies from over 30 countries.
The forum was attended by manufacturers of tanks, artillery, drones, ammunition, developers of innovative software, and owners of unique sophisticated technologies from partner countries. In addition, Ukrainian state-owned and private enterprises of the defense industry joined the forum.
During the forum, President of Ukraine Volodymyr Zelenskyy announced the creation of an alliance of defense industries and a special fund in the defense sector.