Medical investment: where Ukrainian pharmacy needs support
What factors can attract foreign capital into the industry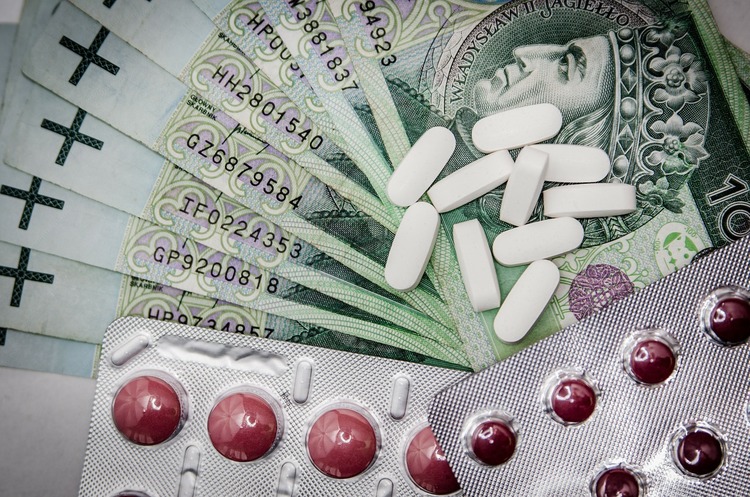 There's another positive turn on the cyclic Ukrainian pharmaceutical market. After a three-year-long crisis, last year the situation tended to improve even in dollar terms. If one takes a long-term period, the cycles are not so obvious – the growth hasn't stopped for the past 10 years.
Thus, over the 10-year period from 2007 to 2017, the volume of pharmaceutical production in Ukraine increased from UAH 3 billion to 26 billion, and from $665 million to $1 billion in dollar equivalent. In spite of the fact that, in general, the purchasing power of the population declined enormously, from $3,069 GDP per capita in 2007 to $2,986 in 2017.
As part of our special project "Ukraine is attractive. Pharmaceuticals," the Mind has prepared a thorough analysis of the factors that can attract foreign investors into the industry.
Innovation at the edge. Why is it important to talk about pharmaceuticals in the context of investment attractiveness of Ukraine? "In developed countries, this industry is a leader in creating added value and investment in R&D. Sales and production growth is only possible with the creation of a strong research database," says Gennady Chizhikov, President of the Ukrainian Chamber of Commerce and Industry.
According to the European Federation of Pharmaceutical Industries and Associations (EFPIA), which collected data about their investment in R&D from 2500 companies from around the world, in 2015 the pharmaceutical and biotech companies spent about 15% of their net volume sales on research and development. It is more than in any other industry. For example, software and IT development take only the second place with 10%. Hardware and computer production with 8% take the third place, and the fourth one goes to the automobile industry with 5.9%.
At the same time, in the regional context, the added value distribution created by the pharmaceutical industry shifts towards developing countries. It means that investment in the development of pharmaceuticals in such countries is growing faster than in developed countries. "IT has recently become the leading exporting industry in Ukraine. But in IT we mostly sell our competencies, whereas when it comes to a pharmaceutical industry there is an opportunity to sell products with high added value because we have a very good production base," says Alexander Mamunya, Partner at Aequo law firm.
Regional distribution of added gross value produced by pharmaceutical industry, %
Source: EFPIA
So there is an opportunity for Ukraine to lead in this process. We have really good chances. Ukrainian pharmaceutical production is considered to be one of the most developed among all post-Soviet countries. There are 115 industrial pharmaceutical companies operating there, and their products are exported to 80 countries. So, what does this industry look like in the eyes of Ukrainian and foreign investors, and what positive and negative factors affect this impression?
Unoccupied niche. "We must admit, it has been much easier to enter the Ukrainian market for the past few years. But if the doors are open, it does not mean that you will come in easily. You need a reason," says Vitaliy Gordienko, Chairman of the Board of the Association of Innovative Pharmaceutical Manufacturers. Today the Association consists of 16 companies. All of them are foreign manufacturers, and produce mostly innovative drugs, says Gordienko. In general, there are no more than 20 of such companies in Ukrainian that represent leading global pharmaceutical companies.
"This figure has remained almost the same for many years. Of course, we are doing our best to spread the word about how promising Ukraine is for their products. But, unfortunately, we still do not look very attractive from the economic point of view," he notes.
Original drugs are the most costly products among the prescription drugs. In developed countries, they make a major part of the pharmaceutical market, as opposed to over-the-counter-drugs, as they are called in the West.
Market structure of some countries from the view of prescription and over-the counter medicines, 2014
Source: dolcera.com
It's not the same in Ukraine. People here prefer self-medication, and the state's participation in consumption of drugs is little. Almost 90% of the market is out of pocket, which means that the costs are covered by consumers.
Ukrainian medication market, bln UAH
Source: magazine «Apteka»
The structure of medication sales in monetary terms, %
Source: magazine «Apteka»
Multiplying this factor by the extremely low level of solvency of the population, we will get the lowest level of consumption of medicines per capita per year in the region (among Europe and CIS countries).
Medicine consumption in some countries, $ per person
The share of innovative pharmaceuticals in Ukraine is no more than 9% of the total market, which in 2017 amounted to $2.1 billion, says Gordienko. "On the other hand, low consumption of drugs per capita in Ukraine compared to developed countries demonstrates a high potential for growth of this market," says Ihor Nikiforchin, Director of Development at Darnitsa Pharmaceutical Company.
The main driver of this growth is hidden in the hospital segment, in other words in the centralized consumption of drugs, usually realized at the expense of the state budget. There's a hope to increase the state's share on the pharmaceutical market, in spite of the fact that it has only fallen down recently. First of all, after many years of empty talks, the state has launched pilot projects on reimbursement of some drugs. Last year it was 750 million UAH. One billion is going to be spent in 2018. Besides, according to the new medical reform laws, the share of public expenditures on health care should be increased up to 5% of GDP. In previous years it did not exceed 3-4%.
Aside from economic factors, there's a weak patent rights protection in our country, which prevents leading players of the global pharmaceutical market to come to Ukraine, admit the representatives of such companies. The laws needed to protect intellectual property are passed, but they do not work as they should. Those companies that face a violation of their patent rights will have to defend their interests in court during a long period of time. Moreover, some legislative initiatives considered at the moment may result in further worsening of this situation in case they are accepted.
The cost of progress. Why don't we develop our own innovative drugs if the production of pharmaceuticals in Ukraine is so good? We do, but very little. "99,9% of domestic drugs are generic or traditional," they say in the Association. "Yes, there is still very little R&D in the pharmaceutical industry of Ukraine. But we have about 3 or 4 dozens of patents in the US, China, and other countries," adds a representative of Darnitsa. According to Ukrpatent, companies that have patents in Ukraine are Darnitsa with 60 patents, of which 25 are valid, Farmak with 62 and 20 respectively, Borshchagovsky CPP with 49 and 19, Lekhim with 8 and 5, Biopharm with 4 and 2, and some other pharmaceutical manufacturers. On the other hand, most of them are about old drugs, so it would be fairer to relate them to traditional ones.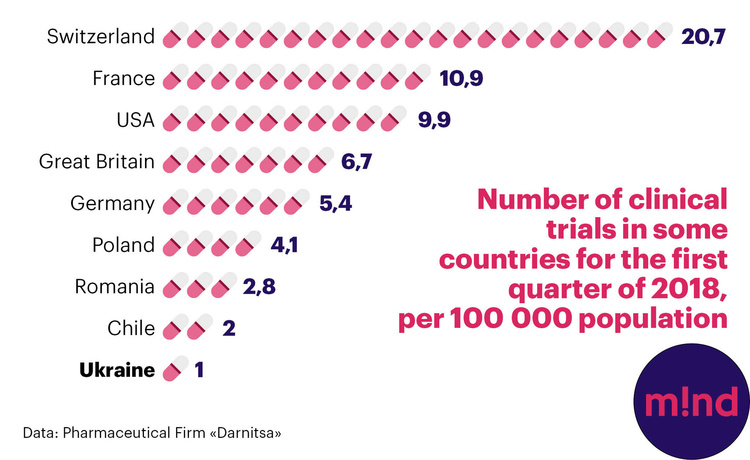 "At the moment, the investments needed to create a single molecule may reach $ 1 billion and more," explains Ihor Nikiforchin. But if we take into account that not all invented pharmaceuticals are accepted throughout the world, then the costs for the approved molecule seem extremely high. According to Evaluate Pharma and PwC, the average cost for the five-year period from 2007 to 2011 was $ 4,2 billion per one molecule. Over time, the entire process from the goal setting to the approval and the launch of the drug can take up to 12 years.
According to the EFPIA, one-fifth of these investments, which make a significant part, is spent on preclinical studies, i.e. non-human research. Almost half of the budget is spent on a three-step clinical research. Where the third step is the most important and includes working on effectiveness, safety, and optimal dose.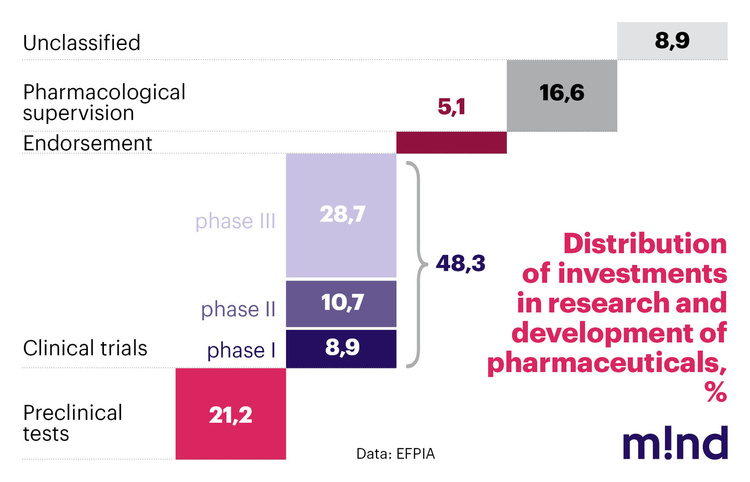 But of course, most pharmaceutical companies do not spend so much money on the production of medicines. The production of generics, i.e. drugs with expired patents, requires much less investment and gives the opportunity to reduce the steps of both clinical and preclinical studies. According to ARK Invest, $4 to $8 million, and three to five years are required to create and start selling such a drug. Such investments do not give as high returns as those that relate to biotechnology, the most complex and modern segment of innovative pharmacy. However, the return on investment is bigger compared to traditional "big pharma", i.e. companies that invest mainly in new chemicals.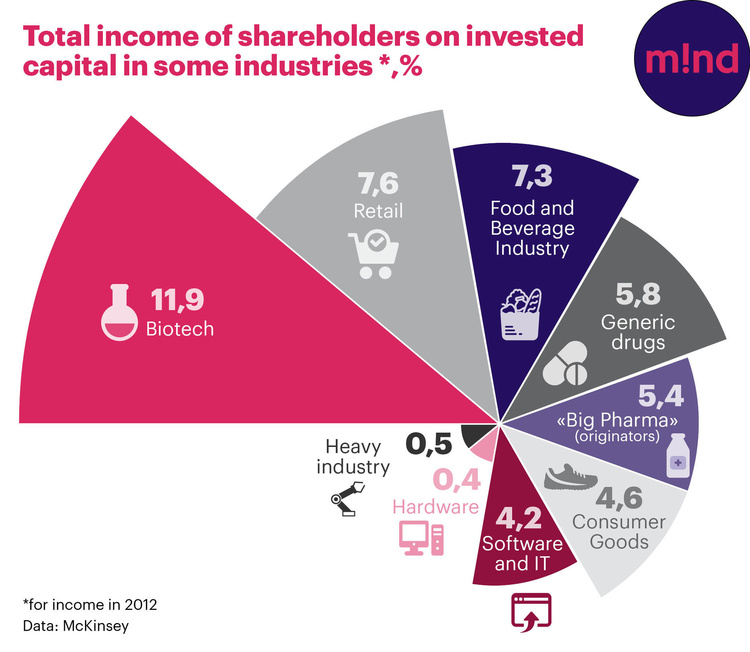 In recent years, the revenues of big pharmaceutical companies have decreased even more because of the so-called "patent gap", i.e. the expiry of patents for many original drugs that had brought over $ 1 billion in the period from 2013 to 2016. It became a great opportunity for Ukrainian companies to bring their own generics to the market, and fill the niche left by the manufacturers of the original pharmaceutical.
At the same time, the production of generics for Ukrainian companies remains a costly process, say pharmaceutical manufacturers. "Only the cost of research on bioequivalence, which shows at what extent this generic drug corresponds to the original drug, can range from UAH 2 million to 4 million," says Nikiforchin. He claims that Darnitsa invests 10% of its gross revenues in its own R&D. The net income of the company in 2017 amounted to UAH 2.53 billion.
Pharmaceutical manufacturers agree that the most efficient way to earn in Ukraine is to produce generics.
Moreover, there's a general trend in the world, especially in developing countries, to stimulate the production of drugs with an expired patent, in order to reduce personal and state expenses on health care. According to PwC's forecast for the market growth until 2020, patented drugs will play a minor role in the growth of pharmaceutical sales on emerging markets.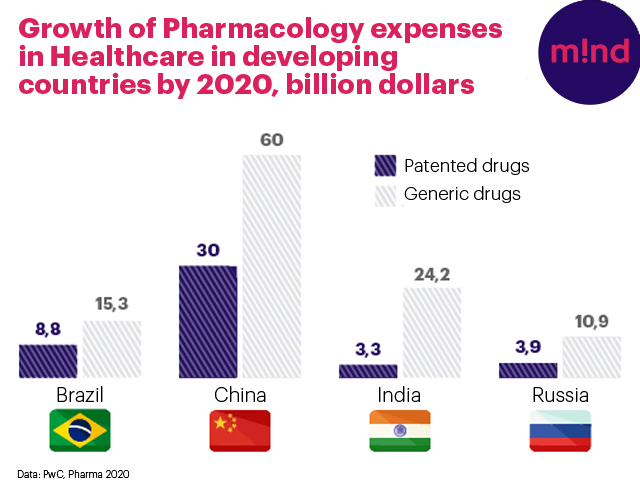 But Gordienko reminds us that for a number of complex and rare diseases such as oncology, HIV, etc., there are no generics, whereas the most expensive biotechnological drugs show the most effectiveness.
"Native" investments. According to the State Statistics Committee, Ukrainian pharmaceutical industry shows high growth rates of capital investments. It is 18% over the past seven years against a more modest average of 13% for other industries. Moreover, the capitalization was growing even in the crisis period of 2014-2015. While with the foreign direct investment the situation is getting worse, its volume has shrunk.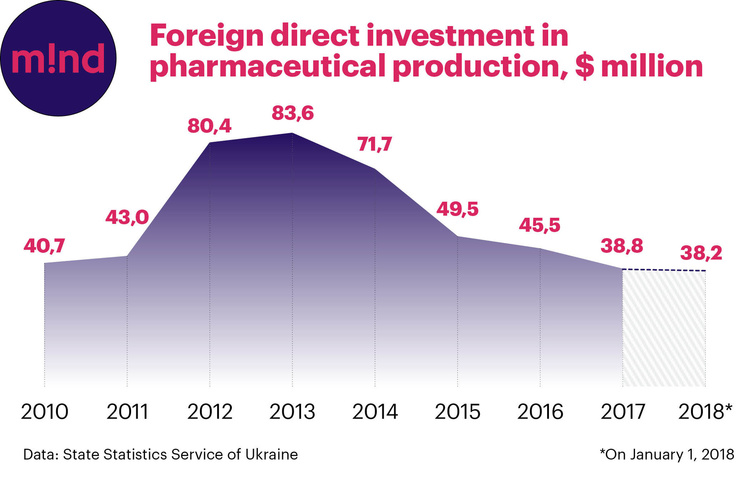 What do Ukrainian manufacturers invest in? First, during the last 10-15 years, significant sums have been spent on switching to European standards of GMP, i.e. Good Manufacturing Practice. In their interviews to the Mind, the manufacturers say that it cost them $ 6to 10 million. This was required from Ukraine based on new international agreements with the EU, which allowed companies to sell their products to the EU. Secondly, companies were investing in the modernization of production, the purchase of modern production lines for their traditional drugs.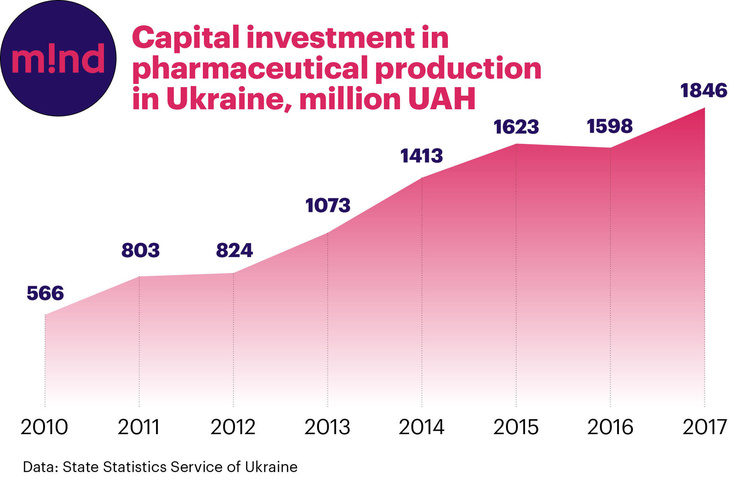 Thus, Borshchagovsky CPP is modernizing its plant to produce tablets and pills. Investments should amount up to UAH 317 million until 2019. Darnitsa spent 20 million euros on the creation of high-tech production of infusion solutions.
Moreover, companies take advantage of the "patent gap" and try to bring new generic drugs to the market. "Now we have over 100 products at various stages of development. We thoroughly monitor what drugs are losing patents in order to add them to our portfolio if they become unavailable in Ukraine. We allocate money to develop drugs for our main diseases, such as diabetes, cardiology, and respiratory diseases. We actively work with neuralgia and psychiatry and, I hope, soon we'll expand by the production of new drugs for female health," says Philia Zhebrovska, the Head of the Supervisory Board of Farmak, in one of his recent interviews.
Representatives of Darnitsa claim that they have 20 drugs at the registration stage, and 66 more at different stages of development.
"Perhaps, foreign companies for some reason are not yet ready to start their production. But there are, for example, licensing tools, which, in my opinion, are very underrepresented in Ukraine," argues Alexander Mamunya. Darnitsa has already understood it. "For example, we do not have a complete cycle for creating any interesting product. It takes a lot of time and money to do it. Another option is to pay the copyright and start to produce under the license," explains Nikiforchin.
For a foreign partner, it is an opportunity to get a simple access to a fast-growing market. For the Ukrainian company, it is saving resources. "First of all, time. It is a key success factor on the generic market. The faster you enter the segment, the faster you can get profit. All the rest get the crumbs from the table," says the representative of Darnitsa. He says that the company is just beginning to test this model and is currently working on signing several of such licensing contracts.
Pharmacists should unite. But the interest in cooperating with foreign partners is not limited to this. Ukrainian companies would like to cooperate with them in terms of obtaining production technologies and organizing training on innovative technologies to their staff. "The localization of production in Ukraine is first of all interesting for manufacturers of generic medicines. This is due to the specifics of our market, mentioned above. Several of such manufacturers even built their own production facilities in our country. As for the manufacturers of innovative medicines, such initiatives mostly concern licensing agreements with existing Ukrainian producers," says Vitaliy Gordienko.
The Kusum Pharm in Sumy is a good example of factory, which was built almost from scratch by the Indian businessman Rajiv Gupta. In 2005, he bought a disused warehouse and founded a factory there. In the late 1990s, the Czech company Lab Pharma built Pharma Start factory near Kiev, which was in 2015 bought by the Swiss company Acino Pharma. Both companies produce generic, mainly over-the-counter medications.
Among partially localized productions, there are the joint project of insulin production by Farmak and the American company Eli Lilly (until 1998 the cooperation was limited to the production of packaging, and since then it became a full cycle), and the production of Pentaxim vaccines by Pharmex Group in Kiev area with the help of French company Sanofi.
The production of the anti-retroviral drug Aluvia invented by the American company Abbott was possible due to the involvement of the Indari plant from Kyiv. In 2011, the manufacturer of prescription drugs Lumiere Pharma established production of innovative immunobiological drugs for patients with hepatitis, lymphomas, lymphatic leukemia, breast cancer and arthritis in cooperation with F.Hoffmann-La Roche Ltd.
So far, it's more about rare cases than a trend. "But if our companies are going to meet high standards of potential partners, that they are already trying to do, then foreign companies will happily cooperate. And local manufacturers will thus increase the efficiency of their own intellectual developments, and grow in cooperation with their more experienced Western partners," says Alexander Mamunya.
He is confident that it is impossible to be just a market where one could sell their product. It's important to care about own production. "We need to create added value sooner or later. And pharmacy gives us a chance to make it sooner," summarizes Alexander Mamunya.
If you have read this article to the end, we hope that means it was useful for you.
We recommend you to join the Mind Club. To become a member, you need to subscribe for $7 per month.
Your support is very important to us!
Why do we introduce paid subscription?
High-quality and independent journalism takes a lot of time, effort and is expensive – it's really not cheap. But we believe in the prospects of business journalism in Ukraine, because we believe in the prospects of Ukraine.
That's why we are creating a paid monthly subscription – Mind Club.
If you read us, if you like and appreciate what we do, we invite you to join the Mind community.
We will develop Mind Club: the amount of materials, available services and projects. As of today all the existing members of the club:
Help to create and develop quality independent business journalism. We'll get the possibility to continue empowering and improving the quality of our materials.
Visit a website – without any banner ads.
Get access to Mind's «closed» materials (a monthly issue where we explore and analyze how entire industries are doing; and weekly analytical summaries).
Free access to Mind Invest Club events for subscribers, and special terms – for other Mind events.
Smart Power. Business owners who become Mind subscribers will get access to a system violations aggregator from Mind and Skazhy.ua analysts. If your business has problems with dishonest officials or competitors, we will analyze whether their behavior is systemic, and together we will be able to solve this problem.
We will continue to develop Mind and add useful rubrics and services for your business.
We work to ensure that our journalistic and analytical work is of high quality, and we strive to perform it as competently as possible. This also requires financial independence. Support us for only UAH 196 per month.
You can unsubscribe at any time in your LIQPAY account or by sending us an email: [email protected]
Stay tuned for business and economy news on our Telegram-channel
Mind.ua
Related stories