Tom Horn Gaming: Thinking out of the box
What the company does
After the legalization of gambling business, Ukraine has become attractive not only to lottery and gambling operators but also to online games developers. Notably, it's more than just a cradle of talents. Mind has talked with the representative of Tom Horn Gaming, a European company specializing in online slot games with teams scattered in Slovakia, Malta, Ukraine, and India. Despite the fact that the company is a European leader in slot games development, there is little information about Tom Horn Gaming in Ukraine. Mostly, it comes from three channels: specialized web portals dedicated to gaming, online casinos, and recruiting websites. Mind has approached Irina Astronomova, the head of Tom Horn Gaming's team in Kyiv.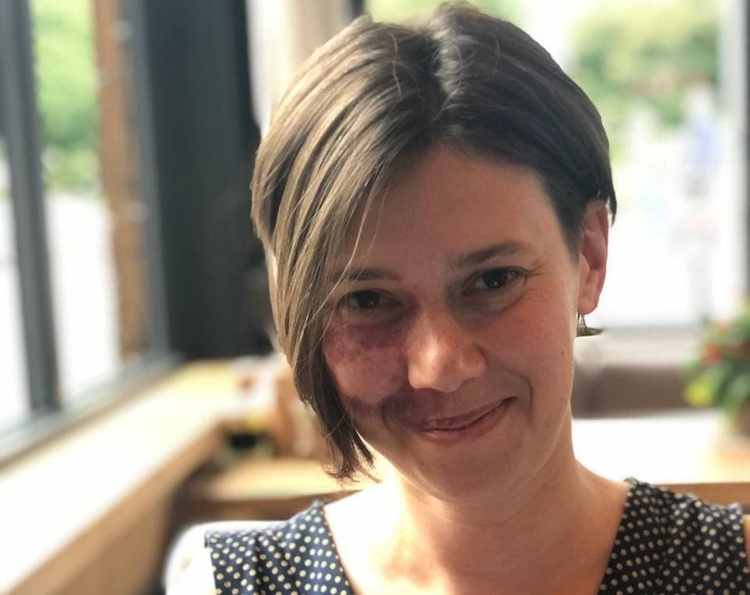 - Tom Horn has been present in Ukraine for 4 years already, but there is hardly any information about it beyond the gaming content. Does the company specialize in casino slots only?
- We're an igaming software solutions supplier with more than 10 years of experience across international markets. Our main focus is on the video slots vertical where we offer a wide range of engaging titles, including bespoke content solutions. Apart from in-house developed content, we also offer 3rd party products.
The igaming industry is known for limitless opportunities when it comes to technology and innovation. Companies make sure they work and employ top notch professionals – from artists and mathematicians to marketers and developers – in order to develop and offer products, which make them excel in this fast-paced industry and be ahead of the competition. At Tom Horn Gaming, we pride ourselves on working with the best talent. Many exceptional professionals are from Ukraine.
- You started with VLTs, didn't you?
-Yes, we did, but we switched to online games almost immediately. We were among the first companies to operate in this sphere and decided to concentrate on it. Our CEO Ondrej Lapides is an open-minded person. He is constantly looking ahead and analyzing the latest technological innovations and trends. This gives us an edge on the competition and contributes to rapid company growth.
- How did you come to consider Ukraine? Was it because of our pool of tech talents in the first place? Or did you rather look at it as a new and promising market? Or maybe for other reasons?
- Ukraine boasts highly qualified tech specialists, therefore it was a natural move to look for new colleagues in this country. Ukrainians are well-known in the igaming industry, praised not only for their expertise in the tech and art sector, but also for their hard work and dedication.
In the beginning we primarily viewed Ukraine as a talent powerhouse. Now that the country opens up its online gaming market and introduces a new regulatory framework, which will secure a safe and transparent gaming environment, we are ready to increase our presence also as an igaming content supplier.
- What sets Tom Horn apart from other online casino games?
- We are a small but committed team of like-minded individuals. Being experienced gamers ourselves, we strive to create unique games that would appeal to the most sophisticated game fans. To attract the attention of such audiences, we need to offer something superb, something that will help our partners stand out from the crowd. And this is where our custom content solutions come in. We work closely with operators, listen carefully to their needs, analyse player behaviour, and based on this we tailor games for our customers to help them distinguish their offering from their competition and boost their revenues.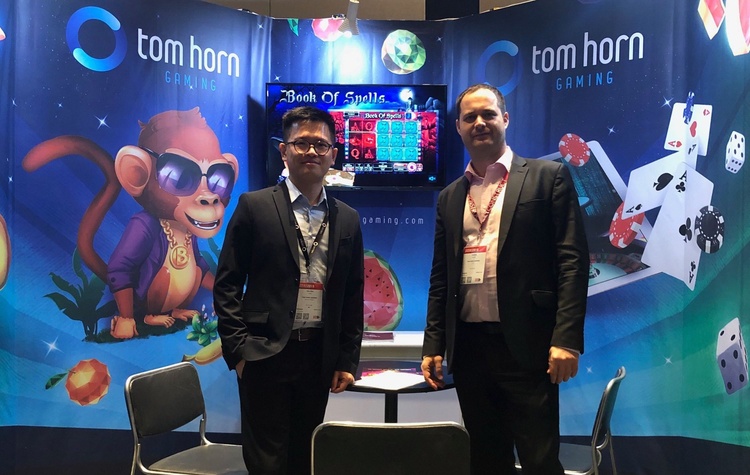 So far, our bespoke and branded titles have enjoyed high popularity among our operator partners and their players. In addition, a unique collaborative culture is deeply rooted in our company mindset, therefore we collaborate with our business partners on product development whenever possible. It further enhances our collaboration with our clients and enables us to go the extra mile when developing the content that resonates with our partners and their customers.
- Your mission claims "We never sit idly by and rather take the lead in exploring limitless future possibilities to make the products that dazzle and go beyond the experiences of today". What's in these words for you?
- We constantly search for new possibilities, new ways how we can drive the igaming industry forward and create games not only for players of today but also of tomorrow. Open-minded people, able to think outside the box, with a thirst for innovation and desire to explore untapped realms of technology are the ones we're constantly on the lookout for to join our team. We have an open culture, therefore anyone who knows how to optimise or improve our processes or products is welcome to come forward and bring their ideas to the table. To be heard and appreciated for innovative and creative thinking is very empowering for our employees. So we have chosen innovation as our main approach to business.
Every slot game targets a specific audience. For this, we carry out profound market research and try to foresee the future technology trends. This way, we are ahead of the curve and provide added value to our customers.
- How would you define your place in the Eastern and Western European market?
- We can confidently say that Tom Horn belongs among tier 1 game developers. The games we create are unique for each country and operator. Firstly, we have an individual approach to our clients. We always take into account the local and individual peculiarities, which helps us create content that hits the sweet spot of players in various geographies whilst being appealing to different needs of our operator partners. Secondly, we have a specific goal-oriented approach to every game we develop. Every game features a unique concept, story and soundscape, with features and game mechanics carefully devised to enhance the overall gaming experience. Sometimes we reuse tried-and-tested approaches to game development when we see players enjoy them. However, we always bring some new twist or unusual spin on these concepts to make sure every new game is unique. We always understand what we do, why we do it; we know both the operator and the target audience. Every slot is carefully evaluated – from ideation to its development. We have a strong team of talented game producers who constantly come up with brilliant ideas for new fantastic games, therefore there are a lot of concepts we can choose from.
- So, you take into account the local trends while developing a new game for a specific country?
- Yes, we do. However, what really matters are local and cultural preferences of markets we create our games for, not necessarily the latest trends. We care about our players and want to treat them to games they will love to play. That's why you can find a wide range of titles in our portfolio – from good old classics, to more complex slots.
- Can you think of some peculiarities that are characteristic of a specific region? What are Ukrainian players known for?
- Just like any traditional players in Eastern Europe, Ukrainian players are rather conservative. To keep them interested and engaged, we will be rolling out some new exciting features which we believe are sure to keep them on the edge of their seats throughout gaming sessions. On top of that, we are coming up with new visual concepts which are more in line with the aesthetic liking of a new generation of Ukrainian players. While a few years ago, Ukrainian gamblers preferred classic slots with 'vintage' 90's look, these days they're after something visually more immersive and exciting.
- Do you mean that you are taking a Ukrainian player to a new level?
- We always strive to provide unforgettable gaming experiences to all of our players irrespective of where they are based. This ultimately means pushing the boundaries of gaming and bringing a new generation of games to the table.
- You have a large team, right?
- Fairly big I can say. Around fifty people scattered in about eight countries and counting.
- And what about your competitors?
- It's hard to compare. There are big companies out there, but they mostly make some classic games and overall choose more traditional approaches. We, on the other hand, have opted for innovation and constant optimization. We look for new hires who relate to this principle of innovation and technological excellence. Our people should be open-minded not just in terms of communication but primarily in the way they perceive new ideas, technologies, and challenges. We choose those who crave achievements and growth.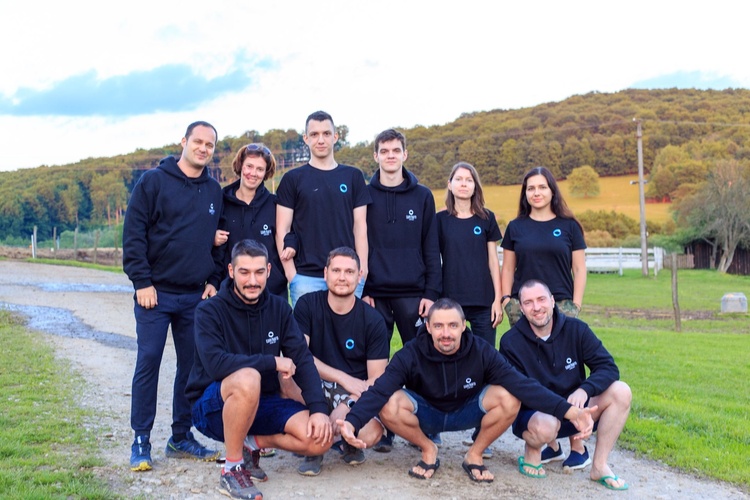 In return, we create a stimulating atmosphere: every contribution to the project counts, each suggestion is considered. Our employees always seek opportunities for improvement, which is why Tom Horn is constantly growing instead of watching the world go by.
We value people who want to commit to our common goals and grow together with the company, so we look for them all over the world and choose them very carefully.
- Recruiting websites mentions engaging math models. Can you dwell on this aspect in more detail? Who finds them engaging – developers or the end users?
Math is an important part of every game. It creates the excitement and the overall dynamic of a gaming session. It must, however, be in line with current regulations to provide a safe gaming experience.
Recently, gambling industry has been under close scrutiny: all processes should be absolutely transparent and clear to the end user, without any hidden payments. Our products fully comply with this approach, each game is certified in the country it was created for.
Thus, we mostly talk about the math models being engaging for the players. However, developers find them interesting to work with too.
- Game reviews published in West European resources also mention high quality visuals and sounds. How do you manage to focus on everything at once?
- We want to come up with premium content rather than some round-of-the-mill games. This is the approach of our company, not only in game development but also in the way we work and who we work with. We do not settle for anything ordinary and always aim at the best – be it games or people. Put simply, premium content requires outstanding skills. This entails high quality in all aspects – from math models to visuals. We want the user to have an immersive experience, which is impossible without decent graphics and sounds, whereas math is the basis for an engaging gameplay. Thus, we have to combine it all together.
- In Ukraine you work in partnership with Parimatch. Why them? Are you picky when it comes to partnerships?
- Each client is different in their own way, and we have an individual approach to everyone. However, some of our clients have become our long-term friends as they share our values and principles in terms of workplace ethics, fair play, and corporate social responsibility. Our relationship with Parimatch is an example of such friendship. We are absolutely on the same page. Parimatch is a forward-looking and innovative partner that takes corporate social responsibility very seriously. Engagement and support of community or societal goals is very important, especially to the gambling industry, which is constantly under scrutiny by local governments. It is important we all take the lead and are active in promoting safe and responsible gambling. This is exactly where we see eye to eye with Parimatch, as both our companies have always been involved in the promotion of a transparent, safe, yet entertaining gaming environment.
Parimatch are great to work with: they generate lots of ideas and utilise a careful and responsible approach to both marketing of their products and development of new solutions. In general, they are very particular about their advertising campaigns: they are always educational and targeted at the right audience. We really appreciate that.
- Can you tell us about your projects for the Ukrainian market? As far as I know, you develop slot games for different countries, using their national 'things'.
- First of all, we appreciate that the Ukrainian government has passed the law that legalises the gambling and online casinos in the country. It is a very important step to creating a regulated, transparent and safe gaming environment for players. From the business perspective, this new regulatory framework means we can expand our business to a new market with a high potential.
With Parimatch we have been working in other markets for a while now. Not so long ago we developed a game for Belarus. Remember, there was a currency nicknamed 'zaichiki' ('Bunnies')? Together with Parimatch, we created a game named Beastie Bux. Its visuals and story revolves around a set of old Belarusian banknotes. The game was released in July and ever since it has been enjoying high popularity among players in Belarus and further afield.
- All foreign reviews describe Tom Horn Gaming as a young and dynamic company. Where can we see this dynamic? Perhaps in the sales or the geography of the markets you have ventured into? Is there any peculiarity to this dynamic when it comes to the gambling market?
- Since our inception we have been steadily growing. Our growth increases every year as we push into new markets and seal new content partnership deals. We pride ourselves on growing together with our operator partners. Novel, high quality gaming solutions, excellent customer support, commitment to customer satisfaction contribute to our success, which has been acknowledged by a number of industry award nominations and accolades. For example, this year we have so far been shortlisted for EGR B2B Awards and International Gaming Awards, prestigious gaming awards that celebrate the best providers in the online gaming industry. This is indeed a great achievement we are all very proud of. Of course, this is not our first award. We have already won prizes in Central and Eastern European Gaming Awards, Southern European and Baltic and Scandinavian Gaming Awards among many others.
- Do you feel pressure from the competition? Marketing, head hunting, etc.?
- iGaming is a highly competitive industry – from game development, to marketing and human resources. One must constantly keep abreast of the latest trends and developments if they want to succeed and be ahead of the curve. This is especially true about game development where we must act quickly to get the game out as soon as possible. We can come up with a great idea, but we have to develop, implement, and test it before others. Some ideas are simply floating in the air.
At the same time, the industry is known for rogue head hunting practices. At Tom Horn we find this unacceptable. We have developed our corporate culture, created space for personal growth with a unique atmosphere for our employees to feel comfortable and feel content at work.

These are not just perks and bonuses but principles deeply embedded in our work culture. Fair play and culture of transparency are not just empty words but these are the principles we share and follow as a team.
We are also an environmentally conscious company. We use recycled materials when building our stands at exhibitions. Before the pandemics when we had physical offices, they were 'green' offices as recycling is a natural part of our lives. Apart from green activities we are active in a number of social projects – e.g. helping less fortunate individuals to get back on their feet, or supporting homes for orphaned and abandoned children. Social responsibility is intertwined in our company culture and we are always eager to take on a new project that can help shape a better community and society.
We also cooperate with Parimatch Tech in their social responsibility projects. They are very comfortable to work with and we're always excited to take part in their projects.
- You have mentioned that you are planning to increase your presence in Ukraine. Can you shed some light on this? What kind of game will it be? Which local peculiarities have inspired Tom Horn?
- Now we are working on the concept, so I'm afraid we are not ready to reveal any details yet.
Stay tuned for business and economy news on our
Mind.ua