Five Must-Know Cloud Insights for an SME CEO
Moving IT infrastructure to the cloud has helped streamline business processes for many prominent brands. However, this does not mean that only giants like Netflix, General Electric or Airbnb benefit from cloud computing. SMEs can utilise the cloud to become more agile and competitive, optimize IT expenditures and improve customer experience
We have gathered the most important points about clouds. These tips will help you understand cloud capacities and benefits compared to on-premise infrastructure for companies that do not have IT as their core activity. Thousands of Ukrainian businesspersons have already opted out for cloud infrastructure.
Andrii Mykhailenko, Colobridge Director of Operations:
"Ñloud services market in Ukraine is developing in sync with the world market, although it lags behind the latter in terms of volume and proliferation. According to a study by Networks and Business, the total cloud services sales in Ukraine in 2020 amounted to USD 55.9 million. Even despite the impact of the pandemic, the corporate segment has seen an annual increase of 24%. Our observations also confirm these data. Over the past few years, Colobridge has seen a dramatic increase in the number of consultations provided on how to move company services to the cloud. Previously, there used to be more requests for a public cloud, yet now the business is interested in implementing complex solutions with building private clouds and distributing them to different data centres for greater IT infrastructure fault tolerance."
Businesses can choose the cloud to meet their needs
In order to deploy IT infrastructure, it is enough for most SMEs to rent virtual resources in the cloud via IaaS ("Infrastructure as a Service" or public cloud). Under such a modality, the provider allocates a certain amount of resources to the client: processor power, RAM, storage, and a data transmission channel. Also, the service provider purchases, configures, maintains, and upgrades hardware and maintains the cloud operations itself.
The client receives a ready-made virtual server meeting the requirements of his business applications. The site to host IT infrastructure is ready in a few hours, making the public cloud a perfect choice for start-ups and companies that urgently need computing resources. Businesses that have many offices or extensive chain stores are moving their main office processes to the cloud in order to centrally manage them.
Cloud enables flexible response to changing demand
Some business applications experience uneven loads. Online stores can hardly cope with the influx of buyers on Black Friday; as too many people want to buy tickets for the upcoming blockbuster, cinema ticket service crashes.
If such surges in demand are inherent to your IT infrastructure, it is the cloud that will help you cope with them. You can request the resources you require at any time and get them almost instantly. After the demand levels off, you can come back to the configuration you used to have before the surge.
On-premise IT infrastructure does not enable such flexibility in responding to load changes. In order to process increased client activity for several days or weeks, the company will have to purchase and further maintain hardware that will be used the rest of the time, which is not the most feasible option in most cases.
Multiplex, a Ukrainian cinema chain has hosted its centralized ticketing system on Colobridge platform and is now rapidly rolling it out in new cinemas. Moving to the cloud helped create a favourable environment for business digitalization, improve user experience and quickly increase the volume of resources in response to surges in demand, e.g., on the eve of highly anticipated premieres and seasonal holidays..
Cloud will ensure corporate data security
Because of legal restrictions and old notions about the cloud, some managers are still reluctant to move their IT infrastructure to the cloud as they are apprehensive about data safety and security. In fact, the resources used by different clients are insulated from each other. Contrary to popular myth, it is impossible to access other customers' resources in the cloud; moreover, providers use a wide range of modern solutions that help avoid data loss (for example, creating backups) and make sure there are no interruptions in services provided.
Colobridge platform is located in two data centres connected by an extra network ring. It makes sure that services still operate under normal conditions even after one of the network connections fails.
The provider concludes an SLA with customers. It is an agreement on the scope of services provided that warrants data availability. Cloud service provider commits to providing services at the level of availability set forth and bears financial responsibility for any breach of warranties.
Cloud enables moving from capital expenditures to operational expenses
Purchasing servers, network and other hardware, as well as licensed software, are all capital expenditures (CapEx) to maintain local IT infrastructure. For a business, all these are spent for some things to get in the future as a business will actually benefit at a later point in time.
According to McKinsey 2020, cloud infrastructure can help reduce manufacturing, supply chain management and marketing costs by 10-20%, and up to 10% costs related to procurement, development and after-sales support: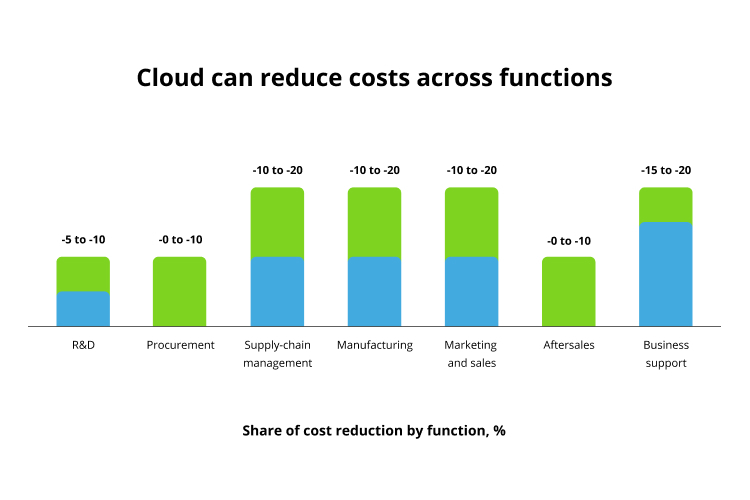 Cloud modality enables moving from capital expenditures to operating expenses (OpEx) when the company pays only for the computing resources it needs at a particular point in time. It no longer needs to purchase and maintain hardware; it will suffice to regularly pay a subscription fee to the provider.
Cloud provider will take on non-core IT tasks
If your company does not have IT as a core activity, delegate IT infrastructure maintenance to a cloud service provider. It is quite frequently that emerging tasks require diversified expertise, while there is not enough work to provide each staff member full or even part-time employment. After transferring business services to the cloud, you won't have to hire engineers and system administrators as part of your team; all their functions will be covered by the provider's staff. You will get access to in-depth IT expertise stemming from extensive experience. You will also reduce your IT infrastructure maintenance costs as you will only pay for services you have actually been provided.
Andrii Mykhailenko, Colobridge Director of Operations:
"Some CEOs still doubt that they really need to move their IT infrastructure to the cloud. We recommend you do this as soon as possible. It will take some time to choose a reliable service provider, develop a solution, and migrate. At the same time, the real value of cloud migration goes far beyond IT. The migration will most likely result in extra opportunities to promote your products and enhance customer experience. You will optimize business processes already running and will be able to develop new handy online services."