The year of unbreakable strength: How Internet providers tempered their networks during massive cyber and artillery attacks
Case studies from Ukrtelecom, Vega, and Datagroup-Volia tops
A year has passed since russia's full-scale invasion of Ukraine. Mind continues its Year of Unbreakable Strength project, analysing the impact of military aggression on various sectors of the national economy. This time, we're focusing on how Internet providers have fared during this period.
During the full-scale war, the fixed Internet became one of the most important services. Along with mobile communications, russian terrorists tried to destroy it not only through cyberattacks but also by destroying networks, equipment, and offices. However, there are several thousand Internet service providers in Ukraine. How many of them have temporarily lost their business? What are the dynamics of subscribers, revenues, and the number of employees?
The telecom regulator (the National Commission for the State Regulation of Electronic Communications, Radio Frequency Spectrum and Postal Services, NCEC) has not yet been able to answer these questions. As the agency explained to Mind, according to the laws On Protection of the Interests of Entities Submitting Reports and Other Documents During Martial Law or a State of War and On Amendments to the Tax Code of Ukraine and Other Legislative Acts of Ukraine Regarding Peculiarities of Taxation and Reporting During Martial Law, players must submit reports within three months after the termination or lifting of martial law.
"Considering the above and the fact that a certain number of business entities are located in the temporarily occupied territories or in the areas of hostilities, we do not currently have sufficiently complete and up-to-date information on the activities of electronic communications network and/or service providers for the reporting periods of 2022," the NCEC says. It hopes that by early April it will be able to publish a report on the development of the industry: "Providers... are sympathetic to our requests for regulatory reporting. Although the process of obtaining information is quite dynamic, its volume is insufficient to analyse the data and compare it with the same period in 2021."
So far, Mind can only roughly assume that the industry ended 2022 with an increase in revenues of about 10% to UAH 17.4 billion. Our editors took into account the dynamics of last year's figures, the rapid decline in turnover in the temporarily occupied territories, and the active transition of subscribers to more expensive optical tariffs. The business margin hardly remained at the pre-war level (on average, it was 40%): players had to invest heavily in restoring damaged equipment and purchasing batteries and generators.
The number of subscribers grew mainly due to the relocation of businesses to western Ukraine. However, the destruction of networks in the east and mass migration abroad offset this growth. Therefore, according to Mind's very rough estimates, there are currently about 7.5 million subscribers in Ukraine – households and legal entities.
The outlet asked the players themselves, large and medium-sized businesses, to tell about the war gains and losses. However, most respondents preferred to answer the editorial questions after the victory. For various reasons: unhealthy attention of tax authorities to the "survivors", unreasonable blocking of invoices, etc. So far, we are publishing stories of only a few companies.
What growth in subscribers and revenues did you expect at the beginning of 2022 and what was the result? The interviewed speakers recall ambitious growth plans. However, with the outbreak of war, many providers switched to bypass mode: they temporarily began to provide services even to those users who could not pay for them. For example, at the beginning of March, Kyivstar's Domashniy Internet provider had about 35%, or 420,000, of such subscribers. In the first nine months of 2022, the company's total operating income increased by 2.2% to UAH 1.409 billion, while the number of subscribers fell by 5.5% to 1.1 million (annual data has not yet been published).
Ukrtelecom CEO Yuriy Kurmaz says that before the outbreak of full-scale war, they planned to invest about UAH 1.5 billion in 2022 in projects that would soon have a commercial result.
Ukrtelecom actively supports the Ukrainian military. On the left is Yuriy Kurmaz
Photo: Ukrteleom
"We are talking about further significant modernization of telecom networks and IT infrastructure, replacing copper infrastructure with optical infrastructure, transferring subscribers to updated optical networks, and connecting new users. In 2022, as in the previous two years, we expected to grow the optical subscriber base and revenues from the optical Internet by at least 60% per year. However, russian aggression prevented these plans, so investments amounted to a third of the previously planned UAH 530 million. We invested in network development, which should be converted into new subscribers and new revenue. We also had to restore the infrastructure destroyed or damaged by the enemy," Kurmaz explains.
As a result, Ukrtelecom increased its subscriber base in the optical segment by more than 16.2% in 2022, which resulted in a revenue increase of more than 27% for the year. Overall, the company reduced its revenue by 15% to UAH 5.6 billion last year compared to 2021.
Vega initially expected a 34% growth in its subscriber base. The company ended the year with 20% growth. "We set ourselves very ambitious plans for the development of the Internet using modern GPON technology. We did not back down from them even after February 24. In April, we not only resumed the construction of the GPON network but also increased investments in this area. This technology proved to be a lifesaver during the war. Not only does it provide continuous communication to the end user without power supply, but it is also more resistant to accidents," explains Vega CEO Sergiy Skripnikov.
According to him, connecting users to GPON has become the main driver of subscriber growth. In 2022, almost twice as many subscribers were connected using this technology as in 2021, and the number of new connections exceeded expectations by 15%. "The annual revenue for 2022 is less than we expected at the beginning of the year. However, the company has managed to fulfil the main task of the year – to keep in touch no matter what. Thanks to the work of the team, more than 14,000 more homes now have the opportunity to stay connected even despite energy blackouts," says Skripnikov.
What is the damage caused by russian terrorists? According to the telecom regulator's calculations, in the first four months of the full-scale invasion alone, direct losses from damage to fixed and mobile networks reached $600 million. Now this amount is "somewhat" higher. How much more? Fresh data may be released by the regulator in early April.
Ukrtelecom is estimating the total destructive effects of russian aggression on the company at UAH 2 billion, including more than UAH 600 million in impairment of operating assets and loss of assets in the temporarily occupied territories. However, this amount is constantly being updated. "We have about 200 buildings damaged and more than 40 completely destroyed. Some of them are located in the occupied territories. It is quite difficult to assess the damage, but we will do it and demand reparations as part of the lawsuit filed by our main shareholder and investor Rinat Akhmetov with the European Court of Human Rights," says Yuriy Kurmaz.
According to preliminary estimates (excluding subscriber lines and replacement of customer equipment), Vega's losses amount to over UAH 40 million. "We cannot determine the exact scale due to the lack of information on the number of lost sites with equipment in the temporarily occupied territories. We are constantly recording all cases of damage and destruction of the company's telecom infrastructure and other assets. We are ready to carry out restoration work as soon as the opportunity arises. Often, in order to quickly restore the lost connection, specialists start working as soon as they receive the appropriate permits from the State Emergency Service, the Ministry of Internal Affairs and the Armed Forces," says Skripnikov.
Which of the emergency solutions were the most successful? The interviewed speakers talk about several priorities. At Vega, the first decisions were related to the team and subscribers. "Almost instantly, we switched most of our employees to remote work. This way, people could take care of their safety and the safety of their loved ones. Of course, critical telecom infrastructure cannot be maintained without the physical presence of specialists. I am grateful to my colleagues for their courage, responsibility and dedication to the common cause. From the first minutes of the invasion, we have been in constant communication with the team: frequent (and most importantly, open) communications through all corporate channels, including video messages from managers explaining further actions," recalls Sergiy Skripnikov.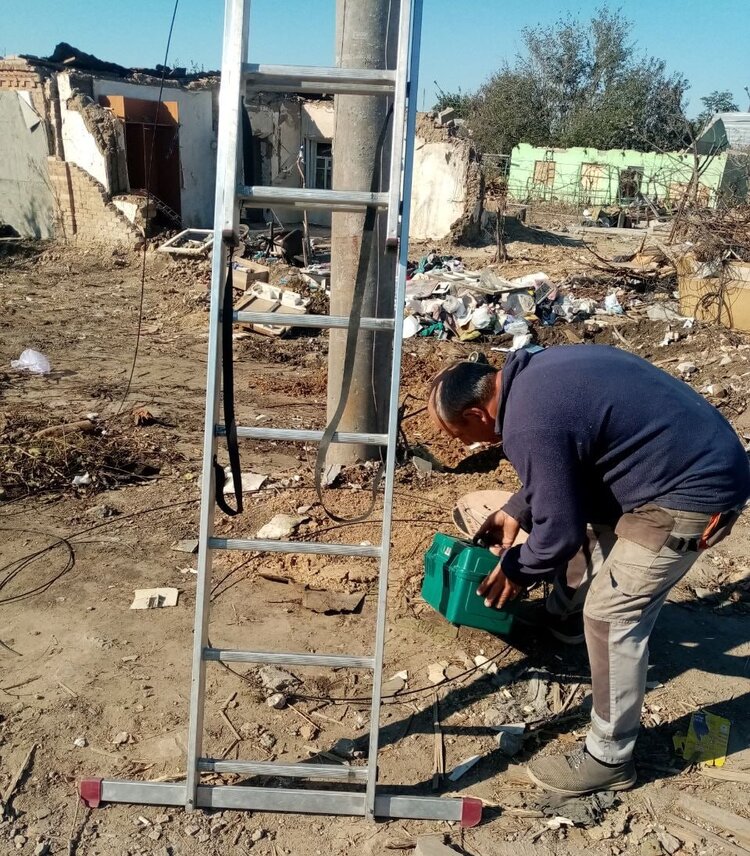 Фото: Vega
And he adds that in the first days of the war, they organised the payment of salaries to employees in advance. Then, they provided financial assistance to restore damaged housing to colleagues whose homes were damaged by enemy shelling.
In March and April 2022, Vega provided services to its subscribers free of charge. "We realised that a large number of customers had left their homes due to the military invasion. In these cases, our specialists monitored traffic and put all services on hold, notifying the customer in advance. That way, subscribers could be sure that their money was safe on their accounts and they would not have to pay for services they did not use," explains Vega CEO.
At Ukrtelecom, the main focus in the first months of the war was to protect its staff and save the company. "Prompt decision-making was crucial. When the great war broke out, we made daily adjustments to our forecasts based on the previous day. Then we switched to weekly planning, and managed to plan for a month at most. The main focus was on communication stability. Before the full-scale war, we had a two-fold backup of channels, but in an extremely short period of time at the beginning of hostilities, we had to double the reliability of the network and reach four-fold backup. This was to provide reliable service to both the Armed Forces and critical infrastructure facilities, as well as to our subscribers," Kurmaz explains.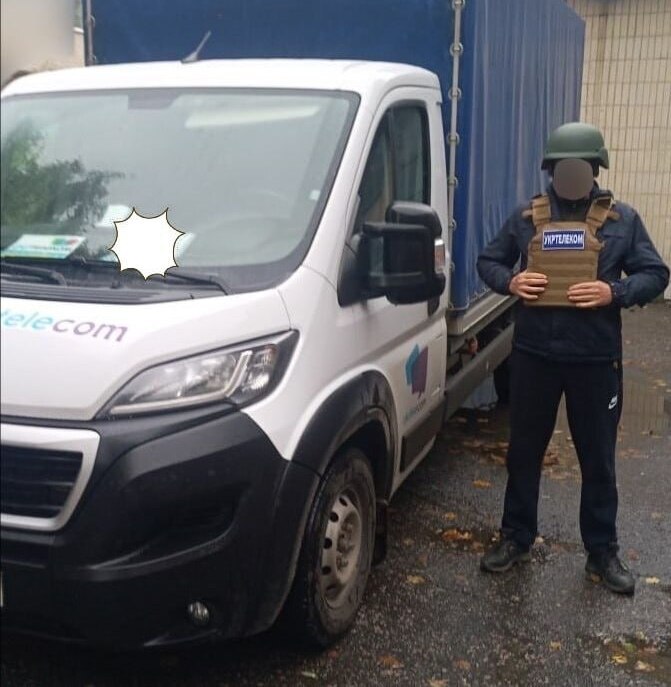 Photo: Ukrtelecom
He recalls that these times were both a test and a test of synergy and solidarity for the entire industry. Former competitors joined their efforts, supporting each other with the resources of their own networks. Foreign partners also came to the rescue. All issues and problems were resolved extremely quickly, at a military pace and without bureaucratic red tape.
What innovations would hardly have been implemented promptly if not for the war? Top managers gave many examples. Vega has automated notifications in case of network failures. "During the war, customers became especially sensitive to everything related to basic life needs: they needed to have food supplies, power banks charged, and, of course, communication devices must work reliably. So, thanks to the notifications, subscribers began to receive information about the existence of an accident and the timeframe for its elimination. We also introduced a system of discounts for customers based on an individual approach to each category of subscribers. We also lifted the time limit for the referral (affiliate) programme with codes for a free trial period of access to GPON Internet services," says Skripnikov.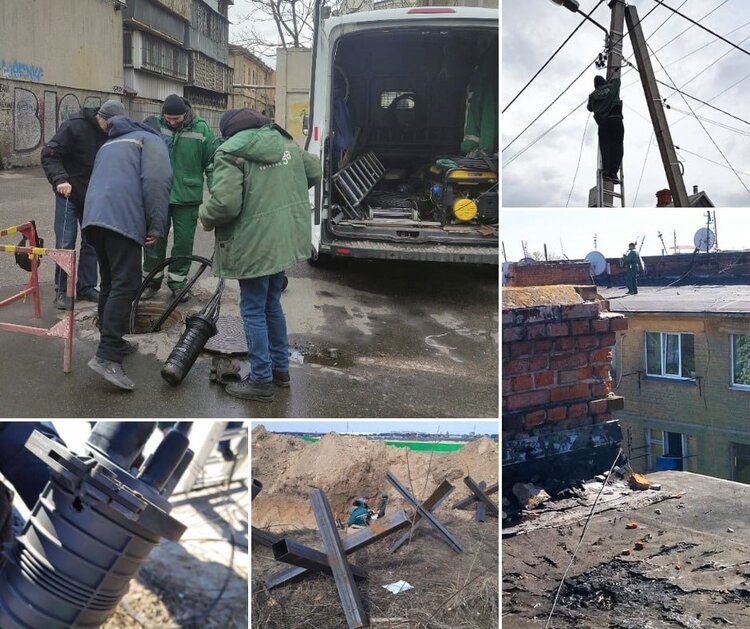 Photo: Vega
Another wartime innovation from Vega was the blocking of uncontrolled network segments so that the enemy cannot use it. "We have also become more forward-thinking – we have purchased additional generators and batteries, and regularly strengthen our defence against DDos attacks. We have become more flexible – using a three-month stock of access equipment, our colleagues managed to adapt the procurement system and ensure uninterrupted supply of everything we need in a short time," Skripnikov adds
Datagroup-Volia CEO Mykhailo Shelemba says that the war accelerated the merger of Datagroup and Volia networks. "During the war, the demand for network fault tolerance increased very rapidly, so we accelerated the modernization we are implementing together with Cisco. The project, which was supposed to take two years, was completed in almost 10 months. It involved building a network of additional redundant links with a total capacity of over 900 Gbps and installing 200 pieces of high-tech equipment, which more than doubled the fault tolerance of the core network. The bandwidth has increased 10 times," explains Shelemba.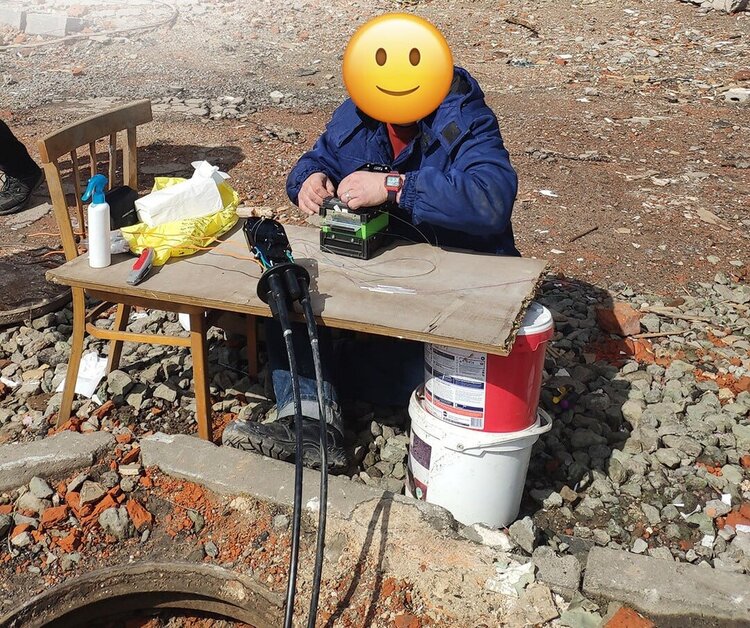 Communication is sometimes established in truly extreme conditions
Photo: Datagroup-Volia
Another Datagroup-Volia case is the energy independence of the network. The company has formed a fleet of 500 generators with a capacity of 5 kW to 1 MW and more than 30,000 batteries. The company spent more than UAH 70 million to purchase the equipment. The total capacity of the generators is already comparable to a small power plant.
The company also took the risk of opening a new niche abroad. "After the outbreak of a full-scale war, many people began to think about how to preserve their IT infrastructure. This was especially important in the first months of the invasion. If the infrastructure ended up in the occupied territories, the company could lose years of work. There are many other military risks that modern cloud technologies can protect against. That's why we decided to build a commercial cloud storage facility in Europe – in Frankfurt am Main," says Mykhailo Shelemba.
Due to the war, Ukrtelecom has significantly strengthened cybersecurity. "We used to pay a lot of attention to it, but with the outbreak of a full-scale war, the number of cyberattacks on our infrastructure has increased hundreds of times. On average, we repel more than 10 attacks a week to ensure uninterrupted service operations. The experience of our experts in analysing and forecasting attacks has increased significantly. We also received additional tools and strengthened cooperation with key cybersecurity vendors: Microsoft, Cisco, Palo Alto, Checkpoint, and CloudFlare. We also received free technical support, software, and the ability to use cloud services from Microsoft, Oracle, and Dell," Kurmaz says.
How do they expect to get through 2023? The great war's first year has tempered businesses and made them stronger both in operational management and technology. So the speakers have positive forecasts. According to Yuriy Kurmaz, the telecom market can expect a slowdown in the rate of decline in business margins this year. The fixed-line segment will see a slowdown in revenue decline both in the industry as a whole and at Ukrtelecom. "Given that we failed to implement our investment plans in 2022, we also expect a decline in revenues in 2023, but not more than 10%. Our plans for 2023 include local modernization of the copper infrastructure. Now, given the situation, we already have a new investment item – alternative energy sources," says Ukrtelecom CEO.
Vega plans to connect thousands of subscribers to GPON in 2023, increase investment in energy-efficient internet and modernise its networks. "The pace of work will increase significantly. This has already been noticeable since the beginning of the year, as people increasingly prefer reliable technologies and independent solutions," says Skripnikov.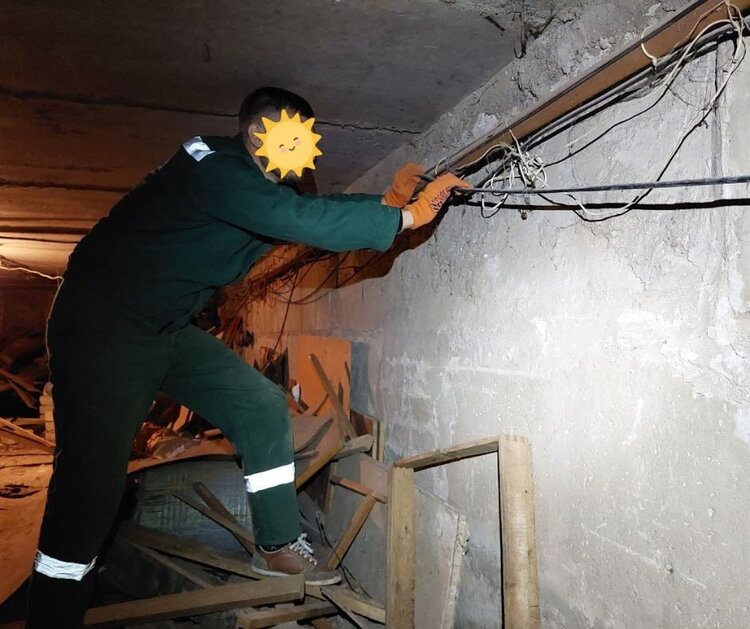 Photo: Vega
He adds that the company is increasing its capacity and resources (both human and technical) to provide GPON subscribers. Overall, they expect to go through this year confidently and boldly.
"We are confident because we feel responsible to thousands of customers who need communication under any circumstances. Despite active hostilities, shelling or any other invasions. This responsibility gives the entire Vega team not only the strength to keep going, to do their job, to restore and build, but also the confidence that this work helps the country's citizens in the most difficult period. The explanation is even simpler: just look at our engineers in Kharkiv or Mykolaiv, for example, who have not left the city for a year and are maintaining the network. I am proud to know these people personally," summarises Skripnikov.
Vega plans to connect thousands of subscribers to GPON in 2023, increase investment in energy-efficient internet and modernise its networks. "The pace of work will increase significantly. This has already been noticeable since the beginning of the year, as people increasingly prefer reliable technologies and independent solutions," says Skripnikov.
If you have read this article to the end, we hope that means it was useful for you.
We work to ensure that our journalistic and analytical work is of high quality, and we strive to perform it as competently as possible. This also requires financial independence. Support us for only UAH 196 per month.
Become a Mind subscriber for just USD 5 per month and support the development of independent business journalism!
You can unsubscribe at any time in your LIQPAY account or by sending us an email: [email protected]