Mayor of Vilnius: "My salary is 2200 euros per month. An urban bus or trolleybus driver earns the same"
Remigijus Šimašius speaks about the problems of a big city, budget revenues and expenditures, infrastructure modernisation and attracting investors
Remigijus Šimašius
Vilnius City Council Press Service
In late April, the "reign" of Vilnius Mayor Remigijus Šimašius, who has served two consecutive four-year terms, will come to an end. In 2015, he was elected with more than 60% of the vote (notably, it was the first direct mayoral election in Lithuania). And four years later, he repeated his success with 59% of the vote, leading the capital for the second time.
Along with his mayoralty, he was the leader of the Lithuanian Liberal Movement party, and then, together with Aushrine Armonaitė, the Minister of Economy of Lithuania, he founded the Freedom Party, with a pro-European and social liberal ideology.
Šimašius did not run in the recent mayoral race in Vilnius (Valdas Benkūnskas became the new mayor on 20 March), but he will continue to serve as the capital's mayor until the end of April.
Remigijus Šimašius has a law degree and a doctorate. He worked in the Andrius Kubilius government (2008-2012), holding the office of Minister of Justice for four years – and was, incidentally, the second youngest Minister of Justice in the history of Lithuanian law.
We met Remigijus Šimasevičius in Kyiv at the recent Ukrainian Tax Reform And Anti-Corruption Summit. We talked about his experience of managing a European capital – the problems of a big city, budget revenues and expenditures, infrastructure modernisation, attracting investors, as well as the social policy of the city hall, the nuances of urban development and communication with citizens.
On the reality of a European capital
– What are the key challenges of your city as a European capital today?
– Vilnius is quite successful. In our region, we are considered the second largest city in terms of investment and ease of doing business.
Startups headquartered in Vilnius raised 95% of total investment in Lithuania in 2022, with €227 million flowing into the capital's tech fledglings. The result has been an astonishing return on investment in the capital, with Vilnius' startups rising in value from €500k in 2018 to €8 billion in 2022 across more than 740 startups, including 3 unicorns.
In Vilnius, fintech is the single largest investment segment, with 110+ startups and a combined enterprise value of €537 million. The year 2022 broke the records for VC fintech investment in Vilnius, with €66 million raised, up 4.7x year-on-year.
However, the biggest area in terms of enterprise value is ICT, with 155+ startups valued at €5.6 billion. This includes more than 40 gaming companies with a combined value of €138M. Other notable investment nodes were lasers (30+ startups valued at €116 million) and biotech (20+ startups at €11M), both areas beating investment records in 2022..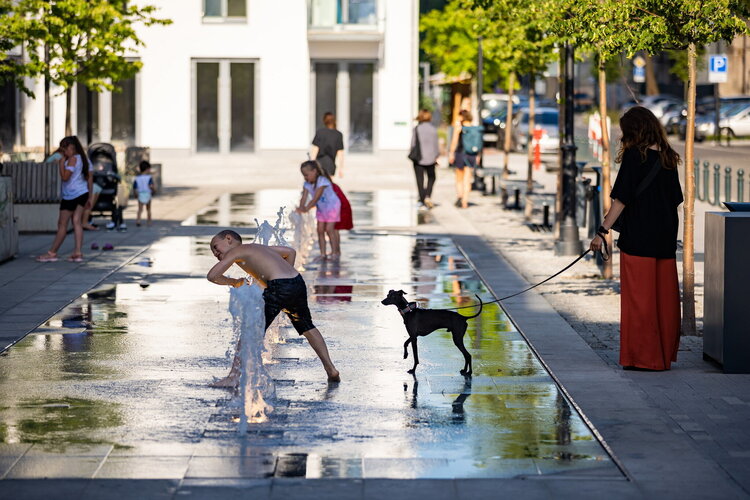 That's why when the EU surveys citizens on living conditions, Vilnius is always among the top five European cities.
However, we do have problems. First of all, they are related to the transport infrastructure. For example, a few years ago, there were only 25 km of bicycle lanes in the city, and now there are 150 km. We have rebuilt about 600 km of city streets – the lanes for motor vehicles have become wider and more suitable for faster driving. By the way, we record four times fewer accidents on these streets compared to other areas. In general, over the past five years, there have been 10% fewer accidents with human casualties in Vilnius. And there are four times fewer road accidents on the streets that have been rebuilt to Western standards.
The active process of de-Sovietisation is also in progress. It's not just about dismantling that era's monuments – that's the easiest thing to do and has been done long ago. The urban structure of the city was unfortunately damaged during the Soviet times. So now we have to reverse it all. First and foremost, we have to reconstruct the buildings to meet European standards. We started the process with streets and neighbourhoods (Soviet neighbourhoods cover 7-8 ha, while Western European ones are no more than 1 ha). Today we reconstruct Soviet schools and kindergartens. But we change their structure, not just renovate them. We have 10 Architectural Principles in urban planning.
On incomes and loans
– Name the three main sources of Vilnius' income. Are they enough to implement large-scale modernisations in the municipal economy and development programmes?
– In this year's budget, the top three revenues are: personal income tax – EUR 522 million, real estate tax – EUR 51 million, and local taxes – EUR 46.2 million.
– Do you take loans from international donors, for example, to modernise the water and sewage infrastructure, etc.
– Of course we do. For the transport system and other infrastructure of the city. For example, we started replacing all street lighting with LEDs a few years ago and continue to do it. Lighting should be comfortable first and foremost for pedestrians, and then for cars. By the way, I see a similar problem in Ukraine: motorways are usually illuminated, while pedestrian paths are dark.
The problem of urban wastewater was also significant for Vilnius. The climate in our region is getting warmer every year, and the rains are becoming more intense. While a few years ago every heavy rain in certain areas of the city was a problem, today the risk of surface water flooding the streets has been reduced substantially: whereas earlier rains disrupted traffic in seven capital's districts, now it is only in three (and another district will be prepared by the end of this year). The total cost of the EU-funded urban wastewater project is around €47 million. Great investments have also been made in residential heating innovations.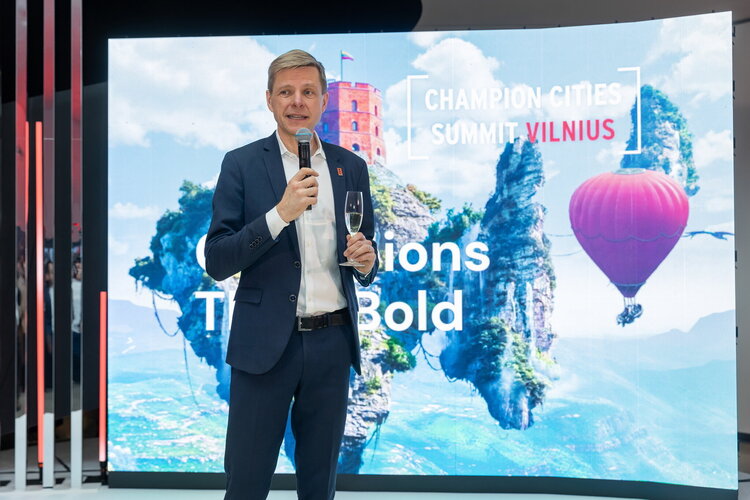 We cooperate with the EIB, CEB (European Council Development Bank) and NIB – the Vilnius City Municipal Administration has loan agreements with these banks, and the EBRD mainly works with Vilnius Public Transport. The margins of commercial banks are certainly higher than those of the aforementioned institutions..
As for the amount, the municipality's budget provides for borrowing in the amount of EUR 48 million – there are national limits. The principle is as follows: the more our economy grows, the more we can borrow. At the same time, the amount of public debt should not increase. We have a law on fiscal responsibility, which applies, in particular, to the economic activities of municipalities. But I would like to emphasise that when I became the mayor of Vilnius eight years ago, the city had a huge debt – more than 100% of the local budget. Now it is only 25% of the city budget. Today, Vilnius has about EUR 300 million of debt from various credit organisations and banks (with a total city budget of EUR 1.2 billion).
– And what is the principle for distribution of the general city budget among the districts?
– Vilnius is quite centralised in this respect. A little over 50% of the city budget goes to educational needs – schools and kindergartens. We calculate annually which of the districts has more children and how many children in certain districts will soon go to kindergarten/school. We build schools and kindergartens not year by year, but in advance. After all, it takes at least three years to build these facilities, starting from the request for construction and permits.
As a successful city, Vilnius does not receive much money from the central government. Therefore, it is often necessary to look for them in the local budget. It costs 15-20 million euros to build one school and about 4-5 million euros to build a kindergarten. We build a couple of kindergartens and at least one school a year. In total, the city spent about €650 million on educational needs in 2022, and about €80 million on construction and major repairs. Of course, this money is not enough. It is always less than the problems that need to be solved.
When it comes to other infrastructure, we also work in line with the needs. For example, in Vilnius, there were old Soviet neighbourhoods in a dreadful condition (from the state of the asphalt roads to the houses), and they received generous funding. We also have a special programme for the development of parks and squares. For example, a small park should be located no further than 300 metres from a residential complex.
– Since tourism is important for Vilnius, how do you promote its development? Have you launched any external promotional campaigns?
– Yes, we have. Vilnius even has a city body that works in this area – Go Vilnius. And I see that the city is becoming more and more interesting to the world. We have become a fashionable tourist destination.
On housing and communal services and "malicious non-payers"
– Many Ukrainians do not pay for housing and communal services, and their debts are reckoned by great numbers. How do you deal with non-payers in Vilnius: do you evict them or take them to court?
– We have non-payers either. But this is not the same problem as 20 or 10 years ago. Even if energy and utilities get more expensive, the average salary and pensions grow even more. Therefore, utilities are easier to pay for. In Lithuania, real wages have quadrupled in 30 years, i.e. by 300%. And in Vilnius, this figure is even higher than the national average. By the way, this is the highest growth in the EU. For example, in Italy, the growth was only 1%, in Germany, 35%, in Ireland, 100%.
Our legal system is quite effective in detecting debtors. Unfortunately, in Ukraine, this is a global gap (I mean the work of prosecutors, courts, inspectors, notaries, etc., as well as the state of registers). Lithuania had this problem 20 years ago, but we solved it.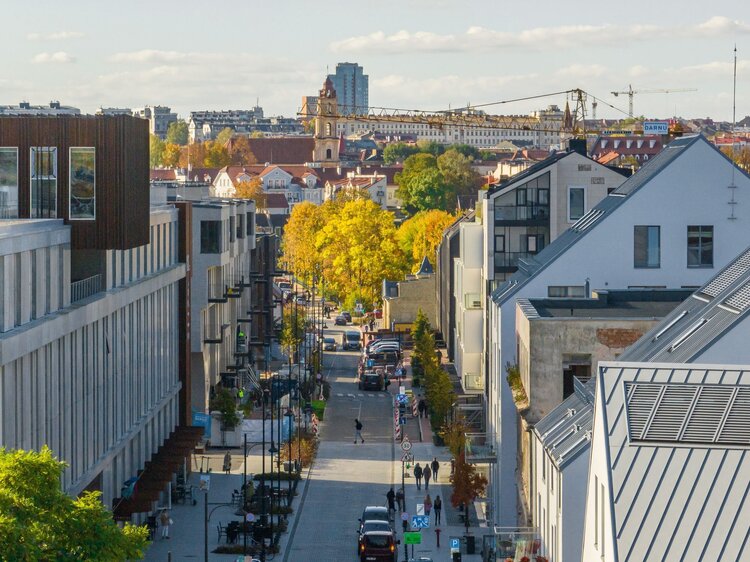 By the way, when energy prices grew last year, we were afraid of massive non-payments by the public. We therefore introduced some privileges, such as the option to pay in instalments. This has resulted in fewer utility debtors in the city compared to previous years. As for extreme measures (eviction, lawsuits), these options are also possible. However, if there is at least one child in the family, eviction is not applied. They are instead summoned to court or may be disconnected from a range of utilities.
There are also businesses/companies in Lithuania that evade taxes. For instance, they register their business in another country. But compared to Ukraine, we are in almost perfect order with this issue. In Lithuania, both individuals and businesses pay taxes regularly.
Our tax office is very loyal to entrepreneurs. They will even advise microbusinesses on how to pay less. The goal of our tax authorities is not to impose fines and unannounced inspections, but to help you pay your taxes on time and accurately. But Lithuania has been working towards this for many years and has made many reforms. Our taxes are not as high as in many EU countries, but they are not low either – 15%. While in Bulgaria, for example, the tax rate is only 10%. But payroll taxes are quite high – up to 32% (there is a rather complicated calculation system).
On new investments and achievements
– What investment projects are currently being implemented in the city? How do you attract investors?
– Foreign investment comes to Vilnius very actively. The city is listed as one of the most attractive places for foreign investors. The national agency Invest Lithuania works successfully in Lithuania and Vilnius, attracting investors (in particular, from Poland).
As mayor, I often meet with potential investors to discuss specific construction projects, etc. More than 90% of those with whom we met directly invested in Vilnius. Today, thanks to significant foreign investment, we are completing the development of a former industrial area near the Old Town (Paupis – the district by the river) with a population of 8,000 people.
At last year's MIPIM Cannes, the world's largest real estate exhibition, European cities with the highest performance were awarded, including Vilnius, which rose in the ranking of the most financially and economically developed and investment-attractive cities. We were ranked 2nd in the medium-sized city category in the Financial Times' European Cities and Regions of the Future 2022/2023 ranking by fDi Intelligence.
And this year we have become even better. In the fDi Strategy category for medium-sized cities, Vilnius showed the best results and was ranked 1st, leaving behind such cities as Tallinn and Edinburgh. This category assesses cities' consistent, strategic investment attraction efforts aimed at creating a favourable environment for new businesses and expanding the existing ones.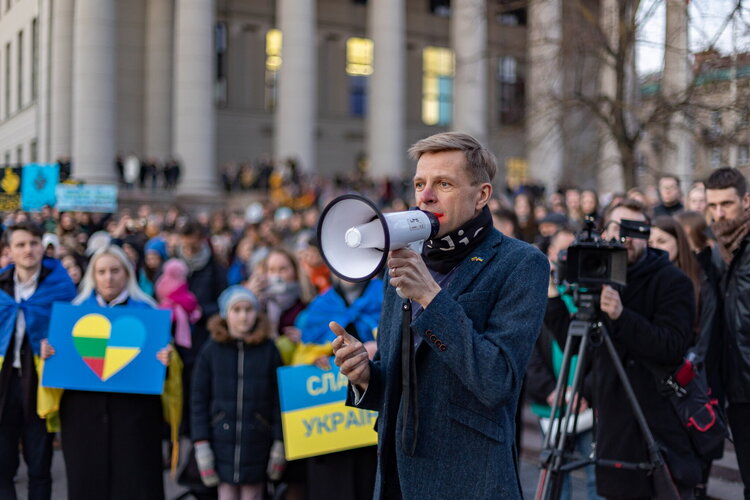 Vilnius won the highest rating for its plans to attract foreign investment. As I was receiving the award for the city (it was in March 2022), I said what was written on my T-shirt: on behalf of Vilnius, we dedicate it to Kyiv, the city of Europe's future in every meaning..
Plenty of money flows into the fintech sector. We are now in the process of making our largest investment – the production of computer chips. Teltonika is investing €4 billion in the Teltonika High-Tech Hill technology campus. A plant is already under construction. The US company Thermo Fisher Scientific, a manufacturer of scientific equipment, vaccines, reagents and software, invests heavily.
.
On the nuances of housing development in the historic centre
– Is there any moratorium on development in the historic centre of Vilnius? Are there any exceptions to it?
– There is no moratorium. The historic part of the city is included in the UNESCO list, but as a changing city. By the way, this year Vilnius celebrates its 700th anniversary. Our Old Town is Gothic in its structure, and we have always changed it. That is why there are very few Gothic buildings now, mostly Baroque.
We want the city to develop through high-quality architecture. Kyiv also has such ideas: for example, a theatre on the historic Andriyivsky Descent in a contemporary design. Many people think this is a big controversy. I think it's a beautiful modern building. In any case, it is better than the so-called New England style.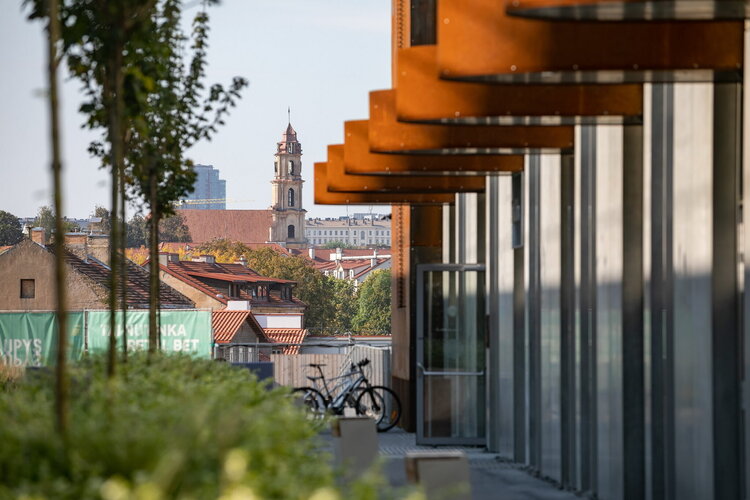 Although there is no moratorium on construction in the Old Town, it is quite difficult to build there. Architectural competitive tenders are held under the auspices of the city council are the mandatory requirement for the largest investments. I have nothing against business centres and prestigious residential complexes, but they must be of a very high quality.
And an architectural competitive tender is just one of the levels. The main thing is the 10 architectural principles I mentioned earlier. We demand that developers strictly adhere to them. We want our city to become not only as modern as possible, but also a comfortable place to live. In particular, we want perimeter development (as in the historic centre of Kyiv), more greenery and maximum preservation of historical sites.
On social policy and citizens' earnings
– And what proportion of the city's population is actively employed?
– Vilnius is one of the youngest cities in our region, with a predominantly under-35 population. This allows us to grow more dynamically than Riga, Tallinn and other cities around the Baltics.
– What social policy does the city hall implement, particularly, in relation to pensioners and large families? Are there any pensioner and large family cards, discounts on utilities, transportation?
– There are no benefits for utilities. Discounts on public transport are offered, but they are not very well targeted – they are too big. For example, retirees pay only 20% of the fare.
If a person has a low income – less than the subsistence level (840 euros before taxes), he or she can apply for social benefits. If the income is low and you do not have housing, you can apply for social housing.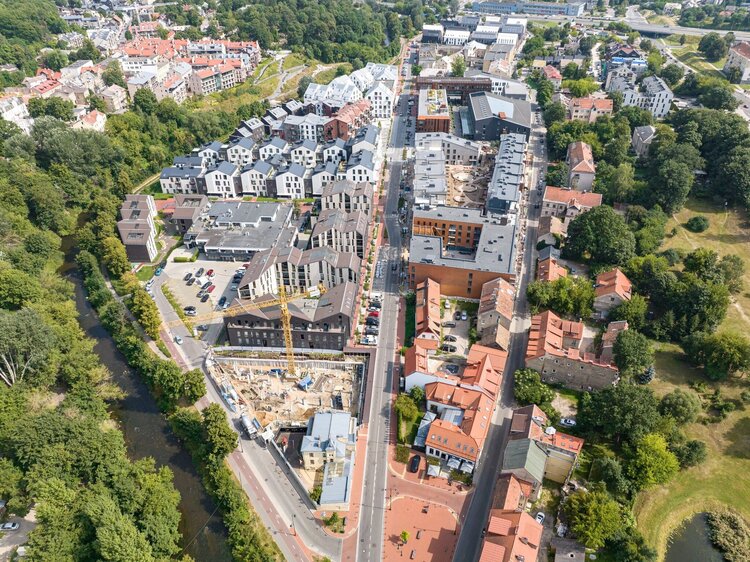 Unlike in Western Europe, our city hall does not build social housing itself, but buys it on the market – even on the secondary market. We also provide monthly vouchers (worth several hundred euros) to the poor to rent an apartment. The benefit here is that a person can rent an apartment right away, rather than waiting for the city hall to allocate social housing. This option is very popular, as the voucher covers 70-80% of the rent (for example, renting a two-bedroom apartment in the centre of Vilnius costs about 700 euros, excluding utilities). The remaining 20% is paid by the resident.
However, we often face the situation when people, fearing the loss of certain social benefits, do not strive to earn more or hide their real income. And this problem exists not only in Ukraine, but throughout the EU. That is why I think that in such cases, social benefits should not be completely withdrawn, but only partially cut.
– What is the minimum monthly salary in the city? And, if not a secret, how much is your salary?
– The minimum salary is about 800 euros, and the average (before taxes) is 2200 euros. My mayor's take-home salary is €2,200 a month (a little over €3,000 before taxes). A city bus/trolleybus driver, for example, is paid the same. But our utility prices are much higher than in Kyiv. The minimum pension is just over 400 euros. Our pensions are generally small.
On city restrictions
– There is a ban on smoking in public places in Ukraine, including public transport stops. But citizens practically ignore it. Is there any similar problem in Vilnius and how is it being solved?
– We also have a smoking ban in public places, at transport stops. But people sometimes smoke anyway. Although smoking is becoming more and more unfashionable in the city. So this problem is gradually being solved by itself.
A much more serious issue is smoking on balconies, when people throw cigarette butts down. We, of course, try to fine offenders, though the fines are not very high (from 15 to 30 euros). But we don't have the resources to catch every smoker by the hand. We try to get the neighbours to solve this problem among themselves.
There is also a problem with drug addiction, even though it is not as global as in other EU countries. Once there was a Roma camp in Vilnius, whose members were distributing narcotics. But we evicted them. Of course, the mayor's office is trying to help drug addicts in the city – this includes social support, police supervision, and medical care.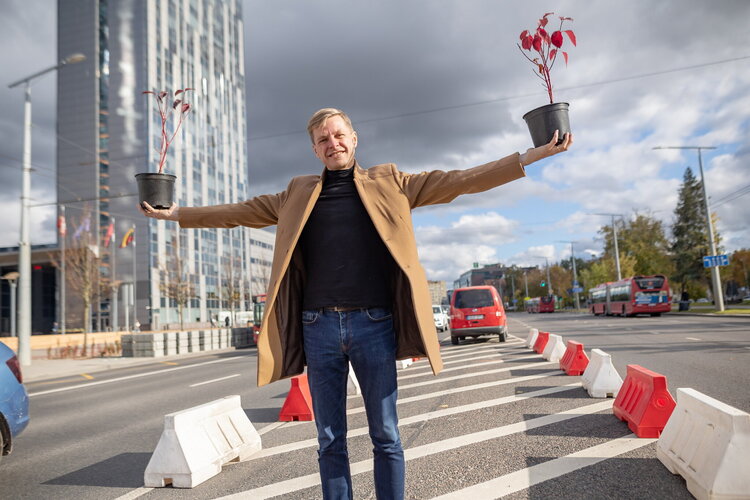 In general, I would like to legalise soft drugs in the city, but this is a national issue. It is currently being considered in the Lithuanian parliament: there are active discussions about decriminalising soft drugs or legalising them. But there has been no decision for several years.
– How has the city resolved the issue of alcohol sales, what restrictions have been imposed?
– We have a time limit. I don't think it's right, but the sale of alcohol is allowed only until 20:00 on weekdays, and until 15:00 on weekends. This is the case all over the country. The City Hall cannot make any adjustments here: it is a national regulation.
On the ever-present issue of parking and ways to solve it
– In Ukrainian cities, the problem of parking is acute and there is an unspoken rule: "The parking is where you park". How is this issue resolved in Vilnius?
– I have now come to Kyiv for the third time. The first time I visited it was five years ago and I remember Mercedes, BMWs and Maybachs parked on the sidewalks everywhere. It was a shock for me! Today, I hardly see anything like that.
If we talk about Vilnius, we have quite large fines for parking – 20 euros.
There are two types of fines. If you parked in a paid car park and didn't pay, the fine is two days' parking. If you ignore this, the fine is doubled. If you park on a sidewalk or pedestrian crossing, you can get a fine of 100-150 euros..
We also apply the removal of improperly parked cars to impoundment lots, primarily luxury cars (so that people can see that the rules exist for everyone, including the rich). Since March this year, the cost of forcibly removing a car from a place prohibited for parking has been EUR 100 (previously EUR 36.30), and the cost of storing a car in a parking lot for a day has been reduced from EUR 8.47 to EUR 2.73.
Meanwhile, March marked the one-year anniversary since stricter measures were introduced in Vilnius against violators of traffic rules, and the right to tow cars was extended to municipal employees, not just the police. In one month in Vilnius alone, public order officers detected about 2000 traffic violations, some of which were extremely serious, causing danger to others, obstacles, dangerous traffic situations, and interfering with the work and harmonious traffic in Vilnius. During the year, 2710 vehicles of such violators were towed away.
We strive to provide more on-street parking, including so-called temporary parking (for one to two hours), as well as in the Old Town area. Last year, for example, 600 paid parking spaces were built around the Old Town. If 85% of the paid spaces are occupied, we do not raise the price; if the number of occupied spaces is 95% or more, we increase the price to EUR 4 per hour. If the occupancy rate is only 50-60%, it means that the price is too high, and we reduce it to EUR 0.50 per hour.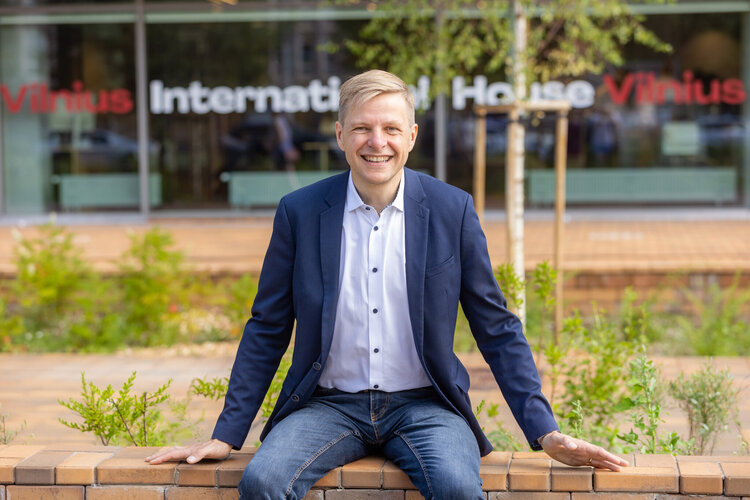 Also, in the historic district of Vilnius, some streets are off-limits, and some are only open to those who live there. Our Old Town is very large. A few years ago, we carried out a comparative analysis and saw that a third of all cars were either going to or from the Old Town. Another third were passing through the Old Town by transit (which is bad), and almost as many drivers were looking for a place to park in the Old Town (which is also not good).
After the price of parking in the Old Town was raised, there were almost no people left to park their cars there. As for transit, we have implemented a measure that is practised in some EU cities: if you enter the Old Town from the western part of Vilnius, you have to return there. That is, it is not possible to take a transit route. This has also significantly reduced the number of cars in the Old Town. We are also moving towards a 10-year programme to ensure that cars that do not meet environmental standards are not allowed to enter the Old Town
Vilnius is also a champion in car rental for driving in the city. Several thousand cars are allocated for this service: at any time, anyone can rent (since there is more than one service provider, prices are friendly, and it is a little cheaper than taking a taxi) a car they like and drive in the right direction.

– And what sanctions are applied to residents who park their cars directly under the entrance, blocking the entrance for emergency services or ambulances?
– As for parking directly at the entrances of residential buildings, we do not have any major problems with this. The big problem is with garbage collection: garbage trucks are large, and if one of the residents parks their car in front of the entrance, the garbage truck cannot enter the yard. This happens in almost half of the yards every day.
On the "garbage issue" and debates with citizens
– For many cities, the problem of garbage disposal is an acute one. How is this issue being addressed in Vilnius? Where is the garbage taken to, and are there any recycling facilities in the city?
– We have two waste collection systems – for general waste and separately for paper, cardboard, plastic, metal, etc. Of course, we follow innovations in this area and try to implement them promptly.
We incinerate some municipal waste and use this energy for heating. But we recycle a lot of it (about 90%). By the way, we are the first in the EU to recycle polyethylene.
In the city itself, we have a waste incineration biorefinery, which we decided to build 6 years ago and launched last year. There was a lot of debate among the townspeople about its feasibility, and people resisted the construction. But I managed to convince the population of the need and importance of such a facility. More than €200 million was spent on the construction of the plant.
– And how often does the mayor's office hold consultations with the public?
– Very often. Especially on issues of new construction. We even have a law stipulating that citywide consultations with the public should be held at the beginning of every construction project. We discuss how this or that building (business centre, residential complex, enterprise) will affect the environment, the residential sector next door, etc.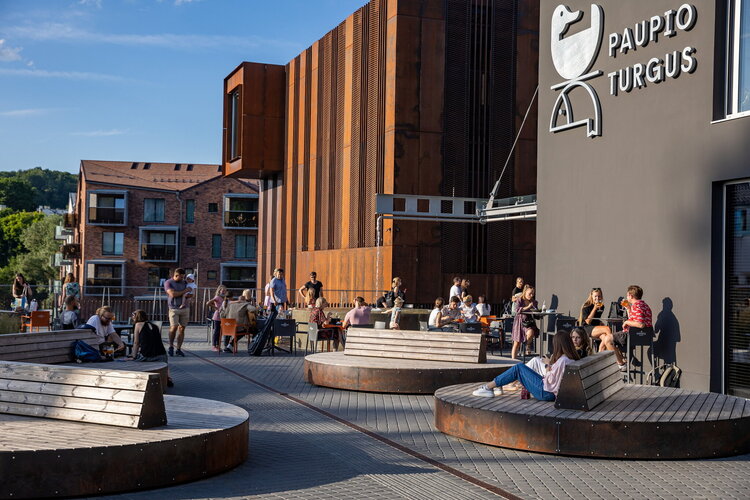 We also constantly consult with citizens on the upgrading of old buildings (both historic and ordinary residential). It is clear that they do not have a single opinion. In addition, the town council and the population may have polarised views on the problem. For this purpose, there is a city development plan approved by special commissions.
But the question of how exactly this will be done is the one that is being put forward for public discussion. Additionally, the town council relies on 10 architectural principles in its position. Sometimes we make compromises on particularly acute issues. Sometimes, after discussions, we come up with an option that is even better than the previous one. And sometimes we abandon the idea of construction at all when the developer's views are completely at odds with our vision and the position of the residents.
– What is your impression of Kyiv in terms of urban space organisation? What unresolved problems and, conversely, advantages do you see in the Ukrainian capital?
– A year ago, I told the mayor of Kyiv that the city had made clear progress in terms of public order. A few years ago, Mercedes and other cars were parked on the sidewalks. Today, at least in the central part of the city, we see that the footpaths have been returned to pedestrians. Maybe the people of Kyiv don't understand it yet, but I can see how it creates a different mood in the city.
Kyiv really is a city with great potential, with enormous positive energy. And I expect that soon it and the whole country will become a model from which we – Lithuanians and the whole of Europe – will draw inspiration. Because the recovery from the war, the rejection of Soviet urbanism and architecture will be faster than in other countries.
If you have read this article to the end, we hope that means it was useful for you.
We work to ensure that our journalistic and analytical work is of high quality, and we strive to perform it as competently as possible. This also requires financial independence. Support us for only UAH 196 per month.
Become a Mind subscriber for just USD 5 per month and support the development of independent business journalism!
You can unsubscribe at any time in your LIQPAY account or by sending us an email: [email protected]