Industry 4.0: How 7 global tech trends will change our world
What surprises are waiting for us in global industry and other fields in the next five years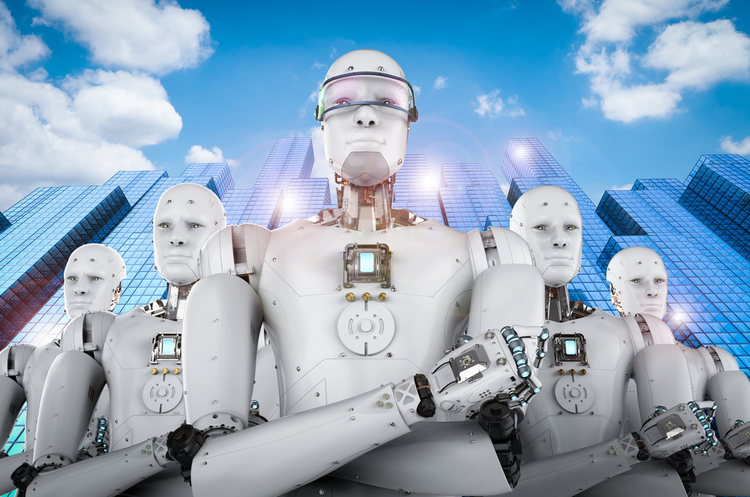 Today, technological trends are entering even the most conservative industries of the Ukrainian economy. As the first Ukrainian Companies Innovation Index showed, artificial intelligence, big data analytics and the Internet of Things allow companies in such industries as metallurgy, energy and agriculture to significantly improve productivity. But few companies are willing to invest in innovation or have a strategic vision.
At the same time, Ukrainian businesses which are planning to grow in the near future should probably look at the global technological trends and choose the right direction for development.
Oleh Shcherbatenko, CEO of IT-Enterprise, told Mind about the main directions of technology development and what to expect in the next five years.
Digital transformation has become an irreversible process today. According to a study by the McKinsey Global Institute, by 2030, the development of artificial intelligence alone will be generating 1.2% of global GDP per year. To compare, the invention of industrial robots has contributed to the growth of global GDP by 0.4% per year, and the creation of a steam engine led to the growth of 0.3%.
Today, the development of artificial intelligence and modern technology makes us discuss the issue of the 4th Industrial Revolution and where it will take us. This topic is increasingly heard at global conferences and forums, including the World Economic Forum in Davos. A separate Center for the Fourth Industrial Revolution was created for this purpose.
Executives all over the world are already thinking about what global changes await each of us. Those who unleash the potential of Industry 4.0 will be at the forefront of digital transformation and will become the undisputed market leaders. Here are seven trends in technology that shape such leaders.
1. Artificial intelligence will make managerial decisions
Having shown excellency at performing routine work, AI algorithms will be involved in the analysis of increasingly complex tasks. Given the speed of processing information that exceeds the human one by thousands of times, artificial intelligence will be able to make more objective and correct managerial decisions. Some companies are already implementing AI as managers, advisers and even members of the board of directors. In the future, this will happen more and more frequently.
2. Secure data transmission of any kind via blockchain
Most people now associate blockchain with cryptocurrencies, although this technology has far more potential. Using blockchain, you can almost completely eliminate the possibility of substitution or falsification of any data. We can only imagine how secure, for example, any banking transactions, legal certification of agreements, etc. may become.
3. Internet of Things will become even smarter
More and more devices are now able to connect to the Internet and adapt to the needs of users. In the future, such devices will be integrated into entire networks that operate semi-autonomously or completely independently of the individual, but nevertheless perform the functions assigned to them. Now the Internet of Things is mostly represented by separate devices connected to the owner's smartphone. Subsequently, all of these will become a single system with autonomous decision-making functionalities.
4. Increasing requirements for cybersecurity
The amount of digital data and the number of smart devices is growing rapidly, so the security issue comes to the front. For example, hacking a home network of smart devices can result in the theft of all the owner's funds without having to physically break into the home. Hacking an industrial network of smart machines means a threat of losing millions. Therefore, solutions that offer the highest level of protection will be required both at home and at businesses.
5. Growing speed of machine learning
According to Moore's Law, the computing power of processors is doubled every 1.5-2 years. This means that self-learning algorithms will be learning faster: the process will shorten from a few months to a few days in the next five years. What will the trained machines be able to do? Recognize faces, emotions, health condition, readiness or malfunctioning of equipment... And they will do it faster and better than humans. McKinsey studies show that the leading countries in the implementation of such machines will receive 20-25% of net economic benefits, while the same index for developing countries will be only 5-15%.
6. 5G Internet
China and the United States are already ruthlessly competing to be the first to develop and implement the fifth-generation wireless technology. 5G is not just an opportunity to work faster on social networks, but also a prerequisite for combining complex, smart systems into a single network. The fifth generation of communication technology will allow more information to arrive at the same time to a single user with a virtually unnoticed delay. In everyday life, this will push the creation of autonomous smart homes, and the industrial world will see an interconnected ecosystem of devices. Ukraine has already announced its plans to test 5G.
7. Virtual and augmented reality will accelerate the pace of life
Every person living in developed countries today has a smartphone or a similar device. This makes it possible to use VR / AR technologies without any significant effort. Augmented and virtual reality will help us perceive information faster and more effectively. For example, get detailed information about anything by simply placing the object in the focus of your phone camera instead of launching the browser and googling or going to the library.
It is hard to ignore what is already happening. Businesses and people who are able to adapt to the changing world will benefit, invest, have high profits and have a new quality of life. For businesses, this means the need to integrate the technologies of the 4th Industrial Revolution and to connect automated parts into a single system. According to McKinsey, 40% of the world's companies have already done so by implementing Industry 4.0 approaches. What about you?
On November 22, the First Industry 4.0 Forum in Eastern Europe will take place at Parkovy Congress and Exhibition Center in Kyiv. The event will bring together leading experts and over 500 participants – business owners, top managers and department managers. How can Industry 4.0 help businesses to enter international markets? How to get control of all production processes? Why do business owners and CFOs need Digital Twins and Predictive Maintenance? During the event, visitors will learn how the latest technology is changing the business world. The vast majority of cases to be presented at the forum have not been disclosed before. The initiator and strategic partner of the Trans4mation Forum is IT-Enterprise. Learn more about the event here. Mind.ua is an official media partner of the event.
Якщо ви дочитали цей матеріал до кінця, ми сподіваємось, що це значить, що він був корисним для вас.
Ми запрошуємо вас стати частиною Mind Club. Для цього потрібно оформити підписку за $7 на місяць.
Нам дуже важлива ваша підтримка!
Чому ми впроваджуємо платну підписку?
Справжня якісна та незалежна журналістика потребує багато часу, зусиль та витрат, це дійсно недешево. Але ми віримо в перспективи ділової журналістики в Україні, тому що віримо в перспективу України.
Саме тому ми створюємо можливість платної щомісячної підписки – Mind Club.
Якщо ви читаєте нас, якщо вам подобається та ви цінуєте те, що ми робимо, – пропонуємо вам вступити до спільноти Mind.
Ми плануємо розвивати Mind Club: обсяг матеріалів і доступних сервісів і проектів. Уже сьогодні всі члени клубу:
Допомагають створювати та розвивати якісну незалежну ділову журналістику. Ми зможемо і надалі розвиватись та підвищувати якість наших матеріалів.
Отримують вільний від банерної реклами сайт.
Отримують доступ до «закритих» матеріалів Mind (до щомісячного випуску, в якому ми досліджуємо та аналізуємо, як працюють цілі галузі; до щотижневих аналітичних підсумків).
Вільний доступ до івентів Mind для підписників та спеціальні умови на інші події Mind.
Smart Power. Власники бізнесу, що стануть підписниками Mind, отримають доступ до агрегатора системних порушень від аналітиків Mind та партнерів «Cкажи.uа». Якщо у вашого бізнесу виникли проблеми з непорядними чиновниками чи конкурентами – ми проаналізуємо, чи є їхня поведінка системною, і разом зможемо вирішити цю проблему.
Ми і надалі розвиватимемо Mind та додаватимемо корисні журналістські рубрики і сервіси для вашого бізнесу.
Ми працюємо над тим, аби наша журналістська та аналітична робота була якісною, і прагнемо виконувати її максимально компетентно. Це вимагає і фінансової незалежності. Підтримайте нас за 196 грн на місяць.
Ви можете скасувати підписку у будь-який момент у власному кабінеті LIQPAY, або написавши нам на адресу: editor@mind.ua.