The Strength of Current: What the Competitive Electricity Market will Bring to Ukraine
What is about to change for the electricity market players and their consumers in the new environment.
According to the Electricity Market Law, less than ten months remains till the launch of the competitive electricity market in Ukraine. By no means all experts believe that the reform will start exactly on July 11, 2019.
Too little time is left. Too many unresolved issues are still there, including systemic problems, which cannot be handled by the electricity industry alone. One way or another, the commitment to implement a liberal electricity market model in Ukraine is irreversible.
The eyes of lawyers, consultants, potential investors, bankers, equipment suppliers, and media are set on the future competitive market. The course of events implies that the electricity sector reform can become a driver for the entire national economy.
As The Mind repeatedly reported, from July 11, 2019, the Ukrainian electricity sector will embark on the track of transition to a competitive electricity market. The transformation should be completed by July 11, 2020. This means the end of the current state monopoly on the electricity wholesale held by the state-owned Energorynok enterprise, the transition to electricity sales by producers directly to suppliers and consumers, and the emergence of competitive market segments.
According to the law, the new electricity market will have five formats – bilateral agreements, a day-ahead market, an intra-day market, a balancing market, and an additional services market. It's not hard to see that the markets are distinguished by the periods of electricity delivery depending on the supply and demand on the base-load, balancing or standby power.
On the retail market, Oblenergo unbundling should be done by late 2018 meaning that Oblenergos will be divided into distribution system operators and electricity suppliers. Simultaneously, a concept of independent electricity suppliers not associated with Oblenergos will emerge. All of this should create healthy competition, as all suppliers will buy electricity in a competitive market and sell it to customers at free market prices.
What advantages can competition bring?
A surge in RES investment has been certainly inspired not only by a facilitated process of issuing technical provisions and agreements for the connection of green power generation facilities by the state-owned Ukrenergo. Effective since July 11, 2017, the Electricity Market Law was a positive sign for investors who expected to see a distinct launch of reforms in the industry.
Since then, potential investors and other stakeholders got a clearer understanding of the long-term rules of play to be applied in the Ukrainian electricity sector and compliant with the EU Third Energy Package and European practices. The creation of a competitive electricity market is a prerequisite for the industry's enhanced investment attractiveness. There's a number of reasons for that.
Industry's reduced political dependence. The practice of tariff populism and electricity reform thwarting exercised by Ukrainian governments during 2000-2009 and in early 2010-s didn't have a happy ending. A low volume of investment in the industry did not allow to stop the physical degradation of fixed assets. This resulted in a no-win situation: no investments, no fixed assets replacement – and growing tariffs.
The abolishment of "manual control" practices. The single wholesale buyer model, which has been in place in Ukraine since 2000, provides a powerful temptation for officials to take control of electricity market cash flow. The entire history of the Ukrainian electricity wholesale market is a history of permanent "manually controlled" reallocation of funds in favor of different players
In today's Ukraine, there isn't a single industrial segment where a real electricity price is known.
Electricity product line expansion. A competitive market allows to clearly define true price indicators for potential investors by each power generation type. It will become clear how much base-load, balancing, and standby power really cost, what type of power is in shortage, and where to invest when choosing an electricity system development scenario.
Integration with the European electricity system. Starting from 2022, Kiev can begin taking practical steps to synchronize with the European continental electricity system ENTSO-E. The throughput of interconnectors between Ukraine and Europe enables import and export counter-deliveries with a capacity of 2.4 thousand megawatts, and there is room to increase it. The ENTSO-E connection will enhance the Ukrainian system's technical reliability, facilitate the domestic kilowatt-per-hour price drops due to the increased competition, and improve the competitive attractiveness of the Ukrainian electricity sector.
National energy security improvement. Increased competition between electricity producers and supplies, the construction of new generating facilities, the implementation of state-of-the-art technologies, and ENTSO-E interconnection will improve the national energy security and allow potential investors to view the Ukrainian electricity sector as a transparent and predictable investment destination.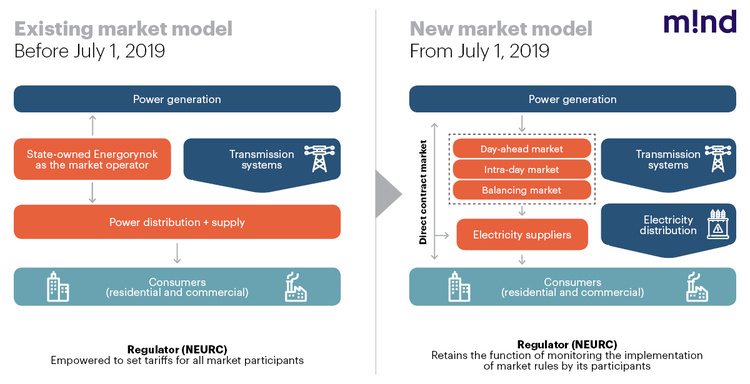 How high can prices go?
The main goal of the liberal electricity market model is achieving the maximum possible competition both in the wholesale and retail markets so that price-balancing mechanisms could start working. But as evidenced by the global and European practices, electricity prices increase during the first stages of the competitive market launch.
The reason is not the liberal model itself, but the absence of an adequate electricity price in the previous "manually controlled" models. That is, the kilowatt-per-hour gets its real market price after the reform. But afterward, as internal market mechanisms become more sophisticated and national electricity systems are connected into the common European system, up to 30 percent in electricity tariffs reduction is usually observed.
According to rough estimates, the competitive model can increase the electricity price for the domestic industrial consumers by 25 to 30%. This will happen mainly due to electricity price surges introduced by Energoatom and Ukrhydroenergo state-owned enterprises.
The price hikes will affect various consumer categories in different ways. Electricity prices will most probably not increase for large enterprises. The reason is that they consume electricity in large volumes.
As for residential consumers, kilowatt-per-hour tariffs should be increased one way or another. But once again, it is not the reform that one should blame, but the populism of governments that kept residential electricity prices lower than its true cost for many years at the expense of the manufacturing industry. Like it or not, but a competitive market is impossible with such a high cross-subsidization level of residential consumers by the industry.
What changes can be expected?
What will change for all electricity sector participants after July 11, 2019, besides the prices?
Power generation. All producers will get equal starting competitive rights irrespective of generation source types they possess. 
The system operator will have no right to artificially limit the operation of various units or power plants, and subsequently, NEURC's manual control mechanisms will be abolished. Generation companies will obtain clear pricing indicators for the various points of consumption schedule, expand their product lines and get a stimulus to invest in new production facilities.
The income of heat generating enterprises will shift towards balancing power, which will tend to cost more than the base-load power. In turn, Energoatom will sell electricity according to an even consumption schedule. If the nuclear kilowatt-per-hour price surges, then the government will withdraw a significant part of the company's income in favor of the state budget.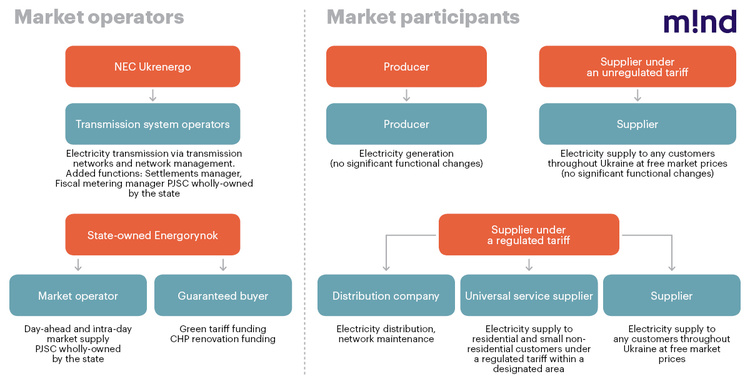 Electricity suppliers. By late 2018, Oblenergos should be divided into distribution network operators and electricity suppliers. 
 Since that moment, the operators will only deal with electricity distribution, and the suppliers will supply electricity. After obtaining their licenses, suppliers established on the basis of Oblenergos will also play the role of universal service suppliers for two years, until a full-fledged competitive market is launched in Ukraine.
Such universal service suppliers will have no right to deny the electricity supply to residential consumers and small non-residential consumers.
Starting from December 2018, all consumers without exception will have the right to choose a supplier, and each supplier will buy electricity at free market prices.
Large business. Enterprises will have the opportunity to sign direct long-term contracts with producers for the purchase of electricity at fixed prices. The tariff burden for large energy-intensive enterprises is also expected to decrease. This can happen due to more diversified electricity price redistribution depending on the consumption volumes and schedules. The burden of residential consumer cross-subsidization will be gradually taken off all industrial consumers.
Large businesses will also have the opportunity to generate additional revenues by reducing electricity consumption during peak hours and providing additional voltage and reactive power regulation services.
Small and medium businesses. SMB consumers will have electricity cost-cutting opportunities by selecting more flexible consumption schedules offered by competitive suppliers. Small and medium companies will have the right to switch to another supplier in case they are not satisfied with their existing supplier's services. The concept of Electricity Ombudsman will be implemented in Ukraine at the governmental level. The Ombudsman's primary role is to protect the interests of small and medium consumers.
Residential consumers. Residential consumers will also have the right to select a supplier and get rid of Oblenergo monopoly dependence. In the long term, the improvement of supply quality is expected due to a smaller number and a shorter duration of outages. Incentive-based tariffs for distribution network operators will facilitate this process.
The maximum openness of information to be provided by suppliers to consumers is expected. The European Energy Consumer Checklist with a detailed explanation of consumer rights will be introduced in Ukraine by the European Commission.
Якщо ви дочитали цей матеріал до кінця, ми сподіваємось, що це значить, що він був корисним для вас.
Ми запрошуємо вас стати частиною Mind Club. Для цього потрібно оформити підписку за $7 на місяць.
Нам дуже важлива ваша підтримка!
Чому ми впроваджуємо платну підписку?
Справжня якісна та незалежна журналістика потребує багато часу, зусиль та витрат, це дійсно недешево. Але ми віримо в перспективи ділової журналістики в Україні, тому що віримо в перспективу України.
Саме тому ми створюємо можливість платної щомісячної підписки – Mind Club.
Якщо ви читаєте нас, якщо вам подобається та ви цінуєте те, що ми робимо, – пропонуємо вам вступити до спільноти Mind.
Ми плануємо розвивати Mind Club: обсяг матеріалів і доступних сервісів і проектів. Уже сьогодні всі члени клубу:
Допомагають створювати та розвивати якісну незалежну ділову журналістику. Ми зможемо і надалі розвиватись та підвищувати якість наших матеріалів.
Отримують вільний від банерної реклами сайт.
Отримують доступ до «закритих» матеріалів Mind (до щомісячного випуску, в якому ми досліджуємо та аналізуємо, як працюють цілі галузі; до щотижневих аналітичних підсумків).
Вільний доступ до івентів Mind для підписників та спеціальні умови на інші події Mind.
Smart Power. Власники бізнесу, що стануть підписниками Mind, отримають доступ до агрегатора системних порушень від аналітиків Mind та партнерів «Cкажи.uа». Якщо у вашого бізнесу виникли проблеми з непорядними чиновниками чи конкурентами – ми проаналізуємо, чи є їхня поведінка системною, і разом зможемо вирішити цю проблему.
Ми і надалі розвиватимемо Mind та додаватимемо корисні журналістські рубрики і сервіси для вашого бізнесу.
Ми працюємо над тим, аби наша журналістська та аналітична робота була якісною, і прагнемо виконувати її максимально компетентно. Це вимагає і фінансової незалежності. Підтримайте нас за 196 грн на місяць.
Ви можете скасувати підписку у будь-який момент у власному кабінеті LIQPAY, або написавши нам на адресу: editor@mind.ua.
Related stories